Comparative Market Analysis can be explained as the process of scrutinizing the various trends, pricing and other market-related aspects of business in comparison to its competitors. The comparative market analysis is useful to the manufacturers or service providers and also the consumers. For example, while buying or constructing a building, one must do a comparative Market Analysis Samples to get the knowledge of its competitors, the existing market rate, the features of the building, etc.
Free Market Analysis Sample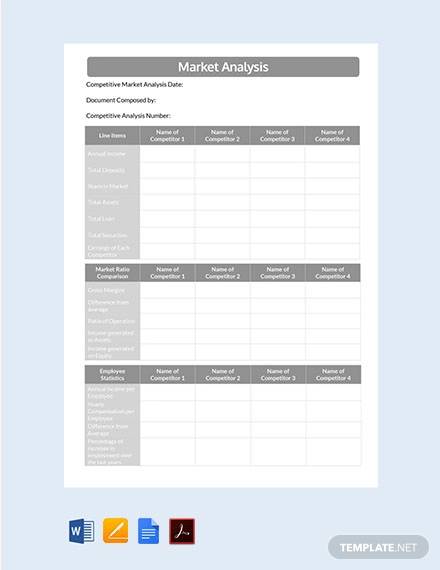 Sample Comparative Market Analysis Real Estate
A CMA is needed for the Real Estate Market Analysis Samples for two reasons: for the understanding of the current trends that are prevalent in the market and for strategic business planning
Comparative Market Price Estimate Analysis in PDF
Comparative Market Analysis plays a significant role in the deciding the price of products and services based on parameters such as the area of analysis, target consumers, competitor prices, and other factors.
Free Comparative Market Analysis Report
Analysis Reports is the output of the scrutiny of various factors of a specific market. It gives an idea of the existing practices in the market and the future proceedings.
Why is CMA important?
CMA is a handy tool for Business Analysis Samples. It not only helps in understanding the various dominant features and practices of a particular industry but also helps in planning the future actions. CMA is necessary mainly for the strategic business planning, as it acts as a learning lesson to find the various loopholes that are prevalent in the current area of research. CMA is a process that must not be skipped, as this process is the key to all actions, strategic and financial, that needs to be taken in future. A CMA well implemented can work wonders for all businesses of all levels.
Comparative Market Analysis Sheet Example
A CMA sheet is a document that contains data of different comparables and the parameters to be compared. These can be created by using CMA software or by manually entering the analysis data.
Sample Property Comparative Market Analysis
The property for CMA differs from one industry to another. Four major factors are largely considered: area of analysis, income group, current market trends and competitor pricing.
PrintableSales Comparative Market Analysis
Who needs CMA?
CMA is beneficial for all; i.e. producers/manufacturers, service providers, as well as consumers. It can be used by a different set of users for various purposes. While a producer/manufacturer and service provider will go for a CMA to analyze the developments in the market for deciding its future products, a consumer will use CMA for choosing the right product or service at the desired price. You can also see Statement Analysis Samples
CMA is a tool that can be used use at the convenience of the user as per his required details. The details too vary from person to person, and so does the factors impacting the present market conditions.
Home Comparative Market Analysis Download
Comparative Market Analysis Worksheet
Comparative Market Analysis Form Format
Comparative Market Analysis is a systematic and strategic tool that enables people at different levels and of different groups to understand, deliberate, decide and plan their future Financial Analysis Samples activities according to the existing tendencies in a specific market for better results in the forthcoming fiscal period, to earn necessary profits.
If you have any DMCA issues on this post, please contact us.