Businesses need to continue doing research and other studies in order to keep their business alive and running for a very long period of time. Also, because of the tight competition between businesses the need to constantly make improvements and changes is no longer just required but it has become a must. A SWOT analysis is one of the things that a business needs to help their business survive.
11+ Restaurant SWOT Analysis Samples
Restaurant SWOT Analysis Template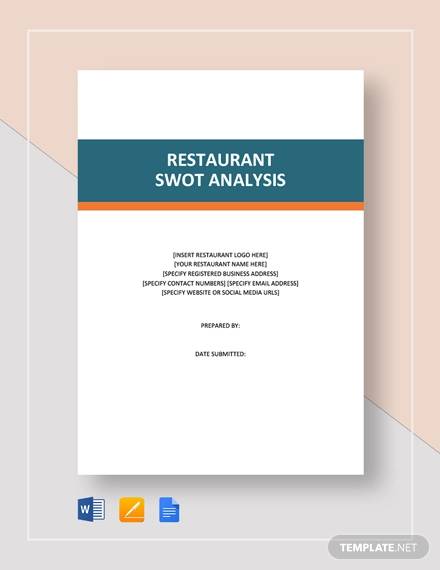 Restaurant Site Selection Analysis Form Template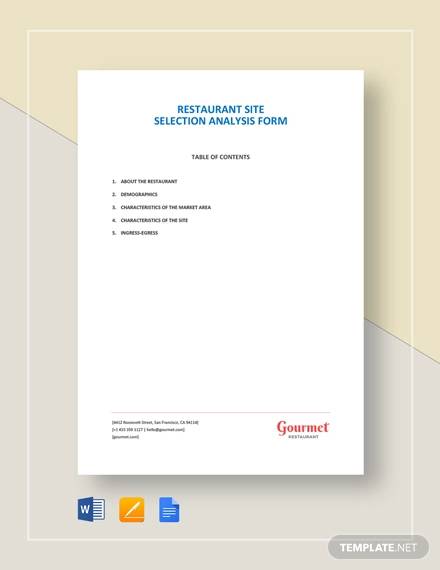 A SWOT analysis is a strategic planning technique that is used by different individuals or entities to come up with a good plan for their business by identifying the businesses' strengths, weakness, opportunities and threats. We will be discussing a specific type of SWOT analysis that is used in the restaurant business industry. Some useful SWOT analysis samples and templates have been included for you to use as reference while going over the topic. Check them out below.
Restaurant SWOT Analysis Example
Silver Chef SWOT Analysis Template
One Menu SWOT Analysis
Sample Completed Restaurant SWOT Analysis
Organic Restaurant SWOT Analysis Sample
SWOT Analysis Sample for a Spanish Restaurant
Cafe and Restaurants SWOT Analysis Sample
Restaurant Sustainability SWOT Analysis Sample
Sample Restaurant SWOT Analysis
Korean Restaurant SWOT Analysis Sample
Why Do Restaurant Businesses Fail?
There are many factors that leads to the failure of just about any restaurant business, regardless if the business is a startup or an already known restaurant chain. Some of of these factors are poor location, not having any experiences related to the business industry or restaurant industry, lack of proper financial management and awful or very bad customer service. All these are important factors that need to be considered when running a business. these factors can be figured out through strategic planning and conducting a restaurant SWOT analysis regularly once the business is running.
Other related topics you may be interested in are business SWOT analysis samples templates and analysis examples.
What Is a Restaurant SWOT Analysis?
A SWOT analysis is a tool that is used to determine what a business is good or bad. SWOT is an acronym that stands for strengths, weakness, opportunities and threats. In the restaurant setting, a SWOT analysis is used to determine or identify some good and bad practices of the business, more like finding the problems that the business is currently facing so that they will not be left unresolved. Through a SWOT analysis, restaurant businesses are also able to find opportunities that can help  the business grow and improve as well as avoid or prevent any threats from hitting the business.
So how exactly does this SWOT analysis works? Let us at each acronym so that we can further understand what kind of self help or self check this analysis is offering to restaurant businesses.
Strengths
You know pretty well that strengths refer to the things that a restaurant business is good at. Determining the strengths of your business will put you to an advantage as you can make your business do even better. If your restaurant business sells the best and and the tastiest food in tow, then that is a strength that you can be proud of. For sure a lot of your customers will be back for more and they will bring with them company and the cycle goes on. If your restaurant is found in a very strategic location that is accessible to a lot of people, then that is a strength. You will have a lot of new and old customers coming in. Other strengths that a restaurant business could have are having different promotions every month, selling an ethnic food that is not sold anywhere else in your neighborhood, selling the best kinds of stuff or providing the best customer service.
Some useful questions that you can use in your analysis that will help determine the strengths of the business are:
What things are we good/very good  at?
What are we capable of doing?
What does our customers like about our restaurant?
What is unique about our restaurant that others don't have?
Weaknesses
The weakness of your restaurant business obviously refer to the things that you are not good, exactly the opposite of your strengths. It is best that you know of the weakness of your business so that you find feasible or realistic solutions to them. They can be signs of a problem and can become a problem if not given any attention and if no action is done to turn it into a business strength. Some of the weaknesses in restaurant business are related to the lack of training provided to the staff members, inconsistent supply of good that leads to unavailable menu items, inconsistent service provided, long waiting time for food to be served, etc.
The following are some guide questions that you can use to determine your restaurant's weaknesses:
On what things do we need to improve on?
What things are we doing wrong?
What does are business lack?
Opportunities
Finding a business opportunity that will make your business do even better is something that needs a lot of time, research and consideration. Think of ways on how your restaurateur can draw more people and allow you to earn more than you usually do. Take advantage of the current health and lifestyle trend. A lot of people nowadays are so drawn to healthy eating. Offer healthy meals on your menu. You can offer salads, vegan food, high protein meals, etc. Or you can add a twist to your signature dishes so that your customers would be delighted to check out the new things that you offer.
Threats
Threats are always present no matter what type of business you undertake. You will have a lot of competition in running a restaurant business and some of these threats are your competitors. Not that they will ruin your business or what. Because you have competitors, especially those that are selling the same food as you do, people will have more dining choices and options and this will most likely be the reason for your profit or earnings to go down. Other threats that could contribute or impact your business greatly are the prices of the food supplies in the market. They may increase and that would mean that you will need to increase the price of certain dishes on your menu.
If you would like to learn more about analysis, you can always drop by our website and check out other related topics that we have to offer. Some interesting article that can find there are Industry Analysis Samples, PEST Analysis Sample, and Stakeholder Analysis.
Where Can You Use A SWOT Analysis?
Do you know where a SWOT analysis can be used in different businesses process? There are actually a lot of things where it can be used for and all the time it has proven itself to be effective.  The list below will tell you where a SWOT analysis can be used on.
in planning for the business
in strategic planning or strategy building of a business
in corporate planning
in marketing
in investment opportunities
in product developments
in sales distribution methods
in evaluating competitors
in research an in reports
Do you use a SWOT analysis on other things aside from the ones listed above? If so, on what things do you use them? Learn more about analysis and other related topics on our website. We have their articles, like Financial Analysis Samples and Templates, Marketing Analysis Samples and Templates, and Break Even Analysis.
Advantages of Using Restaurant SWOT Analysis Templates
The following are the advantages of using SWOT analysis templates.
Restaurant SWOT analysis templates allows any business to create a SWOT analysis quickly and conveniently.
A ready made SWOT analysis template will surely save you both time and energy.
It provides instructions, tips and other useful information that can be used in creating a SWOT analysis.
The template is readily available online and a lot of them are even offered for free download. There are  different varieties of the the template so you are sure to find the one template that exactly fits your needs.
Using a restaurant SWOT analysis template will make it easy for you to finish your task and will serve as your guide in the process of creating one.
You can edit, change and revise the template if you wish to as they are created in editable and easy to edit file formats. These file formats are familiar to us, like PDF and Word.
SWOT analysis templates for other types of businesses or for other uses aside from restaurants are also available. A wide collection of them are provided on our website.
These advantages will surely make you motivated to get your tasks done. If you need analysis templates, just drop by our website. Some of the samples and templates we offer are Trend Analysis Sample and Templates and Quantitative Risk Analysis Samples and Templates.
Key Takeaways
What we have discussed about restaurant SWOT analysis in this article:
SWOT analysis is an acronym that stands for strengths, weaknesses, opportunities and threats.
A SWOT analysis is conducted to help a business in planning for effective ways or strategies on how they can make their business better, improve their way of doing things and possible remove business threats.
The strengths of a restaurant business refer to the things that they are good and their weaknesses refer to the things that they are doing poorly at.
Opportunities and strengths are also identified and analyzed with the use of a SWOT analysis.
SWOT analysis can be used in a variety of things, like in business planning, strategic planning, marketing, investment opportunities and many more.
It is very easy to find specific templates for SWOT analysis and they are even available in different file formats.
Those are some of the things that we have covered in this article. We hope that you are able to learn from them.