SWOT stands for Strength, weakness, opportunities and threats. It is an important tool that helps the management to take any necessary decisions. Hence, while taking any significant decision or while you are planning to change something in your life or business, SWOT Analysis Templates are essential. If you are not sure about how to do it, here are particular sample analysis that will help you do it. There are different types of examples for your business as well as for your personal analysis too.
Editable Industry SWOT Analysis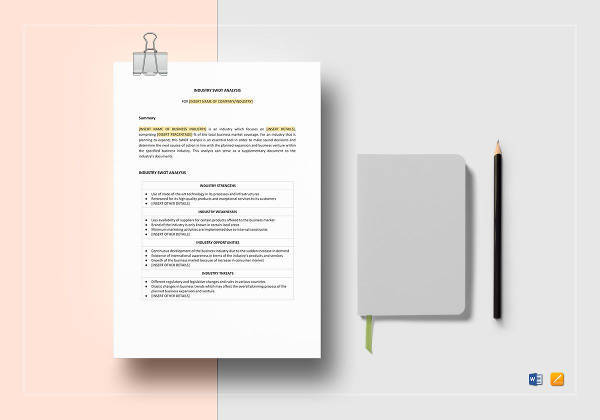 Get it Now
Customer Service SWOT Analysis in Apple Pages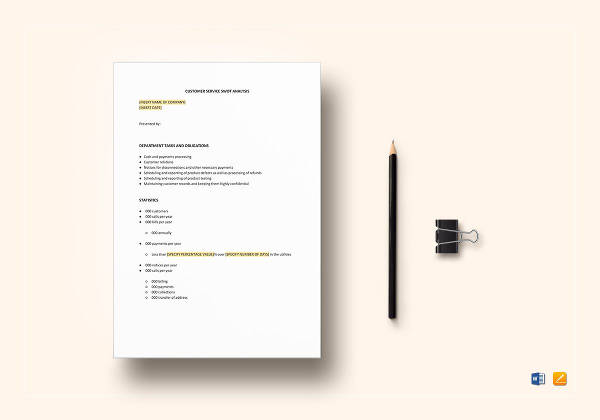 Employee SWOT Analysis Template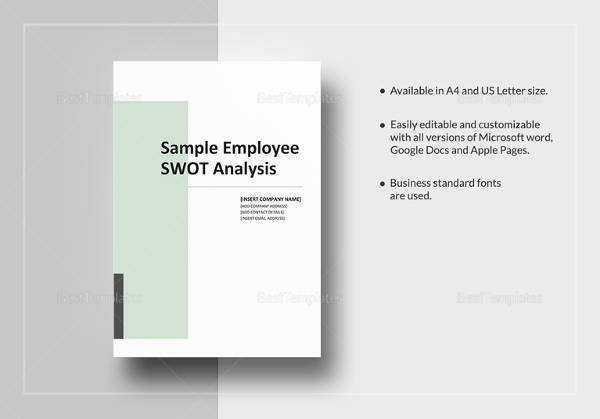 When To Use SWOT Analysis?
Whenever there is a challenge in front of you, whether a problem in your personal life or while taking any big decision in your business, it's SWOT Analysis Samples that will come handy. With this, you can find out what your strengths are and how your weaknesses are affecting your strengths.
It also helps in the search for the opportunities that will help you recover from the threats. It can be used anytime when you are about to take any decision, be it the business decision or personal.
Student SWOT Analysis Template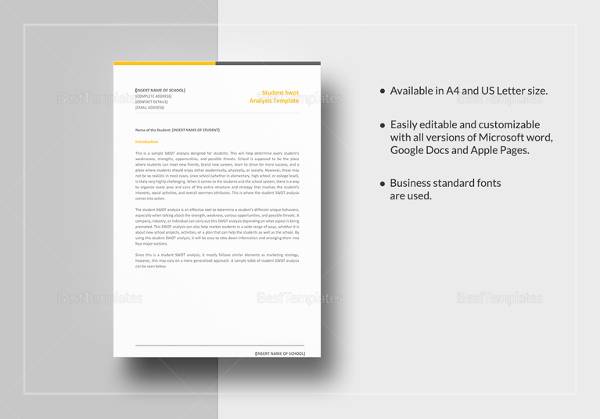 Blank SWOT Analysis Template in Word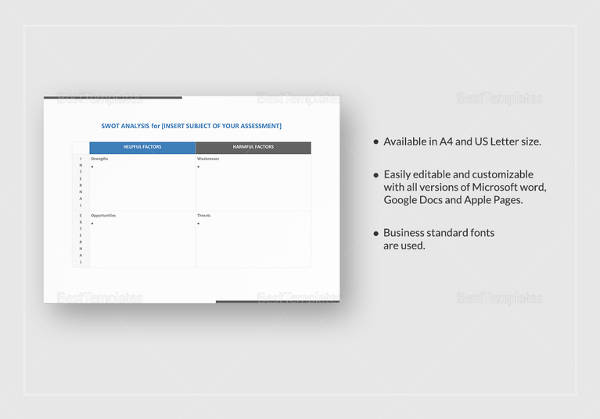 Sample Healthcare SWOT Analysis Template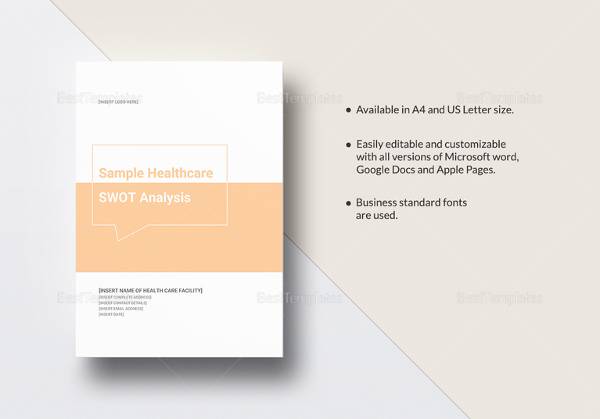 Personal SWOT Analysis Example
Personal SWOT analysis will help you in understanding your own strength and weakness so that you can deduce what opportunities you should take while leaving aside the threats.
Business SWOT Analysis Example
This business SWOT analysis is perfect for taking decisions while starting any new business. Once the different aspects are analyzed, it will be easier to take a decision, whether it's the right time to launch the business or not.
SWOT Analysis Threat Example
This SWOT analysis threat example puts emphasis on the different risks that can be encountered while managing human relationships. Once the threats are analyzed, it will be easier to manage human relationships.
SWOT Analysis Weakness Example
These analysis templates will help one decide how they can conduct the SWOT analysis so that they can take the right decisions.
Sample SWOT Analysis Example
This sample SWOT analysis is a good example where different actions are mentioned beside weaknesses so that the weakness can be recovered and converted into a strength.
Basic SWOT Analysis Example
Marketing SWOT Analysis Example
Resume SWOT Analysis Example
SWOT Analysis Worksheet Example
Strategic Planning SWOT Analysis
Can SWOT Analysis Be Beneficial While Strategic Planning?
Yes, it is very helpful while someone does any strategic planning. When you are about to take a strategic decision, it is necessary to find out what are the drawback of the thing that you are doing. Once the disadvantages or the weaknesses are understood, steps can be taken to correct them. If it is not found possible, then for the time being the project can be dropped. It is similar to other things too, and only SWOT analysis will help one decide upon whether they can proceed with a project or not.
If you follow Market Analysis Samples, you will find that most of the time decisions taken based on SWOT analysis have proved to be the right choice. The examples given here will help you conduct SWOT analysis and find out what is right and what is wrong. It can be your guide to the right direction.
If you have any DMCA issues on this post, please contact us.