A delivery driver's job is not as simple as driving from one place to another. It can be mentally and physically demanding. We may say that what they're doing is not tiring as what we only see most of the time is that these people are just on the seats of their vehicles waiting for the traffic signs to signal "go."
What we do not know is that there are a lot of efforts that they need to exert as some parts of their job is crucial.If you want to know more about this job, we have printable templates for the job description of a delivery driver and other Job Description Samples.
Delivery Driver Job Description Template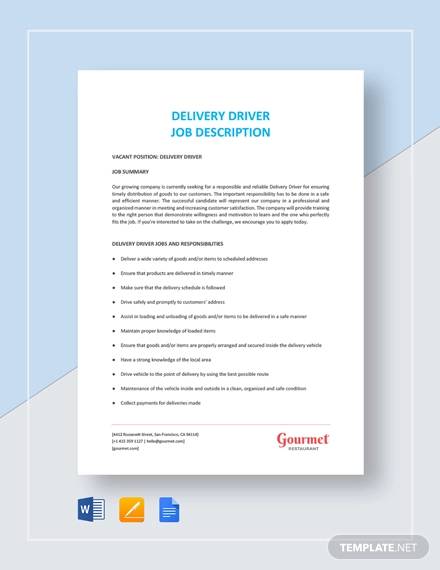 Sample of Food Delivery Driver Job Description
Warehouse Delivery Driver Job Description in PDF
Free Furniture Delivery Driver Job Description
Delivery Driver Job Description in Word
Delivery Driver Assistant Job Description to Download
Delivery drivers are hired by companies to transfer their products from the place where they were made, assembled or kept to the address of the clients.
A few of the establishments and industries that needed delivery drivers are as follows:
Courier Services. Online shops usually get the services of a courier. For a parcel purchased online to be delivered to the customer, delivery drivers need to bring them from the location of the courier provider to the person who bought the product.
Food Houses and Restaurants. Food delivery, in my honest opinion, is the most common service that makes us see delivery drivers. It is only during big occasions, caterings and festivities outside their location that these establishments use trucks or vans to deliver food. The usual scene is that their drivers usually ride on motorcycles with food boxes at the back part of the vehicle and traverse roads to be able to deliver food to consumers within the duration of the promised or expected time.
Warehouses.Products from warehouses shall be delivered appropriately to the customers. Products from warehouses vary from packed goods, tiles, automotive parts and a lot more.
Furniture Shops.If you wanted to buy big furnitures but has no means of private transportation, the job of delivery drivers will make it a reality for you to have that item be placed within the vicinity of your home.
Aside from the delivery driver job description, we also got you covered on Auditor Job Description Samples.
Full-Time Delivery Driver Job Description Example
Free Delivery Driver Supervisor Job Description
Stock Delivery Driver Job Description in PDF
Basic Delivery Driver Job Description
Standard Delivery Parts Driver Job Description
Aside from driving, these delivery drivers actually have a lot to do during delivery days. Additional works may include, but are not limited to
different routes familiarization,
sending messages or making calls to ask for the customer's exact location,
on-time delivery within the duration promised,
assurance of the safety of the vehicle and the goods to be delivered,
loading the products to be delivered on the vehicle,
offloading items once the location of the consumer is reached,
order reviews before leaving the establishment they work at,
talking with the clients and getting their feedbacks, and
providing great customer service.
So the next time you think that the job of delivery drivers is just driving on the streets to deliver items, think again.
Hope this article has helped you to better understand the work of delivery drivers. For other Job Description Templates, click on the link.