Due to the increasing technological enhancements and the proliferation of social media usage by the masses, it has become necessary that companies and corporations extend their marketing strategies to the digital arena.If you are a business owner, manager, or advertising associate, then you need to hire a social media marketer in order to enlarge your customer base; also, so that your company will stay relevant amidst all the competition.
That is why, if you haven't hired one yet or if you have one yet you want to improve the level of their performance, then you might find our collection of social media marketing Job Description Samples useful. You may scroll down below and download the one that you deem most suitable to your advertising needs.
Marketing Assistant Job Description Template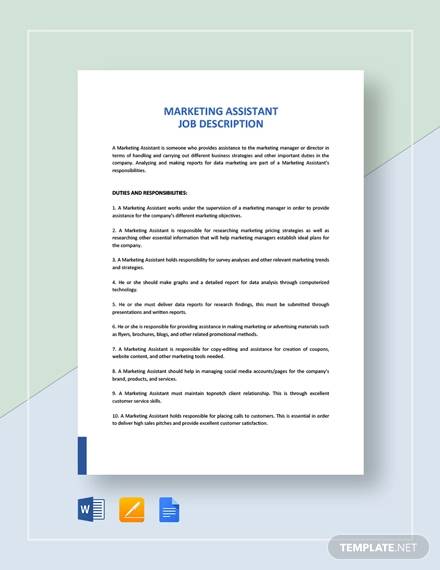 Marketing Manager Job Description Template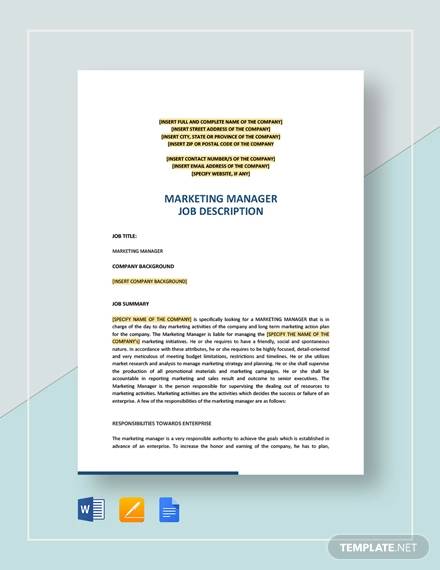 SEO Social Media Marketing Job Description Sample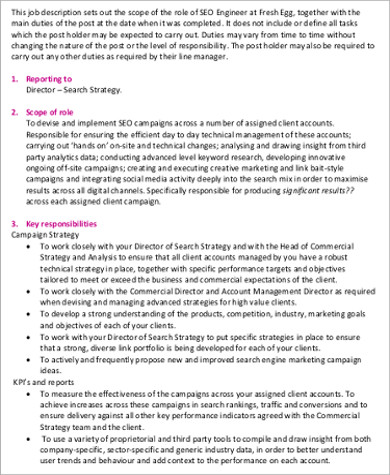 Social Media Marketing Manager Job Description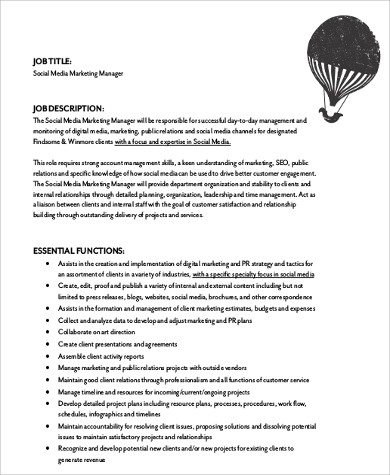 Digital Social Media Marketing Job Description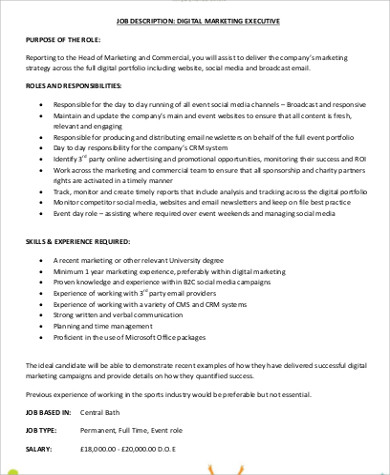 Social Media Marketing Specialist Job Description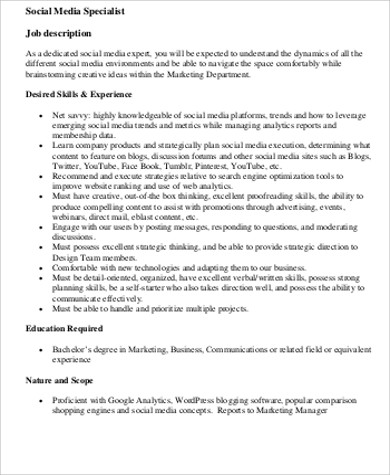 Social Media Marketing Intern Job Description in PDF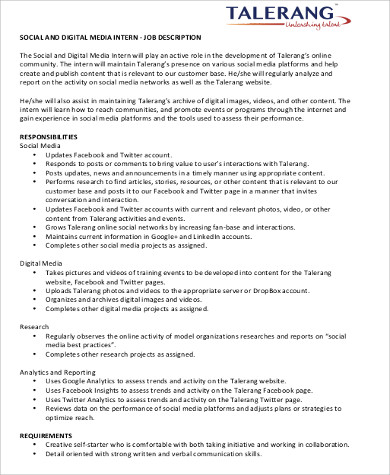 Job Functions of a Social Media Marketer
Collaborate with other departments (customer relations, sales, etc.) to manage reputation, identify key players, and coordinate actions
Set up and optimize company pages within each platform to increase the visibility of company's social content
Coordinate with the advertising department and other colleagues in order to help implement online marketing campaigns that drive engagement and traffic across social media (Facebook, Twitter, Instagram, etc.) and search engine optimization (SEO)
Create engaging content to ensure the blog and social media pages or accounts are up to date, relevant, and capable of capturing the interest of viewers
Knowledgeable in accurate grammar usage and capable of proofreading the content made, including but not limited to blog posts, social media posts, and press releases
Skilled in basic computer graphics and HTML
Regularly observes the online activity of potential clients/customers in order to tailor a digital marketing strategy that is in tune with the relevant market trends
Persistent in enlarging the company's customer base
Posts updates, contents, blog posts, press releases, and responds to customer inquiries in a timely manner
Requirements for a Social Media Marketing Position
Excellent consulting, writing, editing (photo/video/text), presentation, and communication skill
Adequate knowledge in Web development, Web design, search engine optimization, and various social media platforms
Good organizational skills that enables him/her to easily coordinate with the various departments of the company, specifically the advertising department
Innovative thinker with a blend of business savvy
Excellent interpersonal skills that enables him/her to communicate with customer inquiries and business associates
If you are a business owner or manager, you might also be interested in knowing the job descriptions of other job positions. We have Marketing Job Descriptions and Marketing Manager Job Descriptions that are available for download. Simply click on the links provided.
Social Media Marketing Assistant Job Description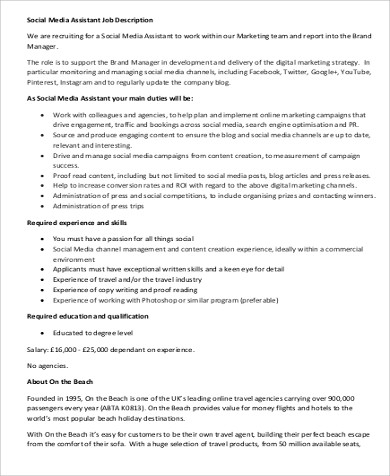 Social Media Marketing Analyst Job Description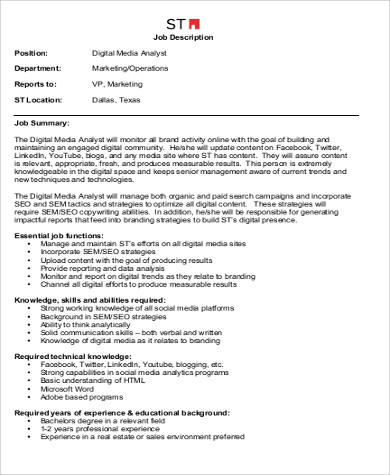 Social Media Marketing Officer Job Description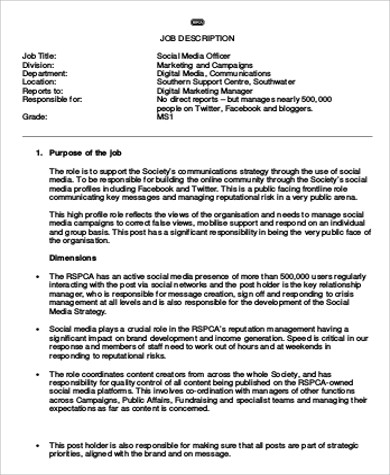 Job Descriptions Make Business Run Smoother
Companies will be benefited by a job description in the following manner:
They allow you to make informed hiring decisions by developing recruiting strategies that clearly outline to applicants their role and responsibilities.
When conducting interviews, job descriptions should form the foundation for the development of interview questions.
Job descriptions can aid in the development of standardized compensation program for each position.
When the job expectations and requirements in the job description are not met, the job description can be used in determining which areas are in need of training and development.
Job descriptions are vital tools for performance management.
For more job descriptions, check out our Marketing Coordinator Job Description samples by clicking on the link provided.