Have you ever wondered how products/commodities can swiftly transfer from manufacturers to consumers in successfully large quantities regularly? Well, this is all because of the presence of retailers and distributors who purchase these products from the manufacturers then sells it to the primary consumers.
If you are an owner or manager or a manufacturing company, then you need to ensure that you are able to attract first the retailers and distributors. In order to do this, you need a trade marketer. For more ideas on what a trade marketer does, download our collection of trade marketer Job Description Samples below.
Marketing Assistant Job Description Template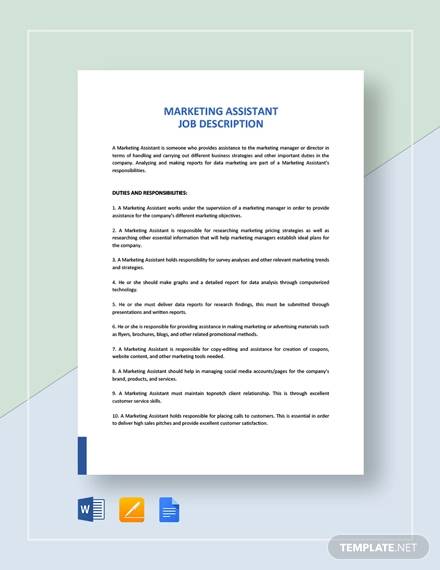 Marketing Manager Job Description Template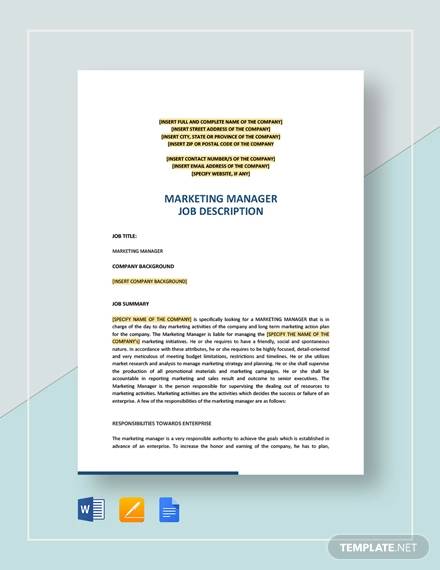 Trade Marketing Executive Job Description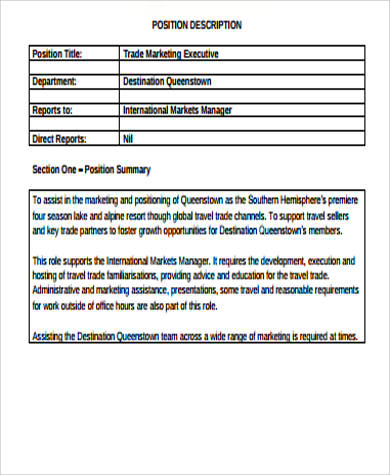 Trade Show Marketing Job Description Example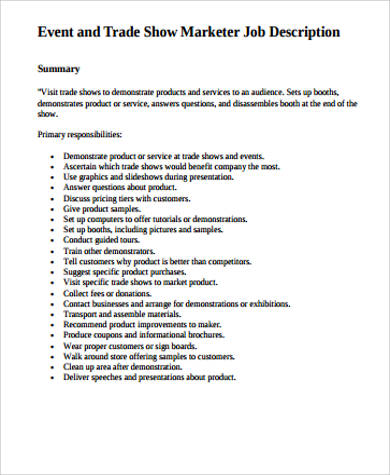 Trade Marketing Specialist Job Description in PDF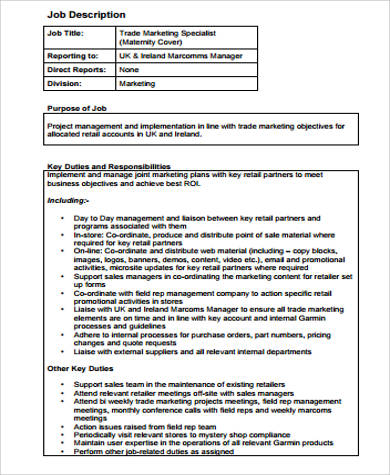 Trade Marketing Operations Manager Job Description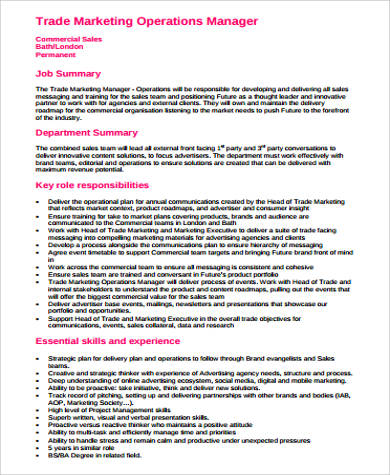 Responsibilities of a Trade Marketer
Develop promotional programs that attract wholesalers, distributors, and retailers.
Maintain a positive and active customer base to increase purchase orders.
Ensure the availability of products by coordinating with the assigned departments.
Carry out trainings on marketing, branding of the sales teams and dealers regarding the standards.
Conduct workshops with relevant units to ensure development and updates.
Attend social events and drives for the promotion of products specifically to garner distributors and retailers.
Utilize the appropriate software/computer program in order to develop the most effective solutions for key accounts/ working with all assets available and developing new programs when needed including in-store merchandisers.
Increase success rate of promotion and brand perception.
Assesses plans including range and merchandise proposals.
Attends brand marketing strategy meetings and examines their proposals as basis for creating trade marketing programs.
Work with top retailers to make plans according to category roles in their stores.
Contribute to the company's goals and objectives and improve market share, customer satisfaction, and productivity performance.
Establish channels for marketing and implement trade marketing strategies with other associated plans.
Develop a special trade promotional plan with key customers (distributors, retailers, wholesalers, etc.) and channels.
Analyze, develop, and report marketing campaigns and activities.
Market field visits, check the field activities, and work in coordination with sales team.
Speaking of marketers, you might also find our collections of Director of Marketing Job Descriptions and Marketing Job Descriptions of great use.
Team Leader Trade Marketing Job Description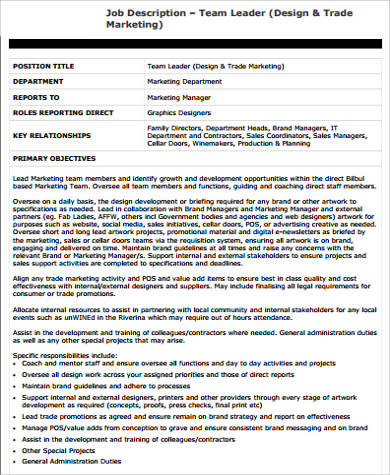 Simple Trade Marketing Manager Job Description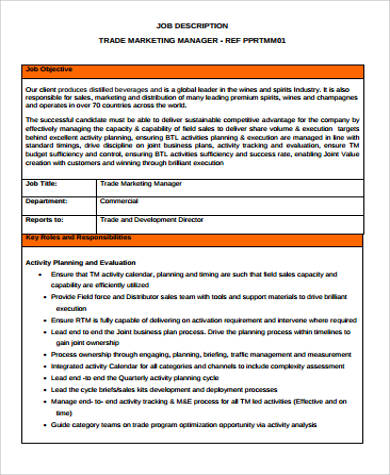 Head of Trade Marketing Job Description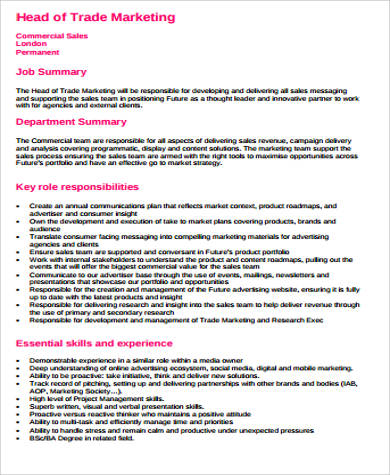 Trade Marketing Analyst Job Description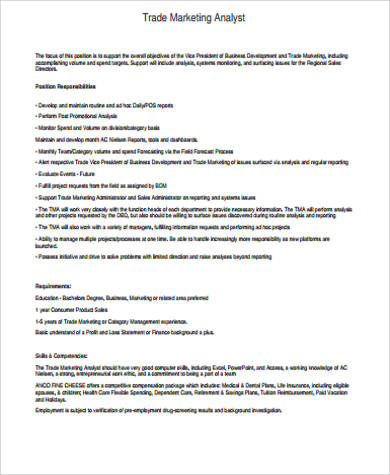 Trade Marketing Manager Job Description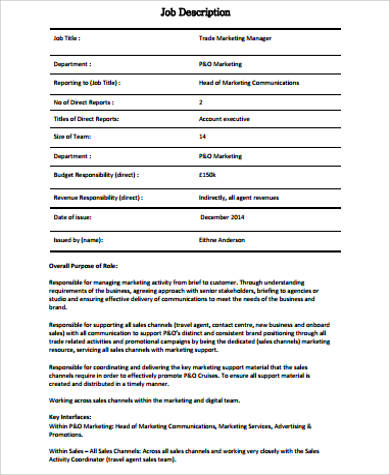 Importance of a Trade Marketer
Any huge company that produces their own product or products have a hard time selling their products at the consumer level. By consumers, it means the people or corporations that have a direct need or use for the product manufactured. It is for this reason that manufacturing companies need the help of distributors, wholesalers, and retailers in order to make their product accessible to the primary consumers.
Distributors, wholesalers, and retailers are the ones who make the products available to the consumers. Hence, manufacturing companies need to target not only the consumers but even more so, the distribution level. The potential distributors must first be attracted by the profitability of the product before they will even think of purchasing such product/s in large quantities for distribution. Sometimes, when a manufacturer fails to gain the attention of these distributors, the products manufactured would be a great loss of investment. It is for this reason that a trade marketer is necessary.
A trade marketer is equipped with the appropriate type of marketing skills that will enable him/her to implement strategies that increase the demand for the product at the wholesaler, retailer, and distributor level.
For more marketing position job descriptions, check out the following link: Marketing Coordinator Job Descriptions