A lot of companies, especially in the service and hospitality industry, have the employees as its backbone. People who work for the company should be able to visualize the goals and vision of the corporation or establishment for them to be able to properly represent the institution where they belong. Moreover, they shall be chosen depending on their skills, talents, and the overall professional performance that they can provide for the company.
Sounds too much? Well, choosing the right fit for different posts in the company is only the start of a Human Resource Personnel's job. May you be a manager, a supervisor, or a rank-and-file employee, all of us has to go through the screening process facilitated by the Human Resource department.
There's more to know about what happens in a life of a Human Resource practitioner on a daily basis, but you may also check Job Description Samples for more information about other jobs that you may be interested at.
Human Resources Assistant Job Description Template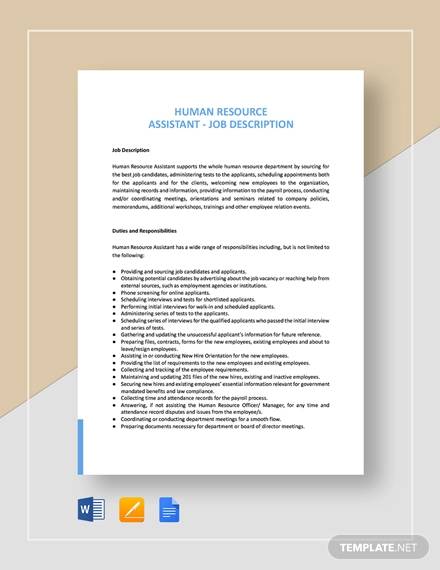 HR Officer Job Description Template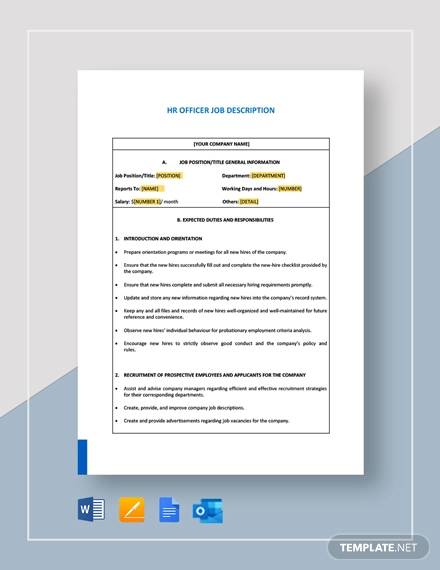 Recruiter Job Description Template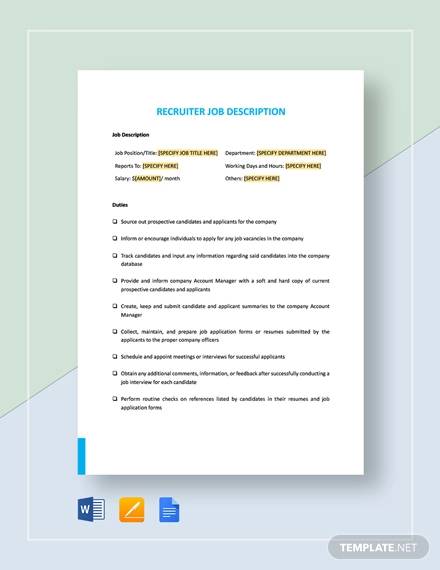 Free Human Resources Functional Job Description Template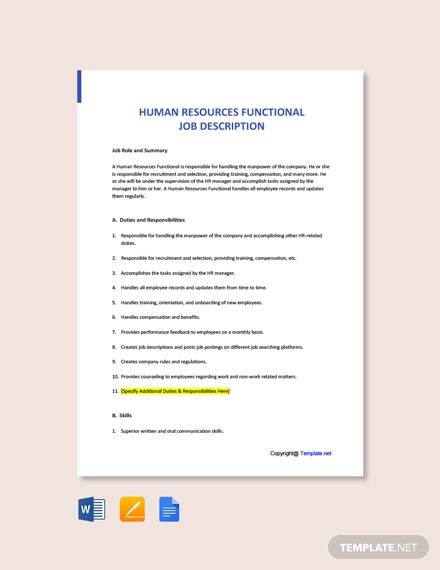 Free Human Resources Operations Manager Job Description Template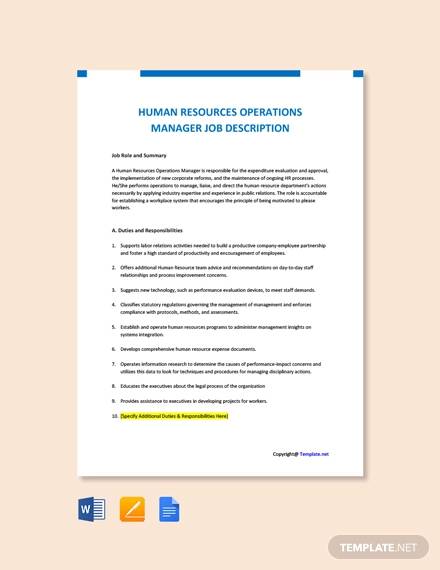 Sample Human Resource Assistant Job Description
Human Resource Officer Job Description in PDF
Free Human Resource Coordinator Job Description
Senior Human Resource Business Partner Job Description
Human Resource Executive Job Description to Download
Duties and responsibilities of Human Resource Personnel and Officers typically include
Interviewing of applicants for a vacant position. Only people from the human resource department can assess if we will pass or not depending on how well we answered the prepared examinations and the interview questions;
Support on the management in terms of decision-making especially if it concerns the employees;
Creating strategies and programs that will boost the employees' morale and work performance;
Administrative duties including documentation of minutes of the meeting, keeping track on employees' records and making sure that all paperwork concerning the workforce are done;
Calculating salaries, bonuses and rewards depending on employees' attendance, work performance and benefits;
Evaluation of employees' performance within a specific time period;
Helps in the management of risks in the workplace especially issues about safety and health;
Aligning labor codes to the company's guidelines and assuring good employee relations; and
Scheduling sessions to hear the employees out and resolving problems that may occur within the work environment.
On top of all these, an HR Manager should assure that the department is smooth sailing as they are the center of all operations in terms of the people working for the company. For more information about the duties of an HR Manager, click HR Manager Job Description Samples.
Human Resource Director Job Description Example
Printable Human Resource Administration Job Description
Human Resource Manager Job Description in Word
Standard Human Resource Specialist Job Description
Basic Human Resource Secretary Job Description
Being able to do all the tasks given to them, employees in the Human Resources are truly the key for the well-planned implementation of a company's programs toward the betterment of other employees. They are also the reason why the workplace has been circulating efficiently.
It is not an easy job to regularly look on everything especially the company's programs and policies. Also, how hard do you think it is to be involved with almost all the services that is related to people management.
This only proves that the job of the Human Resource department does not end on hiring employees. When there are no hiring schedules, there's more to be done so they can meet the satisfaction of current employees and increase their productivity.
For printable templates of the responsibilities of other jobs, you may go to Job Description Templates.