Business administration is a generalized field that incorporates several types of management duties and responsibilities. Many businesses and corporations employ business administrators to oversee operations and day-to-day functions of their enterprises.
Competent business administrators are quite in demand in the corporate world. In fact, most managers actually reach their positions by starting as supervisors who oversee the business and worked their way up the ladder to their current positions.
Our business administration Job Description Samples come in a variety of types to ensure only the right person is hired that's fit for whatever functions and responsibilities you require in your business or institution. These are free to download and can be edited or integrated according to your requirements and are available in both Word Doc or PDF forms.
Administrative Services Manager Job Description Template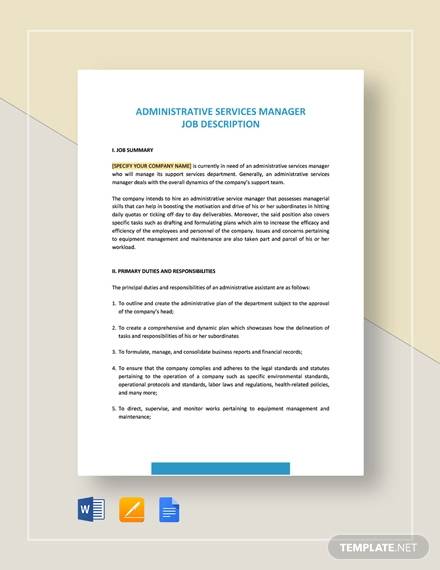 Business Administration Manager Job Description
Business Administration Apprenticeship Job Description
Business System Administrator Job Description
College of Business Administration Job Description
Business Administration Assistant Job Description
Those who want to pursue a career in business administration will find it helpful to pursue a bachelor's degree in business to get a real understanding of how a business administrator works. You'll get to study and have a general idea about how your functions, tasks, duties, and responsibilities are defined in order to run a successful business according to a corporation's wishes.
The key tips for ensuring a smooth day-to-day operation is to enhance your knowledge on how to handle a company, develop and accomplish the following skills and objectives:
Managing general activities and ensuring the smooth operation and productivity among workers while maximizing products and services
Establishing and executing policies, procedures, and meeting goals in your business tasks
Consulting with employees, staff, and executives about operational procedures and production enhancement initiatives
Direct and supervise financial and budgetary tasks while keeping overhead costs at a minimum
Implementing cost-reduction, instituting programs to enhance production, and improve performance
Besides business administration job description samples, we also have free downloadable Database Administrator Job Description Samples for those looking for administrators to oversee the application of new technologies and data management in the workplace.
Business Administration Finance Job Description
Human Resource Administrative Assitant Job Description
Business Administration Internship Job Description
Business Administration Trainee Job Description
Business Administrator/Analyst Job Description
Our business administration job description samples come in a variety of fields that may be needed by each company looking for a specific field of business administrators. The sample arenas for work include business administration internship jobs for companies open to students and trainees who have reached the level requirement eligible for internship. These are for those who may want to enhance their studies and acquire some knowledge on how their courses are applicable to a real-life working environment.
There's also a downloadable administrator and business analyst job description for companies who are not just looking for administrators on a personnel level, but also administrative business analysts. Typically, these administrators are those who can configure and develop a company's database system in an IT configuration as well as innovate new systems and processes to optimize production and performance.
Our enhanced Job Description Sample classifications can be edited, optimized, and modified for better results to fit a company's requirement for an administrator in a specific area where it's urgently needed. These are all available free for downloading and printing and are available in both Word Doc and PDF files.