Every company that hires manpower, no matter how big or small, needs a staff who manages the employees' compensation and benefits, makes sure that they receive their salaries on time, processes the employees' salary deductions, and other compensation-related tasks. It is in this specific juncture of a company's business process where the position of an HR payroll administrator or manager needs to be filled.
Hence, if you are an employer who is thinking about hiring an HR payroll staff or if you are someone who intends to apply for a payroll position, then your aims will be benefited if you have knowledge of what an HR payroll job entails. For your convenience, we are offering you a collection of easily downloadable HR payroll Job Description Samples. Feel free to scroll down below and browse.
Free Payroll Accountant Job Description Template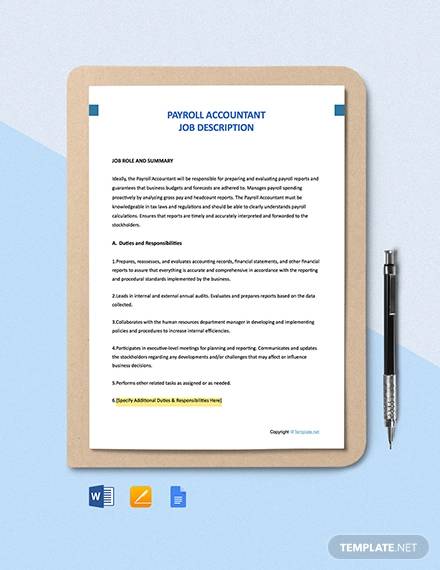 Sample HR Generalist Payroll Job Description
HR Executive Payroll Job Description
HR Assistant Payroll Job Description
HR & Payroll Manager Job Description
HR Specialist Payroll Job Description
What Is a Job Description?
A job description is a crucial tool for hiring managers. This is the document that they use to enlighten their employees regarding the specifics of their job positions such as the expectations, responsibilities, and duties.
Who Needs a Job Description?
While the company as a whole can benefit when the employees they hired are made aware of a standard basis for the specific tasks and responsibilities that are expected of them, there are, however, two notable persons whose endeavors can be benefited by using a job description, and those are
a human resource manager who is in charge of hiring and managing employee performance; and
a prospective job applicant who wants to tailor his/her resume, mind-set, and qualifications in preparation for his/her application of the job position desired.
Advantages of Using a Job Description
The human resource manager or a company would find it easier to formulate a standardize compensation program for each of their employees. This program would be fair since it is based on the gravity of each employee's tasks or responsibilities.
A job description allows HR managers/employers to assess objectively whether or not an employee has performed satisfactorily the responsibilities clearly laid out in his/her job description.
In case an employee has continuously and repeatedly failed to perform the tasks expected of him, then a job description can help employers or managers to impose the appropriate form of disciplinary action for such employees.
In relation to all these, if you are an HR manager, you may be interested in our collection of Payroll Job Descriptions and Payroll Specialist Job Description.
HR Payroll Administrator Job Description
HR Payroll Coordinator Job Description
HR Payroll Manager Job Description in PDF
HR Payroll Clerk Job Description Example
HR/Payroll Analyst Job Description
Payroll
Payroll refers to the process by which employees receive their salary.
The Responsibilities of an HR Payroll Staff/Manager
In calculating the employees' monthly salaries, he/she would be tasked to deduct all the government-mandated salary deductions.
Subtracts from the basic monthly salary the deductions from absences incurred.
Manage employee benefits.
Ensure that the employees receive their salaries on time.
Manages the various types of special benefits for the employees such as maternity pay, vacation pay, and even sick pay.
Indeed, a payroll staff is an essential fixture in any company. If you want to know more about their specific functions and responsibilities, you may check out our collection of Payroll Analyst Job Descriptions.