One of the first memories that we have when we were kids is teaching. We may not be the teachers, but we certainly are on their receiving end. Before we went to school, our parents, grandparents, and other older family members were our first teachers. They taught us from the formal letters in the alphabet, to counting numbers and identifying colors. And we went to school and learned a lot more.
Teachers help a lot in a person's development. Thus, schools set standards in their screening process in looking for prospective teachers. Below are Sample Letters for teachers who can be recommended to land the job.
1. Recommendation Letter For Teacher Applicant Template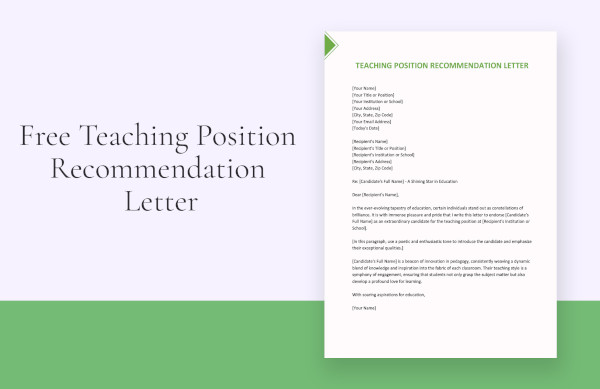 2. Recommendation Letter For Teaching Position Template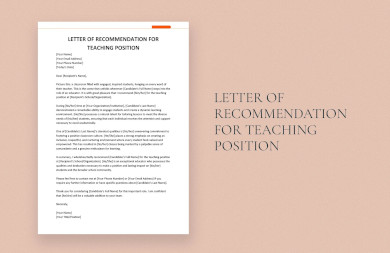 3. Letter Of Recommendation For Teacher
How to write a recommendation letter for a teaching position?
To write a recommendation letter for a teaching position, follow these steps:
Introduction:

Start with a formal salutation and introduce yourself. Mention your position and relationship with the candidate.

Express Your Recommendation:

Clearly state that you are writing to recommend the candidate for a teaching position. Be direct and positive in your endorsement.

Provide Context:

Briefly explain how you know the candidate and the context of your relationship. Include the length of time you have known them and in what capacity.

Highlight Qualifications:

Focus on the candidate's relevant qualifications, skills, and experiences. Provide specific examples of their teaching abilities, classroom management sample, and any notable achievements.

Personal Qualities:

Discuss the candidate's personal qualities that make them well-suited for a teaching role. Include traits such as dedication, enthusiasm, communication skills, and adaptability.

Accomplishments:

Mention any specific accomplishments or projects the candidate has undertaken in the realm of teaching. Highlight their impact on students and the school community.

Address Weaknesses (if any):

If the candidate has any weaknesses, address them diplomatically, and explain how they've worked to overcome or improve in those areas.

Comparison (if applicable):

If you have experience with other teachers, you may compare the candidate's performance and qualities to others in a positive light.

Closing Statement:

Conclude the letter by summarizing your sample recommendation and expressing confidence in the candidate's ability to excel in a teaching position.

Contact Information:

Include your contact information in case the recipient has further questions.

Closing:

End with a formal closing phrase, such as "Sincerely" or "Best Regards."
4. Sample Letter Of Recommendation For Teacher Template
5. Letter Of Recommendation Template For Teacher
If you are applying for a teaching position, there are various ways on how you can land the job. It can be through your documents, an interview, or even a demonstration—one of which is through a recommendation letter sample.
A teaching recommendation letter is a written document from a person of sample reference describing an applicant's qualities, abilities, and education qualifications that make him/her suitable for the job. These include the following facts:
A recommendation letter contains a person's factual information. These are collected before the writing of the letter. This may be collected through your curriculum vitae, application letter, and/or interview.
A person who will write your letter will open up with a bit of praise, a show on how he/she is enthusiastic to recommend you for the position.
He/she will also describe how you are related to each other or how he/she has come to know you.
Your values, accomplishments, skills, and other necessary qualifications will be written as well.
Aside from that, he/she will convey your eagerness to learn and the areas where you can improve.
A recommendation letter is very important since the person who writes it is knowledgeable and reliable on what kind of person would be perfect for the job. This will serve to convince the committee for the application processes. In case you are looking for more details, you may see our samples of Job Recommendation Letters and Teachers Letters of Recommendation.
6. Letter Of Recommendation For Teaching Position
A school relies upon its teachers. After all, it encourages and gets students, and they should hardly learn anything without teachers. But there are also qualities that every teacher must possess, from her personal attributes down to her professional. These are what hiring committees are looking for—knowledge, skills, and character outline sample.
A person's life is a constant learning, not just mathematics and numbers or science, language, poetry, or history. There are things that one can learn not just from the books and the blackboards. These are things that come from words of wisdom and experience. And it is every teacher's job description to impart what he/she know to his/her students. Moreover, as a teacher, it is your work and utmost commitment to bring out every person's talent and potentials, to make him or her believe in himself or herself. Teaching is a perennial profession. It has existed for generations, and as long as there are people, it will continue to do so.
For more samples on recommendation letters, you may browse through our website. We also have Letters of Recommendation for Student in case someday the need will arise.
What is a letter of recommendation for a teacher?
A letter of recommendation for a teacher is a written endorsement that assesses a teacher's qualifications, character, and abilities. Typically requested by educational institutions or employers, it serves to provide an in-depth perspective on the teacher's teaching skills, professionalism, and impact on students. The letter format may highlight their classroom management, subject expertise, teaching methods, commitment to students, and contributions to the school or community.
How to start a letter of recommendation?
To start a letter of recommendation, address the recipient, express your willingness to recommend the individual, and briefly mention your relationship or context of knowing them.
What makes a good teacher recommendation letter?
A good teacher recommendation letter is personalized, specific, and highlights the student's qualities, achievements, and potential. It should also reflect the teacher's credibility and unique insights.
What is a letter of recommendation for elementary teachers?
A letter of recommendation for elementary teachers should emphasize their teaching skills, classroom management review, rapport with students, and ability to create an engaging and positive learning environment.
What is an example of a testimonial letter for a teacher?
A sample testimonial letter for a teacher may express gratitude, highlight their teaching impact, and mention specific qualities like dedication, enthusiasm, and the ability to inspire students to excel.
What should I write to my teacher for recommendation letter?
When requesting a recommendation letter from your teacher, it's essential to be respectful and provide them with the necessary information. Here's a sample template that you can use as a guide: