Sponsors are an important part of any event or function, putting in mind that they play a crucial role in provision of financial or logistical support in return for their names to receive highlights in the event. One thing that human beings may be so poor at doing, or generally too forgetful to remember is writing a Thank You Letter Format note template to the sponsors at the end of the event or program. Whether providing logistical or financial support to events or other programs notes are an effective tool that lies in waiting at the end of the time and here is why.
Sponsorship Thank You Letter from Children Hospital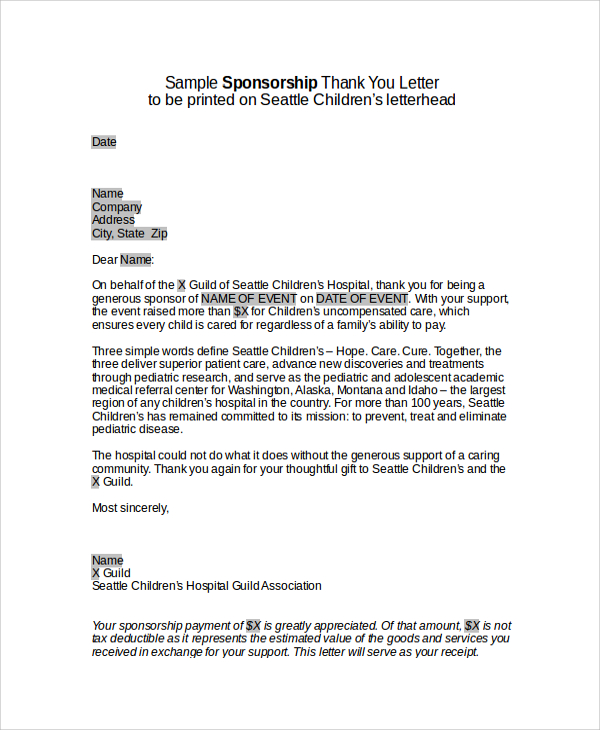 seattlechildrens.org
This sponsorship letter is to seek donations and sponsorship from clients and potential investors to incur the several medical expenses of the institution for children. He thank you letter is to showcase your gratitude for the contribution.
Sponsor Thank You Letter for Donation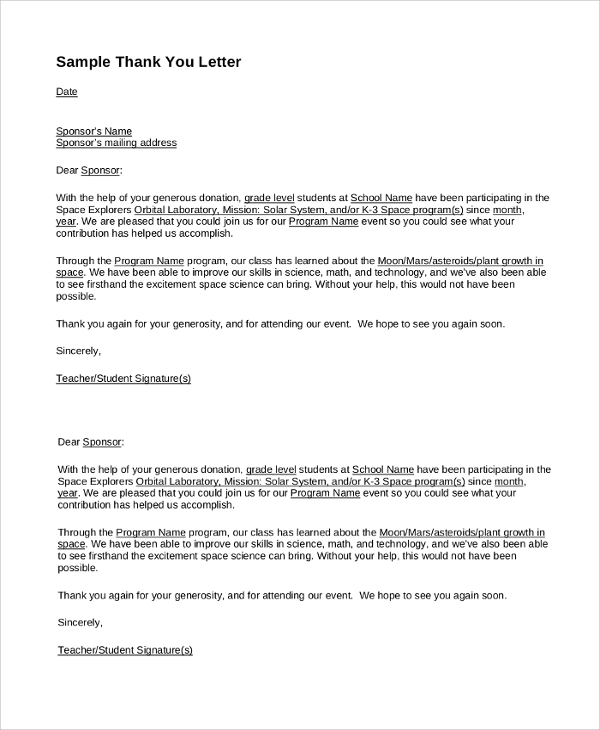 space-explorers.com
A thank you letter is not just to show your gratitude but also to build a longer relationship between the donor and the brand/institution/group.
Sponsor Thank You Letter from Student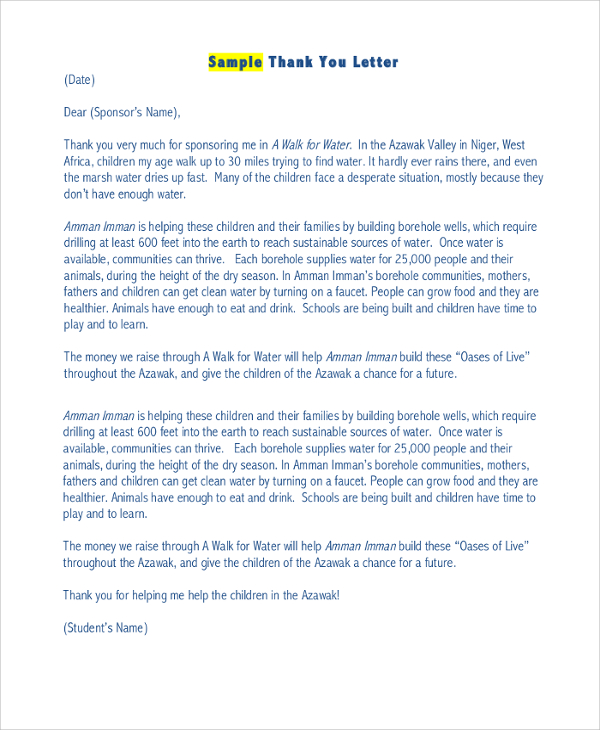 ammanimman.org
Angel donors and certain organizations aim to sponsor special student from time to time. If you have received such a unique donation, here's a way to thank your sponsor.
Sample Thank You Letter To Co-Sponsor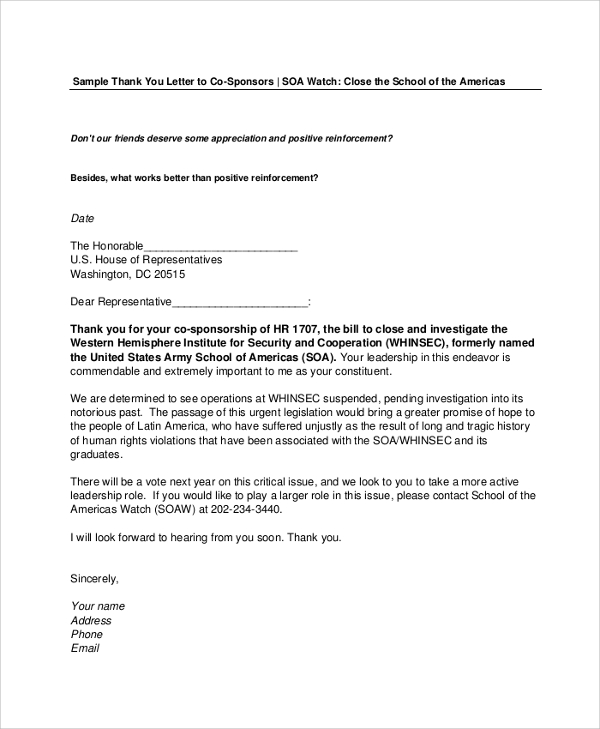 soaw.org
Co-sponsors need to be shown as much appreciation for their contribution as the main investor. Here's the ideal way to go about writing a thank you letter.
Sponsor Thank You Letter for Generous Donation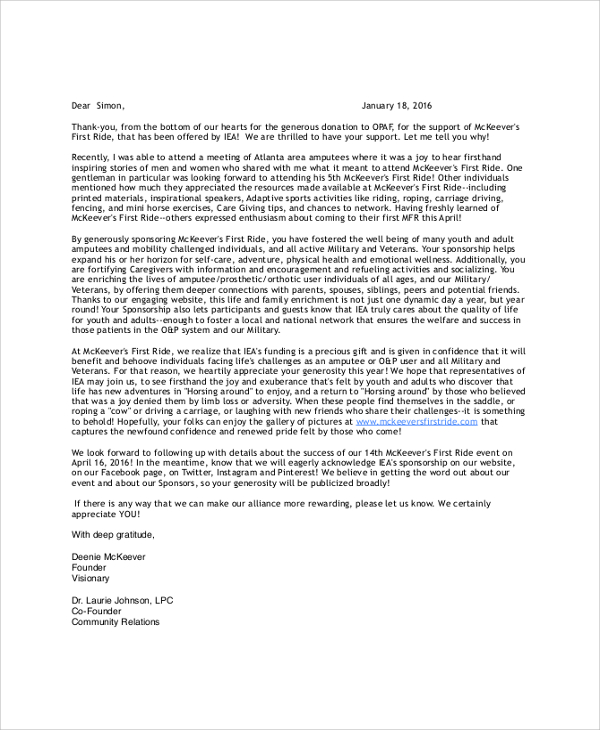 rideiea.org
Any generous donation to your cause / project is to be appreciated by a thank you letter. Here's a format about what to write and go about it.
Thank You Letter to Sponsor to Download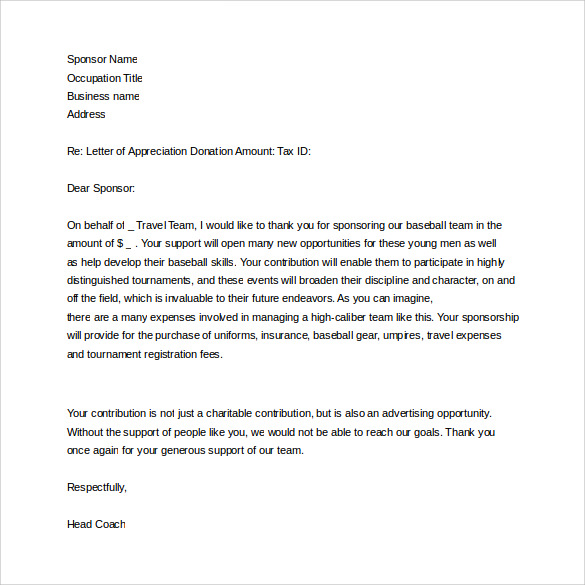 Thank You Letter to Sponsor- This template is meant to appreciate a sponsor who has already banked their cheque to your organization. It aims to brief them on the amount received and how it will be used.
Event Sponsor Thank You Letter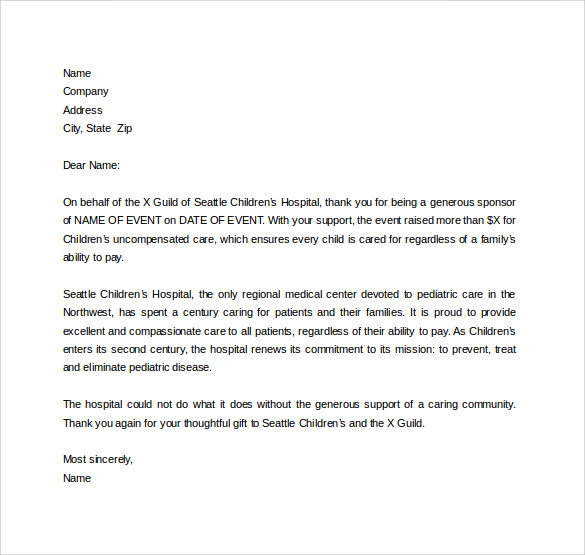 Event Sponsor Thank You Letter- An event sponsor thank you letter is meant to thank a sponsor who funded an event. It could be a children's or environment aimed campaign.
Introduction:
A simple appreciation after a kind deed goes a long way in maintaining meaningful relationships. A sponsor thank you letter is a brief note written to sponsors of an event after a successful event. As much as the deal is usually mutually beneficial, it is important to appreciate the sponsor for gracing the occasion.
Uses:
Sponsors require knowing the impact of their aid to any project. A thank you note is a great way to kill two birds with the same stone. It is used to cement strong relationships between various organizations and keep them updated on the progress of events.
Sample Sponsor Thank You Letter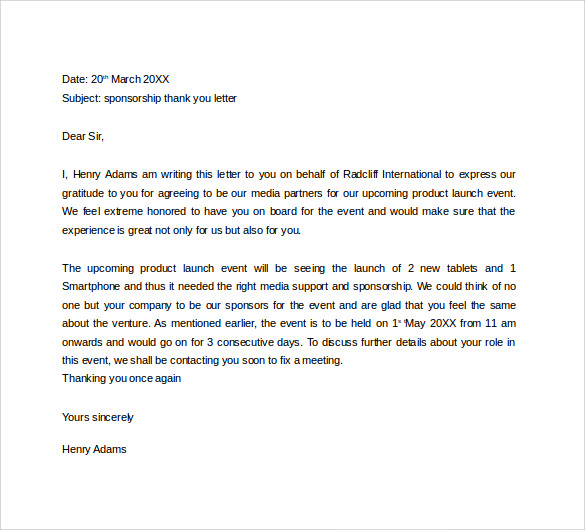 This template is used to thank a sponsor who has agreed to be on the bandwagon of supporting an organization financially. The note details further information on the happenings of the occasion.
Sponsor Thank You Letter for Free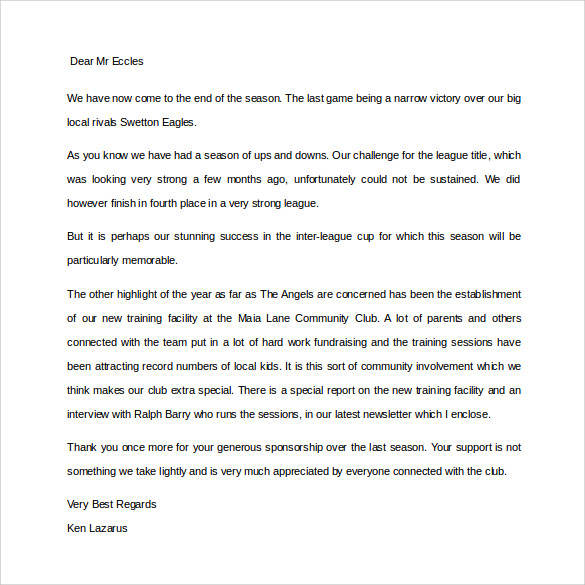 This editable format letter is used to appreciate a long-term sponsor for the continued support. Besides the appreciation, it keeps the sponsor informed on key happenings in an agency.
Types:
Sponsor letters can either be requesting a sponsor to finance an event, or responding to an organization's initiative to sponsor an event. One can use a specific format or write a sponsor thank you note informally.
Purpose:
A sponsor appreciation letter not only aims at appreciating the sponsors but also marks the beginning of a new rapport. The end of a successful event should actually be the beginning of a great relationship, which could culminate in a greater vision.
Sports Sponsor Thank You Letter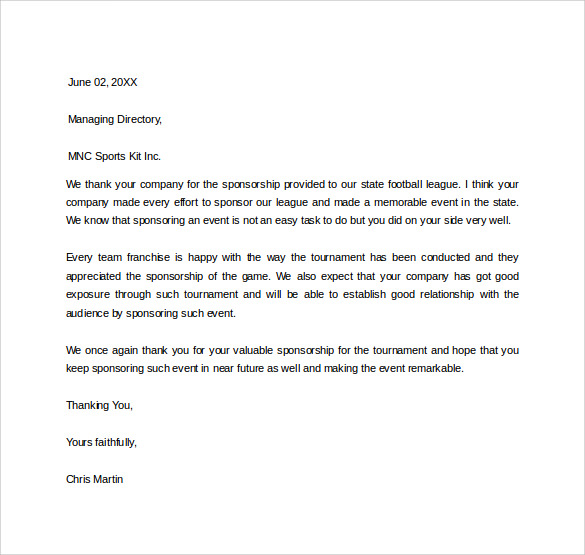 Many organizations are fond of supporting sports team. This sponsor thank you letter for baseball template for example can be used to show the sponsors their value and impact of supporting sports.
Thank You Letter to Sponsor PDF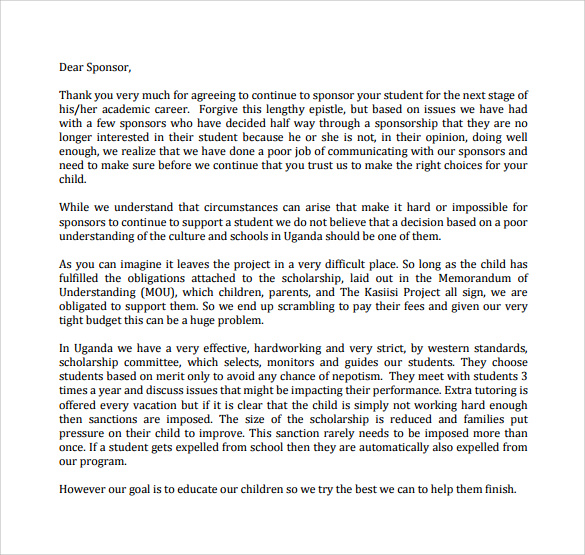 kasiisiproject.org
This pdf template can be used to appreciate any kind of sponsor. Be it an educational sponsor, event sponsor or any financial aid donor. It aims at steadily informing them of the progress and impact of the sponsorship program.
Thank You Letter to Sponsor Free Download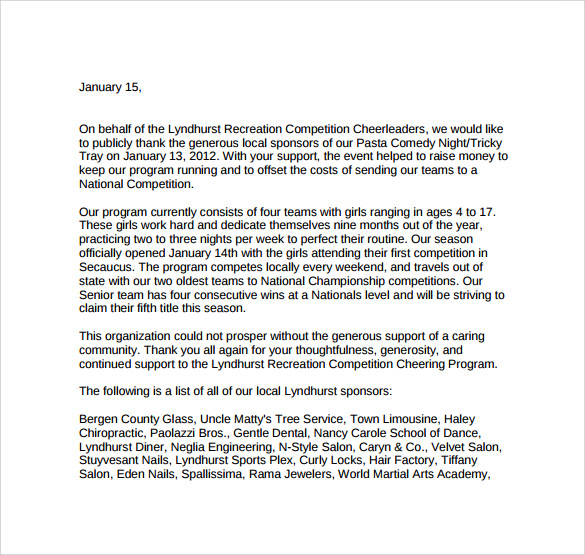 lyndhurstnj.org
This template is editable and can be used to thank any sponsor. To detail the note further, the template can list other sponsors that are supporting the team.
How to Create:

A sponsor thank you note is an appreciation for a meaningful gesture. The tone of this note should therefore be sincere and humbling. The letter should be brief with information about an organization, and progress of the sponsored course.
Tip:
Use top-notch grammar to express your appreciation. Ensure that any names associated with the sponsors are spelled correctly in the sponsor's order of preference.
Sponsor Thank You Letter Downloadable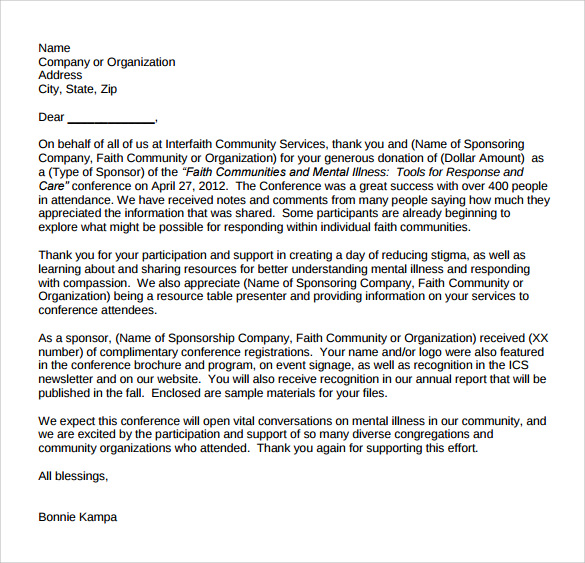 icstucson.org
This template is downloadable and can be used for a detailed appreciation. Besides thanking the sponsor, the note illustrates to the sponsor how their brand was used in the corporate world.
Download Sponsor Thank You Letter for Free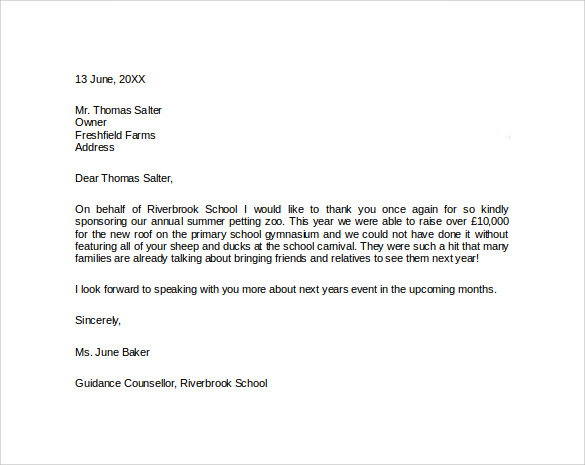 This is a free downloadable template used to appreciate a sponsor for donor funding.
Sponsorship Thank You Letter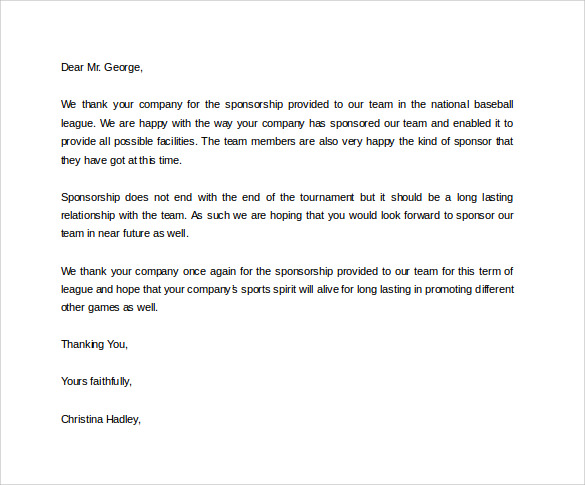 This format is used as a thank you letter to a regular sponsor. This can be used for sponsorship programs like education or sporting activities.
The relationship between sponsors and their clients do not start and end with the latter banking the support of the former. This is just but a tip of the iceberg; reception of support should serve to lay ground for an even more enchanting long-term relationship.A thank you note to the sponsor allows you to spell out your appreciation, highlight the ways in which their help was of importance and probably give an opportunity to encourage the sponsors to do more. One may also take time to indicate to the sponsor how their resources have been utilized, not that it is a follow up process but rather a show of good manners in demonstrating accountability with resources.
A look at sponsor Thank You Letters templates indicates that there is no rule in whether you have to go formal or informal; it all depends on the relationship between the addressee and the addressor. You may write your letter manually, but if you want tom portray a more business like posture, you can choose to borrow a leaf from printed templates.
If you have any DMCA issues on this post, please contact us!