Embarking on the journey of debt verification requires precision and clarity. The Sample Debt Verification Letter Template provided here is meticulously designed to assist you in this critical task. It serves as a vital asset for anyone needing to establish the legitimacy of a debt. This template excels in providing a clear, structured format and employs professional terminology to facilitate effective communication between debtors and creditors. It is an indispensable tool in the realms of legal and financial dealings, as well as for personal matters involving credit issues. By using this template, you enhance your ability to handle credit disputes efficiently, promote financial clarity, and uphold excellent credit management. Secure this easy-to-use, legally robust template to make your debt verification endeavors more straightforward and authoritative.
1. Sample Debt Verification Letter
2. Verification Letter Template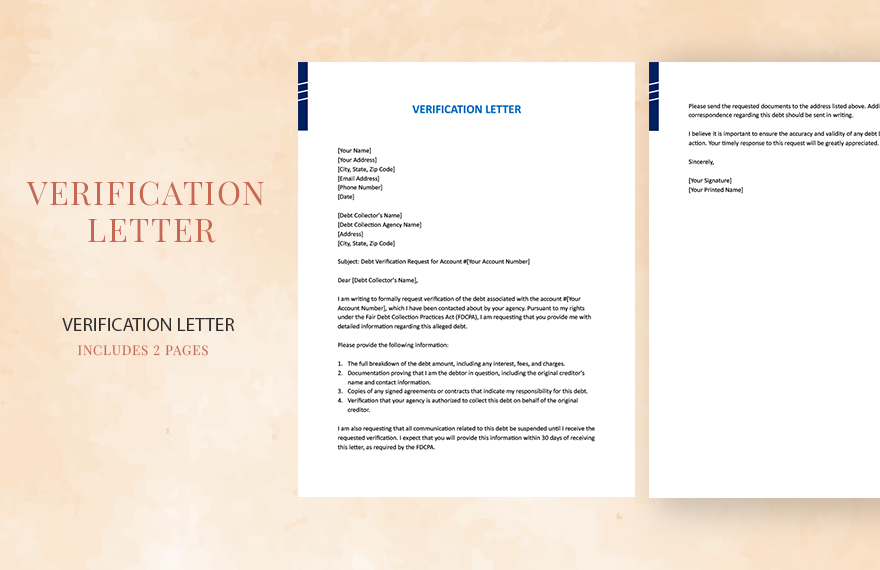 3. Sample Debt Validation Letter Template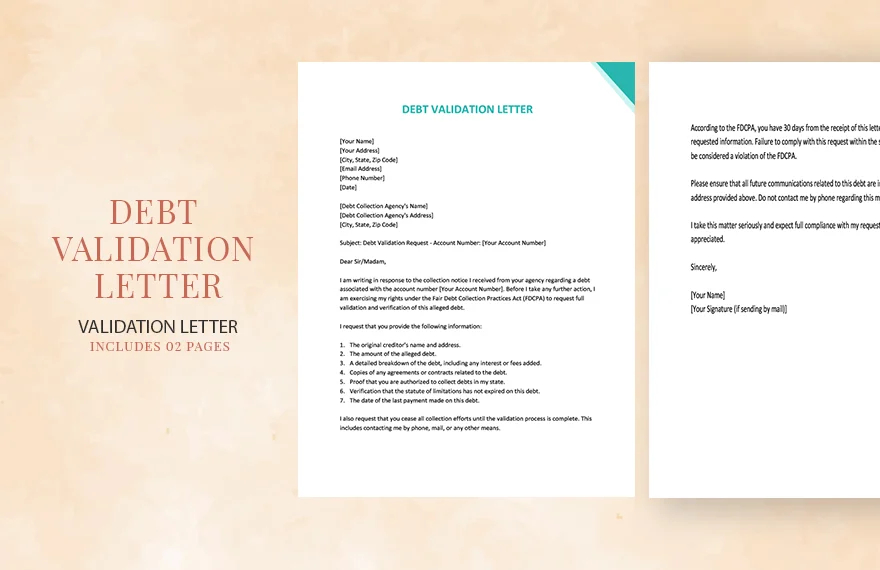 What is a debt verification letter used for?
A debt verification letter is an essential document in the world of credit and finance. It plays a pivotal role in the debt collection process, acting as a safeguard for consumers and a compliance requirement for creditors and debt collectors. Understanding the purpose and use of a debt verification letter can empower consumers, providing clarity and protection in financial dealings.
Definition and Legal Basis
A debt verification letter is a written request made by a debtor to a creditor or a debt collection agency. Its primary function is to verify the legitimacy and details of a debt claim. This process is rooted in the Fair Debt Collection Practices Act (FDCPA) in the United States, which mandates that debt collectors must provide detailed and accurate information about the debt they are attempting to collect.
Key Purposes of a Debt Verification Letter
Verification of Debt Details: The letter asks for specific information about the debt, including the total amount owed, the name of the creditor, and the breakdown of any fees or charges added to the principal amount. This ensures that the debt being claimed is accurate and legitimately owed by the debtor.
Prevention of Fraudulent Collections: With the rise of identity theft and fraudulent debt collection practices, a debt verification letter serves as a tool for debtors to protect themselves from paying illegitimate or incorrect debts.
Legal Compliance: Creditors and debt collectors are legally obligated to respond to a debt verification letter. Failure to provide the requested information can result in penalties and may invalidate the debt collector's right to collect the debt.
Pause in Collection Activities: Once a debtor requests verification of a debt, the FDCPA requires debt collectors to cease all collection activities until the debt is verified. This provides the debtor with a period of respite and time to organize their finances or seek legal advice.
Dispute Resolution: The letter can be used to dispute a debt in part or in full. If the debtor believes the debt is inaccurate, already paid, or not their responsibility, the letter formally communicates these concerns and requires the creditor to investigate and resolve the dispute.
Record Keeping: A debt verification letter creates a documented trail of communication between the debtor and the creditor. This can be invaluable in case of misunderstandings, legal disputes, or for reference in future financial planning.
Crafting a Debt Verification Letter
A well-structured debt verification letter should be clear, concise, and formal. It should include:
The debtor's personal information.
A clear request for specific details about the debt.
A mention of the debtor's rights under the FDCPA.
A statement regarding the cessation of collection activities until the debt is verified.
In conclusion, a debt verification letter is a powerful tool in the hands of consumers. It ensures that debt collection practices are fair, transparent, and within the bounds of the law. By understanding and utilizing this tool effectively, individuals can protect themselves from unfair debt collection practices and maintain their financial integrity.
4. Sample Request for Debt Verification Letter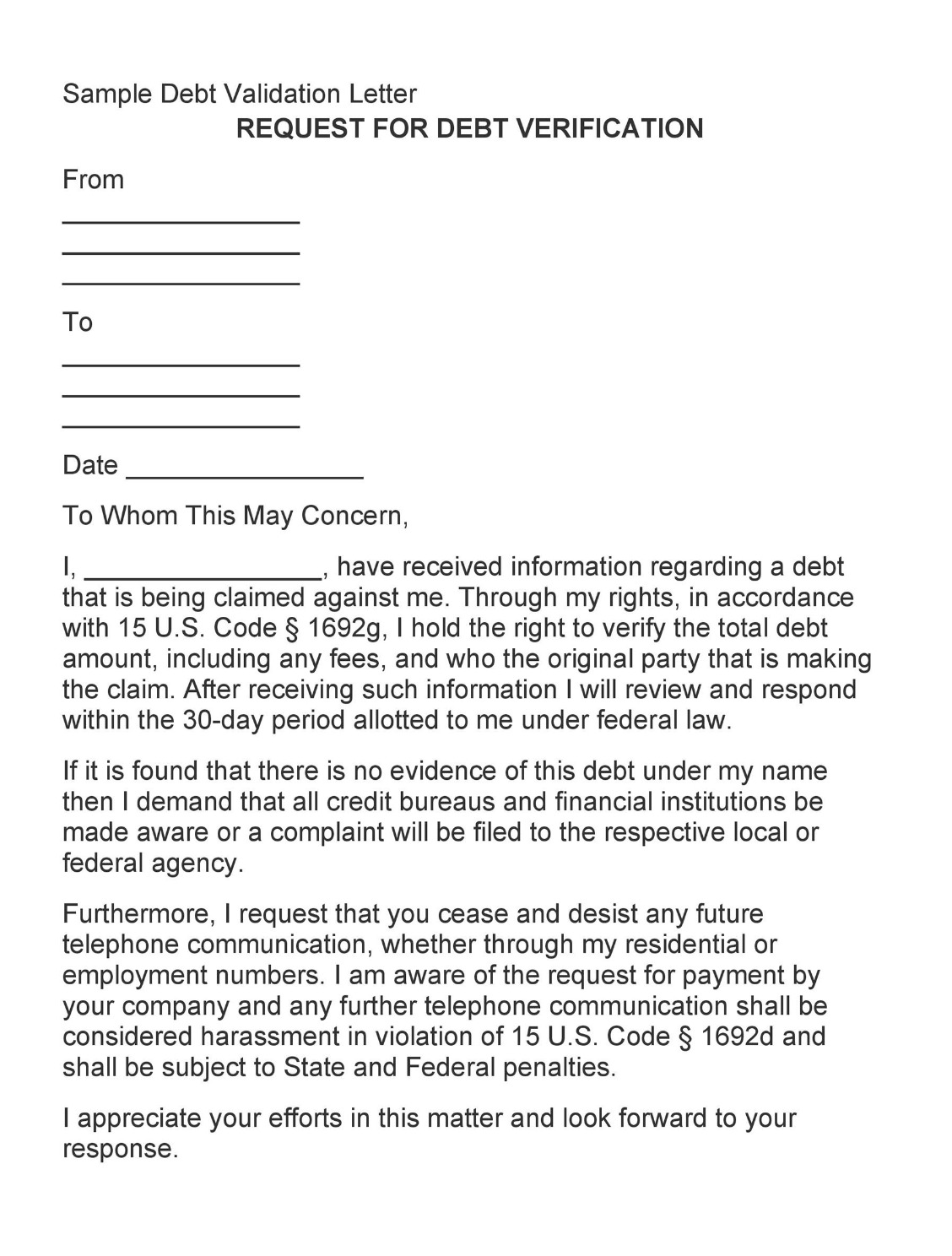 5. Debt Validation Letter Sample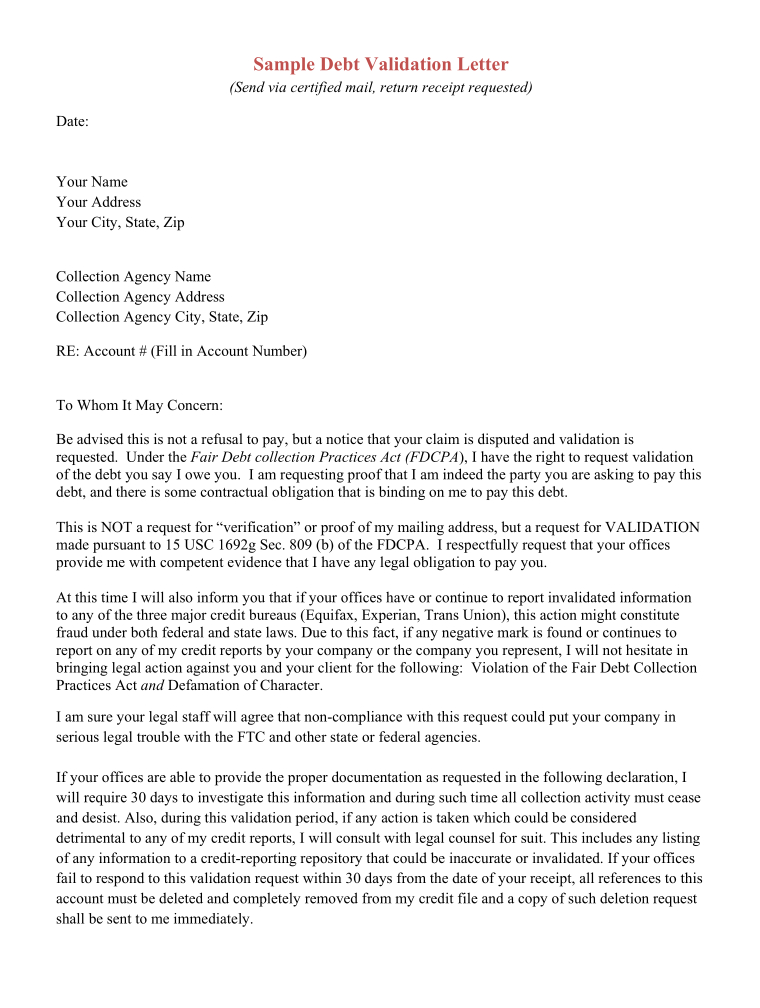 6. Verification of Debt First Request Letter Sample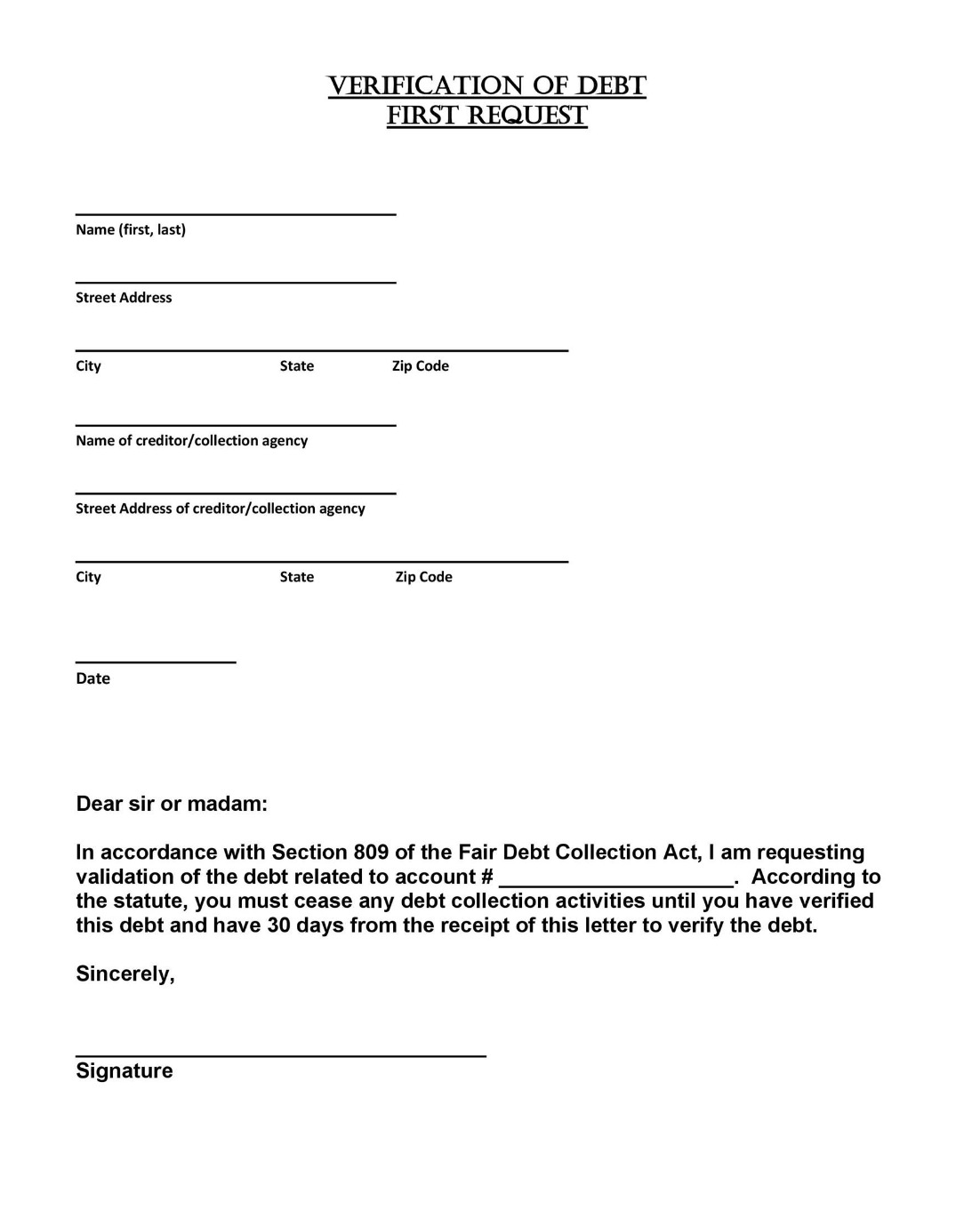 How do I write a debt verification letter?
Writing a debt verification letter is a crucial step in managing your financial responsibilities, especially when dealing with debt collectors. It's a formal way to request confirmation of the debt details, ensuring that the claim is legitimate and accurate. Here's a comprehensive guide to help you craft an effective debt verification letter.
Introduction to Debt Verification Letters
A debt verification letter is a formal request sent by a debtor to a creditor or debt collector. This letter is crucial for confirming the authenticity and specifics of a debt claim. It's a key step in managing your finances and protecting yourself from potential errors or fraudulent debt collection attempts.
Starting the Letter
Your Information: Begin with your full name, address, and any relevant reference or account number. Be cautious with sensitive data like your social security number.
Collector's Details: Address the letter to the specific collector or agency that contacted you. Use the address they have provided in their communication.
Date: The date should be prominently displayed at the top of your letter.
Writing the Body of the Letter
Reference to Collector's Communication: Mention the date and method of the collector's communication. This sets the stage for your request.
Request for Verification: State clearly that you are requesting the validation of the debt. Ask for the total debt amount, the original creditor's name, and any documents proving the debt is yours.
Mentioning Your Rights: Reference your rights under the Fair Debt Collection Practices Act (FDCPA), which allows you to dispute the debt and request its verification.
Cease and Desist Request (Optional): If you wish, ask the collector to stop all communications until they provide the debt verification.
Concluding the Letter
Closing Remarks: Keep a polite tone, regardless of your beliefs about the debt. Indicate that you expect a prompt response to your request.
Signature: Sign the letter and print your name below for clarity.
Final Steps
Sending the Letter: Use certified mail with a return receipt requested. This ensures that you have proof the collector received your letter.
Record Keeping: Keep a copy of the letter and any responses for your records.
A debt verification letter is an important financial tool. It helps clarify the specifics of a debt and protects you from erroneous or fraudulent claims. By following these steps, you can handle any legitimate debts responsibly while safeguarding your financial well-being.
7. Sample Credit Debt Verification Letter
8. Sample Debt Validation Letter to Creditor
Do debt validation letters really work?
Debt validation letters are a key instrument in the financial toolkit of consumers, particularly when dealing with debt collectors. Understanding their effectiveness is crucial for anyone navigating the complexities of debt management.
The Role of Debt Validation Letters
Debt validation letters serve as a formal request from the debtor to the debt collector for proof that the debt is valid and the collection efforts are legitimate. These letters are backed by the Fair Debt Collection Practices Act (FDCPA) in the United States, which mandates debt collectors to provide evidence of the debt upon request.
Effectiveness in Confirming Legitimacy of Debt
One of the primary ways in which debt validation letters work is by compelling debt collectors to verify the accuracy and legitimacy of the debt they claim. This means providing detailed information, such as the amount owed, the original creditor's name, and documentation proving the debtor's obligation. In many cases, especially where debts have been passed through several hands or are quite old, collectors might not have this information readily available. If they can't provide the required validation, they are legally barred from continuing their collection efforts.
Protection Against Fraudulent Collections
In an era where fraudulent debt collection practices are not uncommon, debt validation letters are a powerful tool for consumers. They help in identifying and protecting against scams and illegitimate debt claims. By requiring collectors to furnish proof, debtors can avoid falling victim to fraudulent collections, ensuring they are not paying debts they don't legally owe.
Impact on Credit Reporting
Debt validation letters can also impact how debts are reported to credit bureaus. If a collector cannot validate a debt, they are not supposed to report it to credit bureaus. However, it's essential for debtors to follow up and ensure that unvalidated debts are removed from their credit reports, as failure to do so can adversely affect their credit scores.
Use in Negotiating Debts
These letters can also serve as a negotiation tool. In cases where the debt is validated, but discrepancies are found (like in the amount owed), debtors can use this as a basis for negotiating the debt. Sometimes, debt collectors might be willing to settle for a lower amount than the original debt, especially if they face challenges in proving the entire amount.
Debt validation letters are indeed effective and play a crucial role in ensuring fair and legal debt collection practices. They empower consumers to take control of their financial situations, protect against wrongful debt claims, and uphold their rights under the law. While not a cure-all solution, these letters are a critical first step in any debt resolution process, providing a pathway for individuals to challenge, negotiate, and resolve debt claims with confidence.
9. Sample Debt Validation/Verification Letter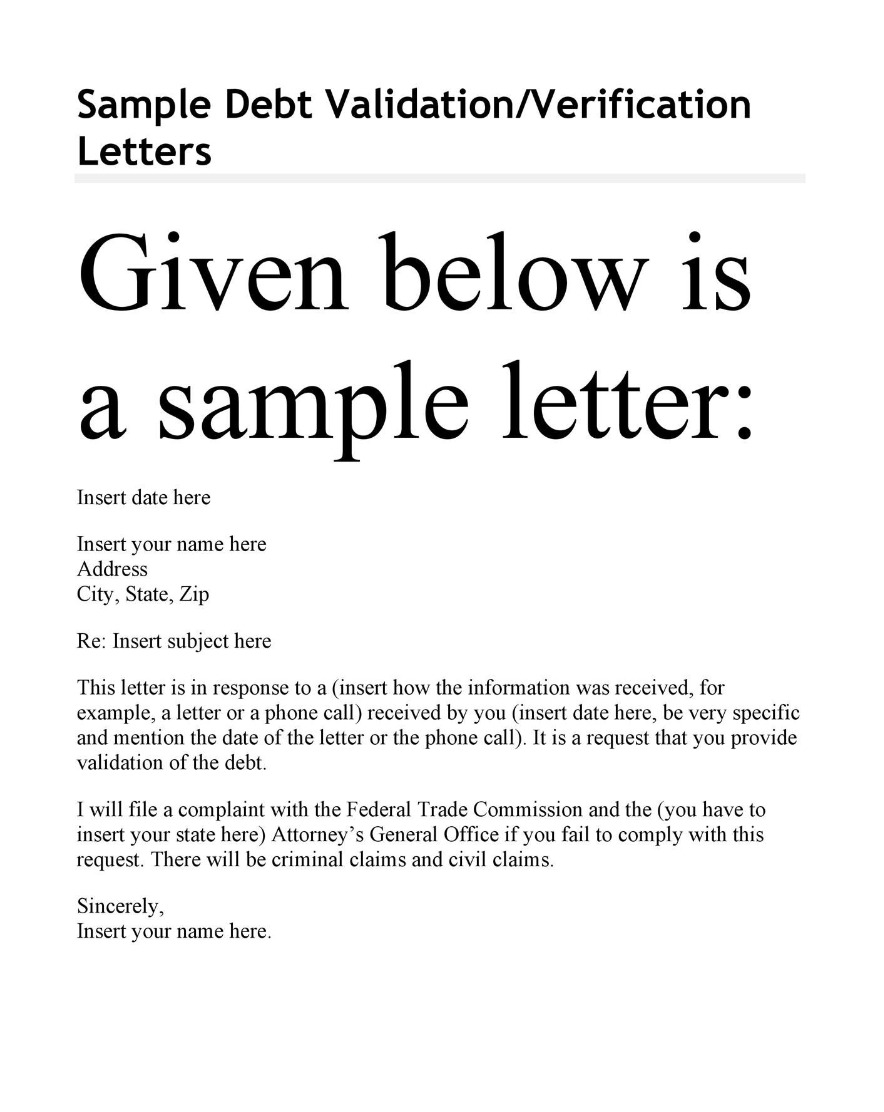 10. Sample Debt Validation and Settlement Letter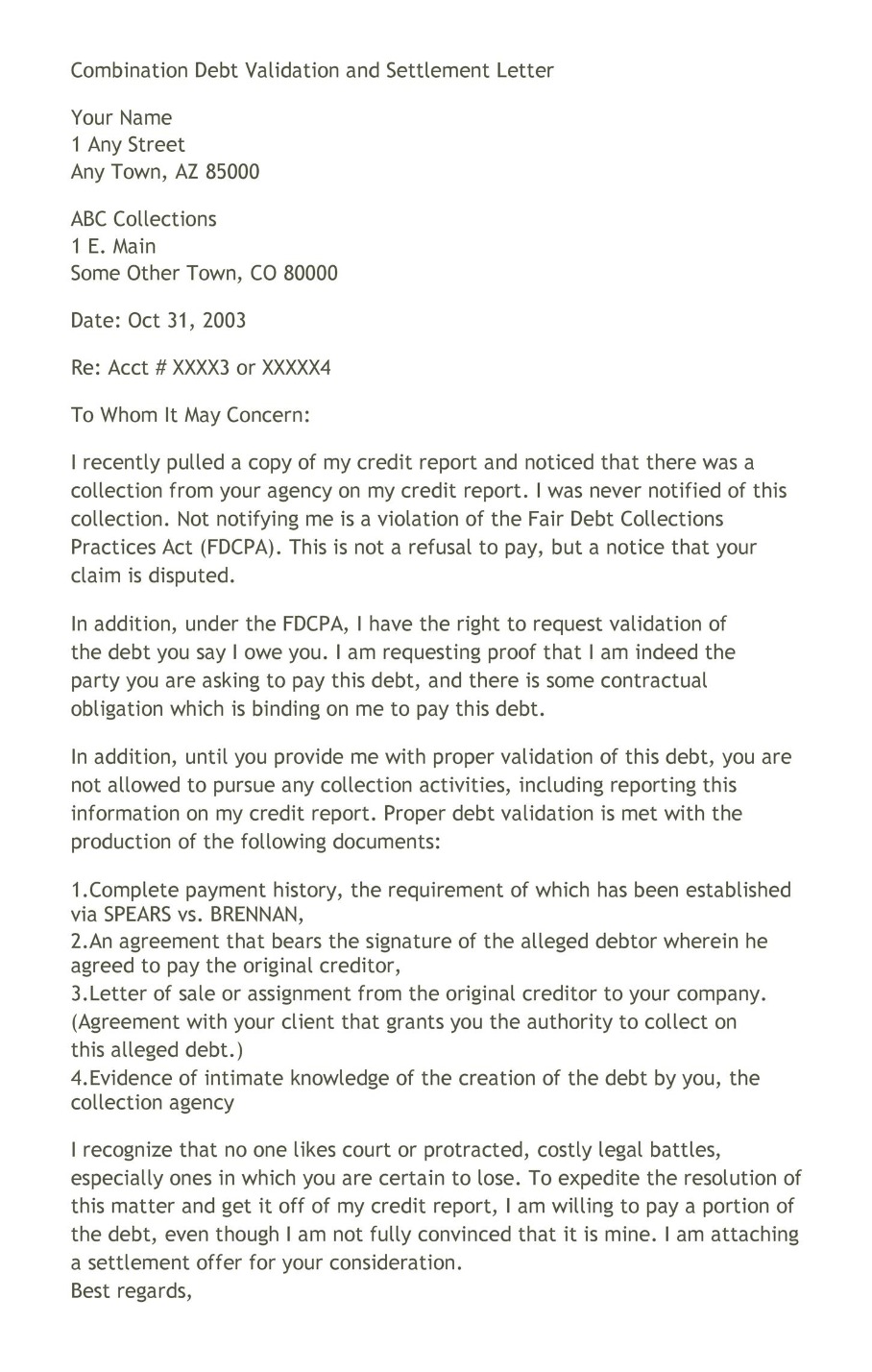 What is the difference between debt validation and debt verification?
Understanding the difference between debt validation and debt verification is crucial for anyone dealing with debts and collections. While these terms are often used interchangeably, they have distinct meanings and purposes in the context of financial obligations and the debt collection process.
Understanding Debt Validation
Debt validation is a formal process governed by the Fair Debt Collection Practices Act (FDCPA) in the United States. This process is triggered when a consumer receives a communication from a debt collector. The FDCPA mandates that within five days of the initial contact, the debt collector must send the debtor a validation notice. This notice should detail the amount of the debt, the name of the creditor, and a statement informing the debtor of their right to dispute the debt within 30 days.
If the debtor disputes the debt within this period, the debt collector is legally required to halt all collection activities until they provide adequate proof of the debt. This proof typically includes substantial evidence such as the original contract, statements of the amount owed, and documentation proving the transfer of the debt from the original creditor to the collection agency.
Exploring Debt Verification
Debt verification, while similar to debt validation, is less formal and not explicitly defined under the FDCPA. It usually occurs when a debtor seeks to confirm the specifics of a debt, either with the original creditor or the collection agency, outside the formal FDCPA framework.
The process of debt verification does not follow the strict timelines and requirements of the FDCPA. It is more about the debtor asking for basic information to confirm the debt's legitimacy, such as the amount owed and the identity of the creditor. Unlike debt validation, debt verification does not necessitate stopping the collection activities and often doesn't require the provision of detailed documentation.
Key Distinctions Between Validation and Verification
The primary differences between debt validation and verification lie in their legal standing, the scope of information provided, and their impact on collection activities.
Legal Requirement and Process:
Debt validation is a legal right under the FDCPA, involving a specific process and timeline. In contrast, debt verification is an informal process and is not as strictly governed by legal guidelines.
Scope of Information Required:
Validation requires a more comprehensive set of proofs, including detailed documentation of the debt. Verification, on the other hand, typically involves confirming basic details about the debt.
Impact on Collection Activities:
A formal request for debt validation can legally halt collection activities until the debt is validated. Debt verification, however, does not automatically stop collections and is more focused on clarifying details.
In summary, while both debt validation and verification are essential tools in managing debts, they serve different functions. Debt validation is a formal process protected under consumer law, providing a robust framework for challenging and confirming the legality of a debt. Debt verification is a less formal, more straightforward method of ensuring the accuracy of debt information. Understanding these nuances is crucial for effective debt management and interactions with creditors and collection agencies.