If you are looking for a new job, applying for scholarships, or for a reference for your business, you will need a reference letter. A reference letter, also known as a recommendation letter, is used to testify or vouch for a person's skills and character. It is a formal document that is is written with utmost care and in a businesslike manner.
Businesslike letters can be hard to write, but you don't have to think much about it because our Sample Letters will make it easy breezy for you to do. They come in various types so you are sure to find the reference or recommendation letter that you are looking for.
Free Family Reference Letter for Private School Template
Family Reference Letter Template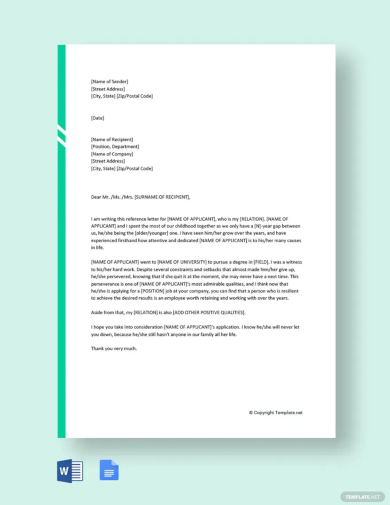 Free Family Reference Letter for School Template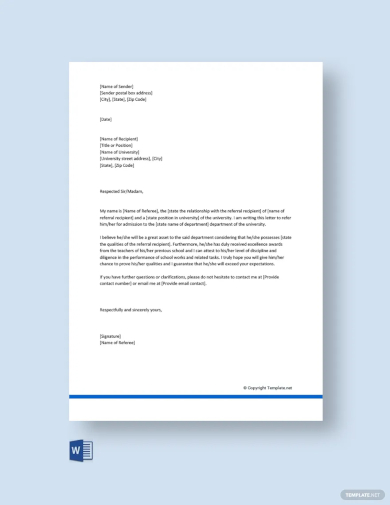 Family Reference Letter for School Application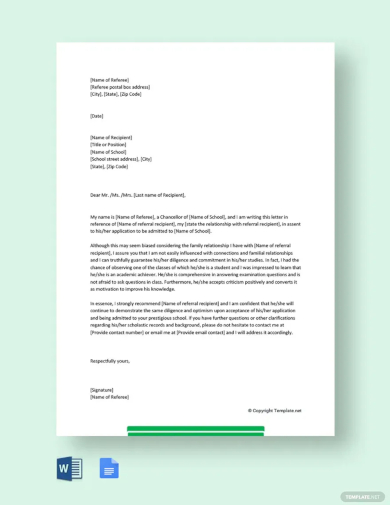 Adoption Reference Letter for Family Member Template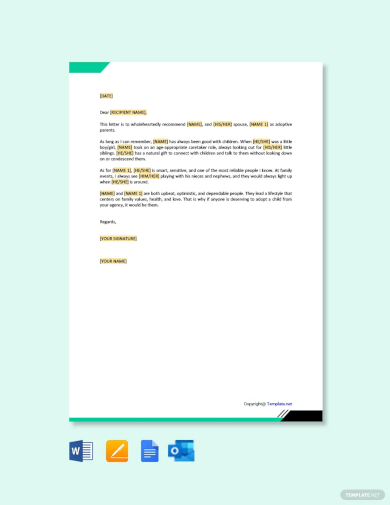 Sample Immigration Reference Letter for a Family Member Template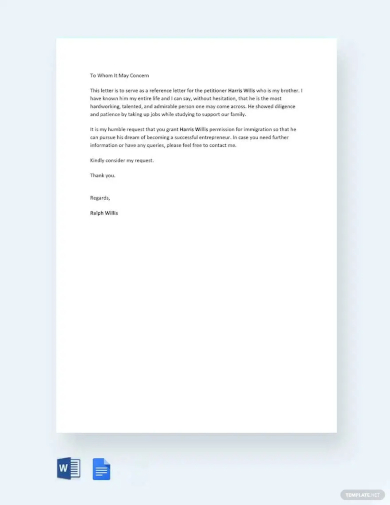 Character Reference Letter Template
Sample Scholarship Reference Letter from Teacher in PDF
Family Business Reference Letter Template
Sample Family Personal Character Reference Letter Template
How to Write a Reference Letter
There are things that you need to keep in mind when writing sample reference or recommendation letters. Remember that you are writing this kind of letter for a certain person you want to help. It is nice if you give it the best that you can to make it count.
When you receive that letter from a certain person requesting for a reference or recommendation letter from you, you should think carefully about it before you say yes.
Reference letters are formal letters, therefore you need to write them using a business letter format.
Open your letter enthusiastically with a bit of praise for the person you are writing the letter for. A positive note can do a lot of wondrous things.
Write about how you know the person and how they fit the job description. You may want to ask a copy of the job description from the person you are writing the letter for. You may also check Personal Reference Letter.
Always be specific about the person's qualifications and achievements. Any missing information may cause a misunderstanding when that person is brought in for an interview.
Do not exaggerate. It may appear ungenuine if you do so. Just keep it nice and simple.
Share your contact information and affix your signature.
Follow the submission guidelines.
Family Reference Letter for Immigration Template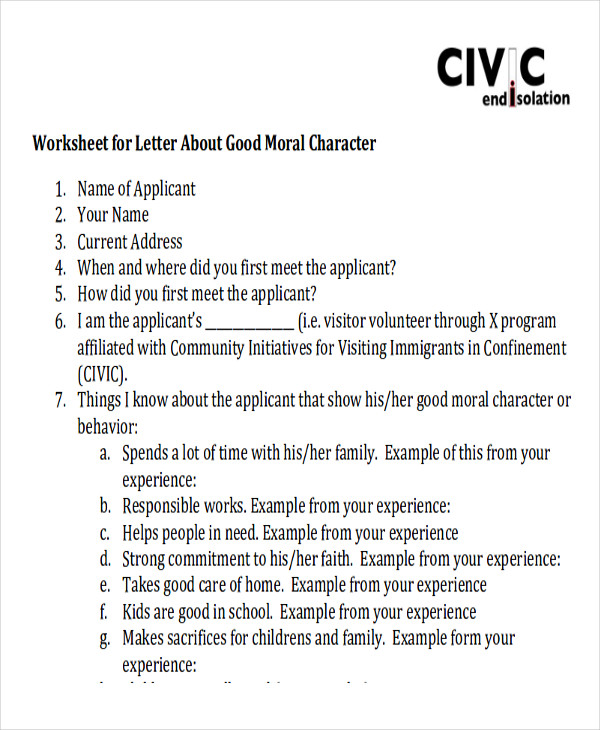 Family Reference Letter for Immigration Sample pdfendisolation.org
Sample Family Reference Letter for Scholarship Template
Types of Reference Letters
Here we will talk about the three main types of reference letters. Each of the three has their intended use in various settings.
Employment Reference Letters – They are written by former employers, manager, supervisors, and colleagues. They will let the company you are applying for know what kind of employee you are, your skills and qualifications, as well as your character traits
Academic Reference Letters – Students applying for scholarships, internships or fellowships, or those applying for graduate school use this type of reference letter.
Character Reference Letters – Also known as personal reference letters, it is used in various situations aside from employment and academic. They are usually written by family members or friends, but not all the time.
The main point of writing reference letters is to communicate a person's skills and character to the hiring company or manager. They can also boost or build a person's confidence. If you are asked to write a reference letter for someone, that means that they entrust you an important part of their employment and academic qualification. What a nice feeling can that be? So don't fail them. Use the reference letter samples we have prepared just for you. Download now!