A reference is a letter that is written to act as a testimony of a person's skills, character and their achievements in personal or professional fields. These kinds of letters of recommendation for students are usually written for students wishing to study in a prestigious institution or young individuals seeking a job in a big company. This letter holds the capacity of influencing the decision of the employees. It holds the capacity of making a person's career if written in a proper way.
Free Personal Recommendation Letter Template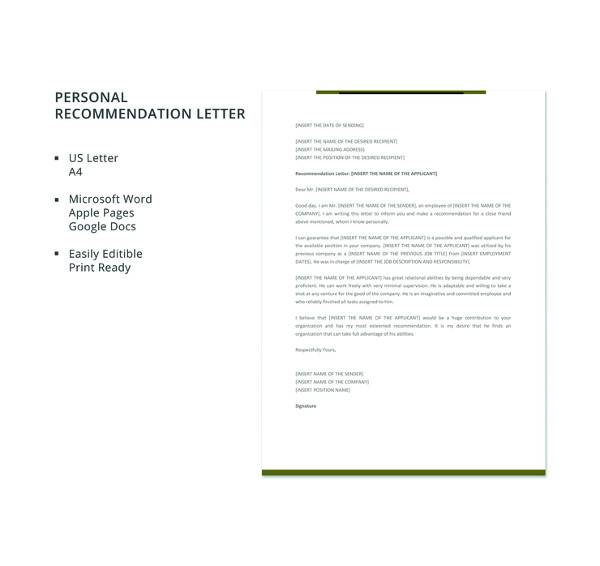 Personal Letter of Recommendation for Youth Volunteer
This letter comes from an organization that has known the applicant as a volunteer and would want to support them in their career. The letter highlights the special skills the candidate showcased during his/her term.You may also see leadership recommendation letters
Personal Letter of Recommendation for Admission
A personal letter of recommendation can come from anyone as long as they can have a special influence on the decision of the selector, or in this case the admission authorities.
Personal Request Letter of Recommendation
A personal request letter for recommendation comes from authorities and people who are known/recognized in the organization the candidate is applying to. It can come as a letter from one teacher to another.
Personal Letter of Recommendation for Application
In all kinds of special programs, scholarships and jobs, candidates need to be ready with a letter of recommendation that recognized their skills and achievements. This letter comes from any senior who has known the candidate directly.You may also see self recommendation letters
Sample Personal Letters of Recommendation for Scholarship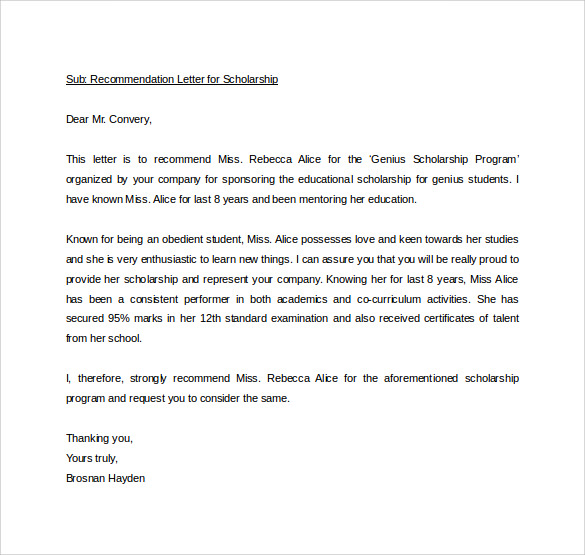 This sample personal letters of recommendation for scholarship has a straight to the point address and goes on to explain why the writer feels a candidate deserves a junior scholarship. The writer mentions his long standing association with the candidate and makes it a point to mention that the candidate possesses not only educational accolades but is also equally good in extracurricular activities.You may also see professor recommendation letters.
Personal Letter of Recommendation Word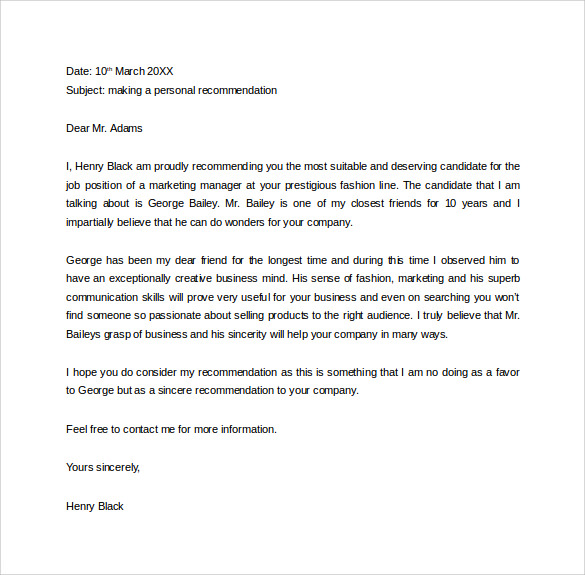 This personal letter of recommendation begins on a note of extreme pride where the writer feels proud to associate himself with the candidate. The letter is written by a friend so it has references to personal opinion and experiences. The writer mention a number of attributes of his friend besides his professional qualification which he thinks would make him a fine candidate for the company. The letter ends on a sincere note specifying that it is more of an honest declaration that than a letter of recommendation or favor given to any regular candidate.You may also see recommendation letter for coworkers
Job Personal Letters of Recommendation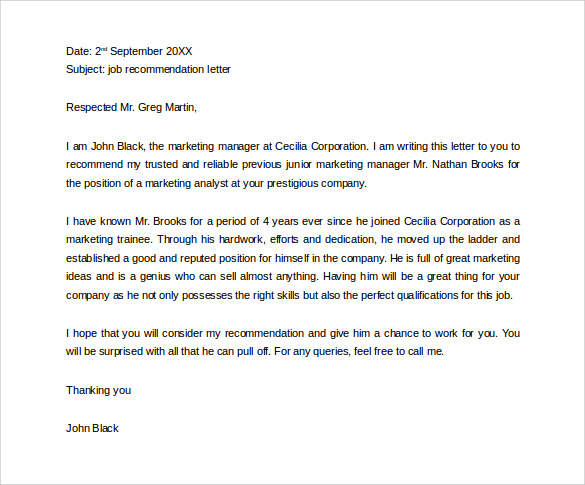 Job personal letters of recommendation is written by a senior at the work place for his junior employee. The letter has a professional as well as very earnest tone and testifies the candidate's caliber and working skill in the organization. A professional recommendation letter from a senior plays a very big role for any junior and this sample is a perfect example of how any professional recommendation letter should be written.You may also see internship recommendation letters.
Personal Letter of Recommendation for College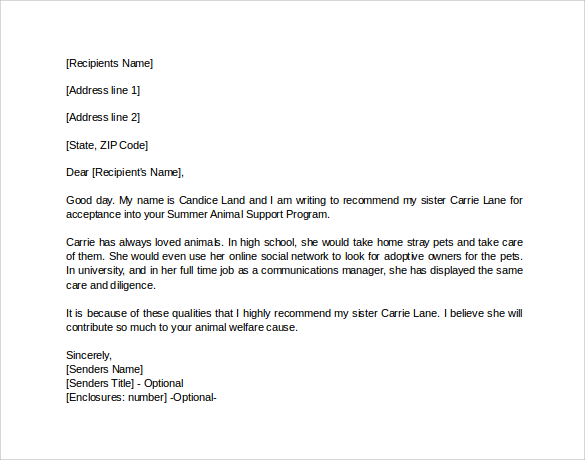 This personal letter of recommendation for college is formal letter that is written in more of an informal tone. It starts with an unusual salutation for the reader and goes on to explain the small personal incidents where the candidate displayed a unique quality that makes him an ideal candidate for a particular program. The letter in the given example above is written by a family member who lacks credibility but has a very honest tone which makes a person believe in the opinion of the writer
Personal Letter of Recommendation Sample For A Friend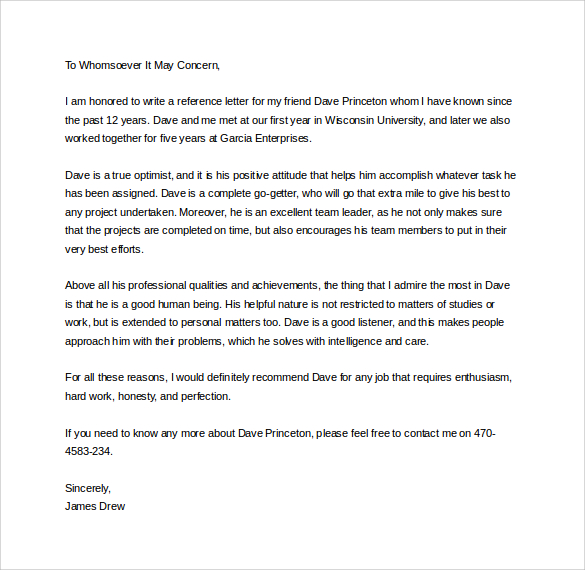 As the name suggests a personal letter of recommendation sample for a friend is written by a friend. The writer here dedicates this letter to "whomsoever it may concern" and starts by the length of his association with the candidate in order to establish a credible bonding. He then speaks about his abilities that would make his friend an ideal candidate for a particular job opening. The letter also speaks about the humanitarian aspect of the candidate which establishes him not only as a good employee but also as a great human being.You may also see physician recommendation letters
Personal Recommendation Letter For House Agent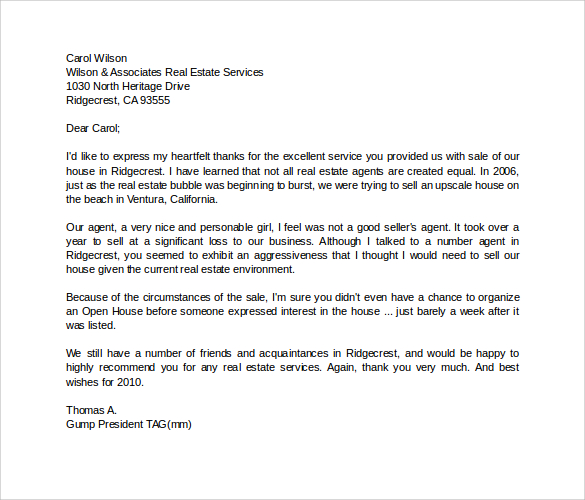 The seller of the house begins this personal recommendation letter for house agent letter by mentioning what a hard time he had in selling his house especially after the recent economic crisis. He then goes on to praise the proactive behavior of his agent and thanks her for her excellent negotiation skills that helped them to land a good deal.You may also see recommendation letters for employment
Personal Letter of Recommendation for Teacher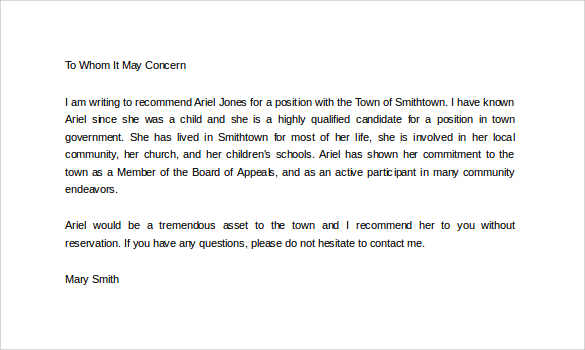 This personal letter of recommendation for teacher is written by a community member who seemed to have known the candidate for a considerable long period of time. The letter certifies that the candidate was a true, honest and responsible citizen who lived a good life, which makes her a great choice as a teacher by her teaching.
Sample Personal Letter of Recommendation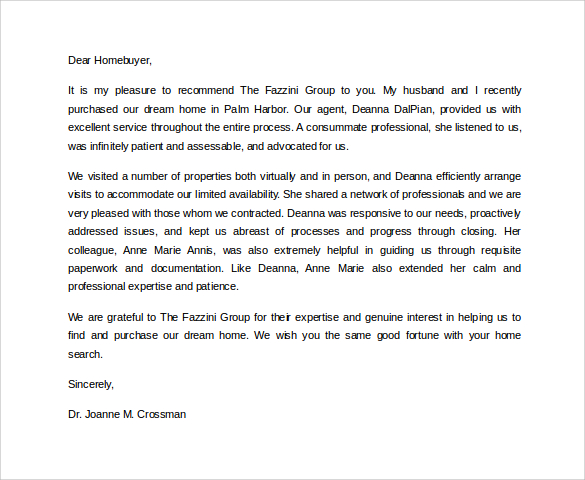 This sample personal letter is from an individual for a company recommending their services. The individual cleverly mentions the drawbacks of the company, which often acts as a deterrent for many people. She however does not fail to mention how in spite of all the drawbacks the company is a wonderful choice for people looking to increase their business. She adds a personal tone to the letter and increases its credibility by mentioning the fact that she too has worked with the company and is quite happy with their performance.You may also see letters of recommendation for student
Employment Personal Recommendation Letter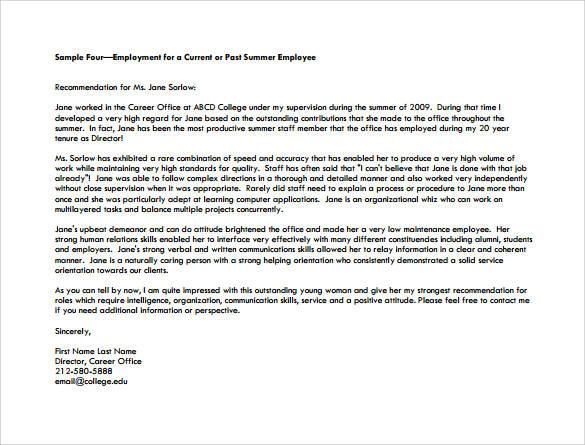 In this employment personal recommendation letter the writer identifies himself as the supervisor of the candidate and goes on to explain her professional achievement and professional attributes that demand praise. This letter is not for any specific job post but is addressed to people or organizations where the need for a hard working, self motivated individual is a necessity.You may also see sorority recommendation letters
Personal Letter of Recommendation for College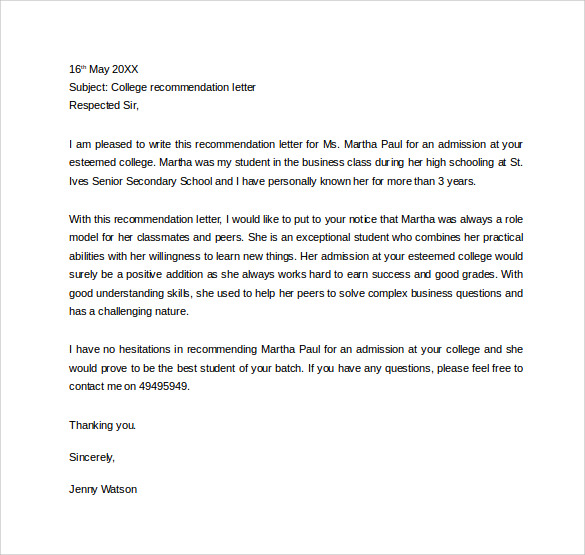 Personal Letter of Recommendation  for A Friend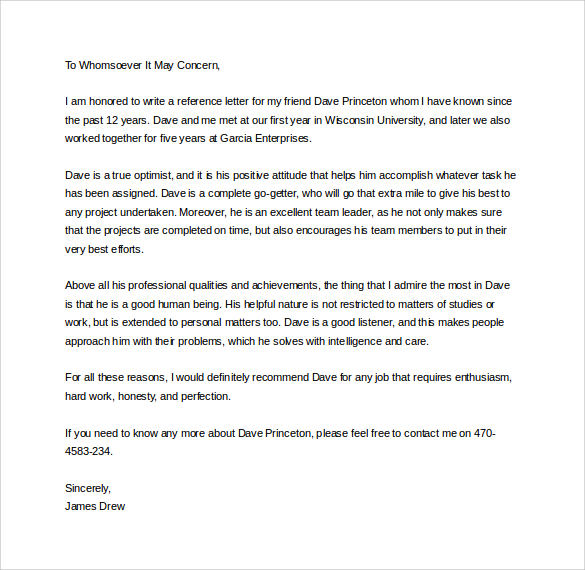 Personal Formal Letter of  Recommendation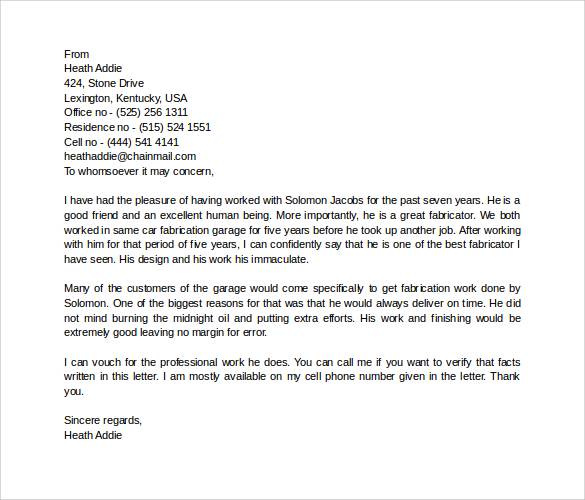 Personal Letter of Recommendation for A Family Member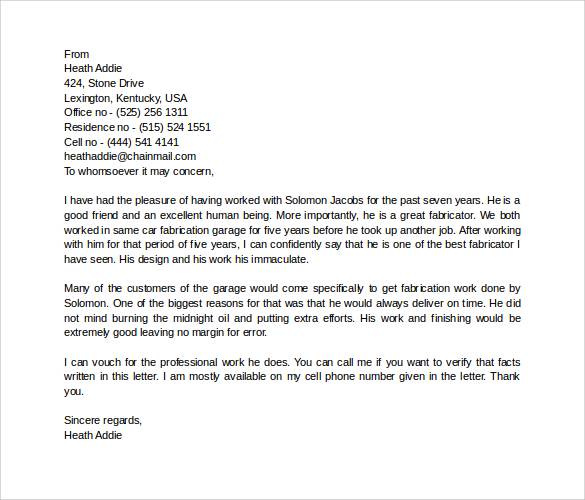 Sample Personal Letter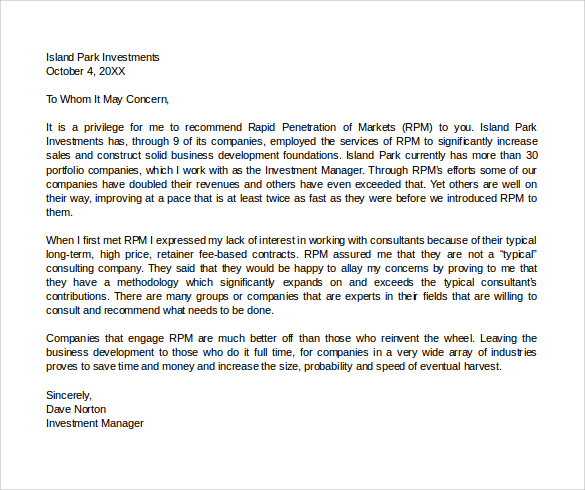 Personal Recommendation Letter PDF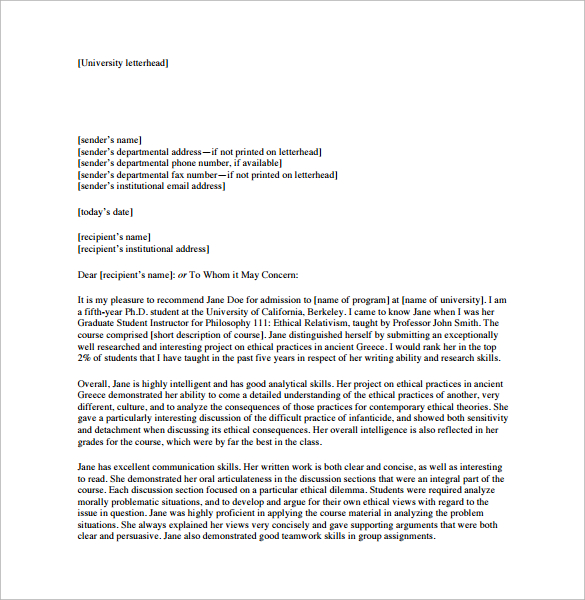 Example Personal Recommendation Letter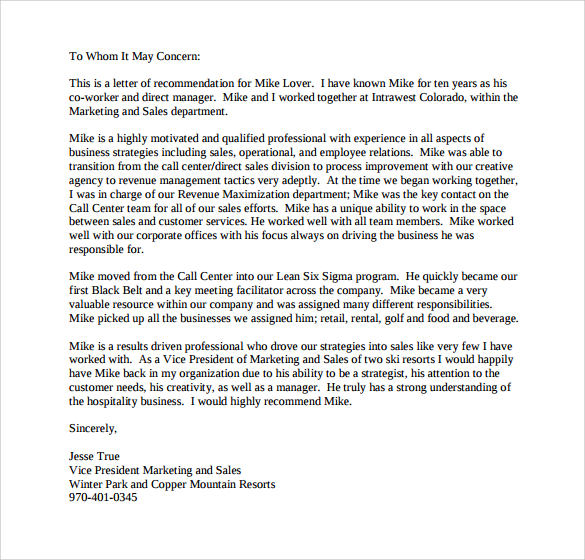 Choose the template that suits your writing style the best and help somebody gain from your recommendation. The templates are easy to use and let you complete the task in no time.You may also see college recommendation letters.
If you have any DMCA issues on this post, please contact us!