Recommendation letter helps everyone to get an edge over the competitors when it comes to admission in high school or to get a job in any office. Recommendation letter originates from professors, teachers, principal, employers or someone with a credible designation who knows the candidate well. A  Sample Letter of recommendation must be written to highlight the qualities of the candidate and justify the reasons why he or she should get the opportunity without being compared with others. The following sample recommendation letters have the perfect format and template to follow.
Free Recommendation Letter Format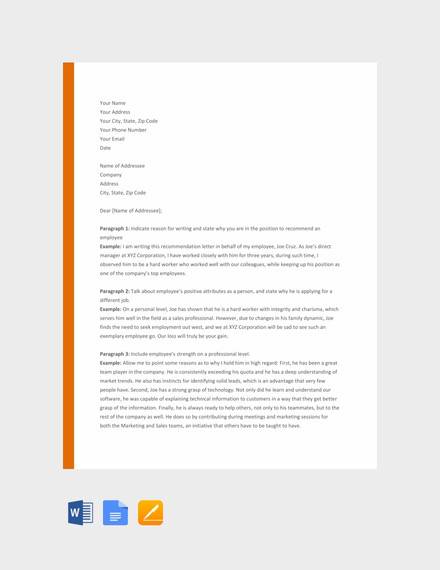 Simple Recommendation Letter Template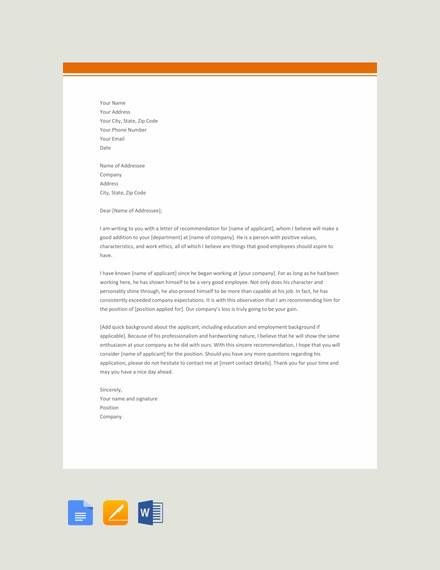 Basic Recommendation Letter Template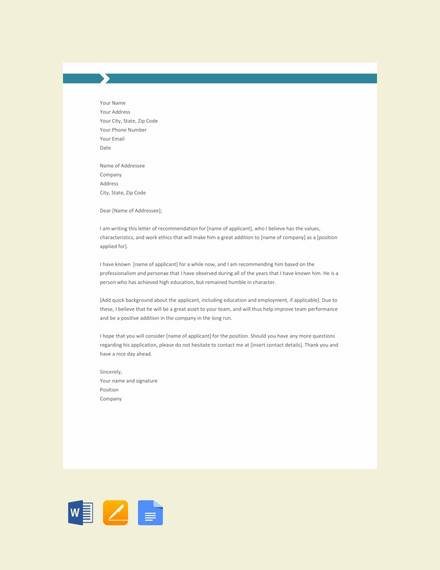 Fellowship Recommendation Letter Sample
Fellowship recommendation letters originate from the professors or employers. It contains multiple samples of letter of recommendation for different purposes such as employment as clerkship in various offices such as a law court.
Law School Recommendation Letter Sample
This sample cum manual states what should a letter of recommendation contain in general, who can write it, the application of the same, and the ingredients it should contain. It provides a sample of law school recommendation letter that highlights the quality of the student that justify why he or she should get the chance.
Sample Recommendation Letter For Student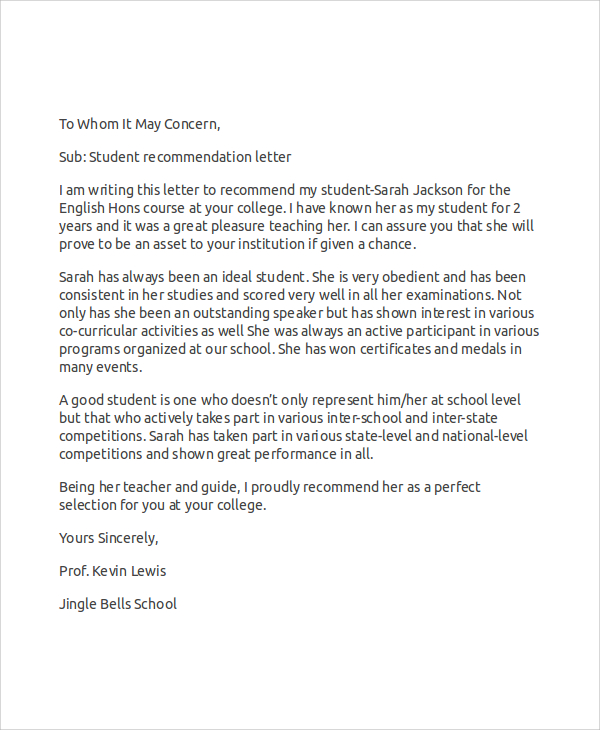 This is another sample of Letter of Recommendation for a student by his or her teacher and someone who is on the committee of the school. It contains a perfect sample around which the recommender can write his letter and follow most of it.
Usage of the Sample Recommendation Letter
Recommendation Letter Samples are useful for those who do not have the habit of writing them regularly. A letter of recommendation must be written carefully and creatively to highlight the qualities and justify the reasons without bragging it. They can follow the format to write the perfect letter for the candidate that will help him or her get the objective achieved. There are different types of recommendation letters available  such as recommendation letter for a student, for college, for employment and so on.
Sample College Recommendation Letter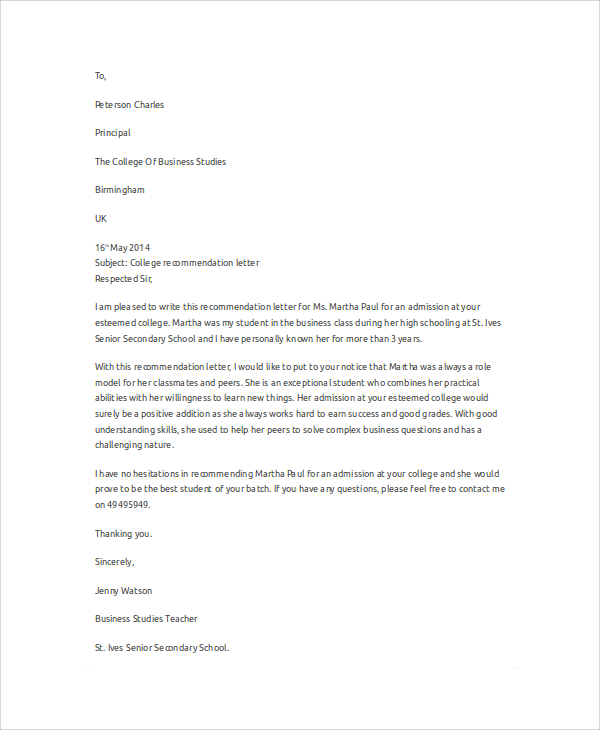 This is a College Recommendation Letters from the teacher or the principal of school or high school on behalf of a student. This letter has the perfect sample and template to follow while writing an impressive recommendation letter.
Sample Recommendation Letter for Scholarship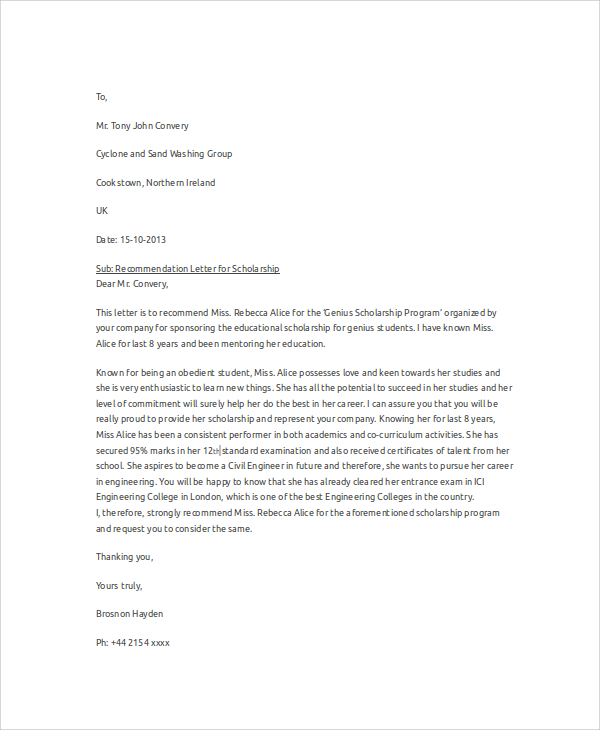 This is a sample recommendation letter to recommend someone to get a scholarship from school or any institute or even from a company. This can be written by any government official having a prominent designation or a mentor. Such letters justify the reasons why one deserves the scholarship.
Letter of Recommendation Request Sample
Personal Recommendation Letter Format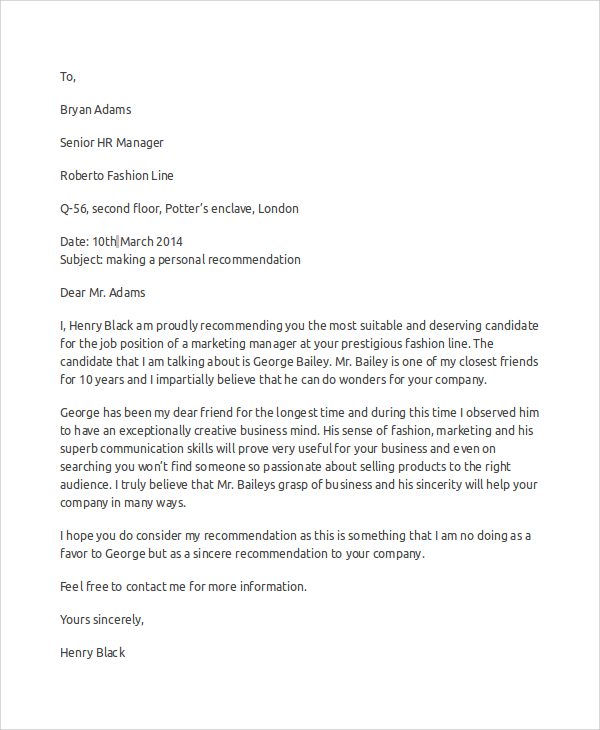 Academic Advisor Recommendation Letter Sample
Business Recommendation Letter Example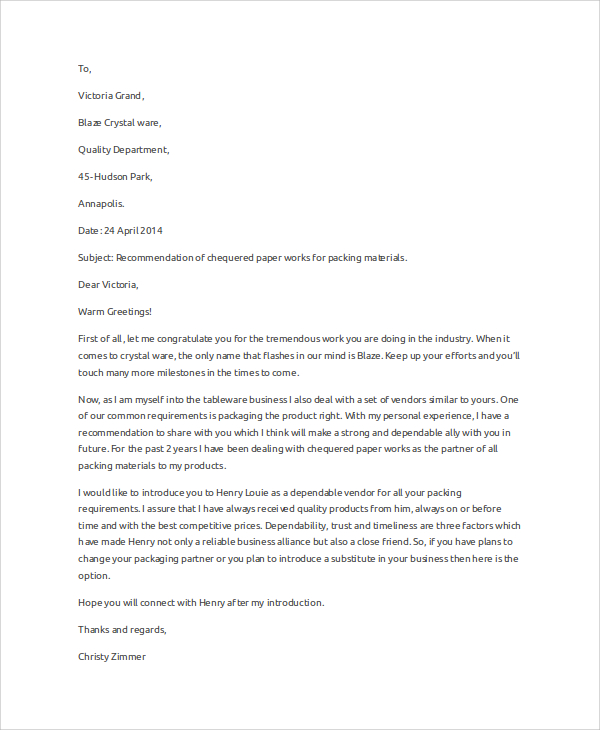 Targeted Audience for the Recommendation Letter Samples
The targeted audiences for sample Recommendation Letters are all those persons who are in the position of being a recommender for someone. It can be the teachers and mentors who can write a recommendation for their students. It can be the professors and principals of high school and university. It can also be the employer writing a recommendation letter for a departing employee. Even high position government officials and members of different committees, need them to recommend someone to obtain a scholarship, employment, or admission.
The above-listed Sample Recommendation Letters have the complete templates that the recommender can follow while writing a recommendation letter. They have the actions words and a perfect flow to write a perfect letter of recommendation that highlighters the qualities of the candidate and gives him or her the perfect opportunity to achieve the objective by impressing the reader beyond limits.
If you have any DMCA issues on this post, please contact us.