Consent is a vital aspect of any agreement or decision, and a well-crafted consent letter is the cornerstone of clear and respectful communication. Our Sample Consent Letter Template is designed to guide you through the process of creating a professional and effective letter. Tailored to suit a variety of contexts, this template simplifies the task of drafting a consent letter. Whether you need it for medical, legal, educational, or personal purposes, our template ensures your intentions are communicated clearly and consent is obtained in a respectful and legally sound manner. With this template, you can confidently navigate the nuances of consent, ensuring all parties are informed and in agreement.
1. Sample Consent Letter Template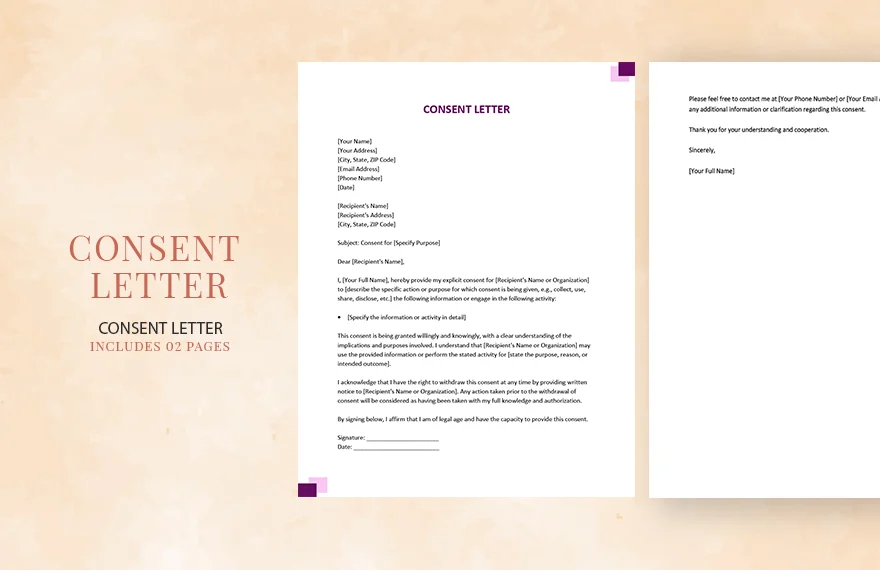 2. Sample School Consent Letter Template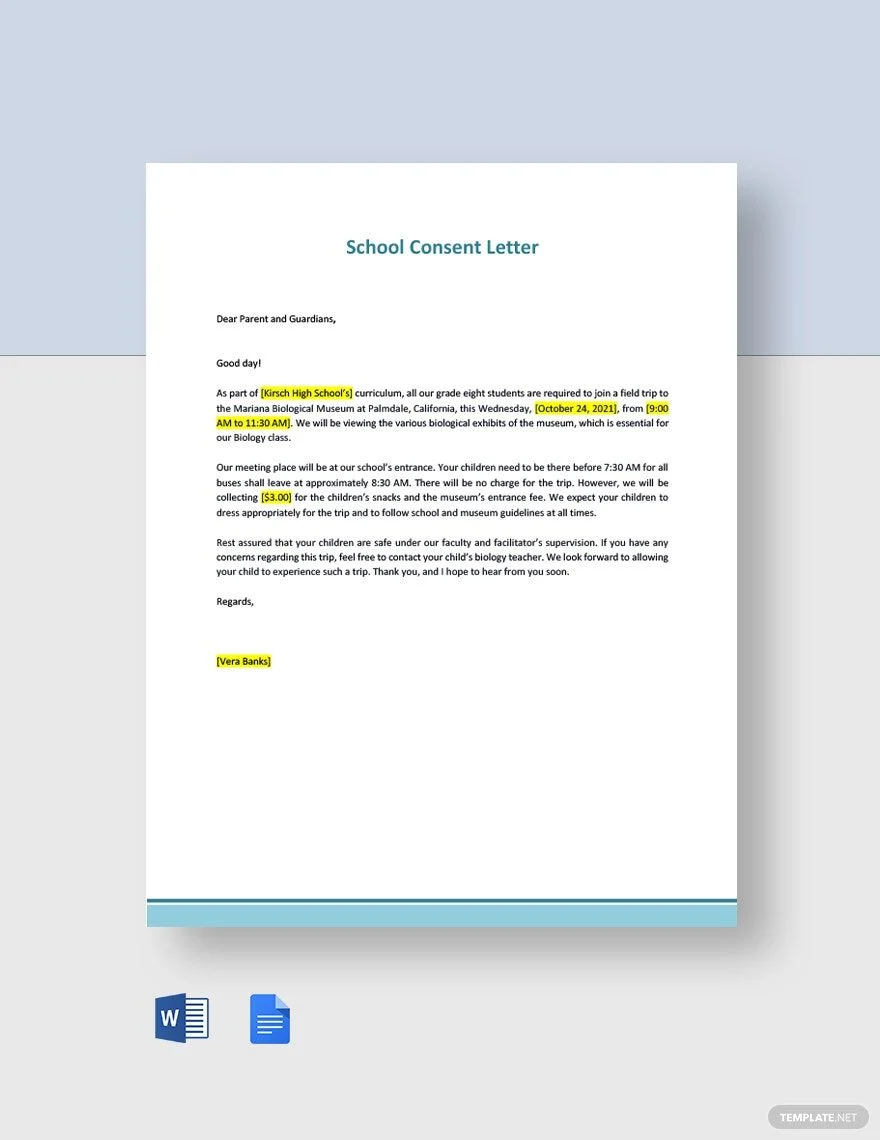 3. Sample Consent Letter for Interview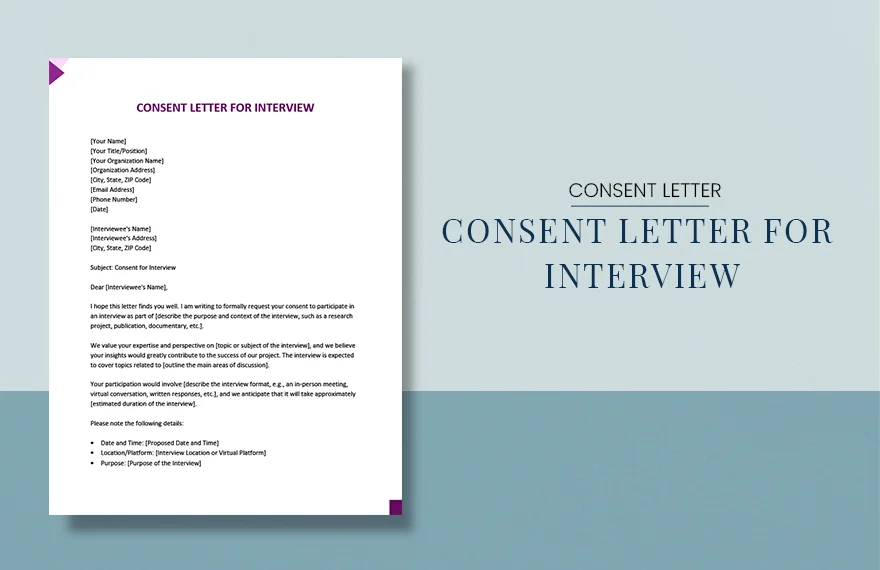 What is a Consent Letter?
A consent letter is a formal document that grants permission or expresses approval for certain actions or decisions. It serves as a written record of consent, ensuring that all parties involved are aware of and agree to the terms specified. This type of letter is crucial in a variety of contexts, such as medical treatment, legal procedures, educational activities, or even in personal scenarios like parental consent for a child's travel or participation in an event.
In the medical field, consent letters are used to authorize medical treatments or procedures. They ensure that the patient or their legal guardian understands the nature of the treatment, the associated risks, and the potential outcomes. This informed consent is fundamental in the medical community, respecting the patient's autonomy and right to make decisions about their own health.
Legal consent letters come into play in situations requiring legal authorization, like the management of property, legal representation, or in legal settlements. They are crucial in documenting that all parties involved have agreed to the terms and conditions set forth in a legal agreement or decision.
In the educational domain, consent letters are often used for field trips, extracurricular activities, or other events where a child's participation requires parental or guardian approval. These letters protect educational institutions by ensuring that they have received explicit permission from the child's responsible adult.
For travel, particularly when a minor is traveling without their parents or guardians, a consent letter is often required. This letter typically includes details about the travel, the accompanying adult, and emergency contact information. It is essential for ensuring the safety and security of the minor during their travel.
Consent letters also play a role in research, especially when human subjects are involved. Researchers use consent letters to explain the nature of the study, what participation involves, the risks and benefits, and the rights of the participants, including their right to withdraw from the study at any time.
In all these contexts, the key elements of a consent letter include a clear statement of consent, details about the specific action or decision being consented to, and often, the reason for consent. It should be written in clear, unambiguous language to avoid any misunderstandings. Additionally, the letter must be signed and dated by the person giving consent, and in some cases, it may require a witness or notarization to be legally binding.
Overall, a consent letter is a versatile and essential document that plays a critical role in various sectors, ensuring clarity, mutual agreement, and adherence to legal and ethical standards.
4. Medical Consent Letter Template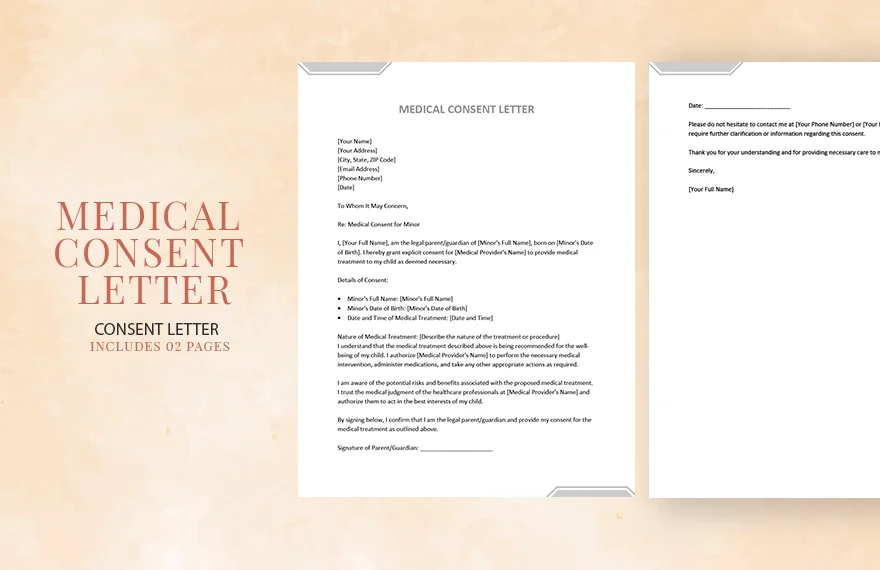 5. Sample Notarized Consent Letter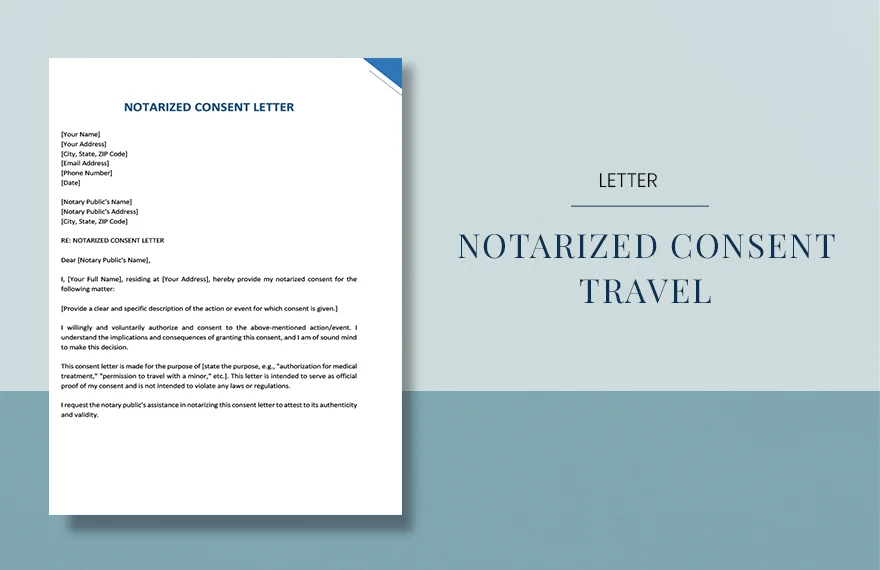 6. Sample Consent Letter for Child Travel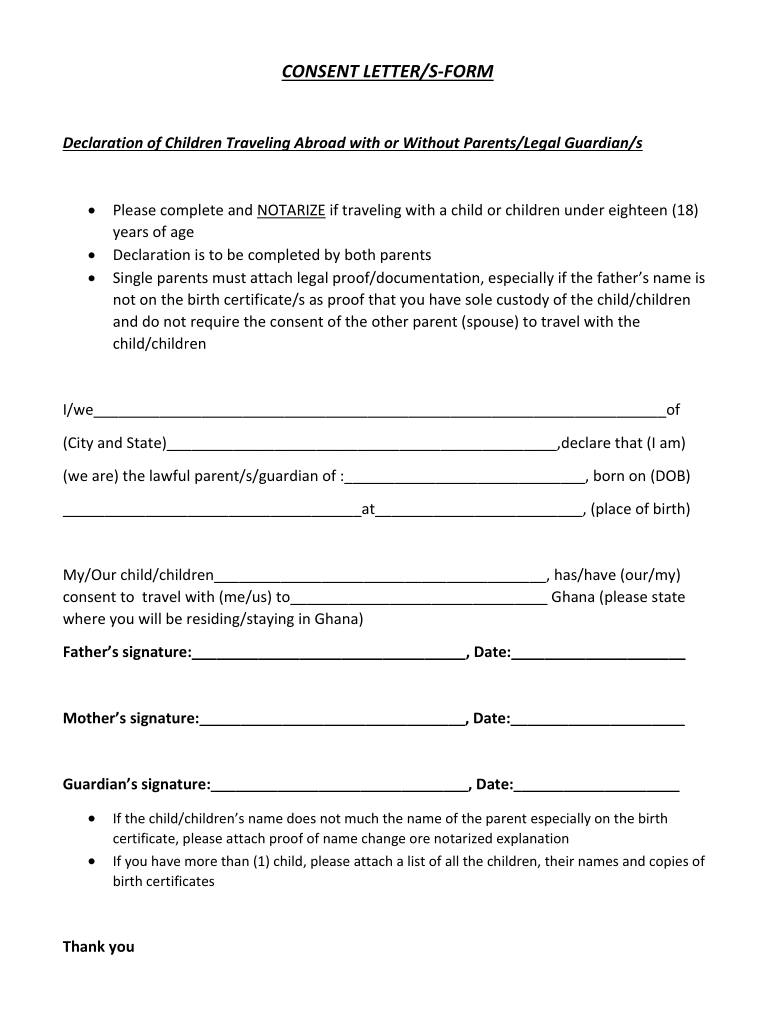 7. Landlord Letter of Consent Template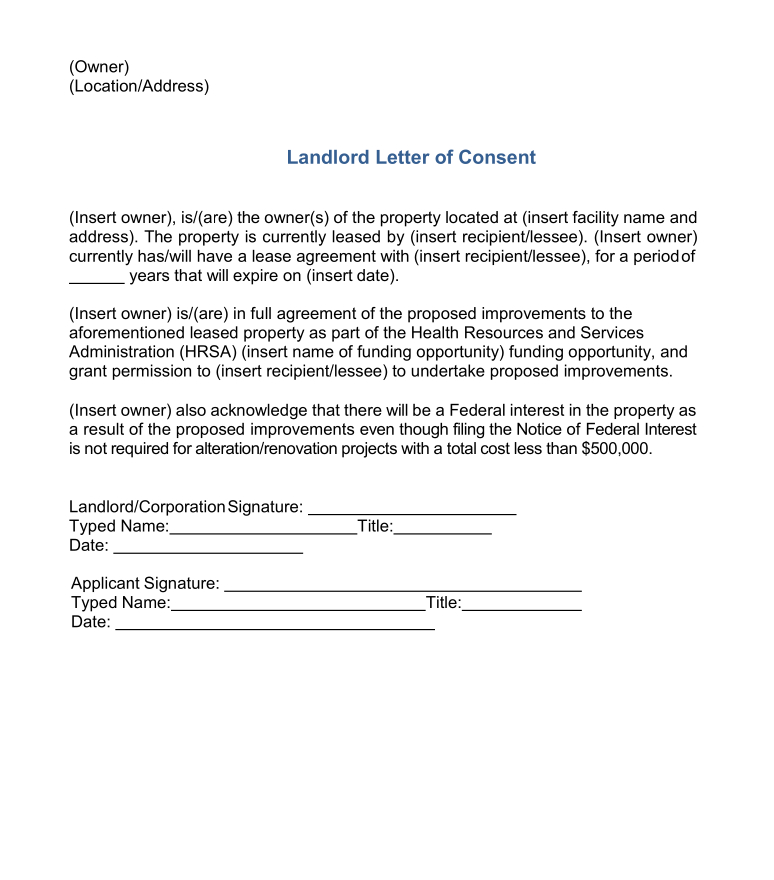 How to Write a Consent Letter?
Writing a consent letter involves a clear and structured approach to ensure the message is communicated effectively and fulfills its intended purpose. Whether it's for medical, legal, educational, or personal reasons, a well-written consent letter is key in expressing permission and understanding among the involved parties. Here's a detailed guide on how to craft a consent letter:
1. Start with Your Contact Information:
Begin your consent letter by clearly stating your name, address, and contact details. This is crucial as it establishes your identity and ensures that there's a way to reach you for any clarifications. Your contact information should be complete and up-to-date.
2. Include the Date:
Directly following your contact details, include the current date. The date is critical for record-keeping purposes and helps in establishing when the consent was officially given, which can be important in time-sensitive situations.
3. Add the Recipient's Details:
Clearly state the recipient's name and address. This makes sure the letter reaches the correct person or department, especially in larger organizations or institutions. If you are unsure of the exact person to address, a general title such as "Office of Admissions" or "Patient Services" can be used.
4. Write a Clear Subject Line:
A subject line like Consent Letter for Medical Treatment of [Child's Name] or Consent for Legal Representation immediately informs the recipient about the letter's purpose. This ensures clarity and helps in the proper handling of the document.
5. Greet the Recipient:
Use a formal salutation. If you know the name of the recipient, address them directly. A personalized greeting can make the letter more impactful and ensures that it is taken seriously.
6. Clearly State the Purpose of the Letter:
In the opening paragraph, get straight to the point. State that the purpose of your letter is to provide consent. Be direct and unambiguous to avoid any potential confusion about your intentions.
7. Provide Specific Details:
Detail the specifics of what you are consenting to. Include relevant names, dates, locations, and any other particulars that are necessary. For example, if it's a medical consent letter, specify the type of treatment or procedure, along with the name of the healthcare provider.
8. Mention the Reason for Consent (If Applicable):
Although not always necessary, providing a reason for your consent can add clarity. This can be particularly important in sensitive cases where the rationale behind your decision might provide additional reassurance or information to the recipient.
9. Include Any Necessary Documentation:
If your consent is part of a larger process, mention and attach any relevant documents or forms. For instance, in legal matters, attaching a copy of the legal document or agreement in question can be crucial.
10. Conclude with a Statement of Understanding:
It's important to end the body of your letter by affirming that you fully understand the implications of your consent. This declaration adds legal weight to your letter and confirms that your decision is made with full knowledge and voluntary intent.
11. Closing and Signature:
Close with a formal sign-off, such as Sincerely or Best Regards, followed by your handwritten signature and typed name beneath it. In formal or legal contexts, you may need a witness to your signature or a notarization.
12. Proofread and Review:
Thoroughly proofread your letter to ensure there are no grammatical errors or ambiguities. It's crucial that your letter is clear, concise, and accurately conveys your intentions.
8. Sample Letter for Consent of Owner Template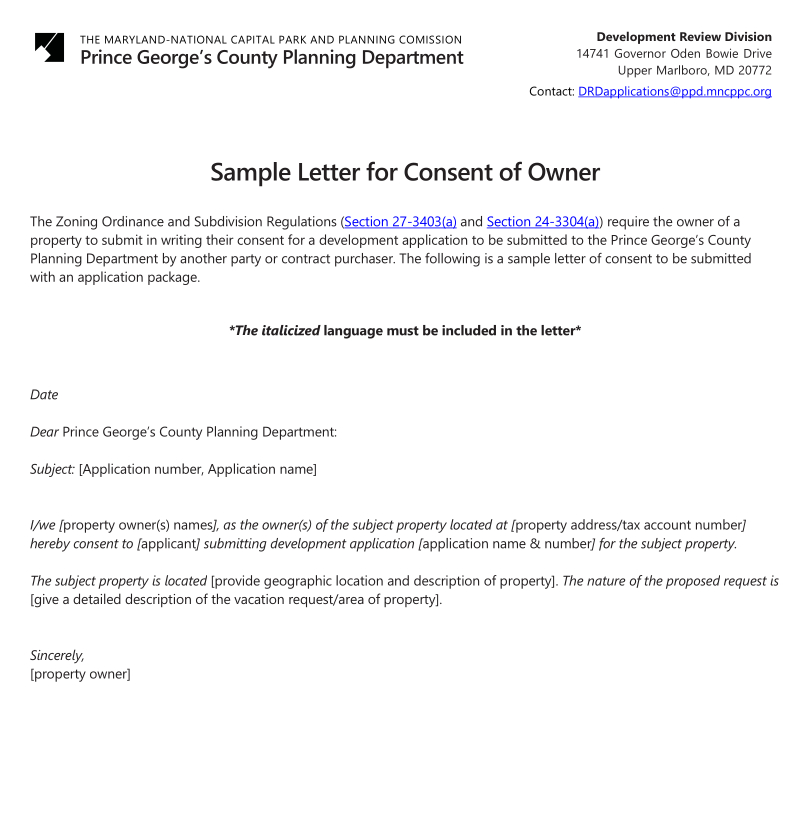 9. Sample Letter of Consent for Travel of a Minor Child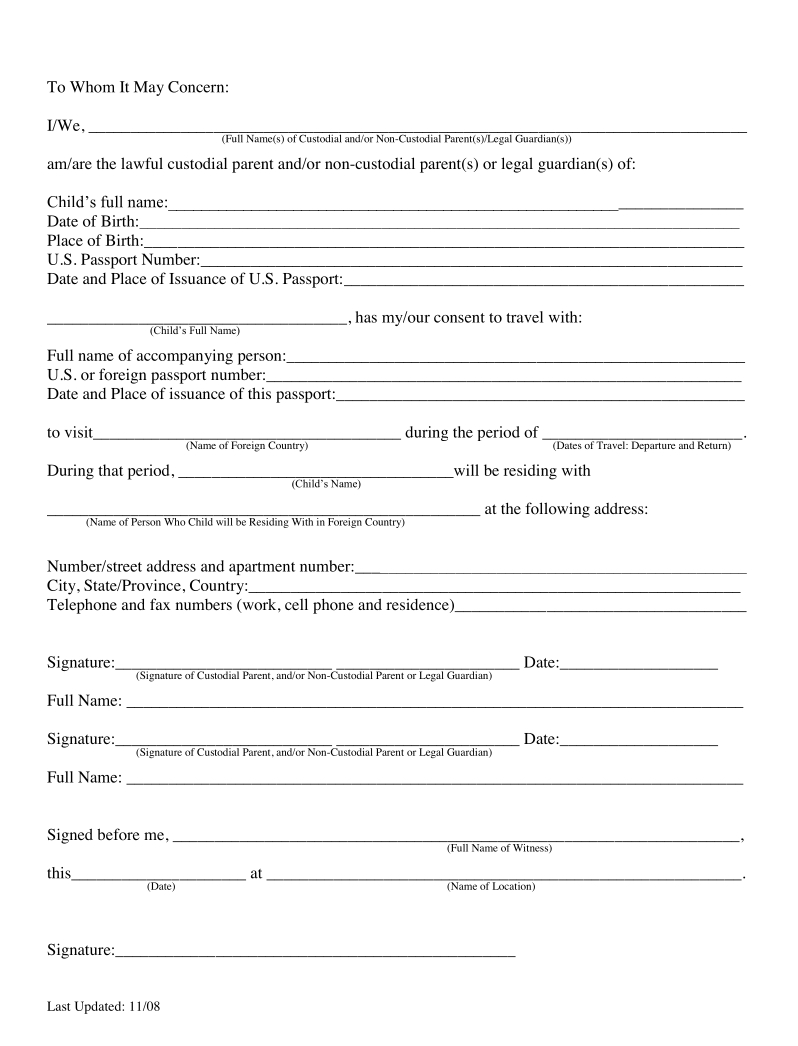 10. Consent Approval Letter Template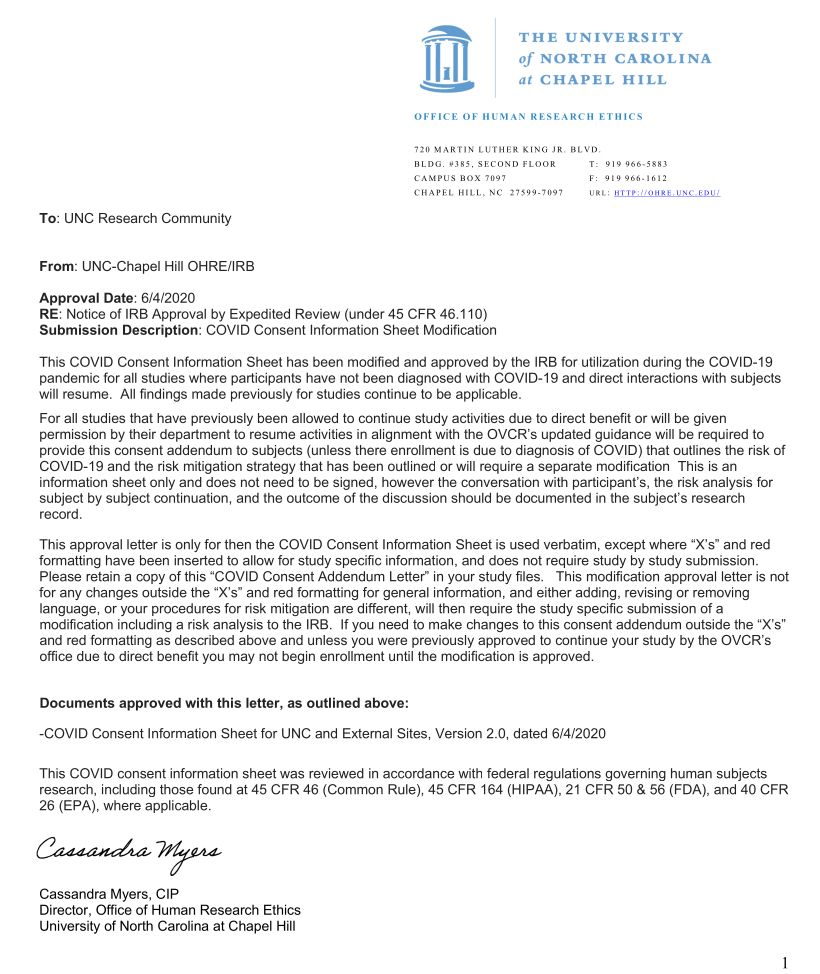 What are the 4 types of consent?
Consent, a fundamental concept in both legal and ethical realms, takes various forms depending on the context and the nature of the agreement. Understanding these different types of consent is crucial for ensuring that interactions and transactions are conducted ethically and legally. Here are four primary types of consent:
1. Informed Consent:
Informed consent is predominantly used in the medical field and research involving human subjects. It involves providing a party with all the necessary information to make an educated decision about their participation or treatment. This information typically includes the nature and purpose of the procedure or study, potential risks and benefits, alternative options, and the right to withdraw consent at any time. Informed consent is not just about getting a signature on a document; it's about ensuring that the individual truly understands and agrees to what is going to happen. For example, a doctor must obtain informed consent before performing a surgical procedure, ensuring that the patient understands the risks and benefits.
2. Implied Consent:
Implied consent is not given explicitly through words or writing but is inferred from actions, facts, or circumstances. It's common in everyday interactions where consent is assumed based on the behavior of the individuals involved. For instance, a patient showing up for a routine dental cleaning is giving implied consent for the dentist to perform the cleaning. However, for more invasive procedures, explicit informed consent is required. Implied consent is also a key concept in online privacy, where using a website is often taken as consent to certain data collection practices.
3. Explicit Consent:
Explicit consent is clearly and unmistakably stated, either orally or in writing. It leaves no room for doubt or interpretation about the individual's willingness to participate in an activity or agreement. This type of consent is essential in situations that involve higher risks or personal rights, such as participation in a clinical trial or agreeing to a legal contract. Explicit consent is often required to process sensitive personal data under privacy laws like the GDPR (General Data Protection Regulation).
4. Voluntary Consent:
Voluntary consent means that an individual freely and willingly agrees to something without any pressure, coercion, or undue influence. It is fundamental to the integrity of consent. The individual should have the freedom to choose without any form of manipulation, deception, or intimidation. For example, voluntary consent is crucial in research studies, where participants should agree to take part without any pressure from the researcher.
Each type of consent plays a vital role in various fields, ensuring ethical standards and legal compliance. They protect individual rights and foster trust in professional relationships. Understanding and correctly applying these forms of consent is key to respectful and lawful interactions in medical, legal, educational, and other settings.
11. Sample Consent Letter for Change of Ownership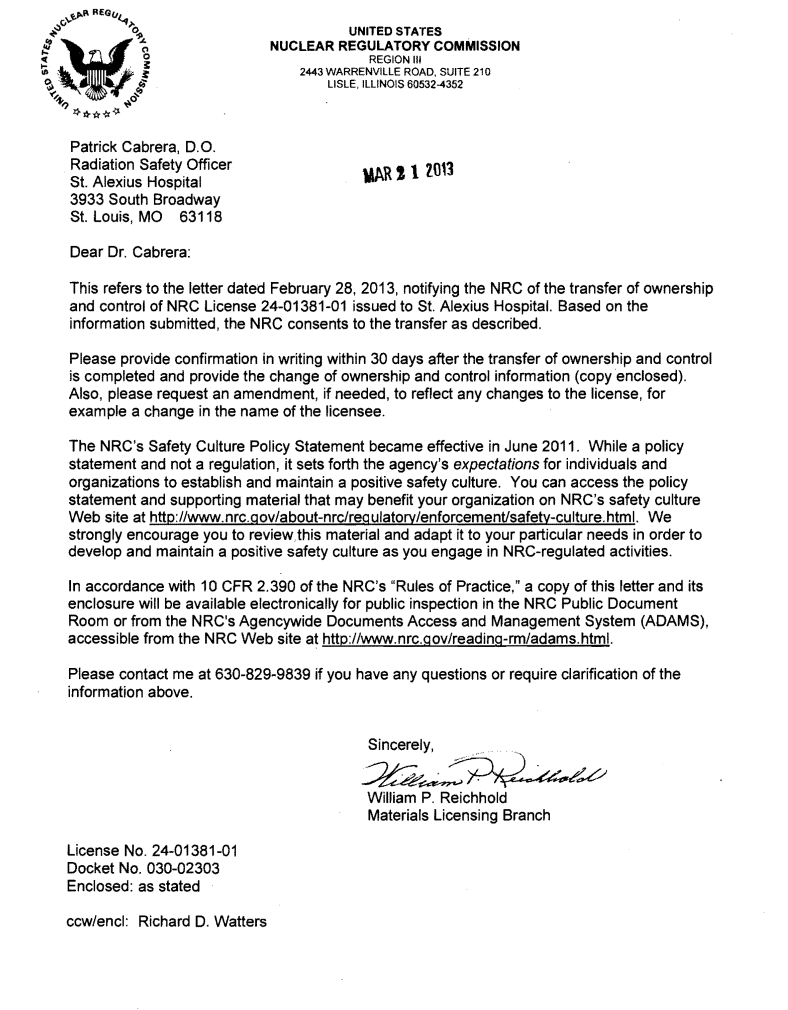 12. Consent Authorization Letter Sample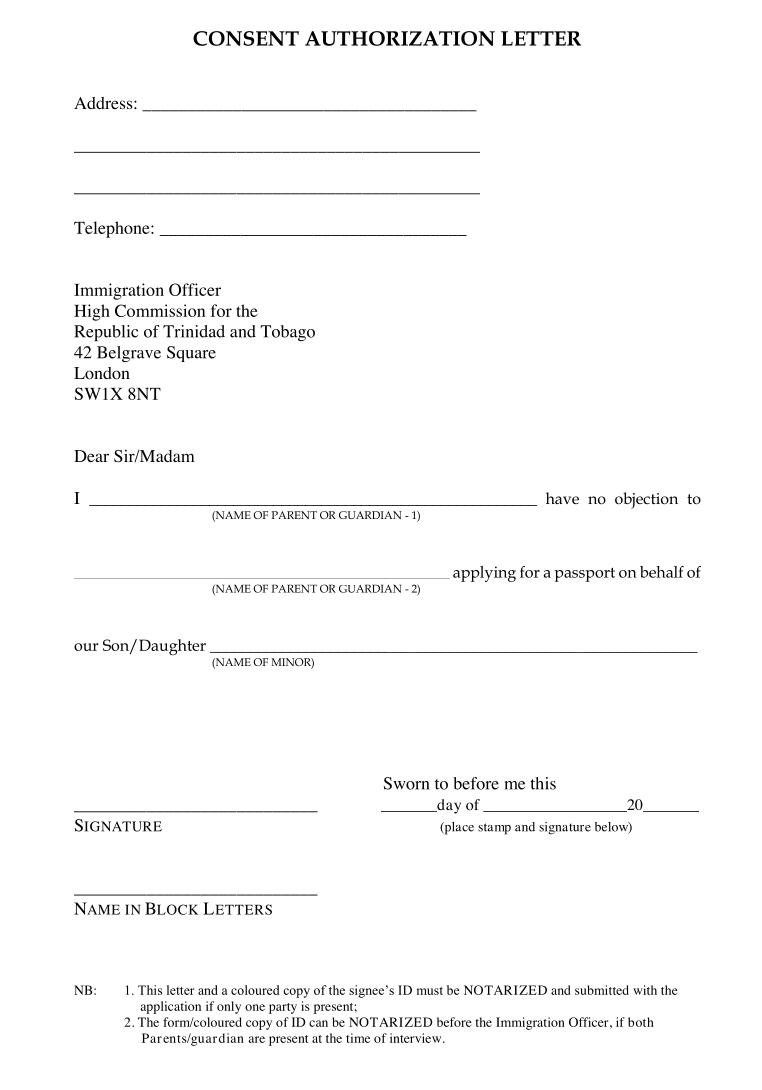 When is a Consent Letter Necessary?
A consent letter is necessary whenever formal permission is required. Common examples include medical treatments, legal representations, child travel, participation in school activities, and data sharing in business contexts.
Who Needs to Sign a Consent Letter?
The person who holds the authority to give consent must sign the letter. This could be a parent or guardian in the case of a child, a patient for medical procedures, or an individual agreeing to legal terms.
Does a Consent Letter Need to be Notarized?
It depends on the context. Some consent letters, like those for child international travel or certain legal documents, may need to be notarized to verify the identity of the signatory and the authenticity of the signature.
How Long is a Consent Letter Valid?
The validity of a consent letter depends on its content and purpose. Some letters specify a validity period, while others are valid until revoked. Always check the specific terms stated in the letter.
Can Consent be Withdrawn?
Yes, consent can typically be withdrawn unless there are legal or contractual obligations that state otherwise. The process for withdrawing consent should be outlined in the consent letter.
How to Write a Consent Letter for a Minor?
When writing a consent letter for a minor, include details of the minor, the specific consent being granted, the relationship of the signatory to the minor, and any relevant details about the guardian or accompanying adult.
Consent letters are essential in various contexts, serving as formal documentation of permission and understanding. They ensure clarity, legal compliance, and respect for individual autonomy. Whether for medical, legal, educational, or personal reasons, understanding how to create and use consent letters is crucial in maintaining ethical and lawful practices