You're sitting on your desk, elbows deep in things to do, when a former employee you've grown particularly fond of enters your office with a big grin on his face. He tells you about what he's been up to and you're happy for him at how far he has taken his career. He tells you that he's up for a promotion and—this is where you start to feel a bit of dread—he wants you to write a letter of recommendation for him. This guy is not only a great person, he was also an exceptional employee. So you agree to write the letter for him.You may also see employer recommendation letter
While you are flattered that he asked you, you can't help but feel a little overwhelmed. This is just another thing that adds to the million things you are yet to do. Don't worry. Check out these sample letters we have and read on for tips on writing a recommendation letter.
Letter Template of Recommendation for a Co-Worker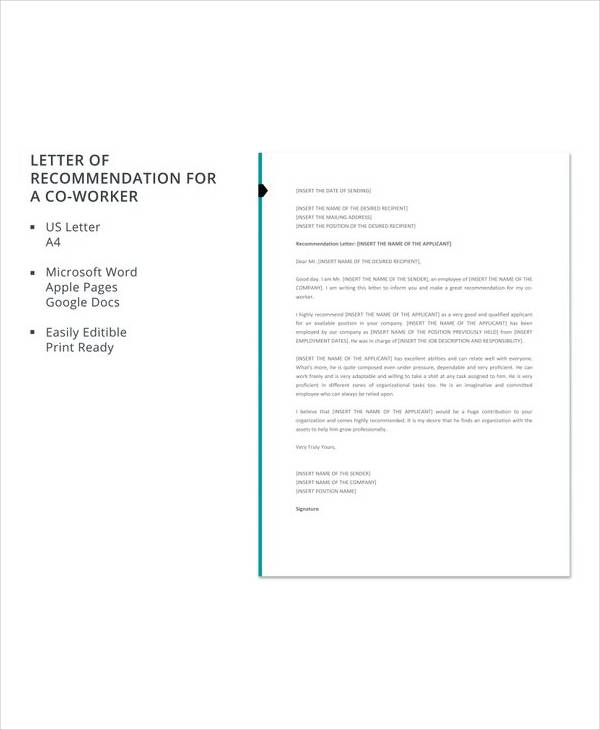 Sample Recommendation Letter for Coworker Teacher
Professional Recommendation Letter by a Coworker
Recommendation Letter for Coworker Example
Tips on Writing a Recommendation Letter
Writing recommendation letters aren't a walk in the park, but follow these steps and download our sample forms and you'll be done before you know it:
1. Open the letter with an enthusiastic phrase.
Say something along the line of, "It is my pleasure to recommend Sam Templates for the position of Partner in your law firm."
2. Start the way you would most formal letters
Letters of recommendations are just like other professional letters and follow the same rules and the same format they do.You may also see recommendation letters in doc
3. Tell them how you know them
Describe your relationship with the person and mention how long you've known them. To add a bit of credibility, also put in a small qualification like your position.You may also see tenant recommendation letters
4. Don't skimp on their qualifications
Be specific on what the person has achieved. Cite instances when they displayed remarkable qualities and always make sure you have evidence or stories to back up your claims of the candidate's qualifications.You may also see business recommendation letters
5. Don't exaggerate.
There is no such thing as completely perfect, that much is certain. Write the letter to highlight the candidate's qualifications and to say that they are a good fit, but also mention how and where they can improve. Just be sure to not be too cruel as to ruin their chances.You may also see college recommendation letters
6. Close with an affirmative statement
Reiterate your recommendation of the candidate and ask them to contact you should they want to further discuss the candidate's resume.
7. Sign the letter.
Remember to keep professional. Print out the letter and sign your name if you're sending a physical letter. If not, simply typing your name in should do.You may also see recommendation letters for a friend
Nursing Coworker Letter of Recommendation
Personal Letter of Recommendation for Coworker
Letter of Recommendation for Former Coworker
Basically, a letter of recommendation is broken down into four parts: introduction, professional success, personal testimony, and closing. When asked to write one for a colleague or a former employee, there is no need to feel intimated by the thought. In fact, it is flattering to that the candidate trusts you enough to ask this of you.You may also see personal letters of recommendation
For more letters you might have to compose, see also letter of reference format.