Leadership positions entail huge responsibilities. It is for this reason that those who are applying for a leadership position would find it hard to attain such. That is why, in order to increase the chances of getting accepted for a leadership position, an applicant would have to ask someone of authority to make a recommendation letter on his/her behalf.
If you are currently burdened with the task of creating such a letter, then it would be of immense help to you if you read numerous samples in order to be able to write a persuasive one. Here at sampletemplates.com, we are providing you with leadership recommendation sample letters that are available for free download.
Free Leadership Recommendation Letter for School Student Template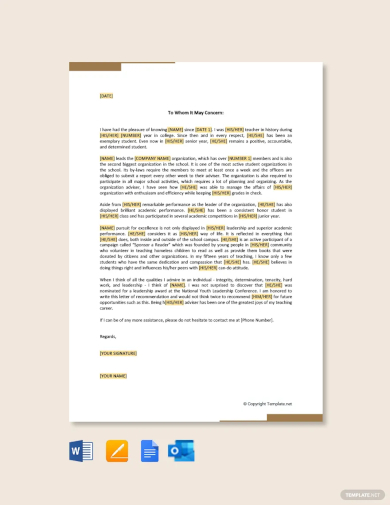 Sample Leadership Recommendation Letter Template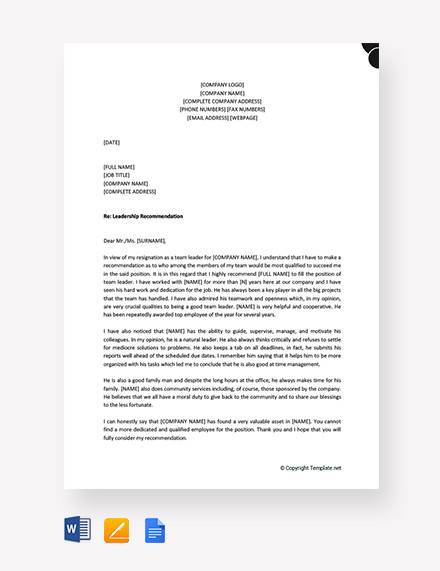 Leadership Recommendation Letter for Student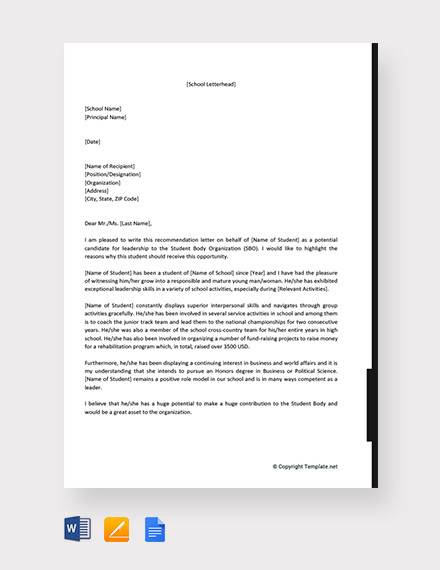 Letter of Recommendation for Leadership Position Template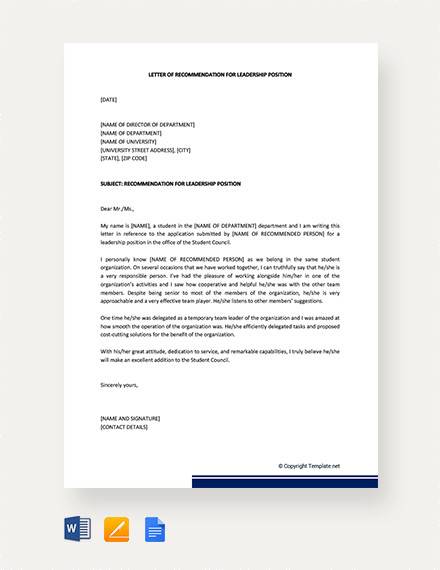 Various Leadership Positions
Most leadership positions naturally entail a lot of responsibilities, that is why attaining any leadership position can be a difficult task list, especially in large organizations. Some of the most common leadership positions are the following:
1. chief executive officer
2. administrative assistant
3. managing editor
4. editor-in-chief
5. purchasing manager
6. department head
7. team leader
8. project manager
9. distribution manager
10. logistics manager
11. senior accountant
12. finance department head
13. principal
14. supervisor
15. dean of a college
Any of the above leadership positions might need a strong letter of recommendation. Use the templates mentioned in this template to make the best one needed for you.
Leadership Recommendation Letter Example
Youth Leadership Recommendation Letter Template
Sample Leadership Recommendation Letter Template
Leadership Recommendation Letters
A leadership recommendation letter is usually sent on behalf of someone who is applying for a leadership position. This letter contains a detailed description of the leadership-applicant's stellar leadership qualities. The recipient of this letter is the person who is in charge of assessing the qualifications of the person for a particular leadership position. You may also see MBA recommendation letters
Who Writes This Letter?
Depending on the type of leadership position that is being applied, the person who makes the recommendation letter should at least be of the position to make a judgment regarding the leadership skills of the applicant. The most common individuals who are usually equipped with the appropriate knowledge and authority to write a leadership reference letter are the following:
1. a former professor,
2. a former supervisor,
3. a former manager,
4. a former/current employer,
5. a former team leader, and
6. a former head of an organization that the applicant is or used to be a part of.
Whatever the type of leadership position that you are writing for, you can benefit the most by referring to our templates on this page. You may also check out our recommendation letter formats to have an overview of the layout. Simply click on the link provided.
Educational Leadership Recommendation in PDF
Basic Leadership Award Recommendation Letter Template
Student Leadership Reference Form Template
Things to Remember in Making a Leadership Recommendation Letter
To help you in your reference letter-writing, here are some tips that you must be mindful of:
1. Be concise and direct. Avoid gushing over the good qualities of your applicant. Remember that you are writing a formal letter.
2. Highlight the leadership skills of the applicant by narrating the specific instances in the past when he/she demonstrated such leadership qualities. Also, take a look at the sample letters of reference available online for more.
3. In highlighting the leadership qualities, you may opt to emphasize skills such as his/her critical-thinking abilities, quick decision-making skills, assertive personality, conscientiousness, etc. You may also see business recommendation letters that are on the internet.
4. Establish authority by stating in what manner you knew the applicant. Also, state your current position (if you yourself are holding a leadership position as well, then that would make you a more credible recommender). You may also see tenant recommendation letters as well for more.
General FAQs
1. What is A Leadership Recommendation Letter?
A leadership recommendation letter convinces the hiring manager that the candidate is best suitable for the job as the leader. It highlights his/her leadership qualities, explaining why he/she is fit for the position. It also mentions the critical thinking skills assessment of the individual and the type of leader the candidate is.
2. Why are Recommendation Letters important?
Recommendation letters are an essential part of any sample application. They communicate plenty of revealing information about you to the admissions officers. These officers mainly look for students with impressive academic, personal and social skills for them in college and beyond, especially in a way that is most authentic to them.
3. What should be included in a Leadership Recommendation Letter?
The following details must be included in a leadership recommendation letter:
Information on how the person's skills match the position
A copy of the job posting
A copy of the person's resume
The reason why you are recommending him/her for the job
The skills he/she possesses that can help the organization, etc.
4. Why is the main purpose of using a Recommendation Letter?
A recommendation letter is writing by a former employer, colleagues, client or teacher who can recommend your work and/or academic performance to a job or university of your interest. The goal of a recommendation letter is to confirm the skills possessed, the achievements, aptitude, behavior, etc. of the person who is being recommended.
5. How do you write a Recommendation Letter for a Leadership Program?
Write recommendation letters for a leadership program with the help of the following:
Mention how long you know the student and in what capacity
Your sample assessment of the applicant's leadership abilities
Mention his/her leadership potential
The applicant's level of motivation and capacity for self-reflection
Add why he/she is interested in being a leader.