While applying for a job, cover letters play an important role as it is generally the deciding factor when it comes to shortlisting candidates for interviewing for a teacher's post. Teaching cover letters require some skills and points to follow rigorously to achieve the desired result and create the needed impact. The following Sample Cover Letters have the perfect samples with illustrations and explanations that will help you to form your dream cover letter for a teacher's job.
Cover Letter For Teaching Job Fresher Template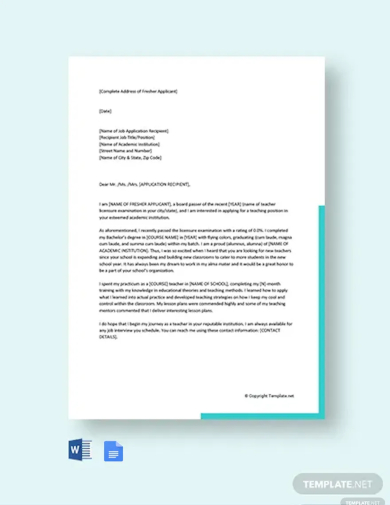 Cover Letter for Career Change to Teaching Template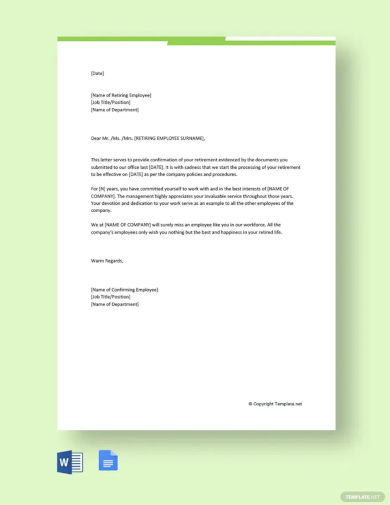 Sample Cover Letter for Teaching Profession Template
This is a Cover Letter Sample for applying for teaching jobs in colleges. It explains with illustrations and samples how to write a perfect cover letter format that will turn head and leave an impact to give the candidate the required edge over its competitors.
Teaching Abroad Cover Letter Format
It comes with multiple sample teacher cover letters for applying for a teacher's job description post abroad. There are as many as 20 cover letters, and one can go through each one and find the best one that suits their personality and edit them accordingly to furnish a glorifying cover letter.
Elementary Teaching Cover Letter Example
This elementary teaching cover letter to the principal has the perfect format and the writing style to put forward the best relevant qualities of the candidates. It also mentions the experience in sample brief along with personal traits and how he or she plans to take care of every student.
Usage of the Teaching Cover Letter
Applying for any type of job requires a perfect cover letter as interviewers decide whether to give one a call for the interview or not just by reading the cover letters. Hence, the above-listed Sample Teacher Cover Letters will act as a guideline or reference to writing classic cover letters to score high over your competitors. They come with all the instructions and points to follow along with impactful words to use while composing your cover letter. They also have multiple formats and outlines one can use and they have multiple types of sample cover letters to suit every candidate.
Free Teaching Assistant Cover Letter Template
This is a cover letter sample for an assistant teacher. It also explains about writing letter introduction, how to greet and what exactly to write to impress the targeted person. Additionally, it states how to justify for the suitability of the post offered and how to end to leave a long lasting impression.
Cover Letter to Principal for Teaching Position Template
This is a detailed manual with sample cover letter to apply for teaching positions. It contains general and specific cover letters, states how to prioritize and group skills according to positions, the positive words to use and a sample checklist of points that must be covered in a cover letter.
Sample Cover Letter For High School Teaching Position Template
Targeted Audience for the Teaching Cover Letter
The targeted audiences of the teaching cover letters are the aspiring teachers who want to get a teaching job in desired school or college. It is also applicable for experienced teachers as well who want to go to another school or college to get better opportunities. Teaching is a profession which everyone can pursue after proper training analysis and certifications, and the provided Cover Letter Examples make it easy to get an interview easily.
Cover Letter For Primary School Teaching Position in Word
Sample Cover Letter Outline For Teaching Profession in PDF
The above-listed Sample Resume Cover Letter Formats have different approaches and all of them are unique. All one needs to do is go through them rigorously and select the one that rings a bell in their mind. After selection, they can either edit it or create their own cover letter that can create the impact in the mind of the readers and gets him or her selected for an interview.
If you have any DMCA issues on this post, please contact us.