A Letter of recommendation for a job is absolutely vital to get an edge over the other competitors and interviewers always prefer candidates who can furnish recommendation and reference letters. The following job recommendation and Sample Letters have the perfect format, tone, and flow and they show the points that need to be highlighted to make the candidate look strong on papers.
Free Job Recommendation Letter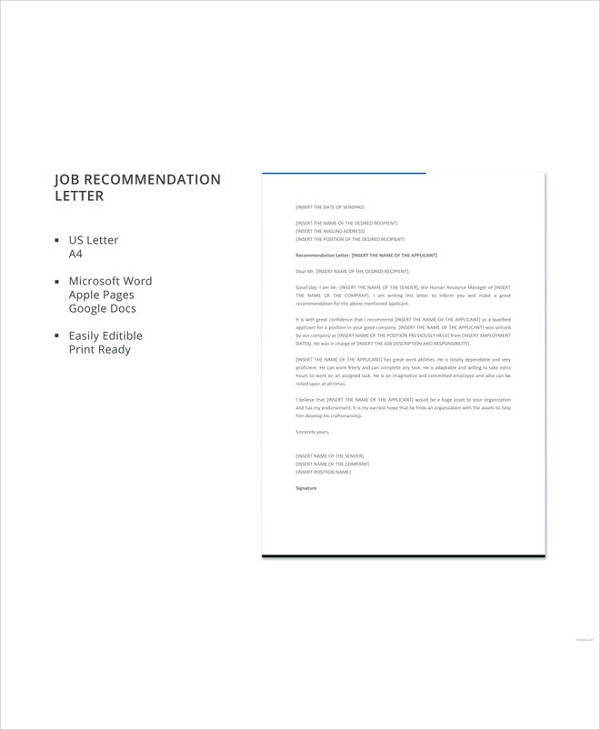 Sample Letter of Recommendation For Nursing Job
This is a complete letter of recommendation for a nursing job. It has three sample stanzas where each one highlights one of the best qualities of the candidate so that she can have an edge over her competitors. It highlights the required qualities that an interviewer always looks for in person for a nursing job.
Letter of Recommendation For a Friend Sample in Word
This is a Sample Job Recommendation Letter where a friend is recommending his friend for a job. It cleverly highlights the personal traits which the interviewers look for these days and if the recommender is in a good professional position, it is going to work as a wonder.
Editable Job Recommendation Letter From a Former Employer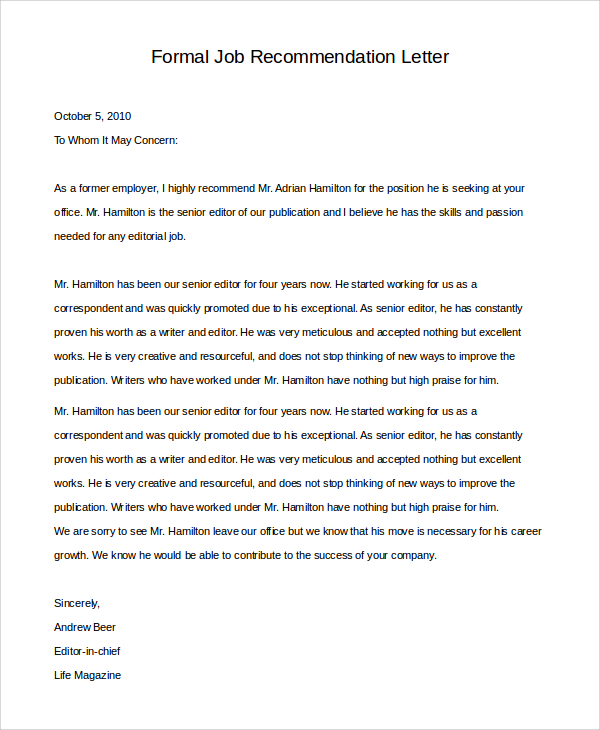 This is a job recommendation letter from a former employer and it holds a great value in the interview because the interviewer will always ask you why you left the previous job and would want to know what your previous employer thought of you.
Usage of Sample Letters of Recommendation For a Job
A Sample Letter of Recommendation for a job is going to add an extra point in one's chances of getting selected. A Recommendation letter can be given by previous employers, people of high position in a company, and anyone who has had an association with the recommending person.
The method and style of writing a job recommendation letter require attention and reference. The above-listed job recommendation and character reference letter samples are perfect guidelines for a person to write a stunning letter that will highlight the candidate's best qualities without sounding too much exaggerated.
Sample Free Job Recommendation Letter From an Employer
This is a perfect format and sample for a job recommendation letter from an employer. As a matter of fact, every employer should have such samples and it highlights the technical skills, competencies and proficiencies, and achievement as well as the personal traits of the candidate.
Example Thank You Letter For Recommendation For Job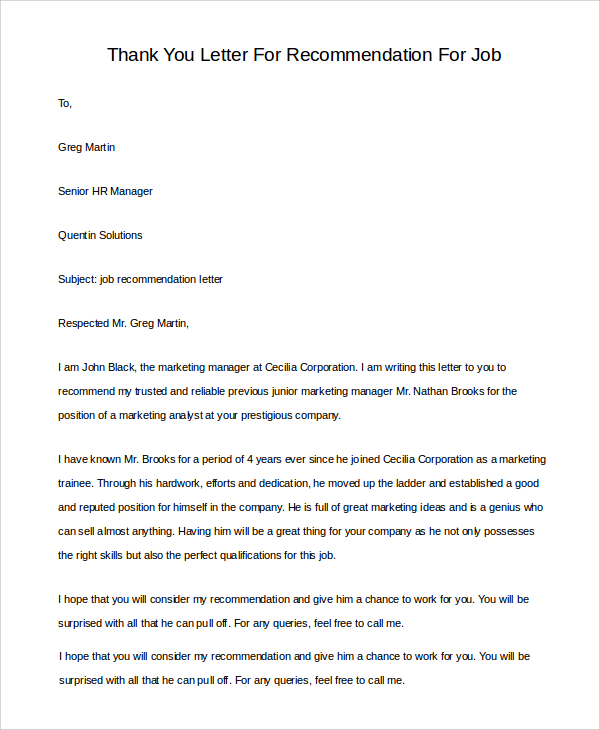 This is a Sample Recommendation Letter that can be written by an employer or any person who played an important part in the life of the recommending person. It is written directly to the interviewer where the recommending person is going to give an interview and it highlights the person wonderfully.
Printable Job Recommendation Letter from Professor
Target Audience
That target audience for job recommendation and reference letters are the employers who need to furnish standard professional recommendation letter when an employee in leaving. It is applicable for teachers to furnish a proper Character Letter of Recommendation to the students. It is also applicable to any person sitting in a high position in a company to write a recommendation letter for a person he or she knows.
Sample Manager Job Recommendation Letter Download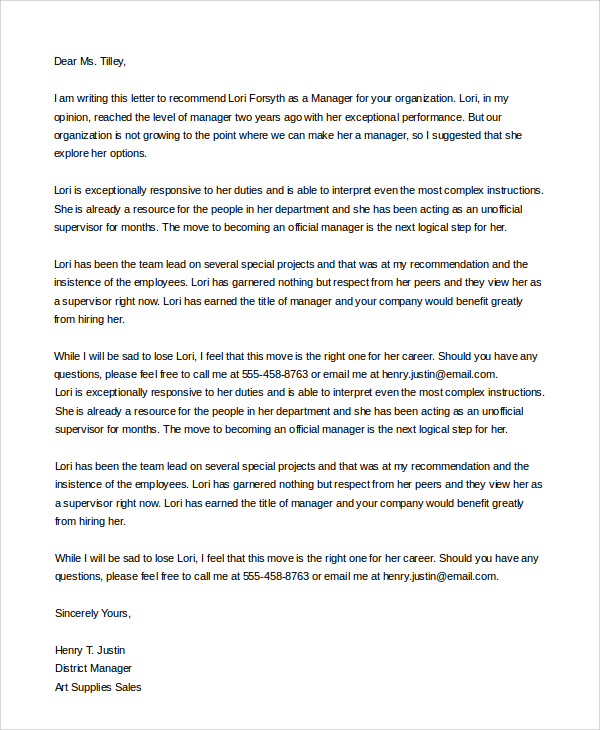 Job Recommendation Letter Format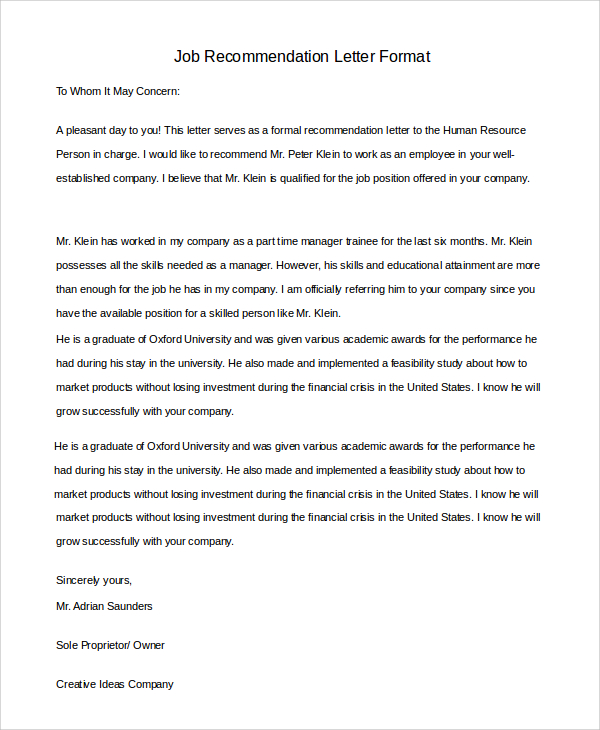 Professional Job Recommendation Letter in PDF
Recommendation letters are the ones in which someone of a high position is recommending a candidate to be hired whereas a reference letter is the one where a person is certifying the candidate of certain qualities which can be professional skills and personal traits. The above-listed Teacher Recommendation Letters Samples have sample lines and actions words with an amazing illustration of what the different paragraphs should contain.
If you have any DMCA issues on this post, please contact us!