Events are made more memorable because of the presence of people who share the same enthusiasm for it. That is why if you are currently planning an event, then you need to be able to invite your carefully selected guests or attendees through a formal yet personalized event proposal letter.
1. Catering Event Proposal Letter Template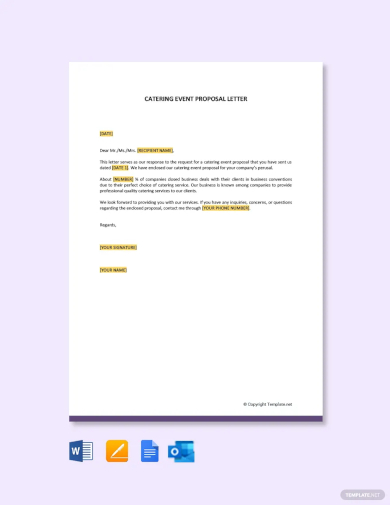 2. Event Partnership Proposal Letter Template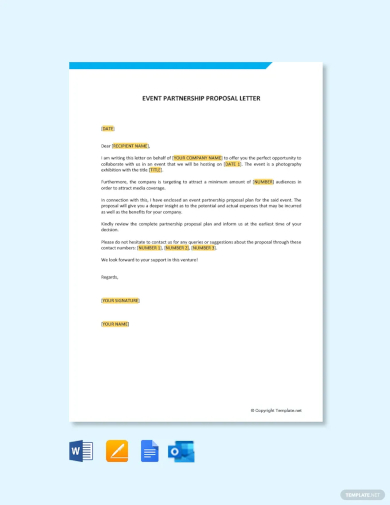 3. Proposal for Event Sponsorship Letter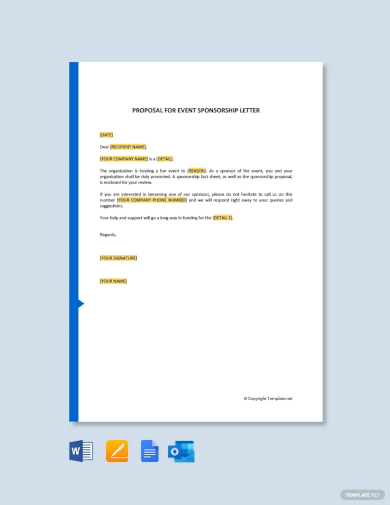 4. Event Proposal Letter Template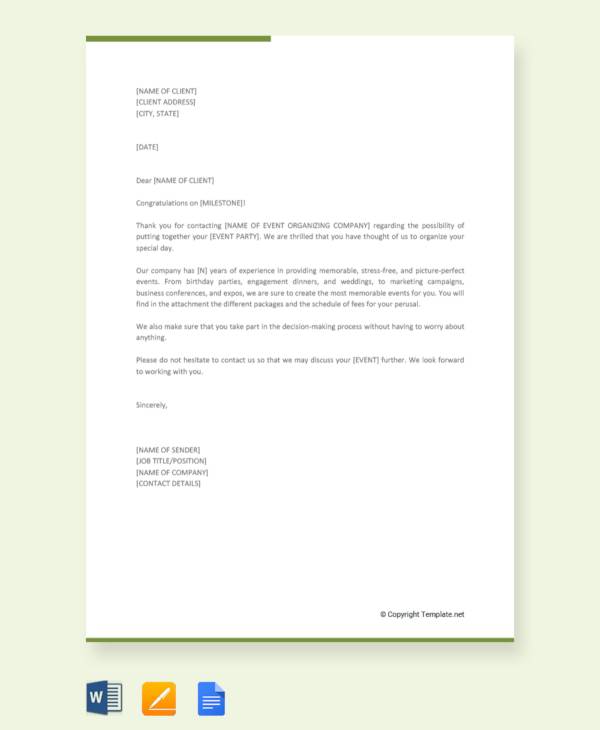 5. Wedding Event Proposal Letter Template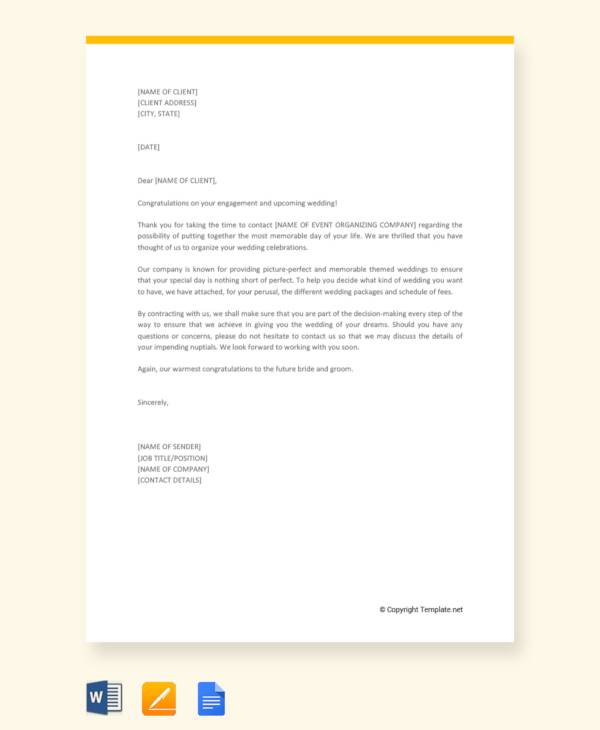 How do you write a letter of proposal for an event?
[Your Name] [Your Title] [Your Organization] [Your Address] [City, State, ZIP Code] [Email Address] [Phone Number] [Date]
[Recipient's Name] [Recipient's Title] [Recipient's Organization] [Address] [City, State, ZIP Code]
Dear [Recipient's Name],
I hope this letter finds you well. I am writing on behalf of [Your Organization], an esteemed event planning company with a proven track record of organizing successful and memorable events. We are excited to submit this proposal for your upcoming [Event Name], scheduled to take place on [Date] at [Venue].
Event Overview: Our proposed event aims to [sample brief description of the event, its purpose, and significance]. With a focus on [key theme or objective], we are confident that our expertise in event planning can contribute to the success of [Recipient's Organization]'s vision.
Event Details:
Date: [Date]
Time: [Time]
Venue: [Venue]
Expected Attendees: [Number]
Our Proposal: We propose a comprehensive event plan that includes:
Agenda: A detailed sample schedule outlining key activities, sessions, and breaks.
Speakers and Performers: A curated list of influential speakers and performers who align with the event's goals.
Logistics: A well-thought-out plan for venue setup, registration, and any technical requirements.
Budget: A transparent budget, covering all aspects of the event from venue costs to marketing expenses.
Why Choose Us: [Provide a brief overview of your organization's experience, highlighting previous successful events, and showcasing your team's expertise.]
Next Steps: We would be delighted to discuss this sample proposal further at your earliest convenience. Our team is available for a presentation or meeting to address any questions or concerns you may have.
Thank you for considering [Your Organization] as your event partner. We look forward to the opportunity to collaborate on creating a truly exceptional and memorable [Event Name].
Best Regards,
[Your Name] [Your Title] [Your Organization] [Email Address] [Phone Number]
6. School Event Proposal Letter Template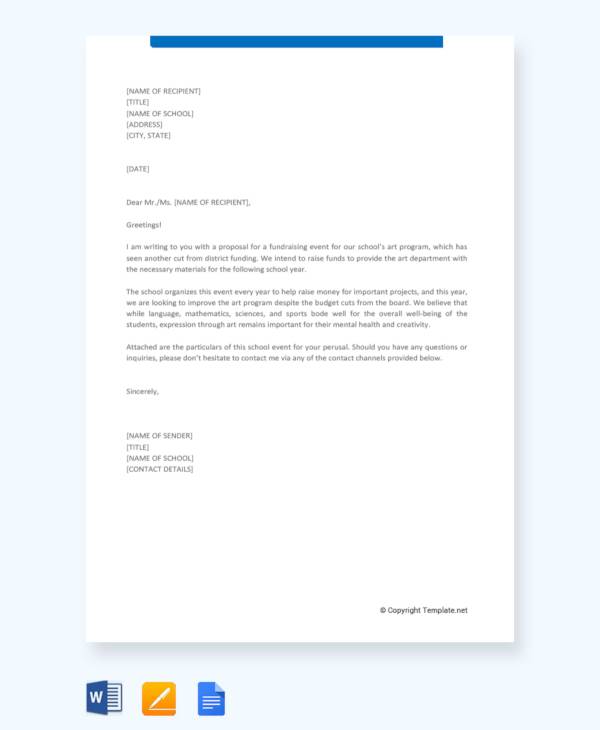 To help guide you through your event proposal letter-writing, download our collection of event proposal sample letters. These templates are available in PDF and Word formats thus making it easier for you to access and store in your devices. You can also opt to simply edit these templates should you find its contents suitable to your needs.
7. Birthday Event Proposal Letter Template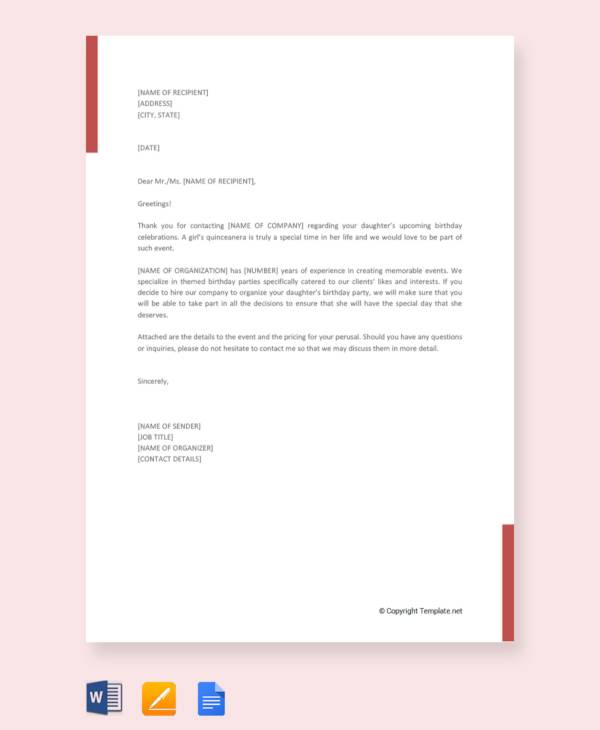 8. Event Proposal Letter in PDF
9. Wedding Event Proposal Letter Template
10. Sample School Event Proposal Letter Template
What Are Event Proposal Letters?
Event proposal letters are letters that are sent by an event organizer to his/her event participants and target event attendees. There are two possible reasons for writing an event proposal letter and those are the following:
1. to invite specific individuals or group individuals to attend an event at a particular date, time, and venue; and
2. to propose to another individual an event idea with the corresponding reasons for such even proposal (its purpose or goal). This type of event proposal letter must also include a few suggestions as to the persons who must attend it, the location of the event, and the specific date and time when it will take place.You may also see event sponsorship letters
1. The usual individuals who send this letter are the following:
party planners,
professional event planners,
wedding planners,
birthday celebrants,
bachelorette party planners,
engagement party planners,
managers who wants to gather his/her staff or team for the purpose of socializing and upholding company ideals and encouraging camaraderie among employees, and
chief executive officers who plan to hold a company function.
What Are the Various Types of Event Proposal Letters?
Concert Event Proposal Letter
Event Sponsorship Proposal Letter
School Event Proposal Letter
Birthday Event Proposal Letter
Invitation Letter Sample
11. Concert Event Proposal Letter Format
12. Event Sponsorship Proposal Letter
13. Event Planning Proposal Letter Template
14. Event Management Business Proposal Template
Things to Remember in Creating an Event Proposal Letter
1. Make a list of the persons you want to invite to your event.You may also see training proposal letters.
2. Make a list of the necessary information that you need to impart in your event proposal letter. This should include things like the following:
purpose of the event,
location,
theme,
date and time,
things to bring, and
what is expected of the participants (this is especially applicable if the event is a seminar or training that requires the event attendees to participate in the activities or in the discussions).You may also see catering proposal letters.
3. Start your letter with the standard heading. (There should be two blocks for the heading: one for the information of the sender and one for the recipient.)
4. Greet your letter-recipient formally. No matter how informal the event is or if you are close with the event attendee/letter-recipient, you still need to observe proper rules in sending event proposal letters by using appropriate titles such as Ms., Mr., Mrs., Atty., Dr., etc.You may also see lease proposal letters.
5. Make things easier for your letter-recipient by stating right away the purpose for the letter.
6. Give them the necessary information pertaining to the date, time, and location of the event. You can also include the dress code here.You may also see sponsorship proposal letters
7. Close your letter formally.
Now that you know the basics of writing event proposal letters, you are now ready to write your letter! Download the template on this page as your guide.You may also see art proposals.
For more proposal reference, check out our collection of Project Proposal Example. Simply click on the link provided.
FAQS
What should be included in an event proposal?
An event proposal should include essential details such as event objectives, target audience, date, venue, budget, sponsorship opportunities, marketing plan, team experience, and contact information.
What makes a good proposal letter?
A good proposal letter is concise, compelling, and well-organized. It clearly outlines the purpose, benefits, and logistics of the sample proposal, showcasing professionalism and addressing the recipient's needs effectively.
What is the rule of proposal?
The rule of a proposal is to be clear, persuasive, and tailored to the audience. It should address the recipient's needs, provide a solution, and showcase the proposal's value convincingly.
What is the most important part of a proposal?
The most important part of a proposal is the executive summary, as it succinctly outlines the key points, objectives, and benefits of the proposal, helping the reader quickly grasp its essence.
What is the budget of an event proposal?
The budget in an event proposal outlines the estimated costs and expenses associated with organizing the event, covering aspects such as venue rental, catering, entertainment, marketing, and other relevant expenditures.
In conclusion, crafting a compelling event proposal letter is essential for securing support and resources. A well-prepared proposal communicates the event's value, ensuring a successful and memorable occasion.