When one thinks of seminars, one would visualize a group gathering doing various activities with free lunch (and snacks in between) and held in a charming 3-star hotel conference room. Seminars are one of the important activities to do for both students and working individuals. It gives them the extra training they need to be better in their work or learn new knowledge that they never knew before. I hold training or seminars for a living, you usually seek out schools and businesses to see if they're looking for people qualified to hold a seminar. To do that, you need to create a proposal that you need to present to your potential clients to discuss the terms of conducting the seminar. Read the article to know how to create a seminar event proposal.
9+ Seminar Event Proposal Samples
1. Seminar Event Proposal Template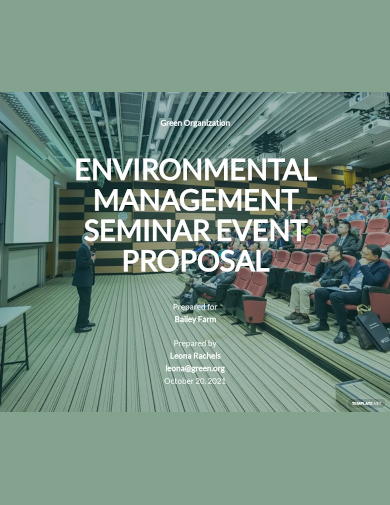 2. Seminar Event Conference Proposal
3. Seminar Event Grant Proposal
4. Seminar Event Call for Proposal
5. Seminar Event Business Proposal
6. Seminar Event Workshop Proposal
7. Leader Seminar Event Proposal
8. Workshop Seminar Event Conference Proposal
9. Research Development Seminar Event Proposal
10. Tax Seminar Event Proposal
What is a Seminar Event?
A seminar, or sometimes called a conference, is a program sponsored by businesses where attendees are provided with lots of information or training about a specific topic or new techniques, or new knowledge. A seminar is usually held for groups made up of around 10 to 50 individuals and usually takes place at a hotel function space, an academic institution, or just within an office conference room.
How to Make a Seminar Event Proposal
1. Know the Purpose of the Seminar
First, find out what type of seminar event you will be conducting. Know the main purpose so you can identify what goals that you like to accomplish.  The format of the seminar will be different for every client you have so determine what format is the best for your event.
2. Make a Realistic Budget
Work out the budget you will need for the seminar event. You need to know how much money you have to work with to proceed with the seminar event. Determine which important resources (such as food and beverage, venue, materials to use, and personnel to hire) are essential to your event.
3. Establish a Timeline
Make a timeline of the seminar event beginning from the planning process, to the preparation process, and to the day of the event itself.  Make sure to attach a calendar and point out relevant dates that may serve as deadlines.
4. Know Who is Your Target Audience
Know which type of audience will participate in the event. Will it be the employees of a certain company? Will it be students? Once you know who your target audience is, you can properly format the program of your event according to their needs and interests.
5. Plan the Logistics
The most complicated part to write is your logistics planning. You need to book caterers, audiovisual technicians, printers, decorators, security personnel, speakers, and presenters, etc. to help you prepare and do the event. You also need to plan what specific topics and activities related to it that you will tackle during the seminar event.
6. Plan Your Marketing Strategies
Determine how you will advertise the seminar event to invite all employees and students to participate in it. You can promote on social media, and the organization's website or do the traditional way by putting up posters on bulletin boards for everyone to see.
FAQs
What are the different types of seminar?
The different types of seminars are:
Personal Development: This can take the form of retreats or intensive discussions. It is designed to train and address personal development.
Business: This type of seminar usually focuses on sharing success stories and business strategies, and learning the art of marketing, licensing and franchising, and other business matters.
Academia: Students and faculty staff meet together in small groups to discuss academic topics or required readings, as well as set goals for research studies.
What is the main purpose of seminar?
The purpose of a seminar is to create an experience where participants can learn the topics being discussed through application and teamwork, and have fun while learning rather than making it a passive experience.
What is the difference between a seminar and a lecture?
A seminar is a group session where all attendees get the chance to participate and discuss activities of the topics they learned while a lecture is a group session where the speaker or teacher is the main discussant.
Once you're done drafting the proposal, make sure to review it for any grammatical or spelling mistakes before you present it.  Discuss and negotiate it then with your client. Be cool, calm, and collected when proposing to your client. Answer their questions promptly and expect to make some compromises just so you can officially work with your client. To help you get started writing the proposal, download our free sample templates above to use as your guide!