Ventures cost money. You know that, I know that, everybody knows that. It's basically the principle behind business ventures and projects. Money. Fortunately, companies know this as well. That is why they almost immediately jump to the opportunity on sponsoring project, ventures, and events, especially if in turn, they receive the marketing of their products and services through publication materials and sponsorship shout outs. Sponsorships are commonly financial or even promotional support of any sort of activity. It's a two-way partnership where both parties have some sort of benefit. The sponsor receives much needed customer interaction in return by associating themselves with the event or organization, and the sponsored party receives much needed financial assistance.
Schools have often just enough allocated budgets for in-campus events or amenities and utilities inside the school premises. That's why more often than not, they seek sponsorships from big-name corporations or businesses to defray costs and receive assistance. Money from sponsorships often go to the prizes of the event or just for compensation of their speakers and attendees. Some schools even seek sponsorships not for events but for the development of the school itself, especially public schools and community colleges. Sponsorships are often critical components for many events, the difference between the even resulting in a loss or bringing in revenue and recognition. If you've had troubles in attracting new sponsors, or just confused about what the best way in connecting with sponsors and making them sign, then you are in the right place. First of all, take a look at these school sponsorship proposal samples that we have listed down below. Once you've acquainted yourself with the document, feel free to use it as a guide or even as a template for your own sponsorship proposal.
10+ School Sponsorship Proposal Samples
1. School Sponsorship Proposal Template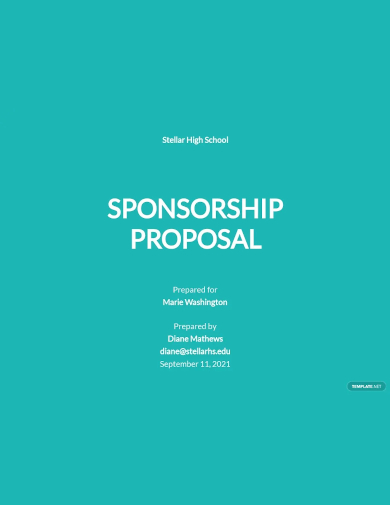 2. School Foundation Sponsorship Proposal
3. High School Sponsorship Proposal
4. School Sponsorship Proposal
5. Primary School Sponsorship Proposal
6. Sample School Sponsorship Proposal
7. Business School Sponsorship Proposal
8. School Community Sponsorship Proposal
9. School Sponsorship Application Proposal
10. Public School Sponsorship Proposal
11. School Sports Sponsorship Proposal
What Is a School Sponsorship Proposal?
A school sponsorship proposal, or just any sponsorship proposal in general, is a formal offer to do business between two different parties. The prospective sponsor, and the to be sponsored. The document specifically offers opportunities to do business with your organization. If you need additional funding with an even in your school or you just want additional funding for your school overall, a sponsorship proposal is the best document that you can use. It basically helps you secure the funding you need for your next venture. It needs to be well presented and should contain enough information that a company might need to gain a thorough understanding of what they will be sponsoring and what benefits are being offered by your school. Explain your values, goals, background, and other details that are align with your prospective sponsor.
How to Write a School Sponsorship Proposal
Sponsorships are basically marketing deals. One party offers material and financial support to a sponsor who in turn, receives much needed marketing, advertising, and publicity. It is highly recommended that you use a template for your sponsorship proposal like the ones we've provided above to help you format your document correctly. Listed below are the steps that you need to follow and keep in mind to make sure that your sponsorship proposal is well drafted and well written.
Do your research
Before actually approaching potential sponsors, make sure that you understand them first, their brand, their products, and what they stand for. So you can have a better idea of how their sponsorship can benefit their business, giving you the information you need to write a persuasive proposal. Take all the time you need to understand each sponsor, don't generalize, they'll know.
Highlight the opportunity
Write a short paragraph of the opportunity that you are offering. Re-iterate the facts about your event in your school or just the school itself, event benefits, and your features.
Overview
Give a detailed overview of your target audience, the market, and the media reach for your event. Show them what kind of publicity their company will be exposed with in your sponsorship.
Deliverables
Specify your deliverables that you can show to your sponsors. Merchandise, school materials, the works.
Finances
Name your price. How much money. goods, services, or assistance are you looking for from your sponsor
Credentials
Present your credentials and the background of your school. Describe past projects that your organization has affiliated with and were a success, explain your history, values, and the capabilities of the people under your organization.
Deadline
Give them a deadline to reply. Deadlines are good ways to weed out the companies who are and who are not interested in your proposal.
Once you feel like the proposal is complete, give it some final reviews and proofread it. Check for awkward parts or weird tones.  It would also be best if another person would proofread it for you. A clean draft and a very persuasive one should be worth the extra effort, it may  just even be the difference between failure and success for your proposal.
FAQs
What is an example of sponsorship?
One of the world's most successful sponsorship is the NFL  Super Bowl half-time show. This sponsorship helped Pepsi Co. in promoting its brand and enabled NFL to the extend the reach of the show through the half-time show.
What do sponsors get in return?
Sponsors provide funding for materials in events and organizations in exchange for business and market exposure, gaining the chance to garner new customers.
What are the disadvantages of sponsorship?
Sponsorships can expose yourself to potential controversies due to the actions and ventures made by the person or event that you are sponsoring given your linkages to them. Like all marketing initiatives, sponsorships are no different, there is little to no guarantee on return on investment.
No matter what you're seeking sponsorship for, the setup of the proposal should be the same. A lot of proposals make the mistake of talking too much about themselves rather than talk about the benefits that their sponsors will receive. In order to be successful, you must gain the trust of the decision makers and let them understand how you will be expanding their brand through this partnership.