Is your head brimming with wonderful ideas of events that you can do for your church? Do you think that your ideas can greatly benefit your church and its fellowship? If yes, then it's time to approach your church leaders such as your pastor or parish priest, your fellow members of the church, and even tap your sponsors to let them know your great event idea. To do that, you need to propose to them the idea by using a proposal document. Don't know how to create a proposal? Read the article analysis below to know how to make one!
10+ Church Event Proposal Samples
1. Church Event Proposal Template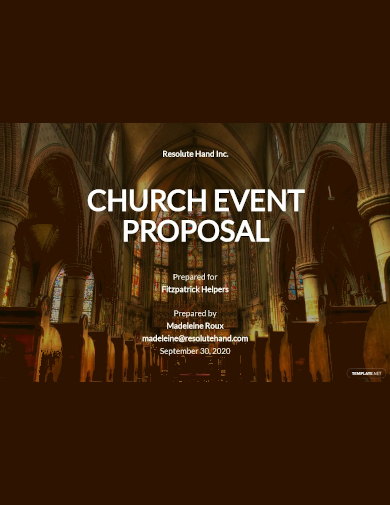 2. Church Event Project Proposal
3. Church Event Proposal
4. Church Event Proposal Form
5. Church Event Request for Proposal
6. Church Workshop Event Proposal
7. Church Ministry Event Proposal
8. Church Building Event Proposal
9. Church Community Event Proposal
10. Church Event Course Proposal
11. Church Event Sponsorship Proposal
What is a Church Event?
A church event is an activity where church members gather together to do some fun and wholesome activities that strengthen their relationship with each other, meet new people, and forge a deep understanding of the Word of God to strengthen their faith.  Church events can be services or workshops for the members to be more in touch with their spiritual relationship with God.
How to Write a Church Event Proposal
1. Recruit Volunteers
The first thing you need to do is to gather volunteers who are willing to participate in organizing the event. They can help you work on your proposal and sample plan for the event. Make sure to assign each of them a task they can do to make sure they know what they will be doing and what deliverables are expected of them.  Recruit volunteers through announcements during worship services, advertise in your bulletin boards or social media groups, or website, or reach to different ministry groups in your church.
2. Provide a Brief Background of the Event
This is the part where you will start writing your proposal draft. The first thing to include in the proposal is the details of the event that you're proposing to do for your ministry. Provide some information that explains the event further and explain how the event will be beneficial to your church, especially the members. Make sure the event should be aligned with the Christian values that will be highlighted in the proposed event.
3.  Give More Details About the Event
This section is where you elaborate more details about the event. Below are the following details you need to explain in this section:
Food and beverages that will be served in the event
Decorations
Prizes
Activities and games
Seating arrangement
Entertainment
Furniture and equipment to be used in the event
Number of people attending the event
Date, time, and venue of the event
4. Set a Budget
The next thing to include in the budget that you will need for the event. Include details such as the overall budget, budget of each aspect of the event, and the estimated expenses of each resource needed for the event. This is important so your church leaders, or members, or sponsors can allocate enough budget estimate to successfully do your proposed event.
5. Advertise the Event
Once you've worked out the details above, conclude your proposal by describing the details of your advertising and promotion plans.  After all, you need to get the word out to your community. You may use different sorts of advertising channels, such as:
Church bulletins
Social media site
Church website
Posters, flyers, brochures
Local radio or TV advertisement or press releases
FAQs
What are some examples of church events?
Some examples of church events are community meals like potluck meals or banquet feasts, picnics, block parties, feast day celebrations, vacation bible schools, holiday day themed activities, community yard sale, concerts, date night for couples, and movie nights.
What is a church gathering called?
A church gathering is usually called a congregation. A congregation can also be used to call a group of churchgoers. Some other names that they are called with are parishioners, fellowship, flock, or brethren.
Don't forget to include a summarize details of how you'll evaluate the event after it is done. Mention how you will review the event and your methods of assessing it to see if it was successful and to also use the assessment as a basis to improve the event if you're sample planning to repeat it next time. You can reach out to attendees to get their feedback. If you do your proposal properly, you can get the approval of your church leaders to proceed to your event. Make sure to be responsible or use your organization and leadership skills to prove to yourself and your ministry that you're more than capable of organizing an event. To help you get started on writing your proposal, you can download our free sample templates above to use you as your guide!