According to Stotlar, one of the keys to have victories in sponsorship contracts is showcasing a proposal that specifically identifies sponsors' benefits and needs and endorses these, not solely the features of the event and of the sponsorship package that is being sold. However, sponsorship can be extremely challenging to look for and a lot of work is necessary to make it happen. It will not always be obtained cheaply. So, how will you get the perfect sponsors for your event? In this article, we will discuss helpful guides in creating an event sponsorship proposal. We also provide our simple and unique downloadable proposal templates for you to get started. Please keep on reading!
FREE 4+ Event Sponsorship Proposal Samples
1. Event Sponsorship Proposal Template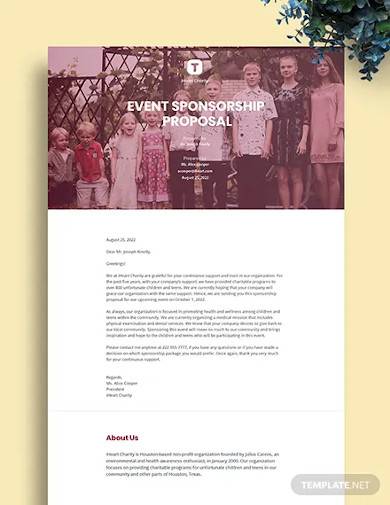 2. Free Proposal for Event Sponsorship Letter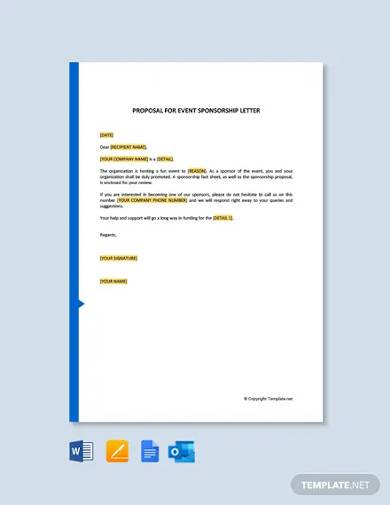 3. Corporate Event Sponsorship Proposal
4. Event Sponsorship Proposal Template
5. Community Charity Event Sponsorship Proposal
What Is an Event Sponsorship Proposal?
The book "Event Sponsorship and Fundraising: An Advanced Guide" stated that sponsorship is a business agreement developed for the mutual benefits of the parties involved. Thus, it should not be perceived as a simple way to reinforce finance for an event. It is a perplexing task and definitely much harder than selling other forms of marketing communications. 
Most of the events sponsorship integrates a lifeline as it can contribute events with much needed funds and other essential resources while serving to enhance the event image and create exposure  to a large-scale market. 
Typically, a formal proposal is the document by which sponsorship opportunities are presented, building up the foundation for negotiation with possible partners. 
How to Create an Event Sponsorship Proposal
An effective proposal grabs the attention of the business owner, makes them want to be a part of your exciting event. So, don't waste any more time and begin planning for your event sponsorship proposal now by following the important guides and tips below:
1. Make a clear definition of your event
What kind of event are you planning and organizing? What are your objectives, your values, and your business philosophy? As an event organizer, hold a clear definition of your personal brand. Like how a professional chef meticulously prepares his restaurant menu, you will serve the best menu for your potential sponsors as you court them for investment. Make sure that this first part includes all relevant details that could peak the interest of the sponsors like the event name, date and time, speakers and entertainers, catering and suppliers, venue and location, and your unique selling proposition (USP).
2. Show your target audience
Who do your events cater to? The type of event you organize will give a clue as to who it's directed at. The second part of your event proposal is where you can draw out exactly who your target audience is. Add some important details such as age range, gender, interests, occupation, income level and knowledge. Giving a visual touch to your proposal is highly recommended so consider creating a compelling infographic for your target audience to obtain great interest from your possible sponsors.
3. Validate your track record
Why should people trust you with their money? Your professional track record demonstrates that you are aware about what you're doing. If you want people to invest in your event, you need to display and validate a proper level of credibility through your business accomplishments. 
4. Prepare an outline of your event process
Brainstorm and carefully outline exactly how you will you fully accomplish your plan step by step. When you do this, it will give permission to your sponsors to see and be convinced if you really know what you're talking about and whether you're being realistic in your event proposal.
5. Suggest some sponsorship packages
You should bring together sponsorship packages that will help bring their brand to the limelight and provide them more additional business. Your packages could consist of things like professional website banners, live stream takeover, delicious drinks and catering, artistic loot bags and creative brochures, and accessible event app features.
FAQ
What should a sponsorship proposal include?
This article suggests the following things that you should include in your proposal:
Demographics
Traffic
Sponsorship Exposure
Location of Sponsorship Material
Cost and Benefits
Testimonials From Past Sponsors
What should I offer my event sponsors?
To make your sponsorship more attractive, include some of these ideas in your plan:
Game Lounge
Naming Rights
Charging Station
Video Interviews
Sponsor a Party
Illuminated Smart Wall and Social Media
Sponsor Live Streaming
How do you attract sponsors for an event?
An article recommends that when you are searching for sponsors, reach out to them first with what you want to achieve. Be clear on what a sponsor can do and what makes sense to ask him or her. Ask your sponsor for help while recognizing your value to the sponsor.
How much do event sponsors pay?
At small, regional events, you may be able to find sponsorship opportunities ranging from $500 to $5,000 based on an article by Event Architecture. The value you get from those sponsorships is up to you to determine. If you are interested in sponsoring larger activations where the exposure is much greater, the cost is also exponentially greater.5
Therefore, for a proposal to make an impression and to achieve the desired results, it is very crucial that it has been completely developed, that it is focused on the sponsors' perspective and that it addresses all of the mandatory elements of the offer that would enable the potential sponsor that is favorable for the event. You should focus on proposal development as it needs careful consideration because proposals are like mirrors of the events that you are representing. So, to assist you in developing fantastic proposals, you can freely use our event sponsorship proposal templates in this article. Download them right now!