Success in entrepreneurship usually happens when there are various factors that work together in order to create a type of environment that is good for the business. One of the essential factors include the abundance in monetary aspect, business, and in investment capital. There are some business ideas that haven't even considered because of the lack of capital or the lack of investment. However, if you are serious enough to start a new business or finding ways to improve your existing business, you have to create a business plan first. Match this with an investment proposal. This article will help you create a good and solid project investment proposal intended for your business. This can be done by sharing the necessary elements or components included in the investment proposal.
What is a project investment proposal? It is defined as a type of document that is incorporated with a goal of providing enough motivation to potential investors in order to acquire a mutually beneficial business relationship with a particular project. The notion is to involve specific information in the proposal that would help the investors to see the value of the project, understand the rewards that has been associated with investing, and give information that will address and resolve the issues that investors have. This type of proposal is generally prepared as a document that is made for the purpose of addressing a wide range of investors or prepared to attract different types of investors.
10+ Project Investment Proposal Samples
1. Project Investment Proposal Template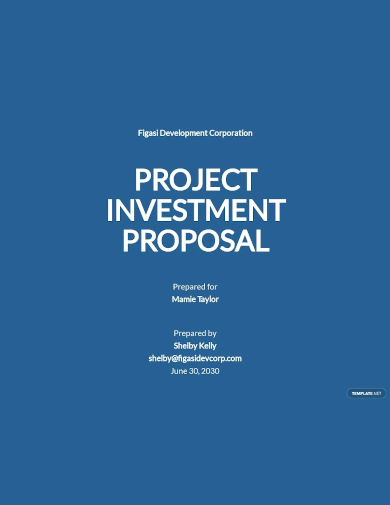 2. Construction Project Investment Proposal Template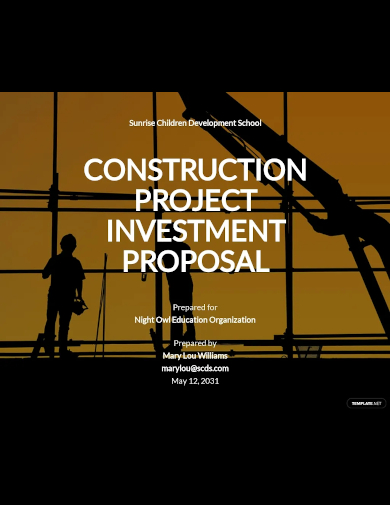 3. Project Investment Implementation Proposal
4. Project Investment Summary Proposal
5. School Project Investment Proposal
6. Sample Project Investment Proposal
7. Project Recommendation Investment Proposal
8. Organization Project Investment Proposal
9. Investment Project Proposal Form
10. Communications Project Investment Proposal
11. Project Application Investment Proposal
How to Write a Project Investment Proposal?
The most convincing proposal is something that provides an information to the potential investor with regards to making decisions to bankroll the project. This will also ensure that the investment proposal contain the standard characteristics.
Description of the proposed investment project – investment proposals must begin with a short description of the proposed investment idea. This is the part of the proposal where you eventually get to show everyone what your idea is all about. If in case that you want to have more funds for your business, you have to write about what you really want to do.
Company performance and financial report – this section is all about the performance of your company and its background in finance. If you already have a business that is well-managed, it would be easy for you to include the financial report and company's achievement. If you are still new with the business, include information about you as the business owner, how you decided to have such business idea, and your plan for the business once you already have the funds you need.
Planned marketing and sales method – you have to conduct market research and know your action plans. Conducting an in-depth market research will let you be aware about your competitors and the industry they are in. After this, come up with the best strategy that you can be used to gain a market lead.
Business Technical Operations Management – include aspects involved in both technical and operational. This will be the only way to let investors know everything about the project.
Project financing – this is essentially made for investors due to the fact that it will state what investors can get out of providing funds for the business or the project.
Project timetable – this section will let investors know the length of agreement between him or her and the business owner. Timetables simply allow them to keep track and maintain the goals of their own businesses.
Exit plan – this is another essential component that must be included in a project investment proposal. This should include information with regards to dealing with your business failures.
FAQs
What are some of the preliminary information that must be included in an investment proposal?
It should include brief description of the project, sponsorship, management, and technical assistance, market and sales, technical feasibility, manpower, raw material resources and environment, investment requirements, project financing, returns, government support and regulations, and timetable envisaged for project preparation and completion.
What should you do before writing the proposal?
You have to research your market and competition, review your product, and gather information about the investors.
If you want to see more samples and format, check out some of the project investment proposal samples and templates provided in the article for your reference.