Having a sponsorship can make a big difference for a club, especially with a sports club. Sponsorship can be the key to their success because it can address their concerns such as their budget that will be used to improve their equipment and fund competitions and tournaments. Without sponsors, the club will never be able to afford those things. That's why clubs opt to look for businesses that are willing to sponsor them, and in return be willing to give the business some exposure. If you're part of a club, say a volleyball club, and you need sponsors to fund your uniforms and equipment, it can be a long and sometimes painful process to look for sponsors and propose to them that you'd like to be sponsored. One key element of proposing is to give them a proposal letter. This article will give you tips on how to write a sponsorship proposal.
10+ Club Sponsorship Proposal Samples
1. Club Sponsorship Proposal Template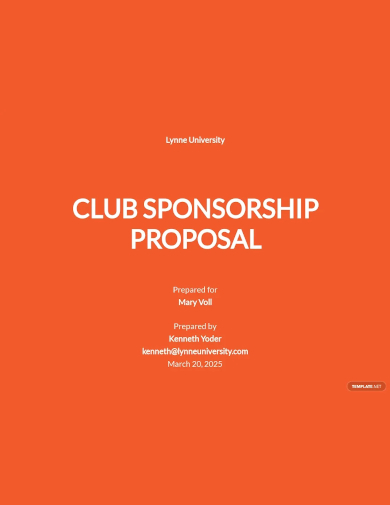 2. Soccer Club Sponsorship Proposal Template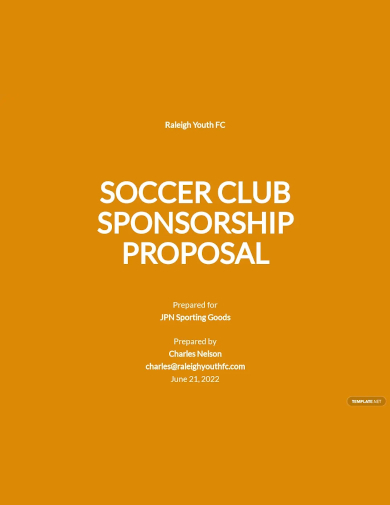 3. Football Club Sponsorship Proposal
4. Volleyball Club Sponsorship Proposal
5. Football Club Program Sponsorship Proposal
6. Cricket Club Sponsorship Proposal
7. Sports Club Sponsorship Proposal Form
8. Bowling Club Sponsorship Proposal
9. Skating Club Sponsorship Proposal
10. Swimming Club Season Sponsorship Proposal
11. Club Sponsorship Contract Proposal
What is Sponsorship?
Sponsorship is a mutually beneficial business relationship between two parties, the business being the sponsor and the club being sponsored.
How to Create a Club Sponsorship Proposal
1. Create the Title Page
The first part of your sample proposal is where you put your club's letterhead and the organization's logo. Put the name and address of the business you're sending the proposal to and the date the proposal is sent.
2. Introduce Your Organization
The next thing to include is an introduction to your organization. It must include your basic information such as the sport you play or the music you play or the type of dance you perform, the age range of the members, and levels of expertise of the members, and the club's mission.
This section is also where you'll include why the club is looking for a sponsor and what the money will be used for. Be specific in your explanation of how the sponsorship money will benefit the club and how it is important for them to obtain funds.
3. Explain How Partnering with the Club Can Benefit the Sponsor
To convince the business you're asking for sponsorship for, you need to include in your proposal the advantages the sponsor can have if they will fund you. Explain to them how working with the club can help improve their customer base, build customer loyalty, increase community involvement, and so on.  Don't forget to also include a detailed discussion of how you'll play your part in the marketing efforts to show your club's reach and audience. You can show them your social media accounts, print campaigns, and other marketing efforts such as newsletters, blogs, and websites.
4. Include Sponsorship Levels
To let the business know if they have options on providing funds to you and knowing what that includes in the sponsorship, provide a copy of sponsorship packages with various levels in your proposal. The copy must include the different sponsorship levels, the minimum amount for each level, and what items are included in the package. When creating the packages, the club should determine how much money you're trying to raise to make sure that the value of each package will align with your goal.
FAQs
What does a sponsor get in return?
Sponsors offer financial funding or products and services to support events, teams, nonprofits, or organizations. In exchange for their offer, these sponsors expect to get business exposure and a chance to get new customers.  This is also a marketing strategy that businesses usually do.
What are good companies to ask for sponsorship?
For clubs to get a surefire sponsorship, clubs can tap into these business entities such as banks, hotels, grocery chains, insurance companies, food brands, beer brands, major retailers, and airlines.
What's the difference between a donor and a sponsor?
Sponsorships and donations both offer cash or goods and services to those who ask for their help, however, sponsorships are more of a marketing tactic, such as putting their brand on an event or release news that they are sponsoring a particular organization with the purpose to increase exposure and boost revenue. Donations, on the other hand, are charitable and purely benefit the organization they are helping.
Conclude your proposal by thanking the business for their time and include your contact details and address information and instructions on what to do next if the company is interested in pursuing the sponsorship. Have the club administrator sign the proposal to make it more personalized and that you mean business and professionalism. Writing a proposal might take some time, especially if you're proposing to multiple businesses, but your club needs to continue its operations. To help you get started on making your sponsorship proposal, download the free sample templates above to use as your reference!