Weddings, birthdays, graduations, conferences, concerts, trade shows—name one event that doesn't need a budget. None, right? An event will remain as a plan without sufficient financial resources. That is why event organizers always have a spreadsheet detailing how to allocate the finances for a particular gathering. An event budget sheet enables organizers to arrange an event without ending up short on cash. It is an essential tool, regardless of how grand or simple the gathering will be. Read on to learn more about it.
FREE 14+ Event Budget Templates
1. Event Budget Template Sample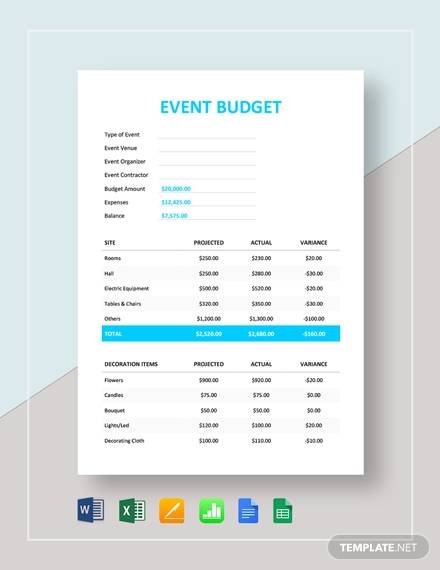 2. Conference Event Budget Sample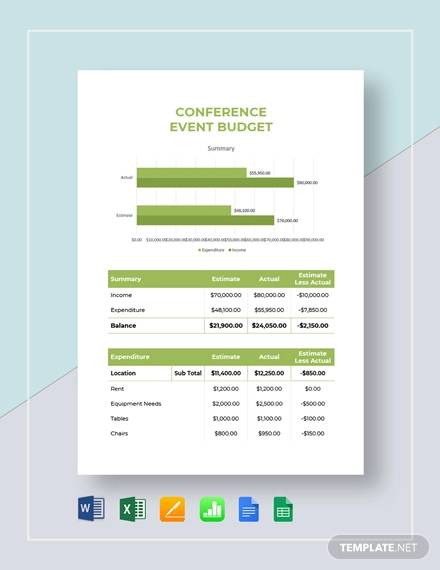 3. Sample Church Event Budget Template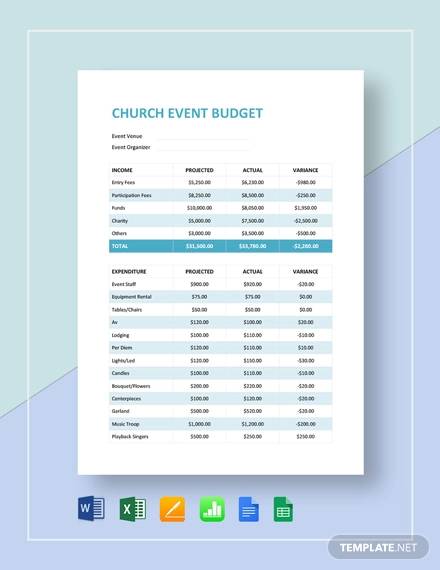 4. Sample Fundraising Event Budget Template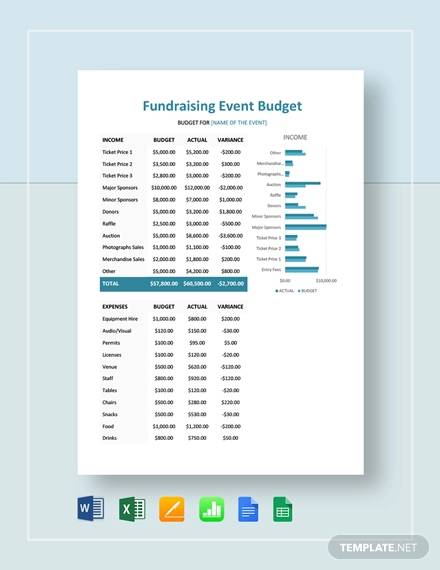 5. Event Planning Budget Worksheet Template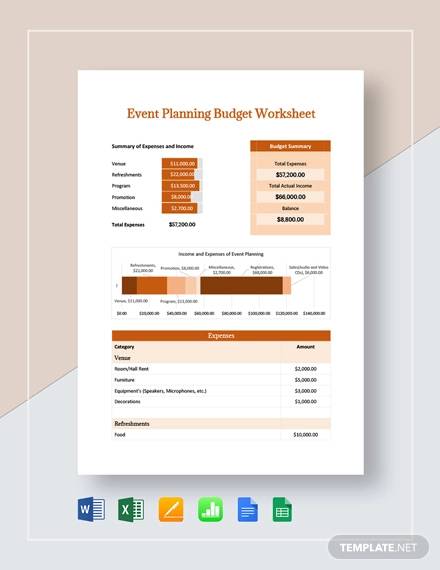 6. Corporate Event Budget Sample Template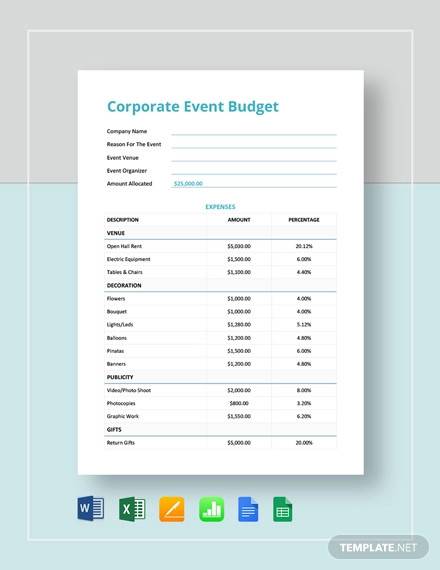 7. Nonprofit Event Sample Budget Template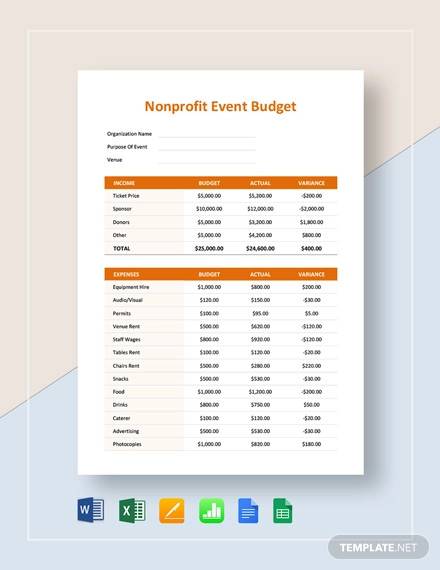 8. Event Budget Proposal Template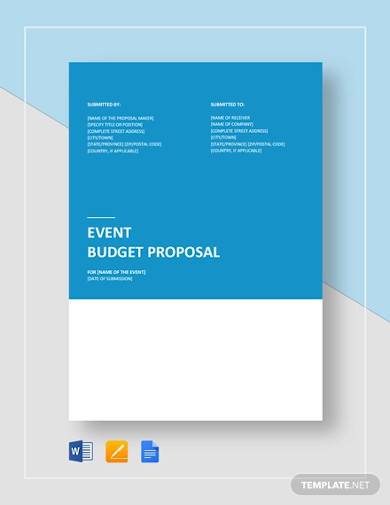 9. Meeting Event Budget Template
10. Party Event Budget Template
11. Fundraiser Event Budget Template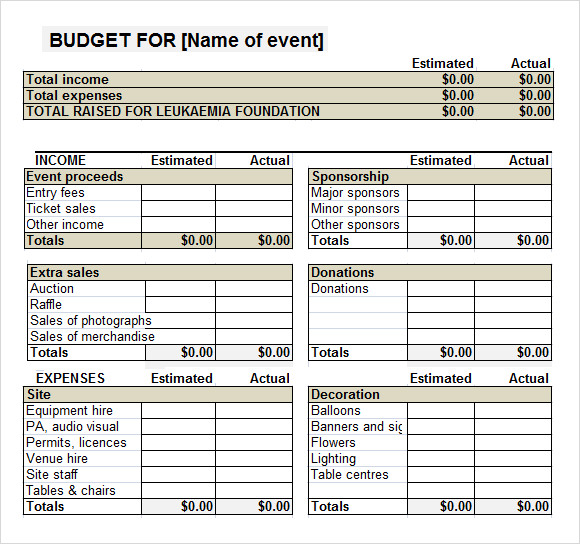 12. Simple Event Budget Template
13. Event Budget Template Doc
14. Sample Event Budget Template
15. Event Budget Worksheet Template
What Is an Event Budget?
An event budget is a document that details the estimated expenses for an event and its actual cost. And at the end of the activity, you can determine whether you still have money left or you fell into a negative balance. It is an essential part of an event planning template since it helps you manage your finances and control your expenses. A sample event budget outlines the onsite costs, production expenses, third-party vendors, and emergency funds.
Importance of Event Budgeting
Businesses and individuals hold events for various purposes. While the budget for personal occasions is mostly for the event itself, business-related events cover other expenses for advertising. As featured in an article from Eventbrite, 43% of a business event's budget goes to marketing and promotion, 32% for the speakers and talent, 29% for printed materials, and 18% for the venue. It would be hard to keep track of these without an event budget software or a filled-out simple event budget template. Apart from that, this document is also important because:
It helps organizers to set realistic goals for the event.
It enables you to determine what you can and cannot afford.
It protects you from overspending and going into debt.
It allows you to identify high-quality goods and services that will fit your budget.
How Do You Create a Budget for an Event?
In life, mastering the art of budgeting is crucial. It assures you that no matter what happens, you will have enough finances to survive. The same goes for events—you have to properly allocate your cash for it to turn out the way you want it to be. Provided below are the steps on how to create an effective event budget.
1. Know Your Event
Some events will need more budget than others. That is why you must know everything about the gathering. Doing so will give you a clearer picture of what you will need and what you won't need.
2. Set a Budget
Then, you have to set the total budget. Calculate the particular amount of your income that you can allocate for the event. This will then be your basis as you list down the expenses for the occasion later on.
3. List Down Expenses
As previously mentioned, the expenses for personal occasions will differ from business-related events. Presuming that you are organizing a grand event, the categories you need to look into are the following: venue, staffing, A/V equipment, decoration items, program, and marketing. In listing down your expenses, make sure to categorize them accordingly.
4. Estimate Your Costs
After listing down the possible items you have to buy and other event necessities you have to pay for, contact third-party vendors and research where you can purchase or rent the resources needed. Make sure to choose vendors who will give you quality products and services at a lower price, so that it would fit your budget. Then list down the estimation of your costs right next to each item.
5. Evaluate the Event
Although it is not part of the event budgeting process, you must evaluate the event you organized. Doing so enables you to see if there are any lapses in the plan you made so you can make improvements for the next events you will arrange. You should also compute the variance between the estimated cost and the actual expenses incurred.
Budget planning for a party, conference, or any social gathering will be easier with the help of a ready-made event planning spreadsheet in Excel or a conference budget template. With a template at your disposal, coming up with a budget that works will be free from hassle.
FAQ's
How do I organize an event with no money?
Technically, it would be impossible to organize an event with no money. However, that doesn't mean that you have to spend your or your organization's financial resources for the function. You can still arrange an event without having to exhaust the money from your pockets, especially when it is for a cause. How? By finding sponsors and media partners. Some companies are willing to fund an event to gain publicity. So, find the right one for your event!
How do I attract attendees to an event?
Encouraging attendees to take part in an event such as seminars and conferences can be a challenge. But with the right promotion, you can gather the right crowd for your event. Here are the things you can do: boost social media presence, create virtual tickets, and send personalized emails.
How do I make sure an event runs smoothly?
The success of your event will be a guarantee if you give yourself enough time to make plans for it. Aside from looking into every single detail of your plan, you should also have a back-up plan in case something doesn't go your way.
Business Insider reports that a sultan in Brunei threw an extravagant birthday celebration, spending $25 million for a two-week-long event. But not everyone has that luxury, right? Therefore, whether you are planning to host a big event or just a simple one, you have to make sure that you have the right budget for it and allocate them accordingly. Need some help? Then, download the event budget templates and sample documents provided in this article.