A price quotation provides a potential client with an estimated computation of the costs involved for a particular work or project that they would like to have done. A lot of businesses provide services that do not have a fixed price because costs for a project or a service greatly depend on the varying factors that could affect its costing such as the materials to be used, the cost of materials, and the cost of labor.
Providing a quote or an estimate of the cost for the services helps potential clients to decide which company to use and to determine the exact type of service that they are looking for. Check out our Quotation Samples that you may use in these situations.
Price Quotation Template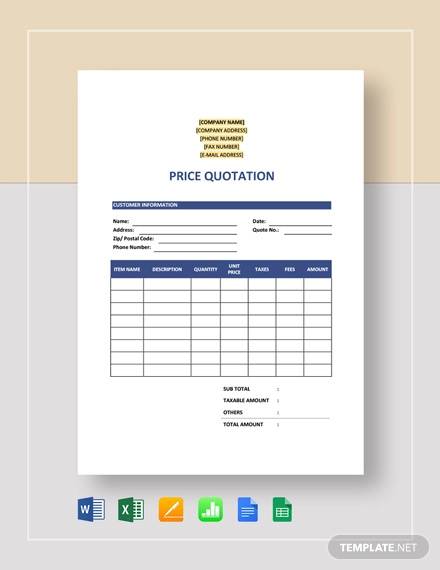 Price Quote Template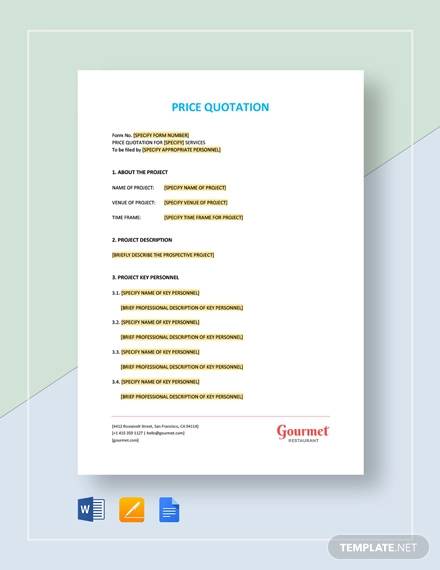 Food Price Quotation Template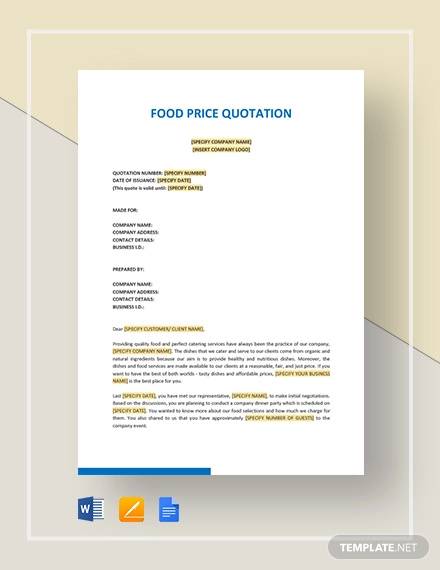 Software Price Quote Template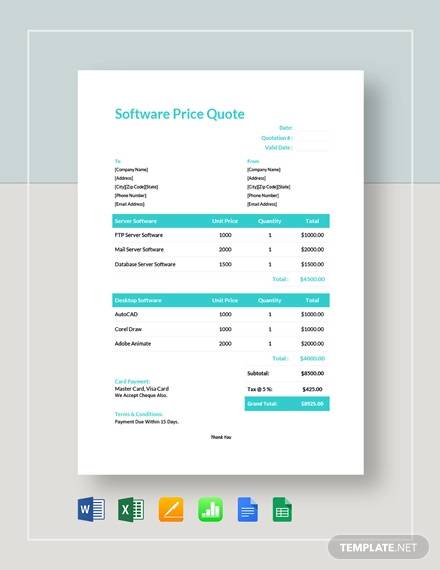 Reminder The Prices in This Quotation Are Good for a Limited Template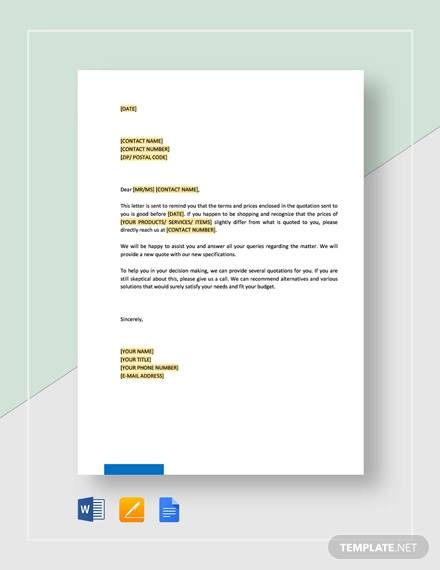 Printable Price Quotation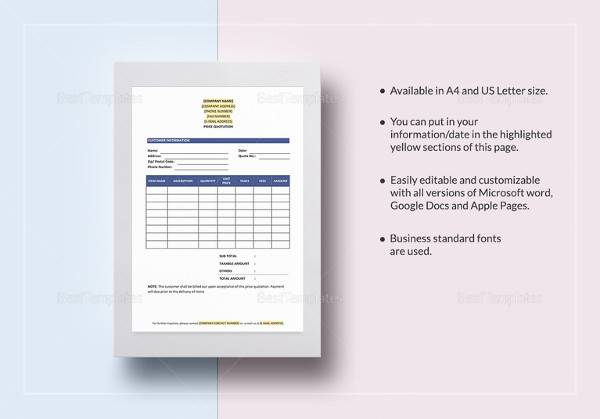 Sample Service Price Quotation
Price Quotation Request
Price Quotation Example
Price Quotation Letter
If your company's quotations include legalities that touch on the details of a proposal, quotations can help to formulate the basis for a clear contract. Using the right and accurate legal statements in your quotations will allow you to decrease the chances of having a misunderstanding or a dispute with your client.
Here are some legal aspects to consider incorporating into your sales quotation:
Provide Details on Price Descriptions, Quote Validity, and Terms of Payment
Your quotation should provide a detailed price for products and services and to provide legal specifications pertaining to the conditions of your price offer. Statements pertaining to specific taxes should also be included in the quotation. With the constant change of prices, it is crucial for a quote to have a limited validity date. Typically, the offer is good for at least 30 days.
If your quote is based on currency exchange, you might want to link it to a particular exchange rate to protect yourself from unforeseen variations. Payment terms may also vary depending on the date of delivery. Some companies impose a 30-day policy after delivery.
Supplies and Delivery Information
Your quotation needs to provide an outline of the type of products or services you are offering and is part of the quote. You will also need to include a list of the materials, equipment, type of services, and as to when or how they will be carried out.
We have here some Sales Quotation Samples that you can use as a guide.
Price Quotation Form in PDF
Price Proposal and Quotation
Price Quotation Format
Warranties
Warranties or benefits are typically expected by a client from a seller especially if business transactions pertain to the supplication of goods or services. This is understandable because customers will always want to protect their interests and make sure that they are getting their money's worth. As a businessman, you will also need to protect your business as well. To do this, you will need to make sure that warranties are provided within a limited time period so that it will not be abused. Specify the exact date that limits your warranty for a product or a service and provide a force majeure clause. A force majeure clause frees you from any liability when natural and unavoidable catastrophe occurs.
Limitation of Liability
A limitation of liability protects you and your client from certain risks such as theft or physical loss. Limitation of liability can be a negotiable aspect of your quote since some customers may want to have higher insurance limits, which will then result to a higher premium for a higher price.
Creating a quotation can be a tedious process. To help you lessen the workload, you can download pre-made templates to use such as Repair Quote Samples. They are easily downloadable and provide easy access for your quick quotation needs.