If you are a sales representative and your company has a new and innovative product to offer, using a sales proposal letter can help you out in getting new clients as well as retaining your previous clients. These letters use a business letter format and use clear, concise, and straightforward language in order to easily convey your message to a potential client. It contains a detailed description of the product or service you are offering with a goal to intrigue and get the interest of the reader. This can either be addressed to an individual or a company.You may also see event proposal samples
Here we have six sample letters you can use to write your proposal. Browse through all of the samples we have for you below.
Product Sales Proposal Letter Template
Business Sales Proposal Letter Template
Sales Proposal Letter Template
Sample Business Sales Proposal Letter Template
Product Sales Proposal Letter in Word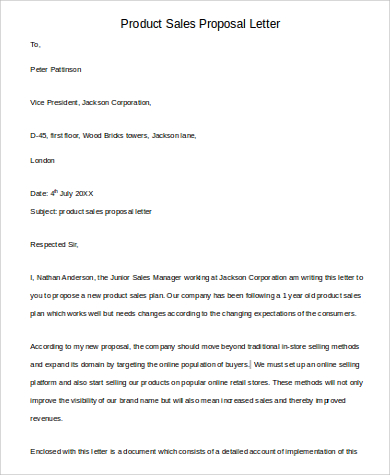 Good Sales Proposal Letter Example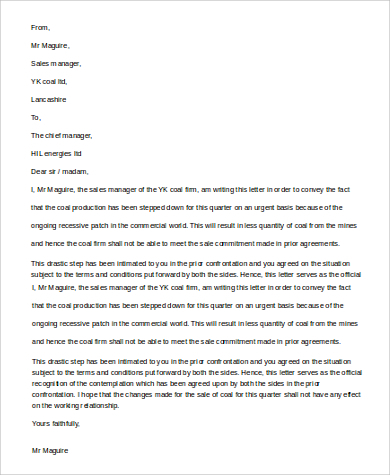 Standard Short Sales Proposal Letter Template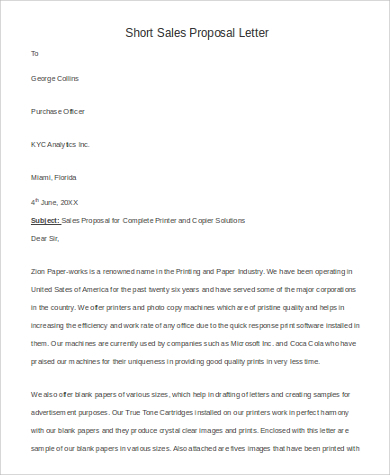 Relevant Components of a Sales Proposal Letter
A sales proposal letter is considered to be a business letter. Just like any Business Proposal Letters, it has components that discuss specific items that basically lets the reader know what you want them to avail from your company. Such components are the following:
1. Introduction
The introduction of your sales proposal letter will be composed of a few sentences and would give a brief description of what your letter is for and why you chose to send the letter to the recipient. This is also the part where you would discuss your company and give a brief background about it.You may also see event sponsorship letters
2. Body of the Letter
This is the part of the letter where you discuss what you are offering the client in full detail—from product description to the cost of the product. You may include pictures and other pertinent information about the product like testimonials from the firm's customers.You may also see training proposal letters.
3. Conclusion
This is a vital part of the letter since this where youth client's interest now becomes a possible commitment to the product/service. So ensure that you are able to sustain the interest of the customer in this part of the letter.You may also see catering proposal letters.
4. Designs and Logo
Branding is important for this type of letter. Everything from the logo to font to formatting to the images included in the letter will reflect the company's branding.You may also see lease proposal letters.
Sales Agent Proposal Letter Template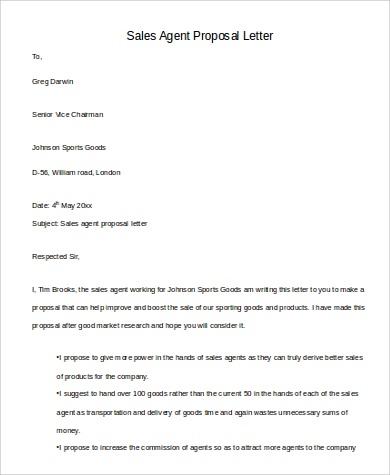 Basic Sales Proposal Letter Template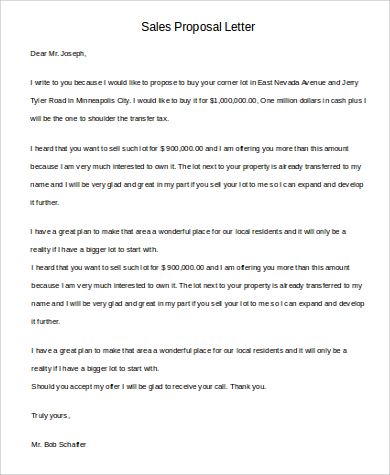 Printable Sales Proposal Rejection Letter Template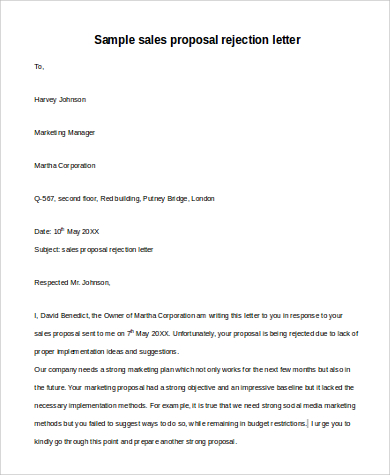 Tips in Writing an Effective Sales Proposal Letter
Proposal letters are best written in full detail to guarantee that your reader knows everything you want them to know about your offer. A few tips to remember in writing an effective sales proposal are the following:
1. Write your letter in a way that would make your reader think that your offer is a part of their needs.You may also see art proposals.
2. Always include a description of what you are offering and the corresponding cost of the product/service.You may also see sponsorship proposal letters
3. If you are unsure about how you should write your sales proposal letter, you can check out sample proposals and Business Proposal Cover Letters to know the appropriate ways of how you can write your letter.
4. When it comes to business, there will always be a competitor. Doing a quick search on their offers can help you have the capacity to write a compelling and comprehensive sales proposal letter that can emphasize the reasons why your product should be preferred by the reader.You may also see Project Proposal Example
When it comes to proposal letters, rushing is never preferred as it can hurt your chances of getting the reader to avail of your offer. Don't rush and take your time when it comes to writing these letters. Make sure you also proofread your letter multiple times.You may also see marketing proposal letters.