Sometimes it becomes imperative to quit your job without serving the notice period as per the contract. However, there are plenty of useful and easy to use resignation letter format without notice templates that can help you in this situation. With these well organized and polite sounding templates, you can write to your boss in a manner that you can convey your points without making him or the management angry. You can address it to your boss or the human resources department to ensure that everything is taken care of. There are a certain important points to cover in such letters, which are covered meticulously in these thoughtfully designed templates. Here are some examples to help you know what to include.
Free Resignation Letter With 30 Day Notice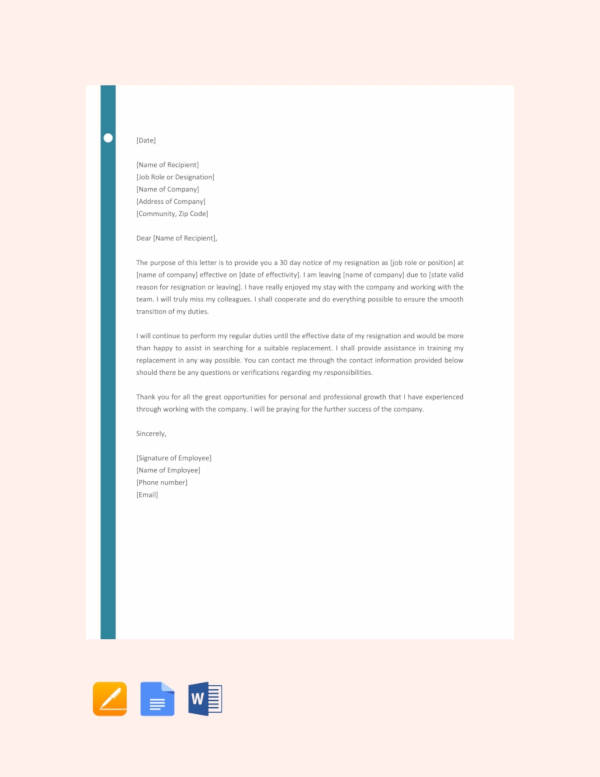 Free Resignation Email with Notice Period Template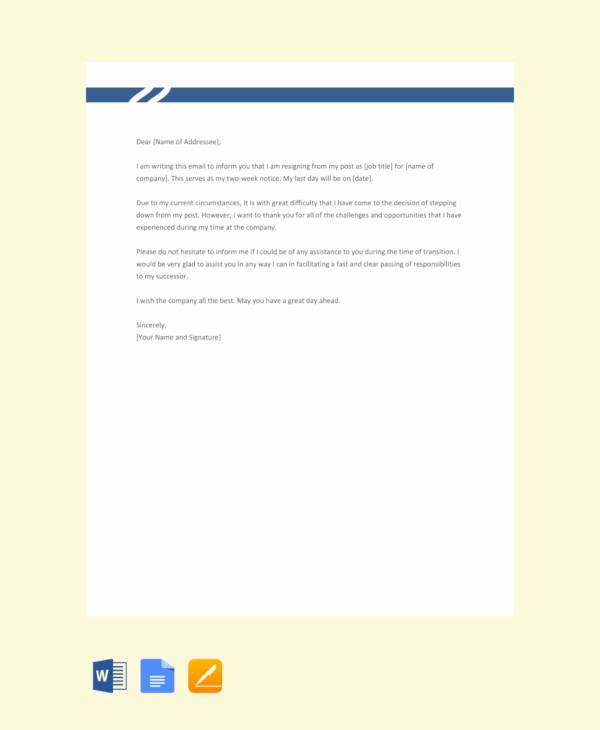 Free Email Resignation Letter Without Notice Period Template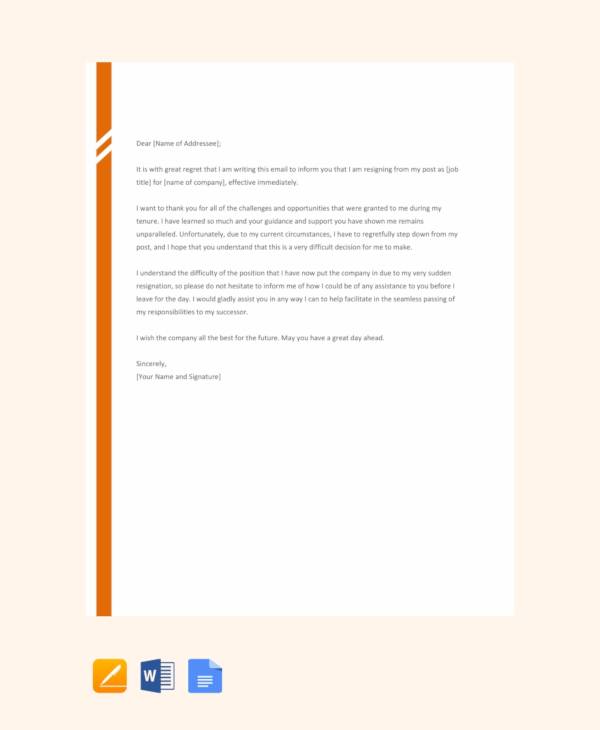 Free Two Weeks Notice Resignation Letter Template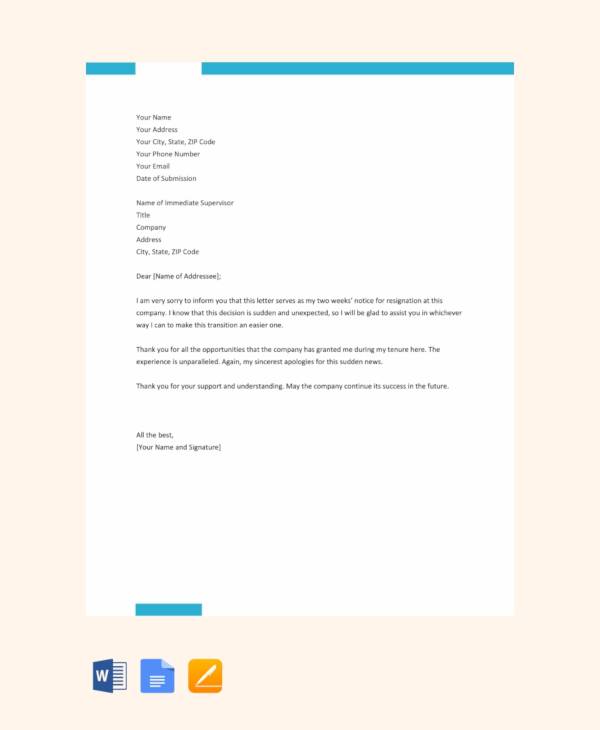 Resignation Letter No Notice in PDF
This sample letter format in PDF is written more like a formal letter. It includes your contact information in the upper right corner, your home address, phone number and email address. As per this format, you should also write the address, designation and name of the person that it should be given to. Do not forget to mention the stipulated time period as per terms of your employment contract, which you are supposed to serve for notice and how much notice period you have actually served.
Download for Free No Notice Resignation Letter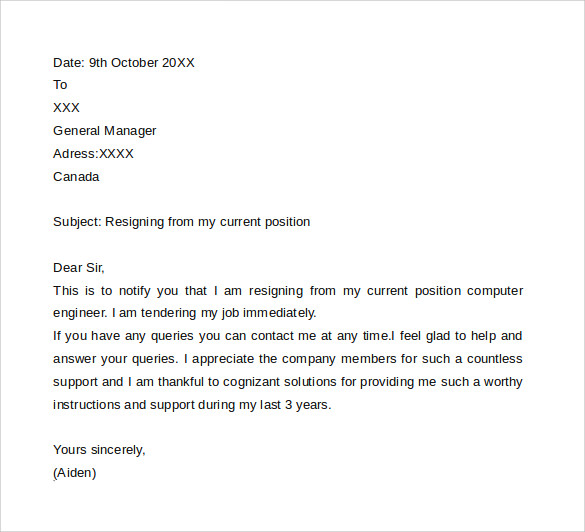 This downloadable template for resignation letters without notice, make sure that you put the required details viz. the date, to whom you are sending it to, the position of the addressed person and the address. You can also add a subject and make it simple and inform them that you are resigning immediately from your position and inform them that they can get in touch with you for any questions.
Example Of No Notice Resignation Letter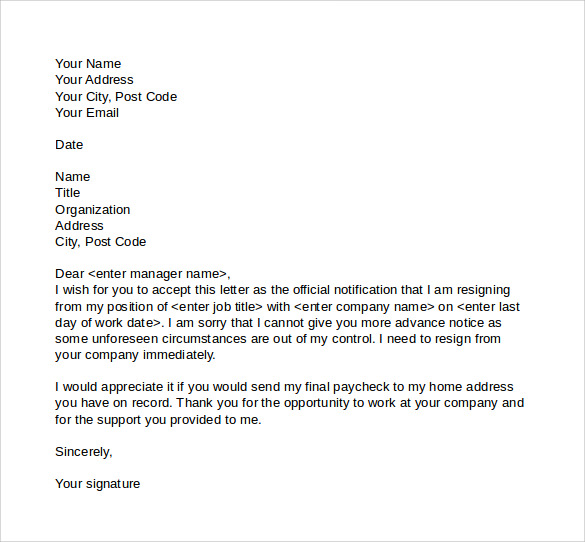 This format is simple and includes your name, address, email, number and the date. You need to write the name of the person you want it to go to, their title, the name of the company and the address. You should give your final date of work and also inform them of what to do with your final paycheck.You may also see professional resignation letters
No Notice Resignation for Download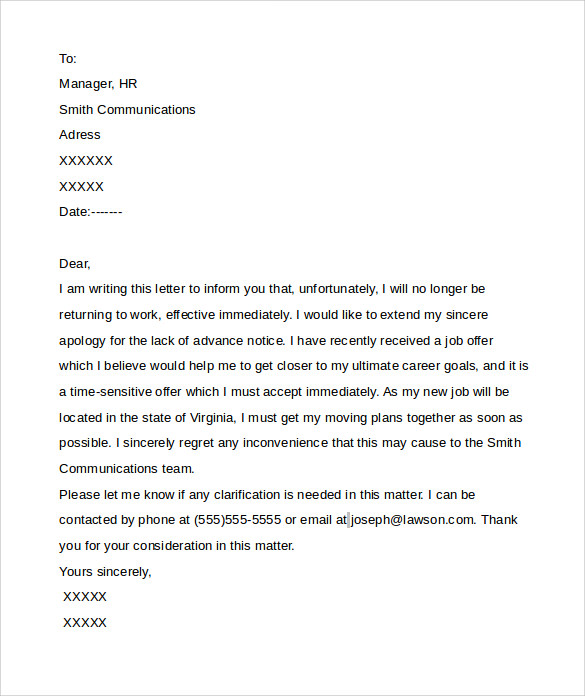 This is another simple option. You can simply address it to the manager of the company. You can inform them the reason why exactly you are leaving and that you were grateful for the experience that you gained while you were working for the company. You should also leave them with your contact information, so that he can contact you, in case of questions.You may also see retirement resignation letters
No Notice Resignation Letter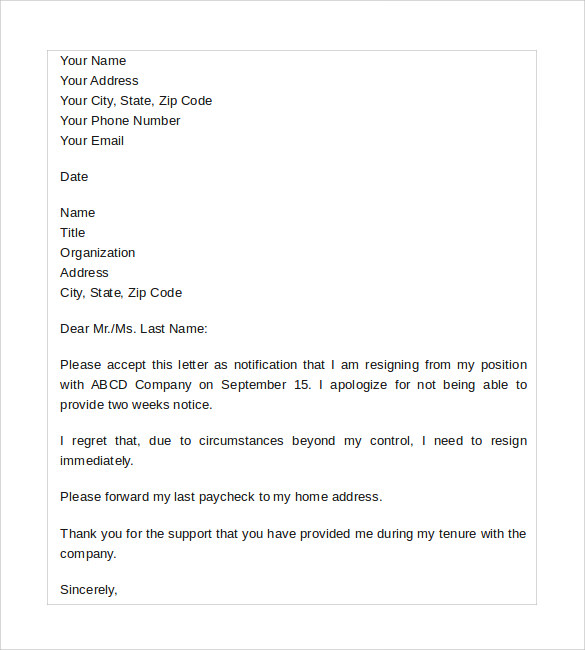 This is another simple resignation letter without notice template that you can use. This template has your address, as well as that of the company. Using this format, you can apologize to the reader about not being able to serve adequate notice period and state the reason for leaving the organization. You should also thank them for what they taught you.You may also see rude resignation letters
Resignation Letter No Notice Period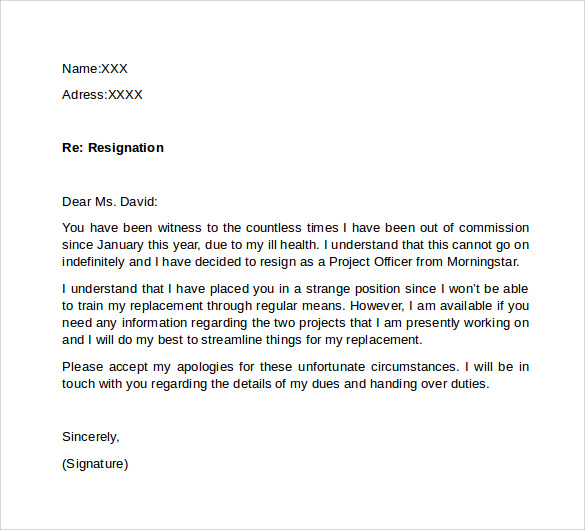 This is an extremely simple option, which only has the name of the person it is addressed to along with the address. It has a subject line which should read resignation or something similar so that they know what you are writing about. You can detail earlier incidents, if there are any, that are leading to your resignation.You may also see childcare resignation letters
Resignation Letter Without Notice Period
This one is one of the simplest and it doesn't have anything besides the date and the text that you write to the appropriate person. You should make sure to stress that you are leaving with inadequate notice period due to reasons that are beyond your control and that you are grateful for your time there.You may also see nursing resignation letters
Sample Resignation Letter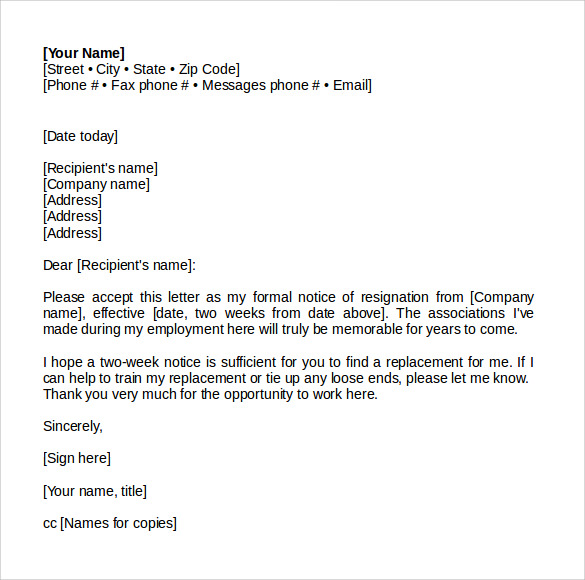 This is another professional style option where you give the addresses of both yourself and the other parties. You can inform them of the last date that you will be there and tell them that you hope the shortened period of time will allow them to locate a replacement. You can also add a cc option on the bottom for those who also receive the copies.You may also see resignation letters short notice
When you need to suddenly quit your job, there is a specific format that you should follow while addressing the HR department and your immediate boss or reporting manager. These templates work as handy formats, which you can use without wasting much time, by furnishing required details.You may also see funny resignation letters
If you have any DMCA issues on this post, please contact us!