The retirement resignation letter samples are to give you a direction to express your notification, resignation statement, and concerns with critical decisions and thoughts about your finances like provident fund, gratuity, and other company specific settlement of finances. Therefore, you must get a nice and formal format to speak about those in the correct way, and that is why these samples are there. Here you will get the advanced and basic Resignation Letter samples to follow.
Free Retirement Resignation Letter Template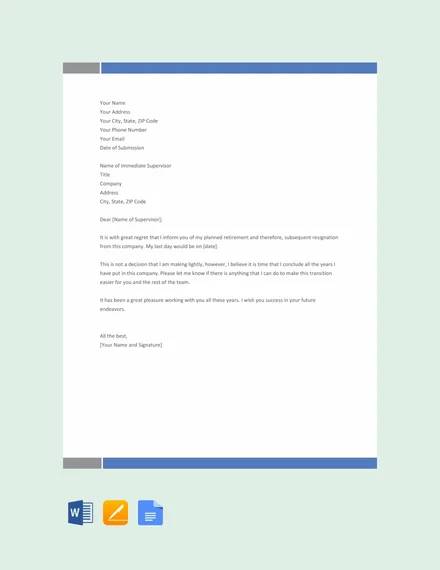 Free Retirement Resignation Letter to Employer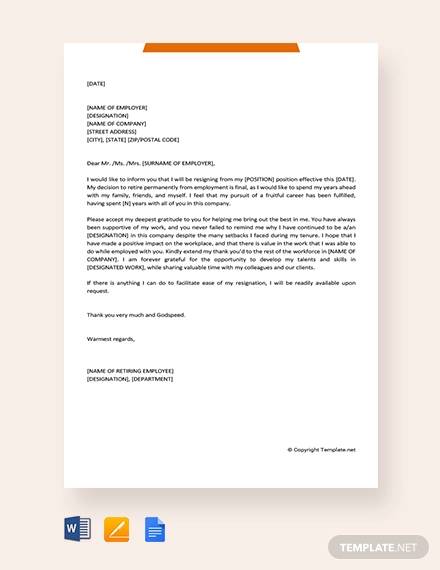 Free Early Retirement Resignation Letter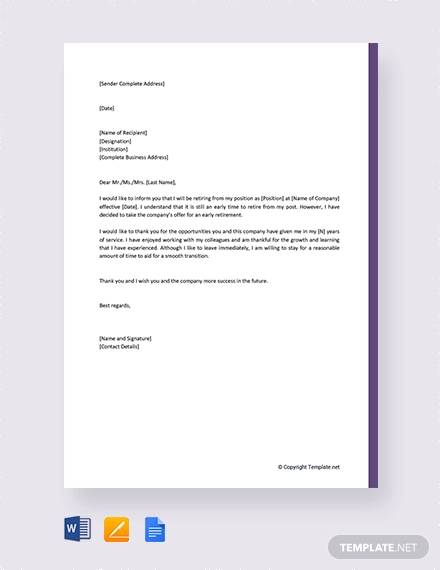 Free Funny Retirement Resignation Letter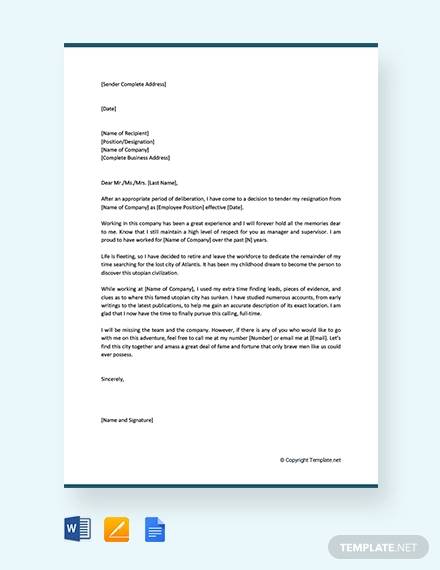 Early Retirement Resignation Letter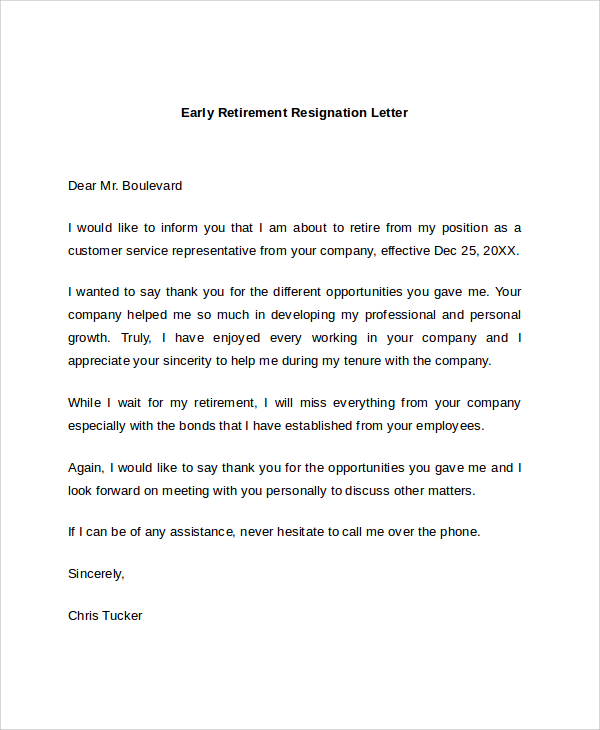 The early retirement resignation letter is what you make to tell your company that you are interested in retiring before you actually officially do retire. An advance retirement must be properly declared, and your company has to approve it. This can be done by following the retirement resignation sample format.
Teacher Retirement Resignation Letter
As a teacher, if you wish to retire soon, you will have to declare that before the school authority. This declaration needs a formal smart format that will discuss your concerns, notification, queries etc. An early retirement letter for teachers is found in sample form here.
Retirement Resignation Acceptance Letter
The retirement resignation acceptance letter format is what the employer needs to accept the plea for an advance or timely retirement. The resignation or early retirement has to be formally accepted while providing proof through an acceptance letter. Referring to this letter format will help you construct the letter more officially and flawlessly.
Resignation Retirement With Notice Period
Employee Resignation & Intent to Retire
Retirement Incentive Resignation Letter
Why Use the Retirement Resignation Letter Sample?
The retirement resignation letter sample is what you use to apply for an early retirement. Actually you normally do not require a resignation letter when you retire normally from an organization. But an early retirement surely deserves this format to tell your employer your reasons to retire, and when you want to discontinue, etc. Therefor,e a formal letter format is often required to complete the job with perfection. Not all men are experts in letter writing, and hence referring to the samples gives you the exposure to use a proper official format. You May also See Resignation Letter Format
What are the Benefits of Using the Retirement Resignation Letter Samples?
One of the prime benefits of using the retirement resignation letter samples is that you get the proper writing format, which you may quickly refer to. Its not a mandate that you will always think for months before you retire. In that case, you may not get enough time to frame a letter as carefully as it should be done. In other cases, when it is a long thought decision, then also you may not be confident with your formal letter writing skills. These samples are here to help you write in that format, which can be confidently relied on, and you will get the best format for your resignation. The cause and notice served, everything can be properly explained as you get the right route to release your thoughts.
How to Use the Samples?
The retirement resignation letter samples can be of extreme use, and you may get great help from them. These are free to use samples, and you can download them free of cost. Now, as you use them you will see that the usage is really easy because of simply editable file formats like Word. The word format lets you edit and overwrite specific parts of a letter that will help customize, and make it ready soon. You may not have to write a letter afresh, and simply overwriting few parts of the letter of resignation template will personalize it for you.
Resignation can be given either by writing on a paper, or by email also. Whether you choose to resign on a paper or through email, it can be planned well and written nicely through the use of an email Resignation Letter sample or proper resignation letter format.
If you have any DMCA issues on this post, please Contact us!