Thank you letter writing is a professional way to appreciate a person, group, or organization. It can be used as a tool for building a strong business and personal relations. Job applicants write it to the interviewer for follow-ups and establishing a communication channel, students write it to groups or NGOs who award scholarships to them, and organizations write it to appreciate customers for their patronage, etc. Professional Thank You Letter writing and formatting differs with the purpose. Check the sample professional thank you letter listed below: –
Professional Thank You Letter After Interview
Writing a thank you letter after interview helps in building a strong communication channel with the interviewer. Download this sample thank you letter to analyze professional copywriting, letter elements, and content formatting.
Professional Thank You Letter For Support Sample
This sample document is helpful to people who are writing a Thank You Note to an organization or individual for financial or moral support. Download the document to explore sample thank you letter examples
Professional Business Thank You Letter
Employees, job applicants, employers and other business professionals can use this document to learn professional thank you letter writing. It contains writing tips, basic letter format, and a sample example for deep analysis.
Benefits of Professional Thank You Letters
Many times, the interviewer forgets about you after the interview and it is necessary to reconnect with him/her. A Thank You Letter writing after interview connects you with the interviewer again. Also, it is considered as the best follow-up practice. You can share additional details to the interview about yourself that you have not mentioned at the time of the interview.
Professional Thank You Letter for Internship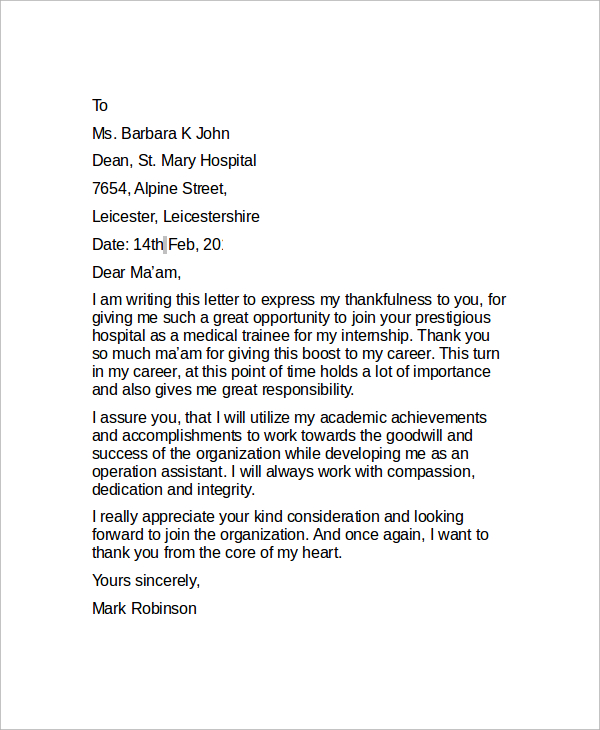 Applicants who have applied for the internship program and have received confirmation can use this sample thank you letter example document to thank the employer or supervisor. Read the sample letter and write a custom thank you note.
Professional Thank You Letter Format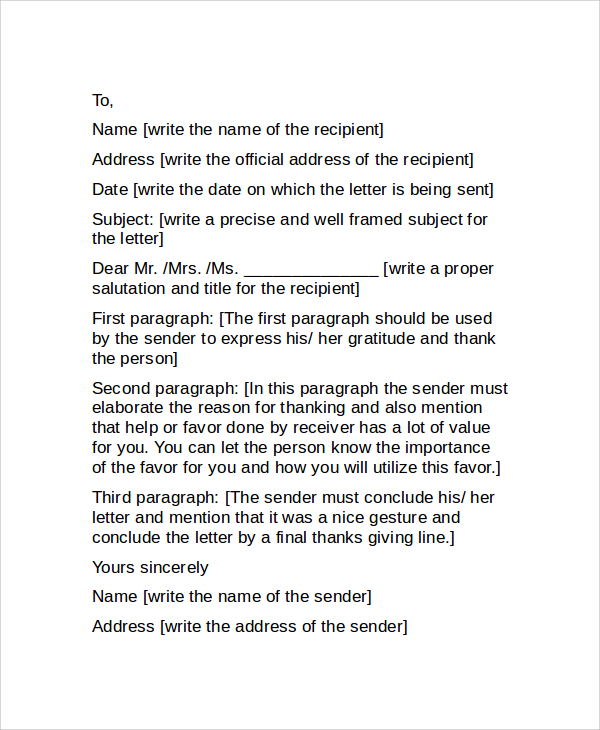 If you are going to write a thank you letter for the first time, then download this MS-word document and get access to Thank You Letter Format. Customize the letter by adding inputs as mentioned in the document.
Generalist Professional Thank You Letter Example
Analyst Professional Thank You Letter Sample
Target Audience for the Professional Thank You Letter Samples
Employees can use our sample thank you letters to write a custom Thank You Note to the employer regarding promotions. Applicants can use it for interview follow-ups. Students can use it to thank organizations for scholarships and professors for their contribution.
Our Sample Thank You Letter documents are available in MS-Word and PDF formats. Our documents are free to download. You can write any custom professional thank you note using our above documents as a reference. Also, you can share your queries regarding thank you letter writing in the comment box. Our team will answer it as soon as possible.
If you have any DMCA issues on this post, please contact us.