Step into the realm of judicial responsibility with our Sample Jury Duty Excuse Letter Template, a beacon for those in need of a well-crafted communication to the courts. This template is your ally, offering a structured and eloquent format for presenting your exemption request. Ideal for anyone grappling with the weight of work commitments, health constraints, or educational duties, it provides a clear pathway to state your case. With this letter template, you can confidently articulate your inability to serve, ensuring your message resonates with the gravity and respect it warrants. Embrace the power of a professionally composed excuse letter and navigate your civic duties with ease and integrity.
1. Sample Jury Excuse Letter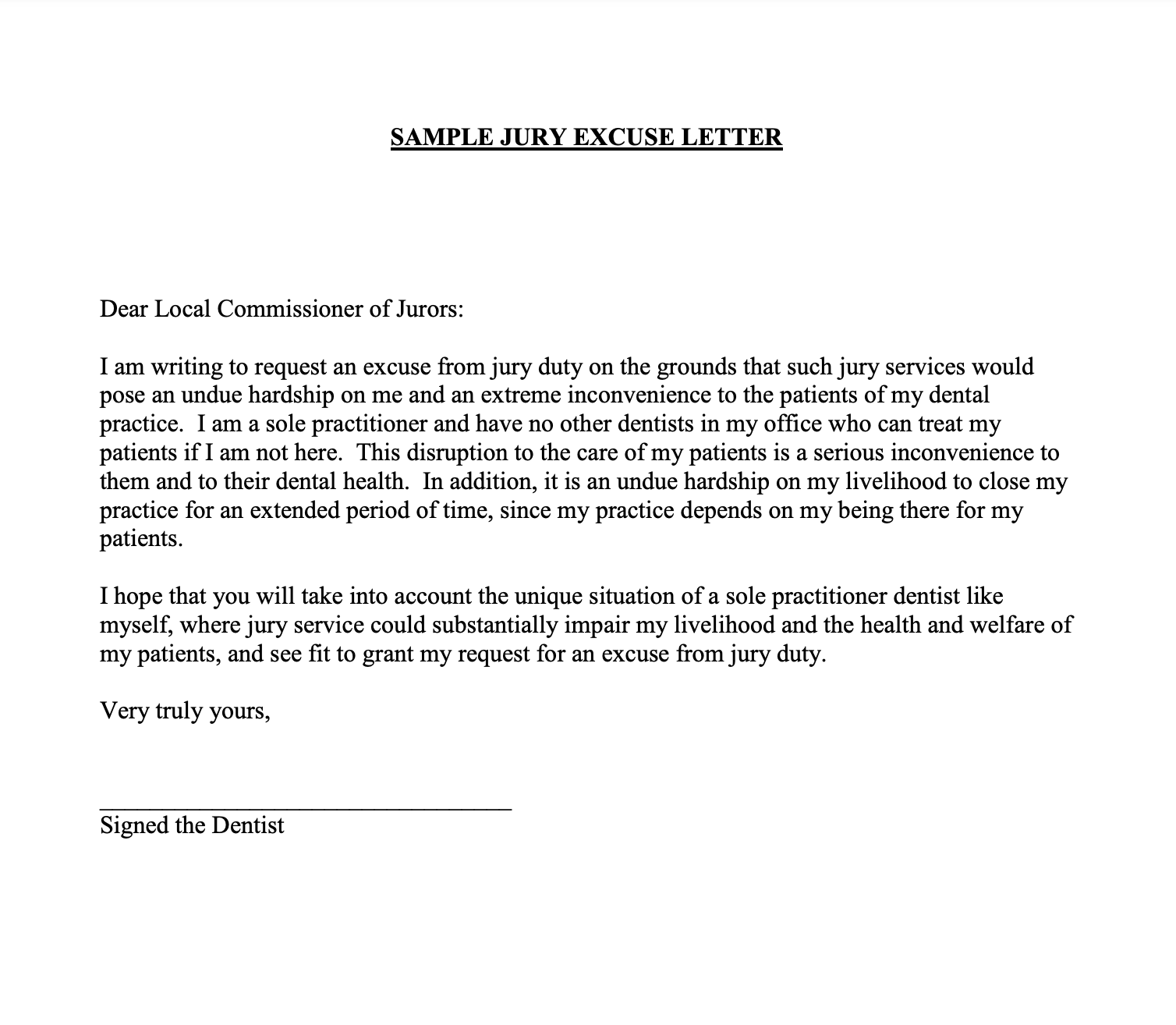 2. Excusal from Jury Service letter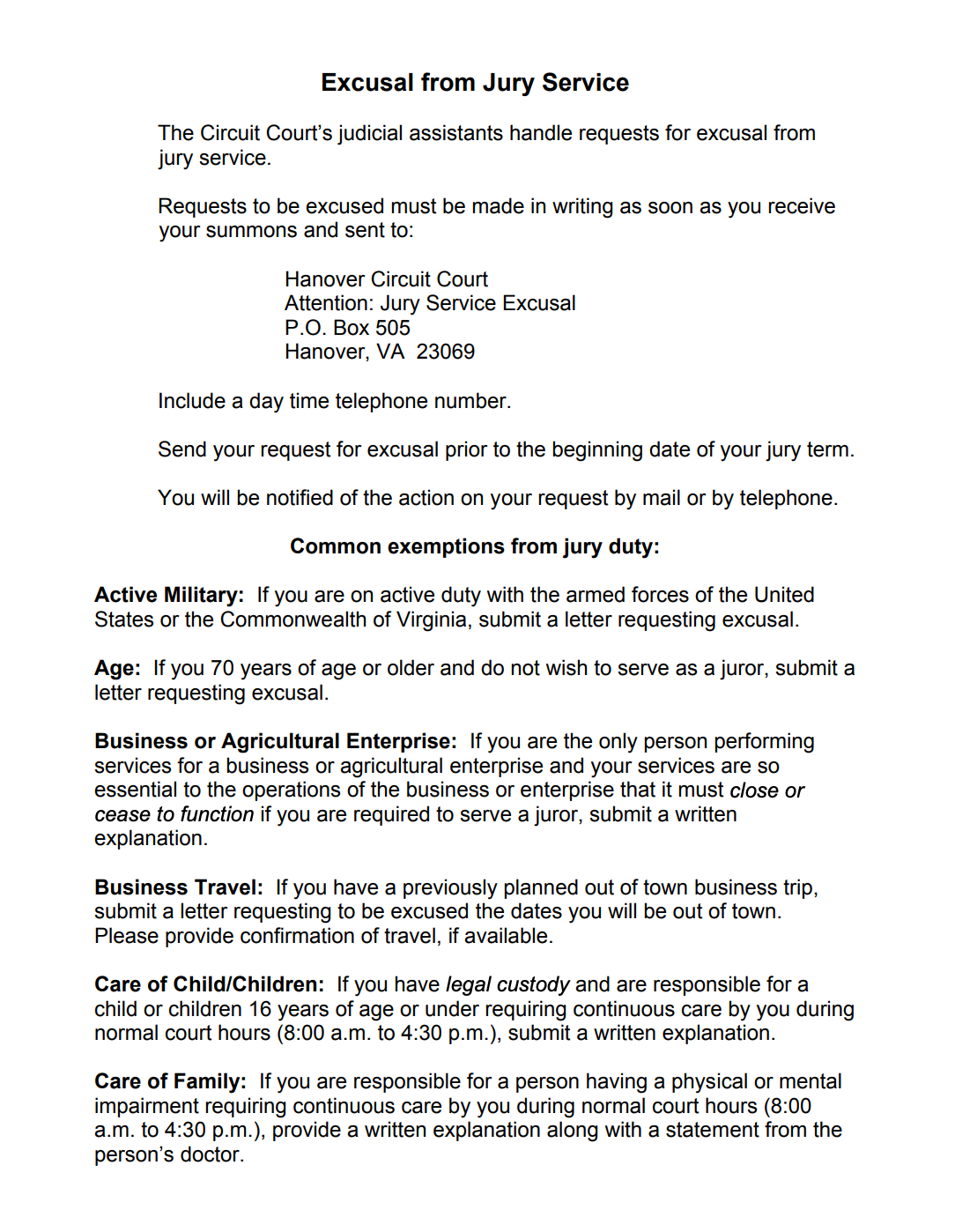 3. Medical Excuse Jury Letter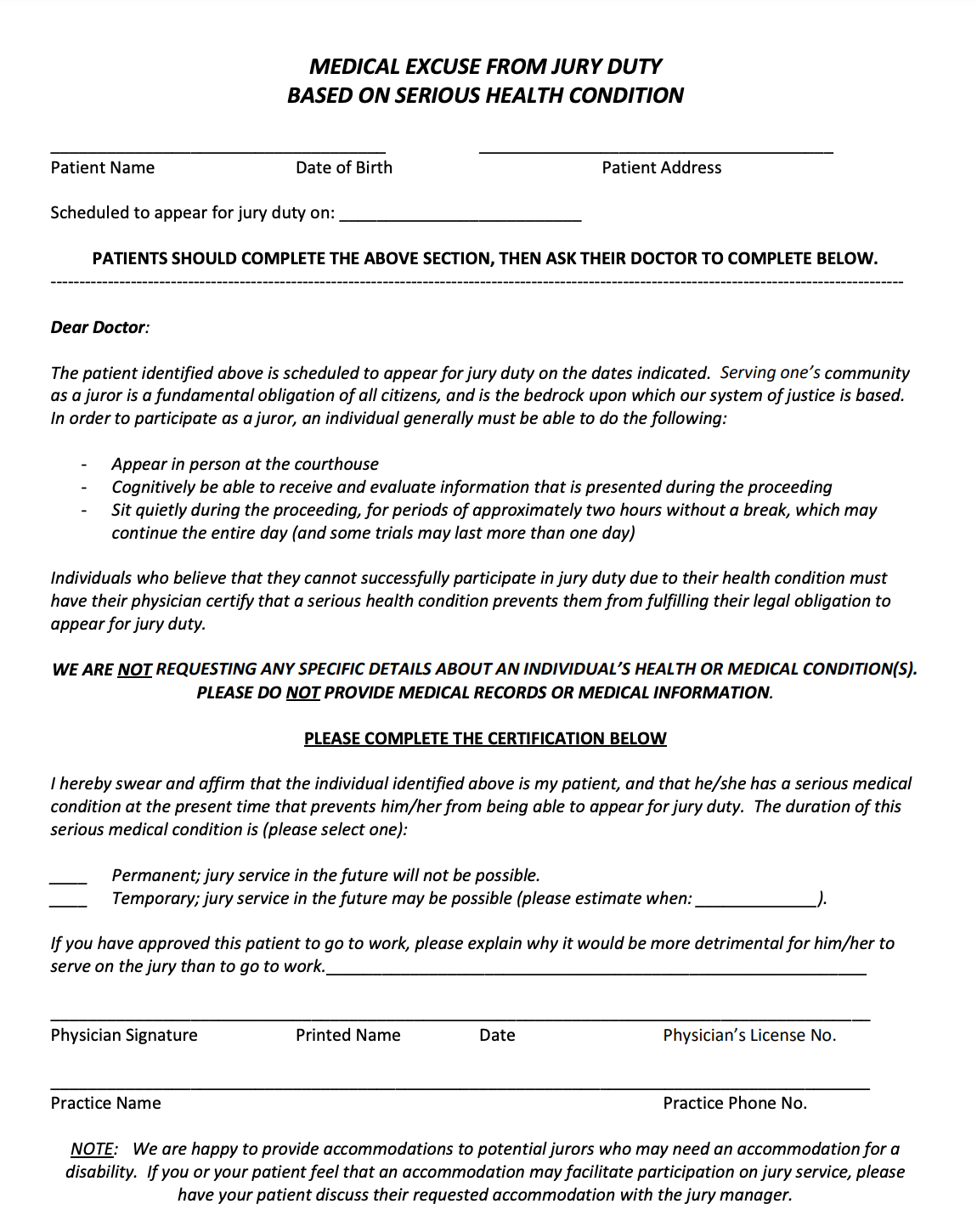 What is jury duty?
Jury duty is a cornerstone of the judicial system in the United States, embodying the democratic principle that one's peers should determine the guilt or innocence of a person accused of a crime. It is a civic responsibility that calls upon citizens to serve as jurors in court proceedings, ensuring that the justice system operates fairly and impartially.
When summoned for jury duty, individuals are required to report to the courthouse and participate in a selection process known as voir dire. During this process, attorneys for both the defense and prosecution assess potential jurors through a series of questions to determine their suitability for the case at hand. This is to ensure an unbiased jury is empaneled, free from preconceived notions or prejudices that could affect the trial's outcome.
Serving on a jury is not only a duty but also a right protected by the U.S. Constitution. The Sixth Amendment guarantees a defendant's right to an impartial jury in criminal prosecutions, while the Seventh Amendment preserves the right to a jury trial in certain civil cases. These provisions ensure that the fate of individuals is not decided by a single judge but by a group of their peers, reflecting a cross-section of the community.
The types of cases heard by a jury can vary widely, from minor civil disputes to major criminal cases. The length of service also varies, ranging from a single day to the duration of a trial, which can last several weeks or even months in complex cases.
While jury duty is mandatory, there are certain exemptions and excuses that can be granted based on specific criteria such as severe financial hardship, significant personal obligations, or health issues. These are considered on a case-by-case basis, and individuals who cannot serve can submit a jury duty excuse letter to the court, explaining their circumstances.
The experience of serving on a jury offers a unique insight into the legal process and the functioning of the justice system. It provides an opportunity for citizens to contribute to the rule of law, which is fundamental to the governance of a free society. Despite the inconvenience it may sometimes cause, jury duty is a vital public service that supports the core values of democracy and justice.
4. Jury Duty Summons Excuse Letter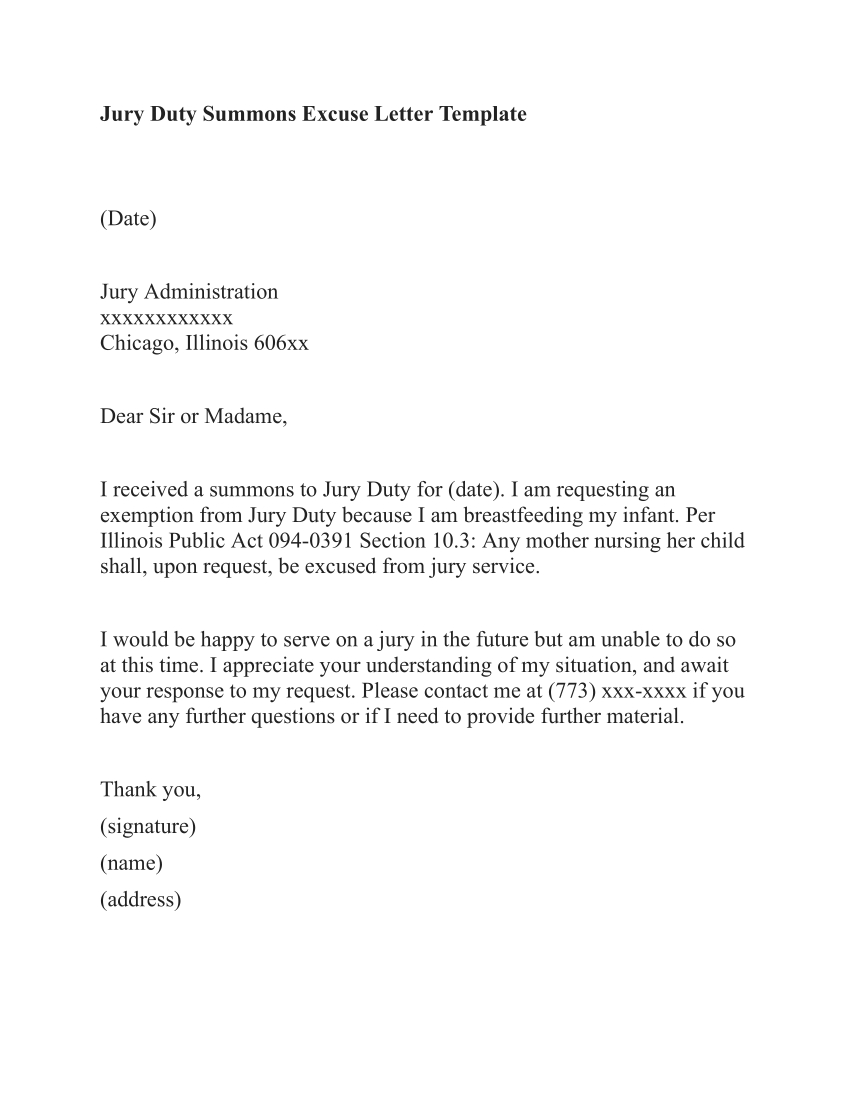 5. Sample Jury Duty Excuse Letter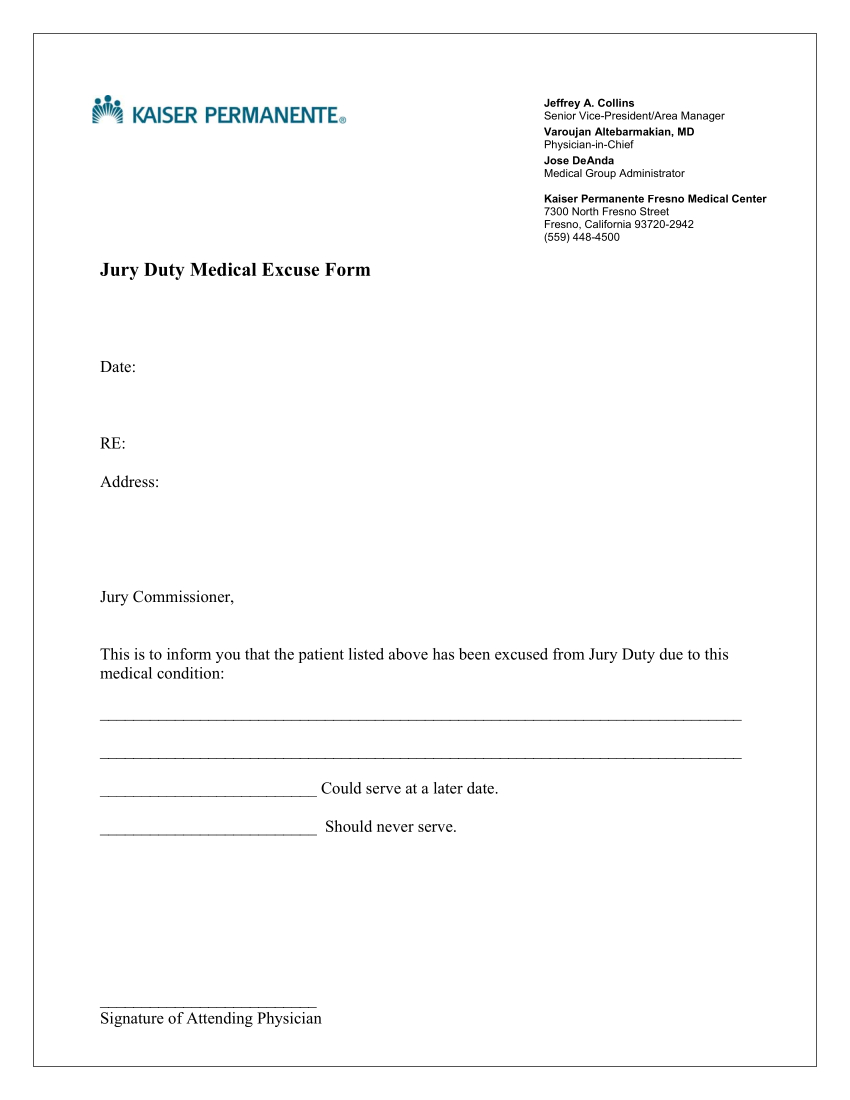 6. Jury Duty Hardship Letter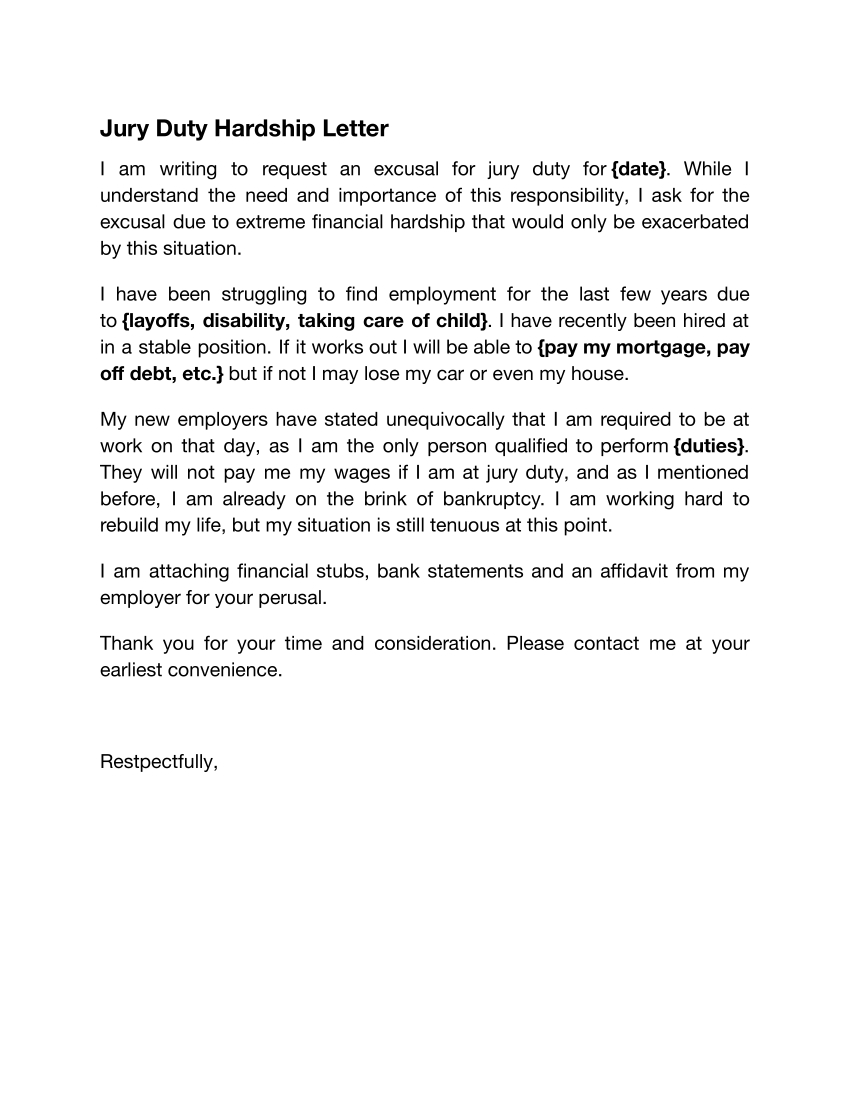 What are the reasons for writing a jury duty excuse letter?
Writing a jury duty excuse letter is a formal way for a summoned individual to request exemption or deferral from serving on a jury. The reasons for seeking an excuse from jury duty are varied and typically revolve around personal, professional, or health-related issues that would make serving on a jury a significant burden. Here are some of the common reasons individuals may write a jury duty excuse letter:
Work-Related Conflicts: Many people find that taking time off work to serve on a jury can lead to undue hardship. Small business owners, freelancers, or those in critical roles may not be able to afford the time away from their professional responsibilities. In such cases, they must communicate how their absence from work could negatively impact their livelihood or the operation of their business.
Educational Commitments: Students and educators may be in the midst of a crucial academic period, such as exams or essential teaching periods. Serving on a jury could disrupt their academic responsibilities or progress, and thus, they may request an exemption.
Caregiving Responsibilities: Individuals who serve as primary caregivers for children, the elderly, or individuals with disabilities may find it impossible to fulfill their jury duties without causing distress or neglect to their dependents.
Medical and Health Issues: Health concerns are a significant reason for excusing someone from jury duty. Chronic illnesses, acute medical conditions, or mental health challenges that would make serving on a jury difficult or harmful to one's health are valid reasons for an exemption.
Financial Hardship: Serving on a jury can impose financial strain, especially if the individual does not receive compensation from their employer during their service and the stipend from the court does not cover their usual earnings. This can be particularly impactful for hourly wage earners.
Scheduled Travel: Pre-planned, non-refundable travel, such as vacations or business trips, can coincide with the dates of service. Individuals must provide evidence of their travel plans and explain why rescheduling is not an option.
Recent Jury Service: Those who have recently served on a jury may be excused from serving again for a certain period.
Conscientious Objections: Some individuals may have moral or ethical concerns about serving on a jury, particularly in cases that could result in severe penalties like the death penalty.
Language Barriers: A potential juror who has limited proficiency in English may be unable to understand the proceedings fully and therefore may not be able to contribute effectively to the deliberation process.
Military Duty: Active-duty military personnel may be excused from jury service, especially if they are stationed away from home or deployed.
In all these cases, the excuse letter must be written clearly and respectfully, providing sufficient detail and any required documentation to support the request for exemption. The letter should be addressed to the court and outline the specific reason for the request, ensuring that the language is formal and the tone is courteous. The goal is to inform the court of legitimate circumstances that would prevent the individual from serving on a jury without causing undue hardship or affecting the fairness and integrity of the judicial process.
7. Request Letter for Excuse From Jury Service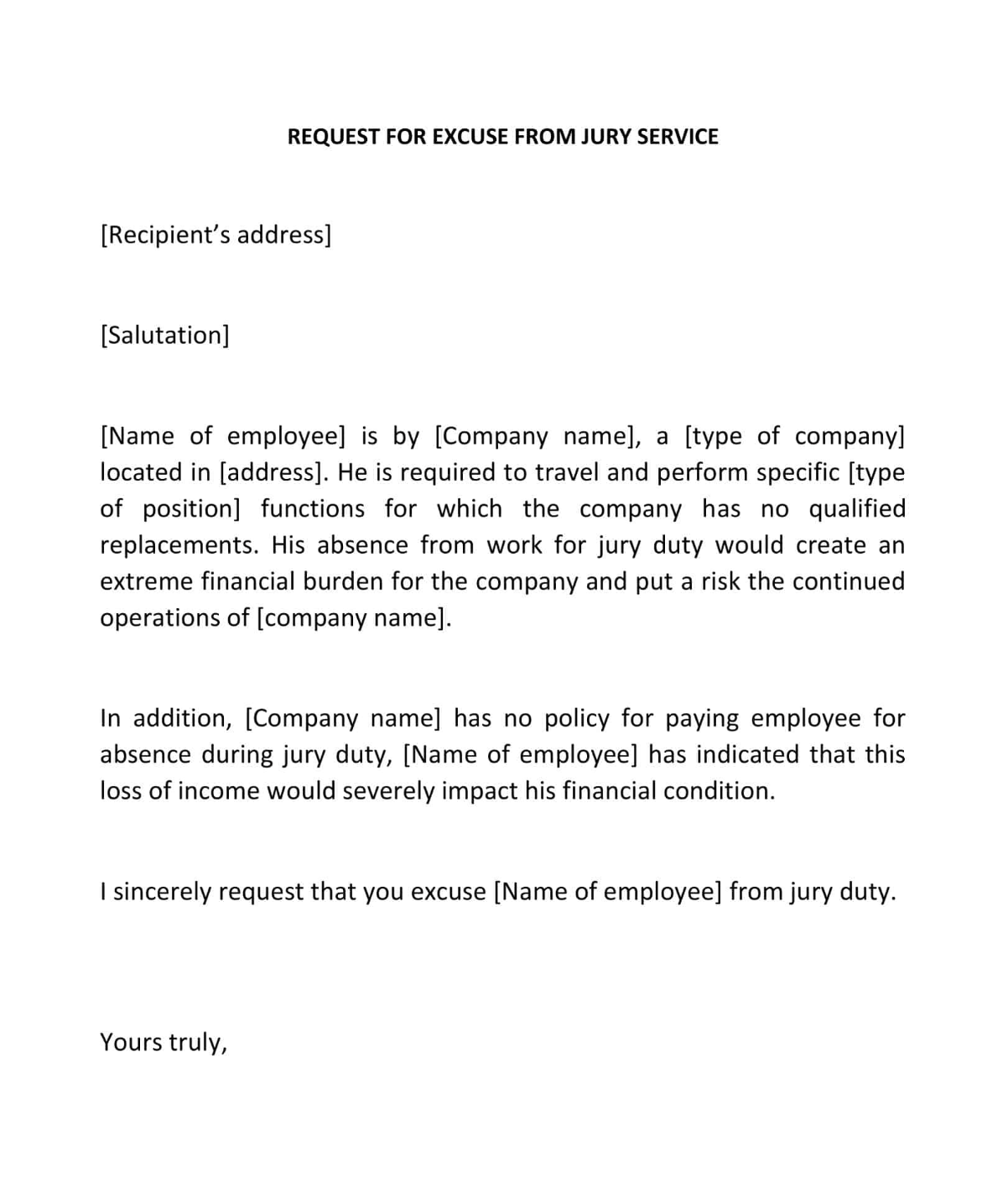 8. Jury Duty Excusal Letter From Employer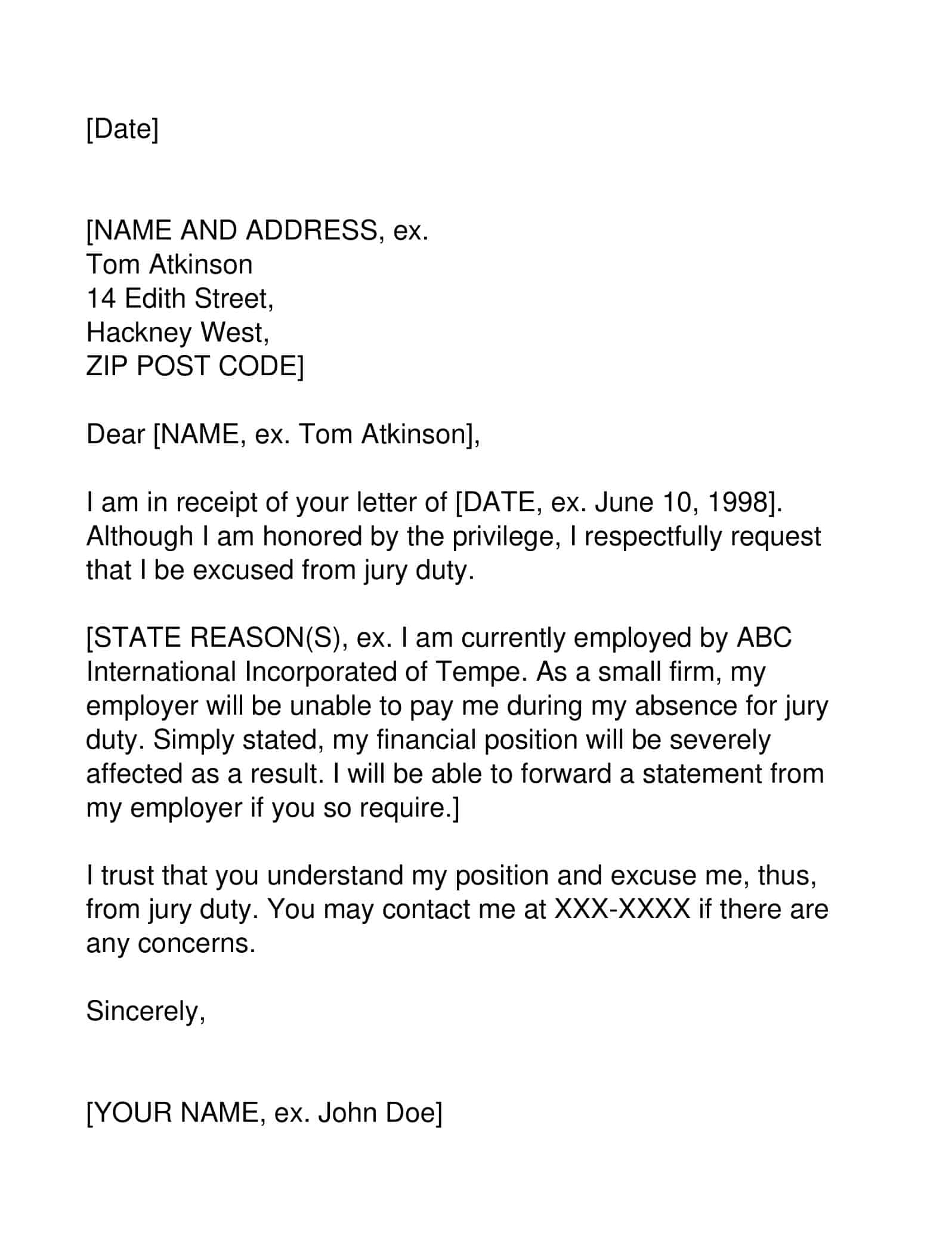 How to get out of jury duty?
Getting out of jury duty is a matter that should be approached with honesty and integrity, as it is a fundamental civic responsibility. However, there are legitimate circumstances under which an individual can be excused from serving. Here's a detailed guide on how to navigate this process:
Understand the Importance of Jury Duty: Recognize that jury duty is a critical component of the judicial system, ensuring that a defendant's right to a fair trial is upheld. It's a service that upholds the justice system and should not be avoided without valid reason.
Review Your Summons: Your jury summons provides crucial information about the process, including how to request an exemption or deferral. Read it thoroughly to understand your obligations and the steps you need to take if you believe you cannot serve.
Know the Exemptions: Each jurisdiction has specific rules about who can be exempt from jury duty. Common exemptions include age, having served on a jury recently, certain medical conditions, or being a primary caregiver. Check with your local court to understand the exemptions that apply to you.
Gather Supporting Documentation: If you have a valid reason, such as a medical condition or pre-booked travel, gather documentation to support your claim. This could include a doctor's note, travel itineraries, or a letter from your employer.
Submit a Formal Request: Write a jury duty excuse letter or complete the court's exemption form. Your request should be clear, concise, and include any supporting documentation. Be honest in your explanation and respectful in your communication.
Consider a Deferral: If your reason for requesting an exemption is temporary, you may ask for your service to be deferred to a later date. This is often a simpler process than seeking a full exemption.
Attend Jury Selection if Required: If your exemption is not granted before your report date, you may need to attend jury selection. During this process, you can explain to the judge why serving would be a hardship.
Be Honest During Voir Dire: If you end up in the jury selection process, be honest about any biases or concerns you have that may affect your ability to serve impartially. Lawyers and judges are keen to select jurors who can be fair and unbiased.
Follow Up: After submitting your exemption request, follow up with the court to ensure it was received and to check on the status of your request.
Understand the Consequences: Know that avoiding jury duty without a valid reason can have legal consequences. Courts can impose fines or other penalties on those who fail to show up for jury duty without being formally excused.
Respect the Decision: If the court denies your request to be excused, you are legally obligated to serve. Plan accordingly to fulfill your jury duty with as little disruption to your life as possible.
Reflect on the Experience: If you do serve on a jury, consider the experience as a unique insight into the legal system and an opportunity to contribute to the democratic process.
While there are ways to be excited from jury duty, they should be based on legitimate reasons and not simply a desire to avoid civic responsibility. The process for being excused should be followed as per the guidelines provided by the court, with all requests made in good faith and supported by appropriate evidence.
9. Excuse or Deferral from Jury Duty Letter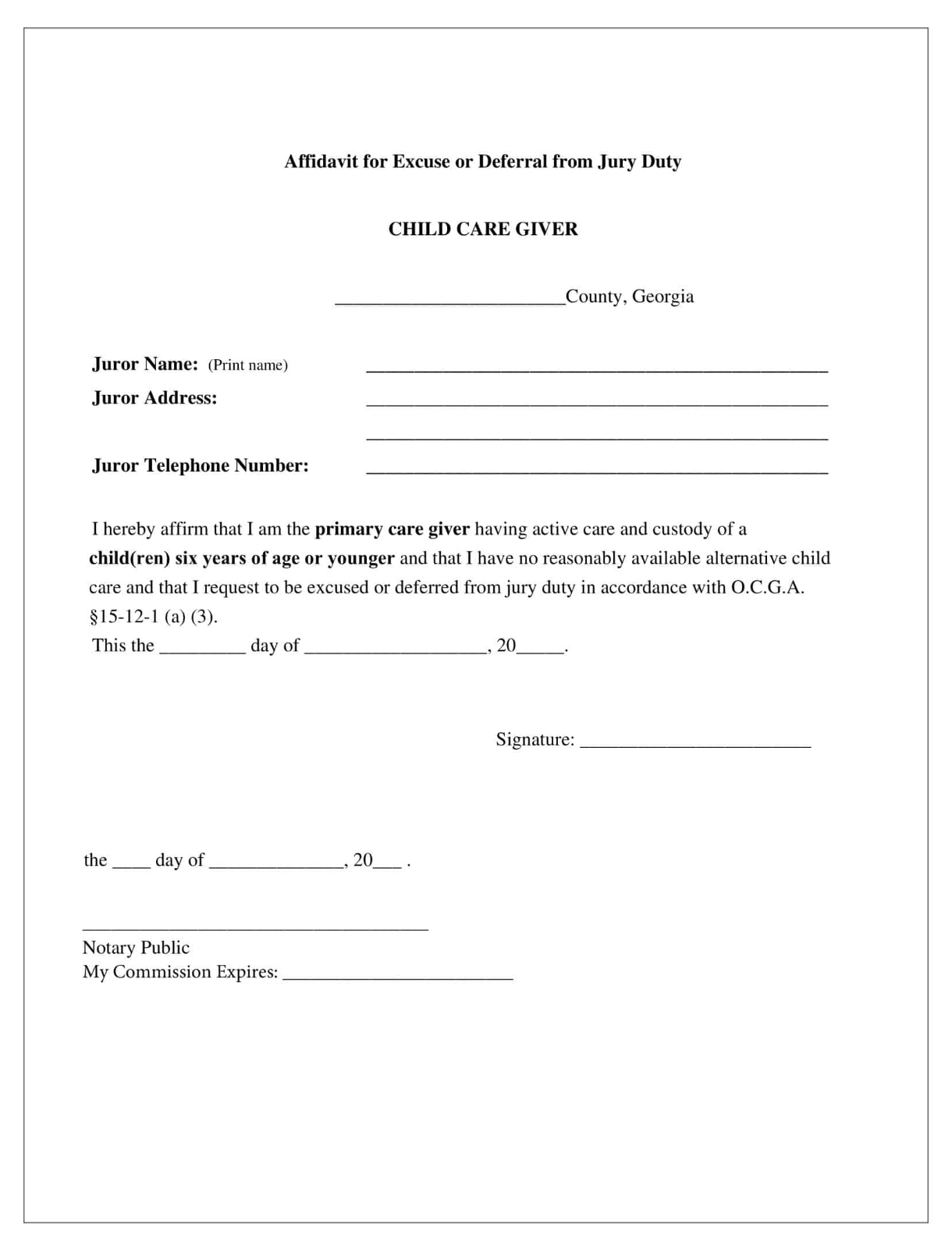 10. Letter for Jury Duty Excuse Template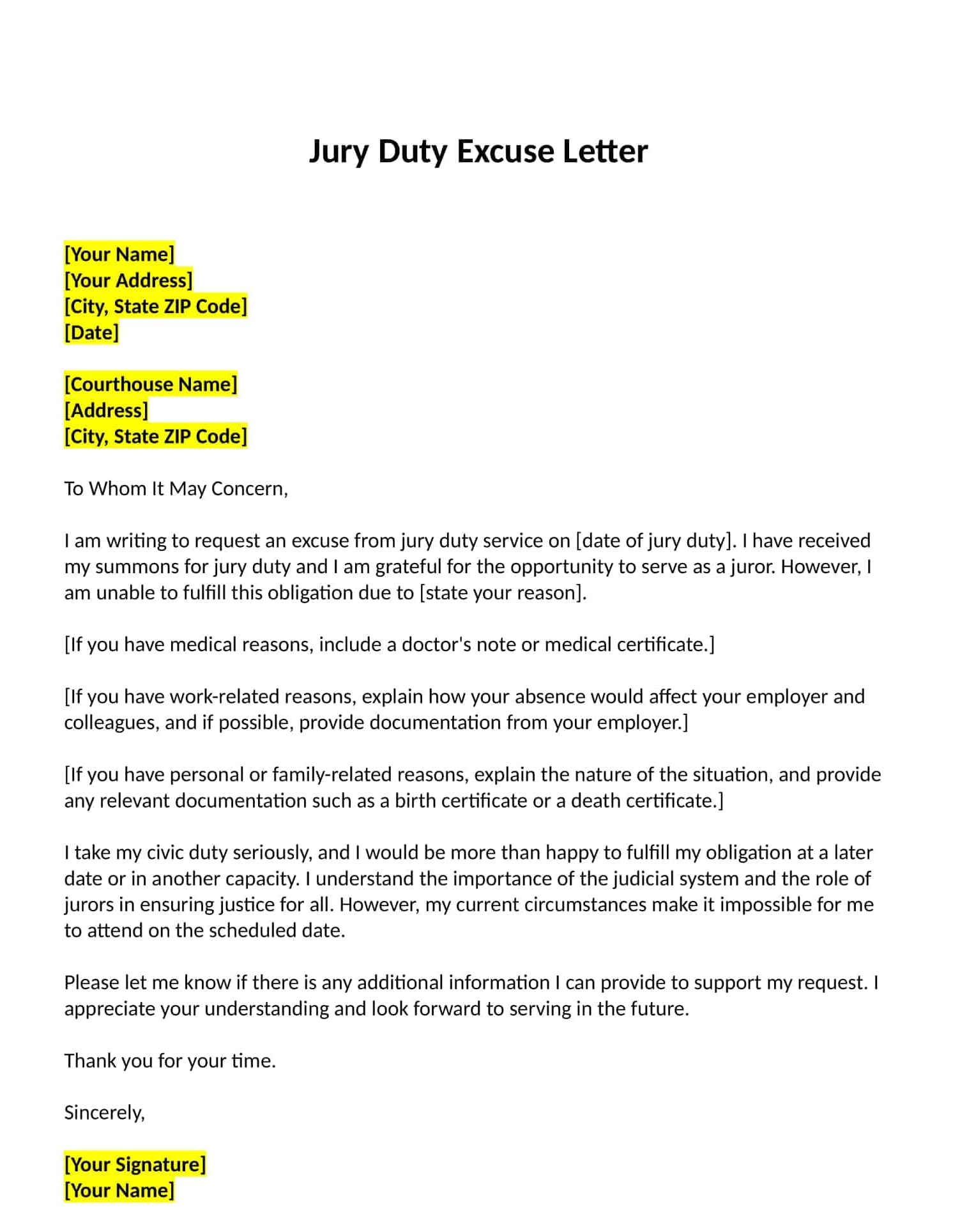 Tips for writing a jury duty excuse letter
Writing a jury duty excuse letter requires a balance of professionalism, clarity, and sufficient detail to convey your situation. Here are comprehensive tips to guide you through crafting an effective excuse letter for jury duty:
1. Start with Proper Addressing: Begin your letter by addressing it to the appropriate court official, typically the Clerk of the Court. Use a formal salutation such as "Dear Clerk of the Court," followed by a colon.
2. Reference Your Summons: In the first paragraph, mention your jury summons by including the date of the summons and your juror number. This helps the court staff to quickly reference your case.
3. Clearly State Your Request: Early in the letter, make it clear that you are writing to request an exemption or deferral from jury duty. Be direct and to the point.
4. Provide a Valid Reason: Outline your reason for the request. Valid reasons can include significant financial hardship, full-time student status, non-deferrable work commitments, medical issues, or primary caregiver responsibilities. Ensure that your reason is one that is recognized by your jurisdiction.
5. Be Specific and Honest: Provide specific details about your situation without divulging unnecessary personal information. If you are requesting an excuse due to a medical condition, mention that you have a condition that would make serving on a jury difficult without providing intimate details.
6. Include Supporting Evidence: Attach any relevant supporting documents. For example, if you are requesting an excuse due to a medical condition, include a note from your doctor. If you are a caregiver, you might include a statement regarding your responsibilities.
7. Be Concise and Formal: Keep your letter concise, no longer than one page. Use formal language and maintain a respectful tone throughout.
8. Offer to Provide Additional Information: Indicate your willingness to provide further information if needed. This shows that you are cooperative and understand the importance of the jury duty process.
9. Request Confirmation of Receipt: Ask for a confirmation that your letter has been received and inquire about the next steps in the process.
10. Provide Your Contact Information: Include your full name, address, phone number, and email address so the court can easily contact you regarding your request.
11. Close Formally: End your letter with a formal closing, such as "Sincerely," followed by your signature (if sending a hard copy) and typed name.
12. Proofread: Before sending, proofread your letter to correct any typos or grammatical errors. A well-written letter reflects your seriousness about the request.
13. Send It Promptly: Send your excuse letter as soon as possible after receiving your summons. Courts often have deadlines for such requests, and late submissions may not be considered.
14. Follow Up: If you do not hear back from the court within a week or two, follow up with a phone call to ensure your request is being processed.
Remember, each jurisdiction may have specific requirements for jury duty excuse letters, so it's important to check with your local court for any additional guidelines. Always approach this task with the understanding that jury duty is a significant civic duty, and your request to be excused should be made with due respect for the legal process.