Navigate the delicate process of repairing your credit with our Sample Goodwill Letter Template. This resource is meticulously designed to assist you in drafting a letter that not only conveys regret over past financial oversights but also demonstrates your commitment to responsible credit management. Ideal for addressing late payments or minor discrepancies, our template helps you articulate your situation to creditors in a manner that's clear, respectful, and solution-focused. Enhance your approach to credit repair and potentially improve your credit score with a well-crafted appeal to your lender's sense of understanding and cooperation.
1. Debt Goodwill Letter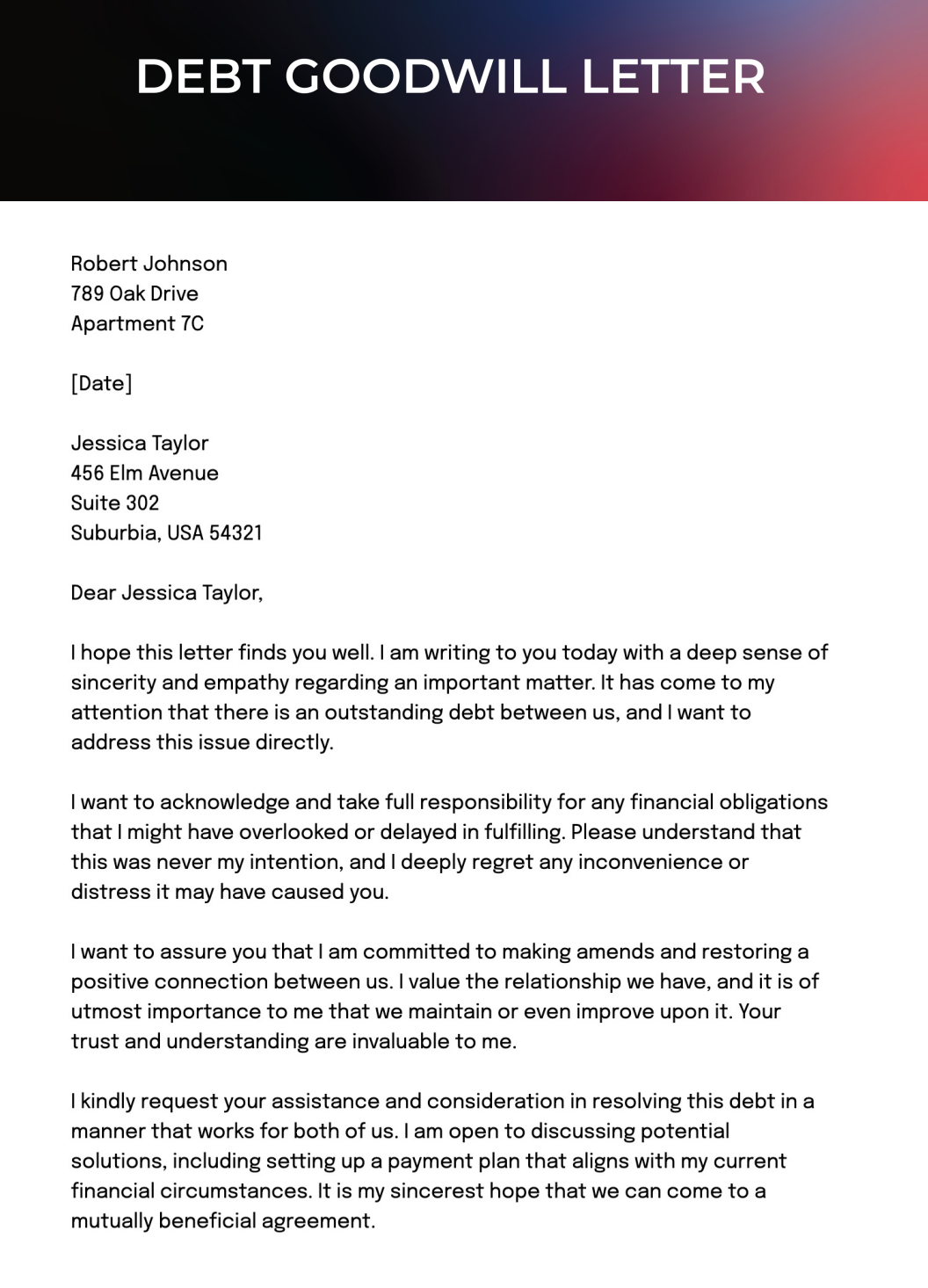 2. Formal Goodwill Letter
3. Bank Goodwill Letter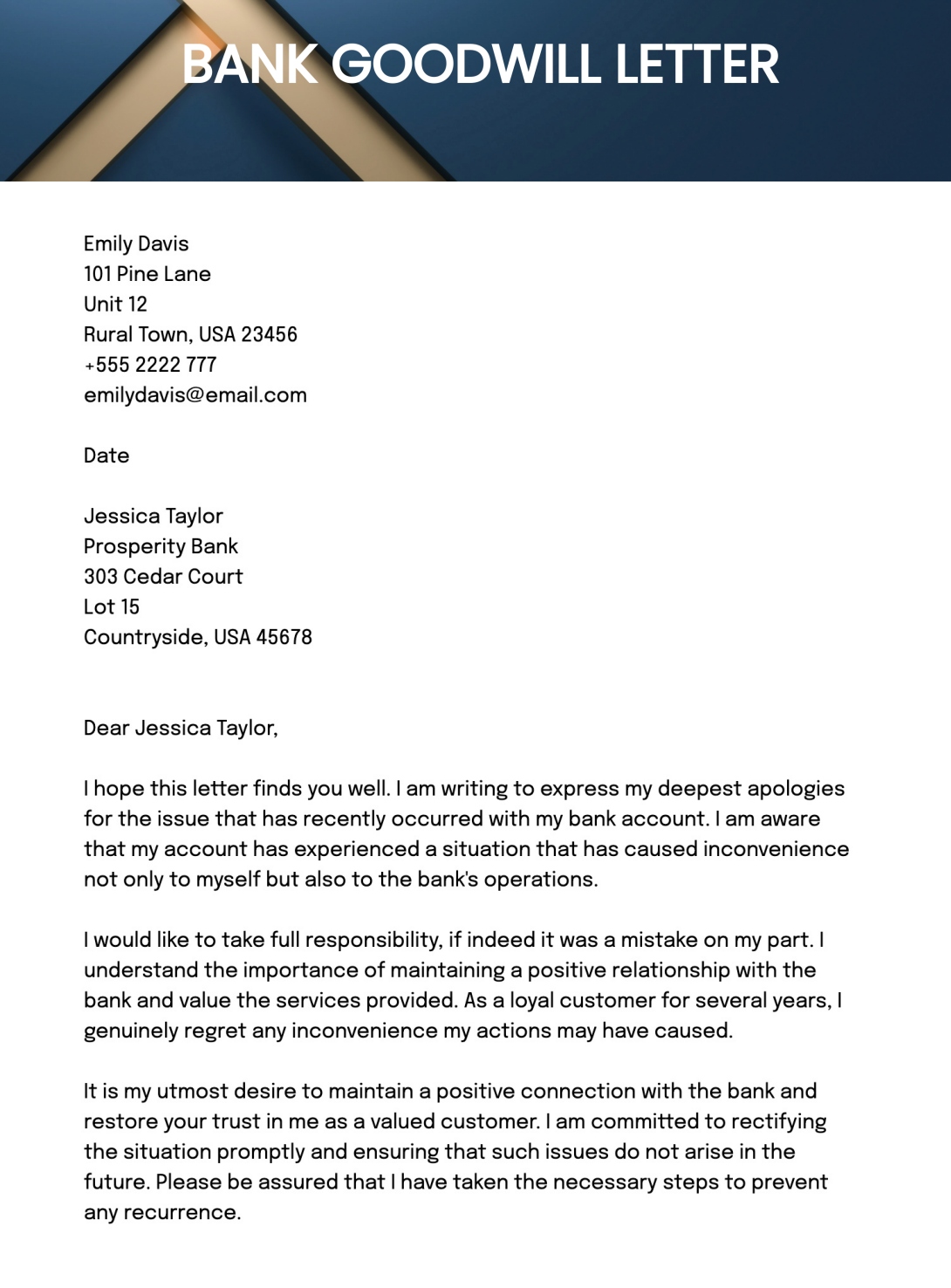 What Is a Goodwill Letter?
A Goodwill Letter is a personal appeal made to a creditor, typically a lender or a credit card issuer, requesting the removal of a negative mark from your credit report. This type of letter is not meant for disputing errors on your credit report—that's the role of a dispute letter. Instead, a Goodwill Letter is used when you want a creditor to show leniency for a mistake you've made, such as a late payment, and you are asking them to forgive this lapse and remove the resulting negative credit entry as an act of goodwill.
The premise behind the Goodwill Letter is straightforward: you're asking your creditor to empathize with your situation and to consider your previous good standing and current efforts to rectify a mistake. It's a way to acknowledge that while you have made an error, you have also taken steps to ensure it doesn't happen again. This letter should be heartfelt, honest, and should clearly state your circumstances that led to the oversight.
Goodwill Letters can be particularly effective if you have a history of on-time payments and have already remedied the late payment. Creditors may view your request more favorably if they see it as a one-time event rather than a pattern of behavior. However, it's important to remember that creditors are under no obligation to comply with your request. The Fair Credit Reporting Act (FCRA) requires that all information on your credit report be accurate and verifiable. If the negative information about your late payment is accurate, the creditor has the right to keep it on your report. Despite this, many individuals have found success with Goodwill Letters, especially when they have built a positive relationship with the creditor.
When composing a Goodwill Letter, it's essential to be concise, polite, and to the point. Start by identifying yourself and your account, and then explain the reason for your letter. Acknowledge the mistake that led to the negative entry and provide any context that might help the creditor understand your situation, such as a medical emergency or a temporary job loss. It's also helpful to explain the steps you've taken to prevent such mistakes in the future, like setting up automatic payments or creating a budget.
After explaining your situation, directly ask the creditor to remove the negative entry from your credit report. While it's important to be assertive in your request, it's equally important to remain humble and courteous. The tone of your letter can significantly impact the creditor's response.
Once you've sent your Goodwill Letter, it's a waiting game. Some creditors will respond positively to your first request, while others may not respond at all. If you don't hear back within a month or so, it's reasonable to send a follow-up letter or make a phone call. If your request is denied, you can try writing another letter and perhaps provide additional information that might lead to a different outcome.
A Goodwill Letter is a tool that can be used to potentially improve your credit score by requesting the removal of negative information. It relies on the goodwill of the creditor and your ability to communicate your situation effectively. While there's no guarantee of success, a well-crafted Goodwill Letter can sometimes make the difference between a blemished credit report and one that reflects your true financial responsibility.
4. Credit Card Goodwill Letter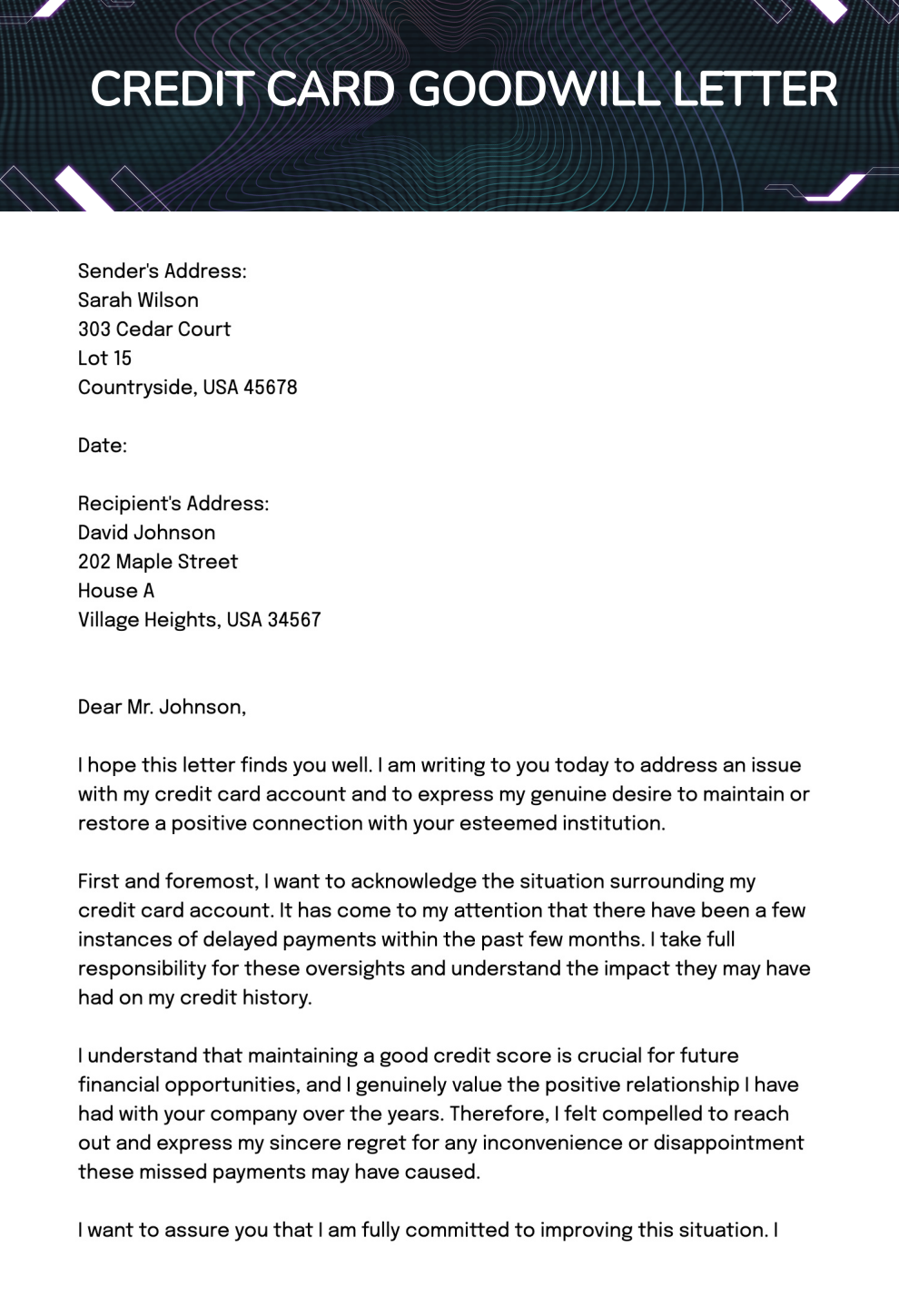 5. Good Will Letter to Creditor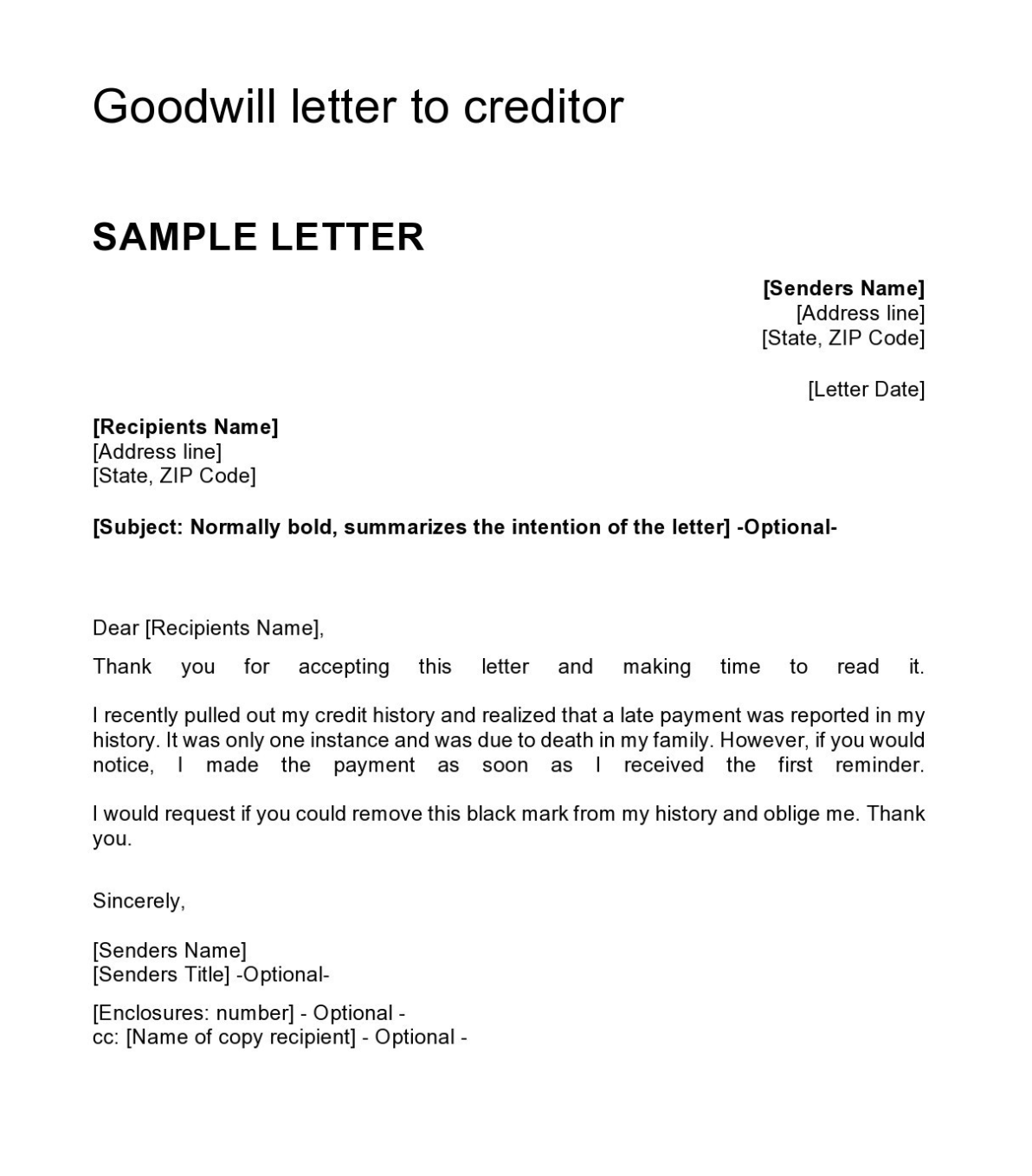 6. Student Loan Goodwill Letter Template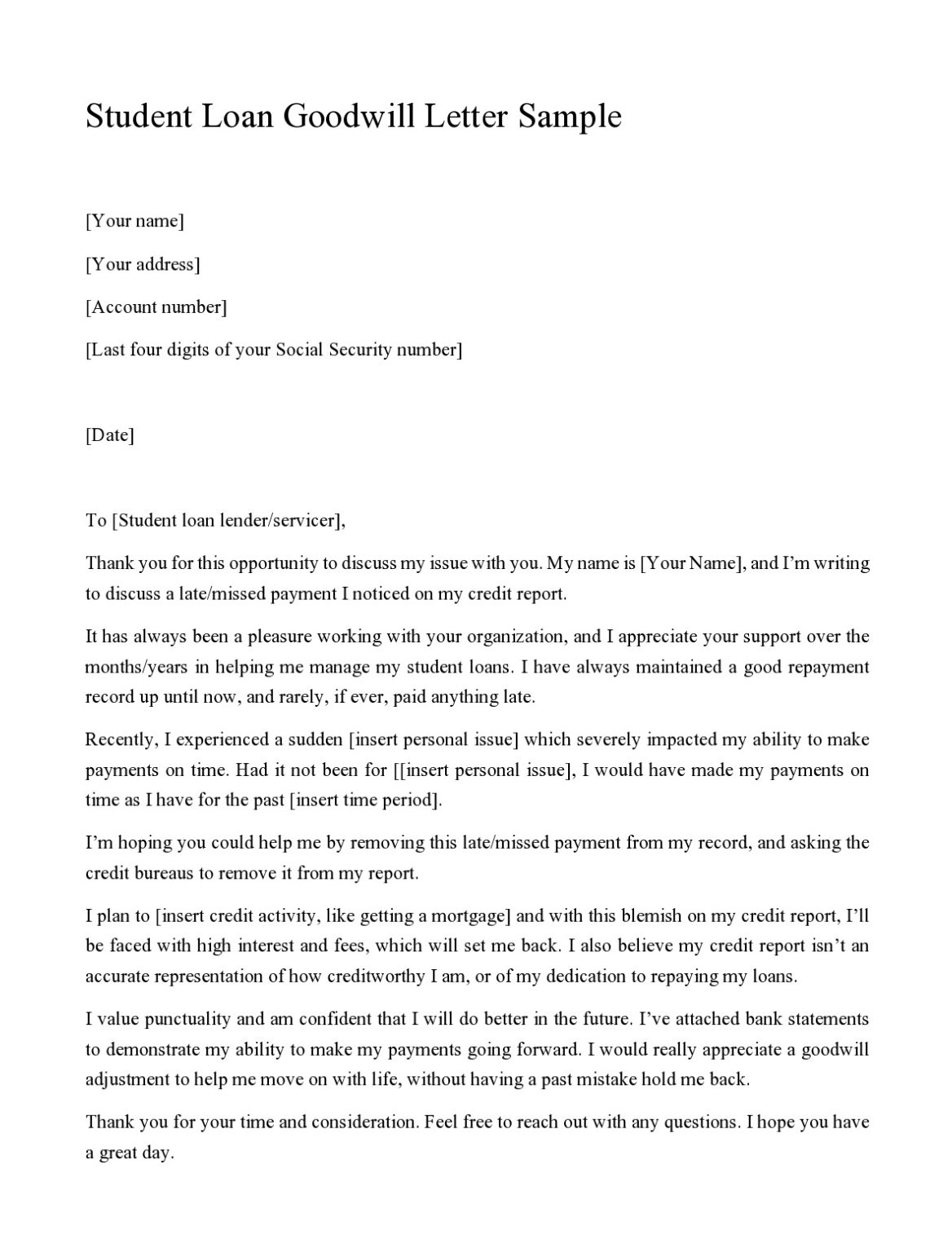 Why do you need a goodwill letter?
A goodwill letter is a strategic step in credit management, serving as a bridge between you and your creditor when you're seeking forgiveness for a financial slip-up. The need for such a letter arises from the impact that negative marks can have on your credit report. These marks can stem from late payments, collections, or any other credit missteps that are reported to the credit bureaus. Since these entries can significantly lower your credit score, a goodwill letter is your personal plea to have these blemishes forgiven.
Why might you need to write a goodwill letter? Here are several scenarios:
1. Late Payment Forgiveness: Perhaps the most common reason for a goodwill letter is to request that a creditor forgive a late payment. A history of on-time payments that's marred by one or two late payments due to unforeseen circumstances (like a medical emergency or a payroll error) can justify the need to write a goodwill letter.
2. Loan Application: If you're applying for a mortgage or another type of loan, every point on your credit score counts. A goodwill letter can help remove negative entries that might tip the scales in your favor for approval or better interest rates.
3. Employment Opportunities: Some employers check credit reports as part of their hiring process. A goodwill letter can help clear negative marks that might otherwise suggest financial irresponsibility.
4. Lower Interest Rates: A higher credit score, which can result from successful goodwill letters, often qualifies you for lower interest rates on credit cards and loans, saving you money over time.
5. Credit Utilization Improvement: By removing negative marks, you can improve your overall credit health, which includes your credit utilization ratio—a key factor in credit scoring.
6. Peace of Mind: Knowing that your credit report is free of marks that could be perceived as red flags can provide personal satisfaction and reduce stress related to financial matters.
Writing a goodwill letter requires a delicate balance. It's not about disputing the accuracy of the credit report but rather about asking for a second chance. The letter should be sincere, acknowledging your mistake, and should clearly articulate the steps you've taken to prevent such mistakes in the future. It should also highlight your current financial stability and your commitment to maintaining a good credit standing.
In essence, a goodwill letter is a tool for those who have recognized a fault in their financial history and are seeking to rectify it in the eyes of creditors. It's about taking proactive steps to manage your credit reputation and ensuring that your credit report reflects your true financial behavior and responsibility. While creditors are under no obligation to respond to or act on goodwill letters, many consumers have found that sending a well-crafted, honest letter can indeed result in the removal of negative credit report entries, leading to a host of financial benefits.
7. Goodwill Letter to Credit Card Company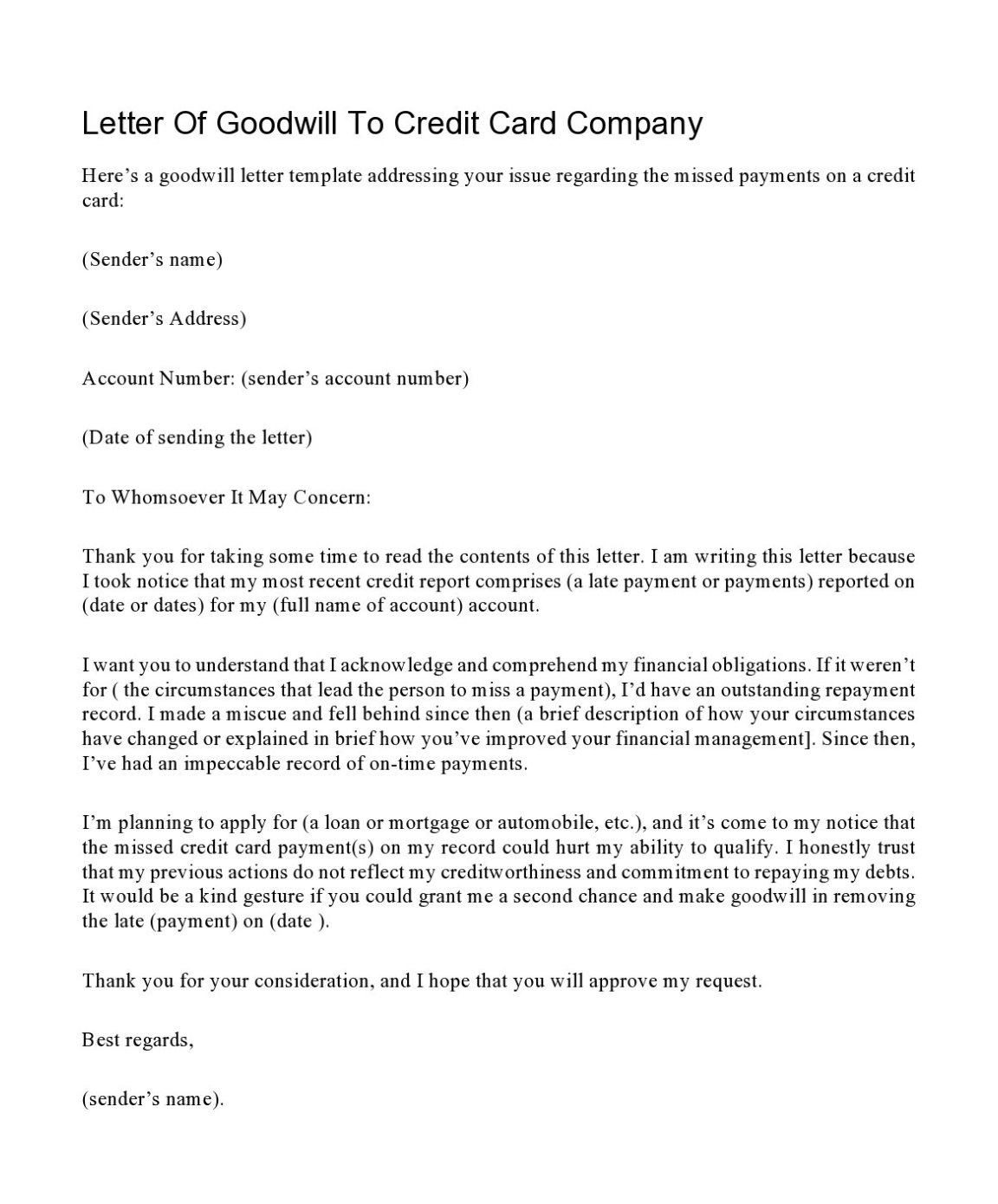 8. Goodwill Adjustment Letter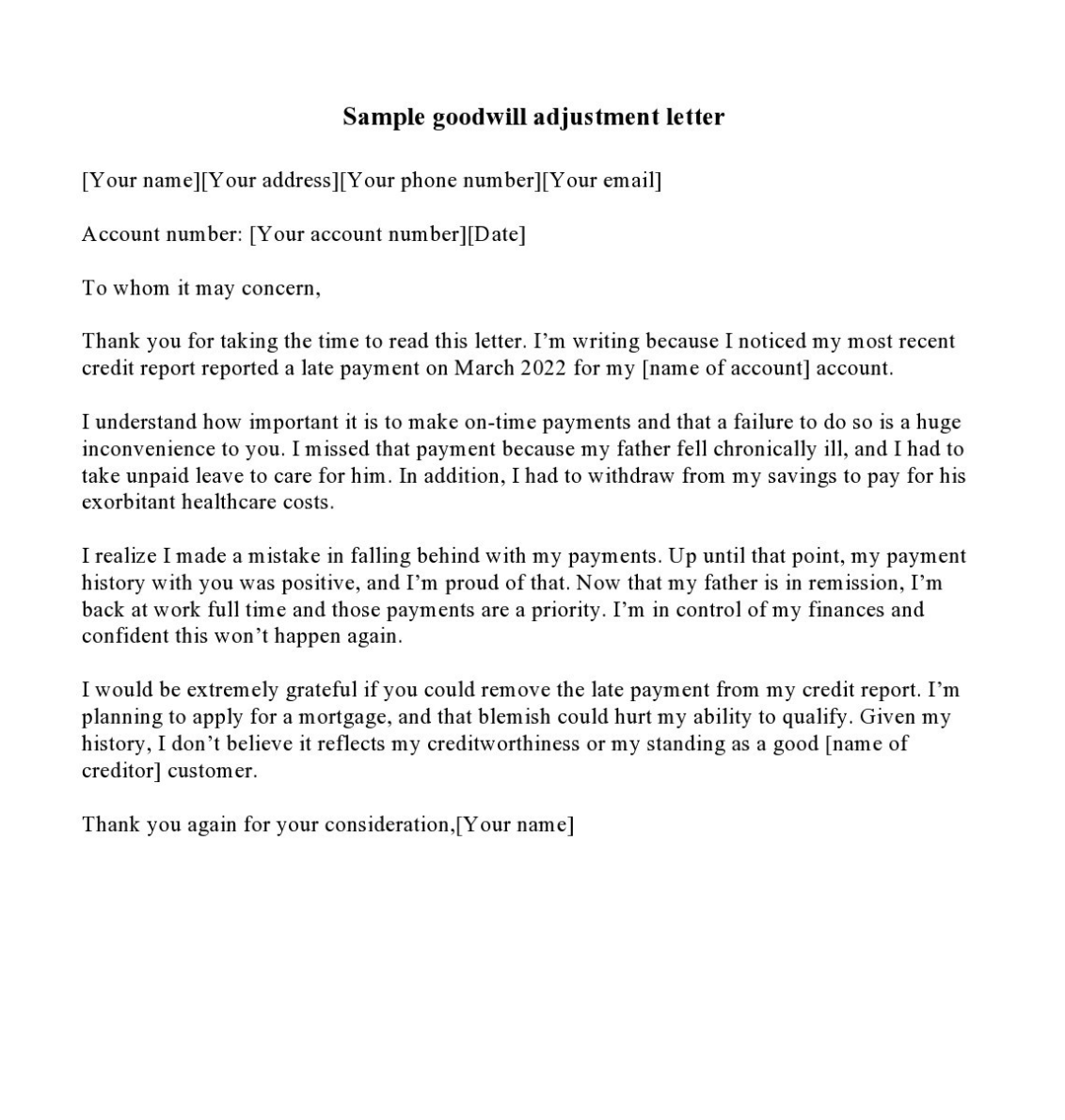 How to Write a Goodwill Letter?
Writing a goodwill letter involves a careful approach where you request a creditor to remove a negative mark from your credit report out of goodwill. It's a personal appeal, and its success hinges on your ability to communicate effectively, respectfully, and sincerely. Here's a step-by-step guide on how to craft a goodwill letter that resonates with your creditor:
Step 1: Personal Information and Account Details
Begin your letter by providing your full name, address, and account number. This helps the creditor to quickly identify you and your account.
Step 2: Purpose of the Letter
Clearly state the purpose of your letter. You're not disputing the accuracy of the credit report; instead, you're asking for a goodwill adjustment. Be straightforward and concise.
Step 3: Explain Your Situation
Detail the circumstances that led to the late payment or financial misstep. Whether it was due to a medical emergency, a job loss, or an administrative error, provide a brief but clear explanation. It's important to take responsibility for the mistake and not to place blame elsewhere.
Step 4: Highlight Your Past Good Behavior
If you have a history of making payments on time or have been a long-term customer, mention this. Creditors are more likely to respond favorably to customers who have generally been responsible and reliable.
Step 5: Show Remedial Action
Demonstrate the steps you've taken to prevent the same mistake from happening again. This could be setting up automatic payments, adjusting your budget, or any other action that shows your commitment to maintaining good credit.
Step 6: Make Your Request
After explaining your situation, politely ask if the creditor would be willing to remove the negative entry from your credit report as an act of goodwill. Be humble and express your hope that they will consider your request.
Step 7: Thank Them for Their Time
Regardless of the outcome, thank the creditor for their time and for considering your request. This shows respect and appreciation for their assistance.
Step 8: Proofread Your Letter
Before sending, thoroughly proofread your letter for any errors. A letter free of grammatical mistakes and typos is more professional and will be taken more seriously.
Step 9: Send the Letter
Send your letter through certified mail so you can ensure it's received. Keep a copy for your records.
Step 10: Follow Up
If you haven't heard back in a few weeks, it's appropriate to follow up with a phone call or email. Persistence can sometimes pay off, but always remain courteous.
Remember, a goodwill letter is a request, not a demand. The tone should be polite and understanding. While creditors are not obligated to remove accurate negative marks, many are willing to do so for customers who have shown a genuine effort to rectify their credit issues and who communicate their situations effectively. A successful goodwill letter can lead to the removal of negative entries, which may improve your credit score and overall financial standing.
9. Goodwill Deletion Request Letter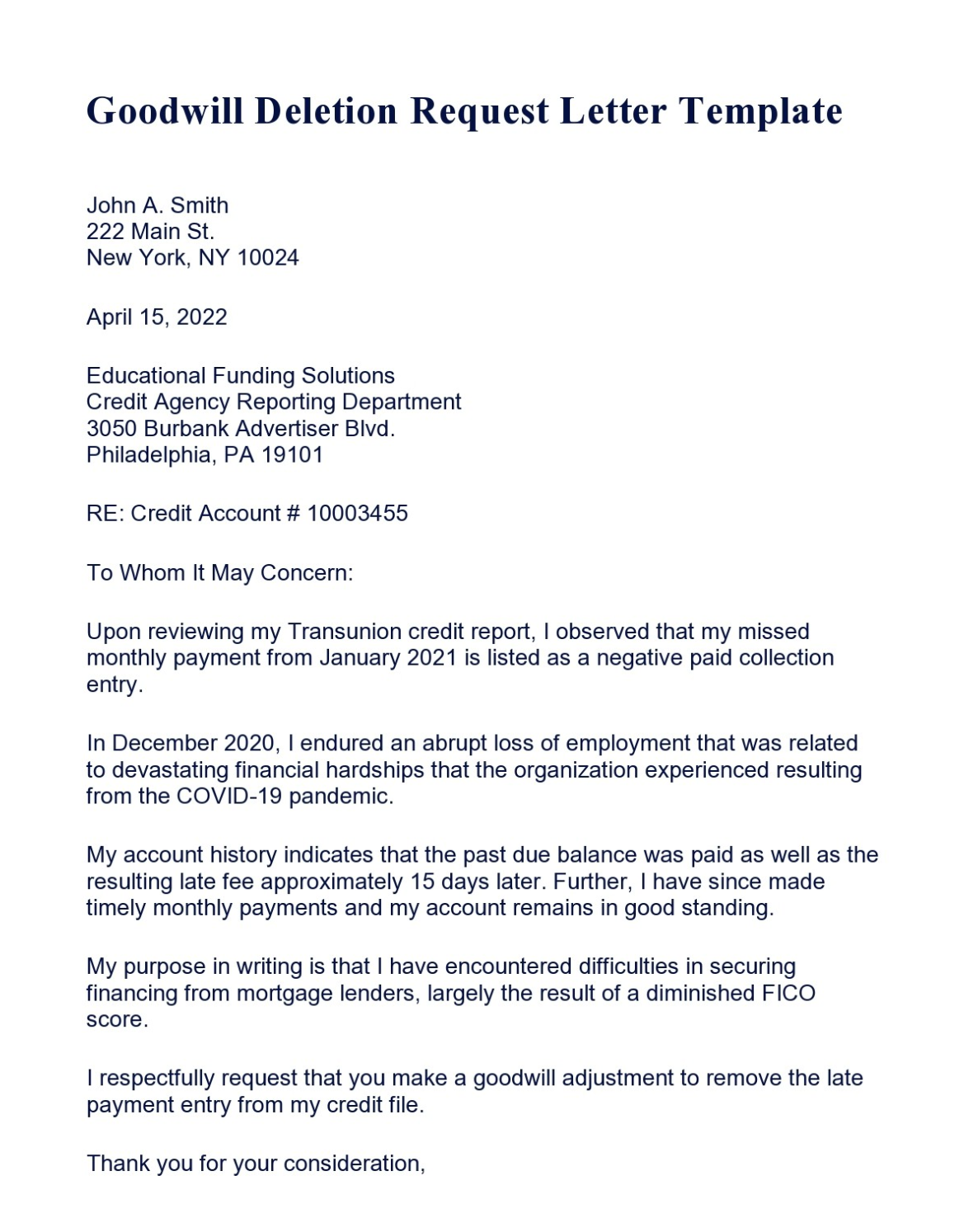 10. Sample Goodwill Letter
11. Goodwill Letter to Remove Listing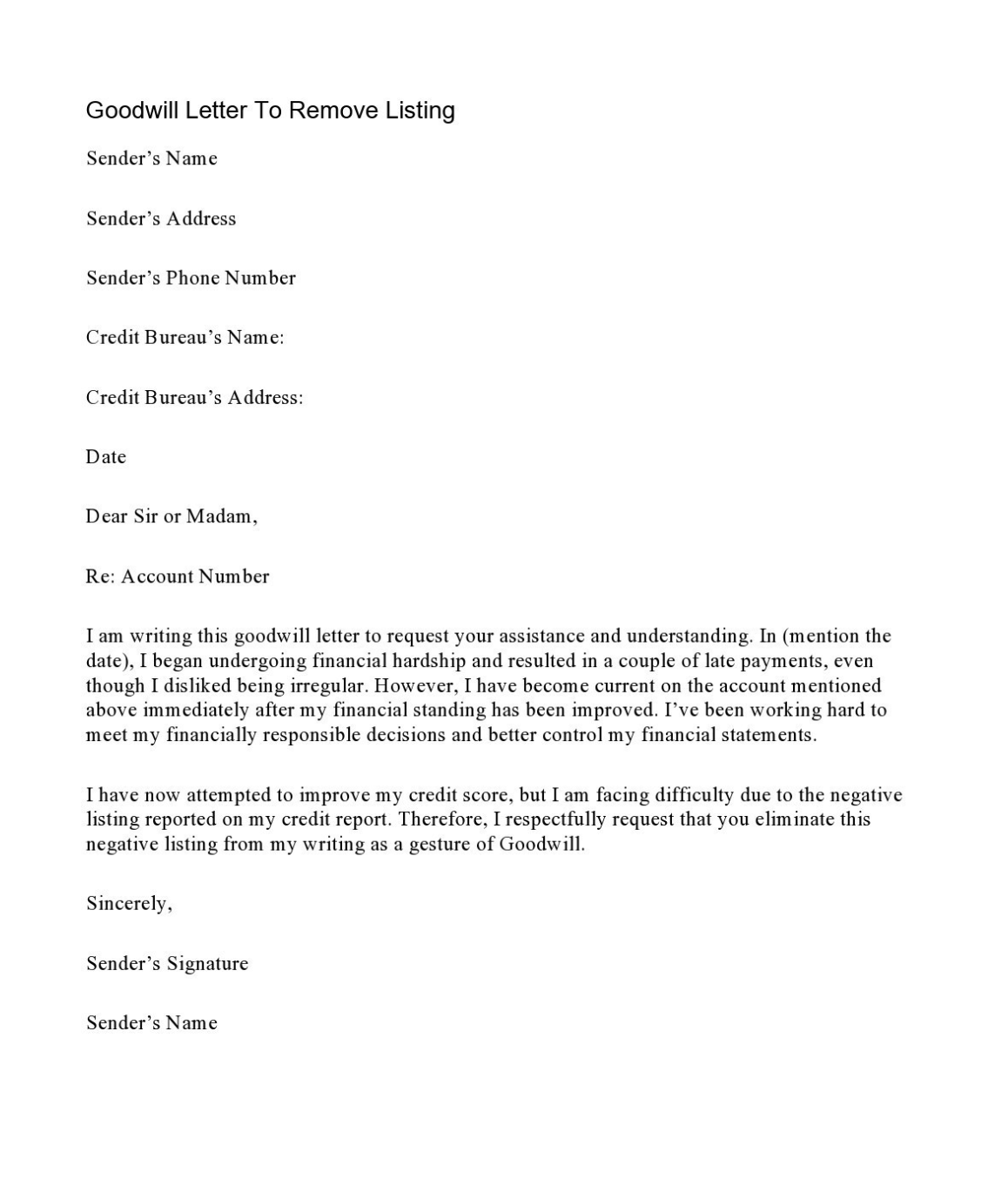 How to Use Goodwill Letters in Credit Repair
Goodwill letters can be a valuable component in the credit repair process, offering a potential solution for individuals looking to improve their credit reports and scores. These letters are particularly useful when dealing with late payments, minor delinquencies, or other negative marks that are a result of a one-time or unusual circumstance. Here's how to use goodwill letters effectively in credit repair:
Understanding the Role of Goodwill Letters
Goodwill letters are not about disputing information on the credit report but rather about asking a creditor to make a compassionate adjustment. They are used to address items that are accurate but are present due to an oversight or extenuating circumstances.
Identifying When to Use a Goodwill Letter
The ideal situation for a goodwill letter is when you have a generally positive credit history but have a few blemishes. These might be due to late payments, small outstanding debts that have since been paid, or other negative entries that don't reflect your current financial behavior.
Crafting the Goodwill Letter
When writing a goodwill letter, your approach should be personal and honest. Start by explaining who you are and your relationship with the creditor. Acknowledge the negative entry on your credit report and explain the circumstances that led to the oversight, such as an emergency, a billing error, or a temporary hardship.
Demonstrating a Pattern of Good Behavior
It's important to highlight your overall good credit history and any steps you've taken to resolve the issue. This could include making consistent, on-time payments before and after the incident or taking financial management courses to prevent future occurrences.
Making the Request
After explaining your situation, politely ask if the creditor would be willing to remove the negative entry from your credit report. Emphasize that you're seeking a goodwill adjustment and that you're not disputing the accuracy of the report.
Following Up
If you don't receive a response within a month, follow up with a phone call or another letter. Sometimes, persistence can lead to success, but always remain polite and professional in your communications.
Understanding Potential Outcomes
There are three possible outcomes from a goodwill letter: the creditor may agree to your request, they may deny it, or you may not receive a response. If the creditor agrees, ensure you get a written confirmation of the agreement.
Maintaining Good Credit Habits
If your goodwill letter is successful, it's important to continue practicing good credit habits. This includes paying bills on time, keeping credit card balances low, and monitoring your credit report regularly to ensure its accuracy.
Documenting Everything
Keep copies of all correspondence, including your goodwill letters and any responses from creditors. This documentation can be useful if there are any future discrepancies on your credit report regarding the items in question.
In summary, goodwill letters can be an effective tool in credit repair for addressing specific negative items on your credit report. By approaching creditors with a sincere request for leniency, you may be able to have certain negative marks removed, which can positively impact your credit score. However, it's important to remember that success is not guaranteed, and maintaining good credit habits is crucial regardless of the outcome.