Craft an impactful message of gratitude with our Sample Employee Recognition Letter Template, specifically designed to acknowledge and celebrate the accomplishments of your team members. This comprehensive template provides a framework for creating personalized and meaningful recognition that resonates with employees, enhancing their engagement and loyalty. Emphasizing their achievements, this resource is pivotal for leaders aiming to cultivate a positive workplace culture where appreciation is at the forefront. By utilizing this letter template, you'll not only highlight the individual's contributions but also contribute to a supportive environment that values recognition as a cornerstone of success. Generate a ripple effect of motivation and commitment across your organization, starting with a few well-chosen words of praise.
1. Sample Employee Recognition Letter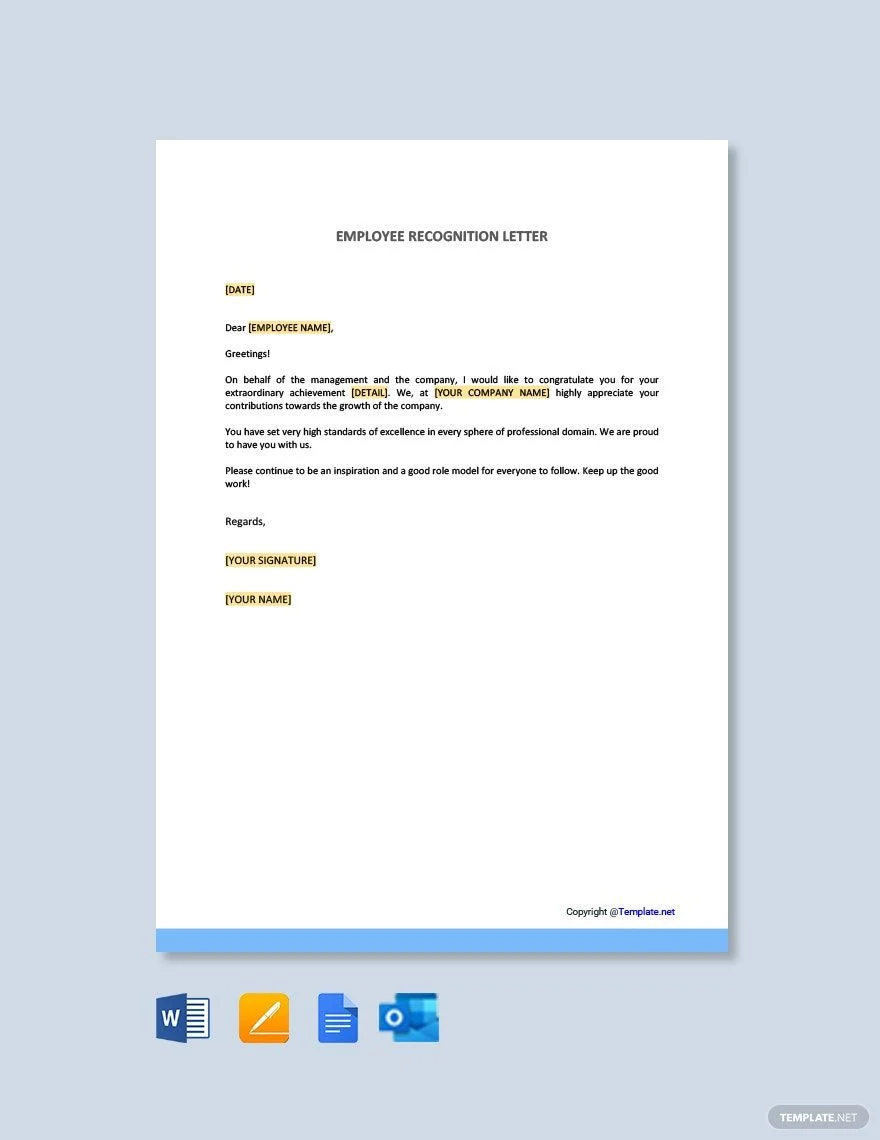 2. Employee Recognition Award Letter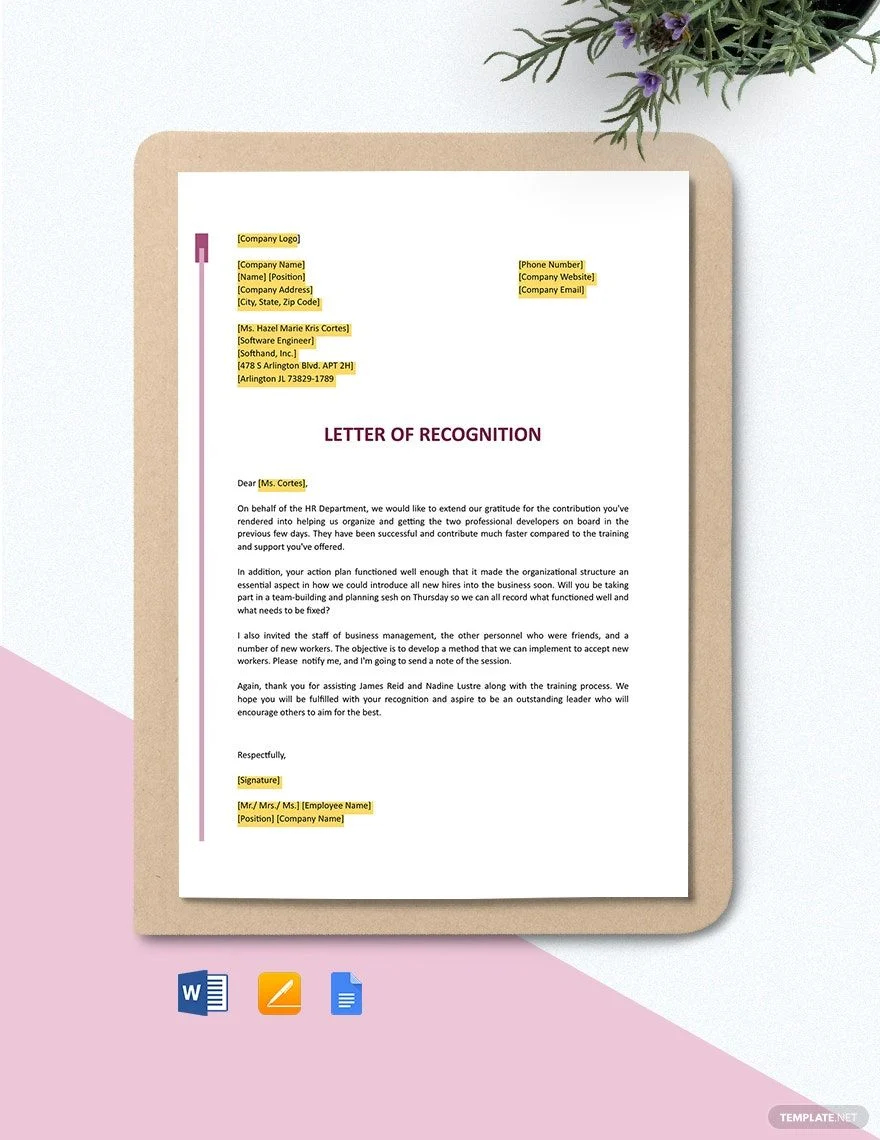 3. Sample Employee of The Month Recognition Letter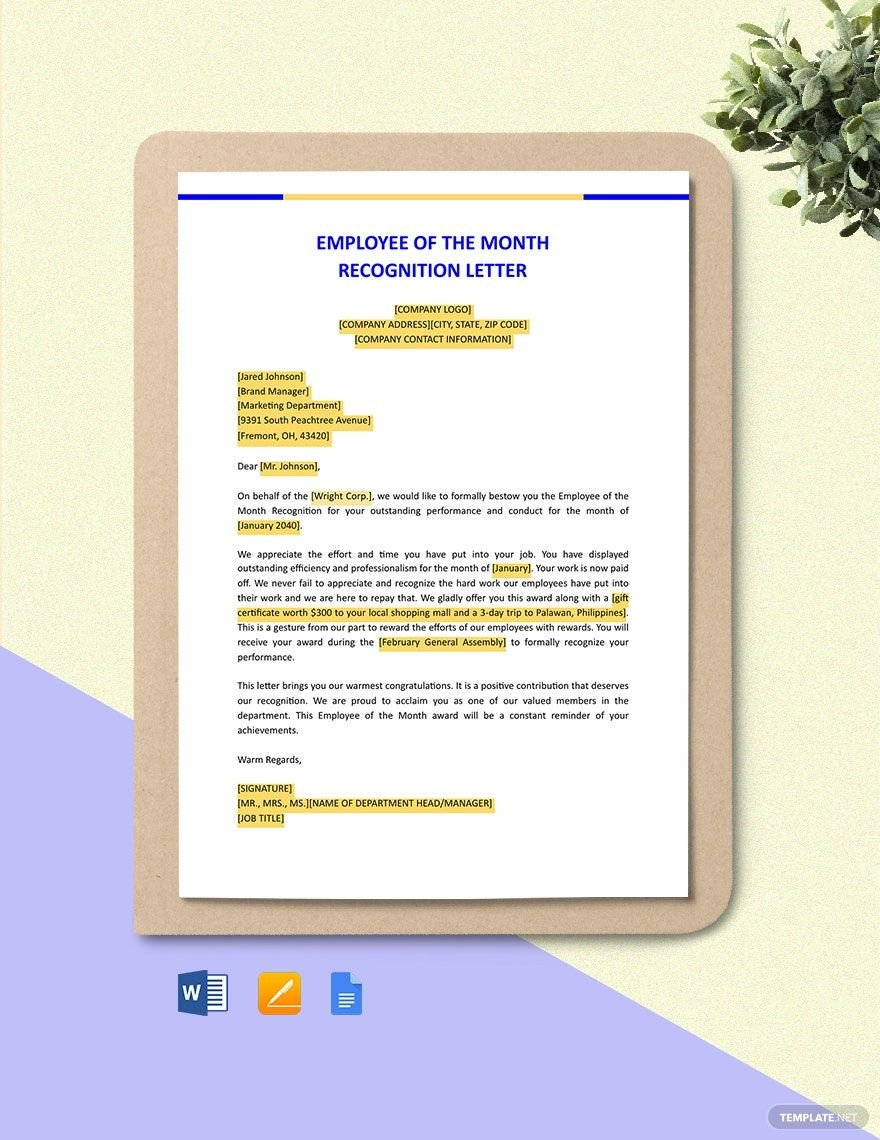 What is a recognition letter?
A recognition letter is a formal document that acknowledges the achievements, hard work, or commitment of an individual or group. It serves as a powerful tool for employers and managers to express gratitude and appreciation towards their employees, reinforcing positive behavior and fostering a culture of recognition within an organization.
In the corporate world, recognition letters often celebrate milestones, exceptional performance, contributions to team efforts, or dedication that goes above and beyond regular duties. These letters can be associated with formal award systems or given spontaneously to mark special occasions or commendable efforts.
The impact of a recognition letter extends beyond mere acknowledgment. It is a tangible expression of value that can significantly boost an employee's morale, increase engagement, and enhance job satisfaction. When employees feel valued, it typically leads to increased productivity and loyalty to the company, contributing to a positive workplace atmosphere.
Recognition letters can take various forms, ranging from a brief thank you note for a specific act to a detailed letter outlining an employee's contributions over time. Regardless of the format, the letter should be personalized, specific about the reasons for recognition, and sincere. This personal touch not only makes the recipient feel genuinely appreciated but can also inspire their colleagues to strive for similar acknowledgment.
Moreover, these letters become part of an employee's professional records and can play a vital role during performance evaluations, promotions, and even in future job searches as proof of their accomplishments. Employers may also use these letters as a reference point to set benchmarks for other employees to aim for, driving a competitive yet collaborative environment.
In summary, recognition letters are a simple yet profound way to acknowledge and reward employees for their exceptional work. They are a cost-effective means to reinforce company values, encourage continued excellence, nurture talent, and show a commitment to employee development and satisfaction. As a result, they are an essential component of effective organizational management and leadership.
4. Sample Letter Of Recognition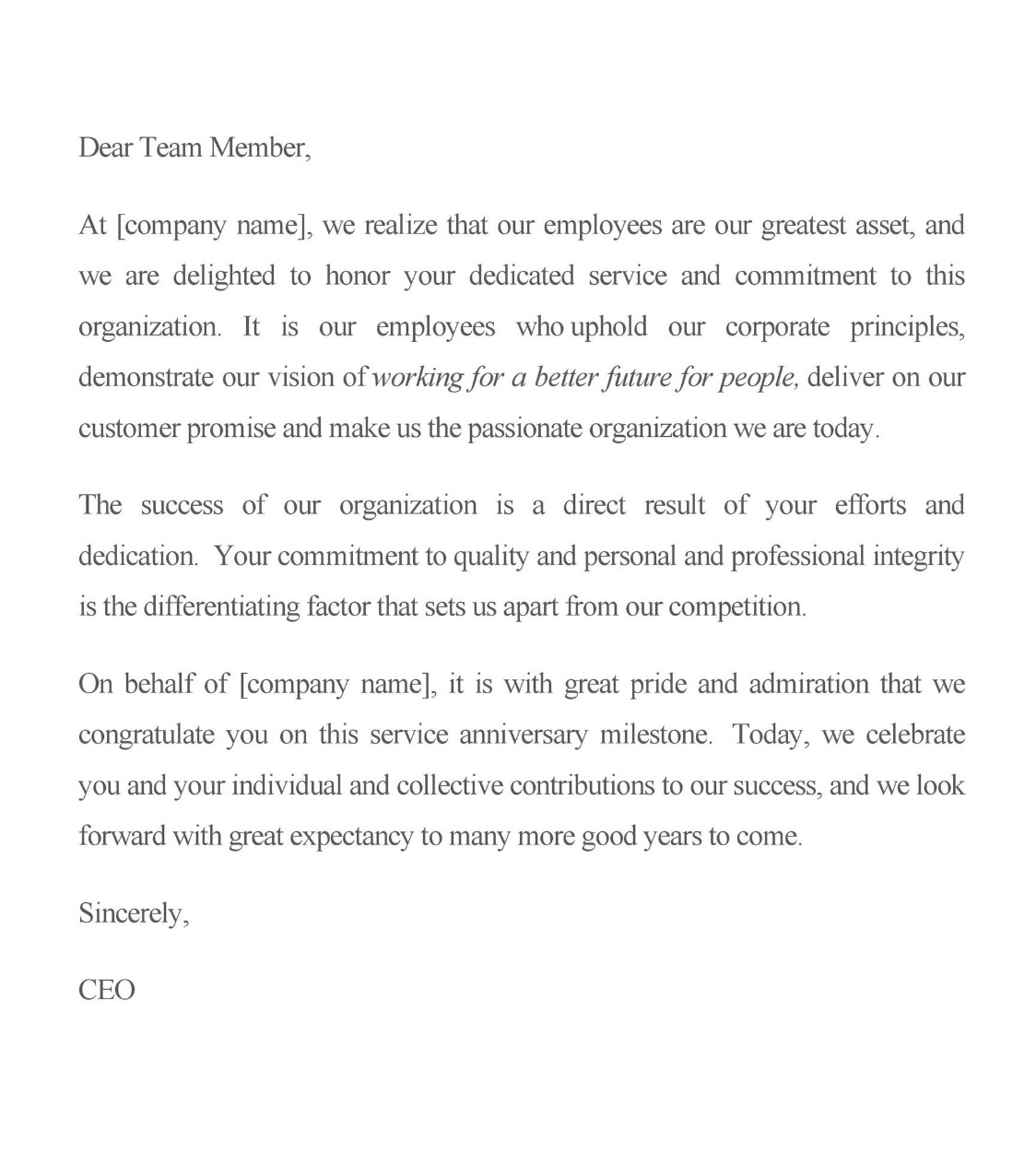 5. Sample Recognition Letter form Employee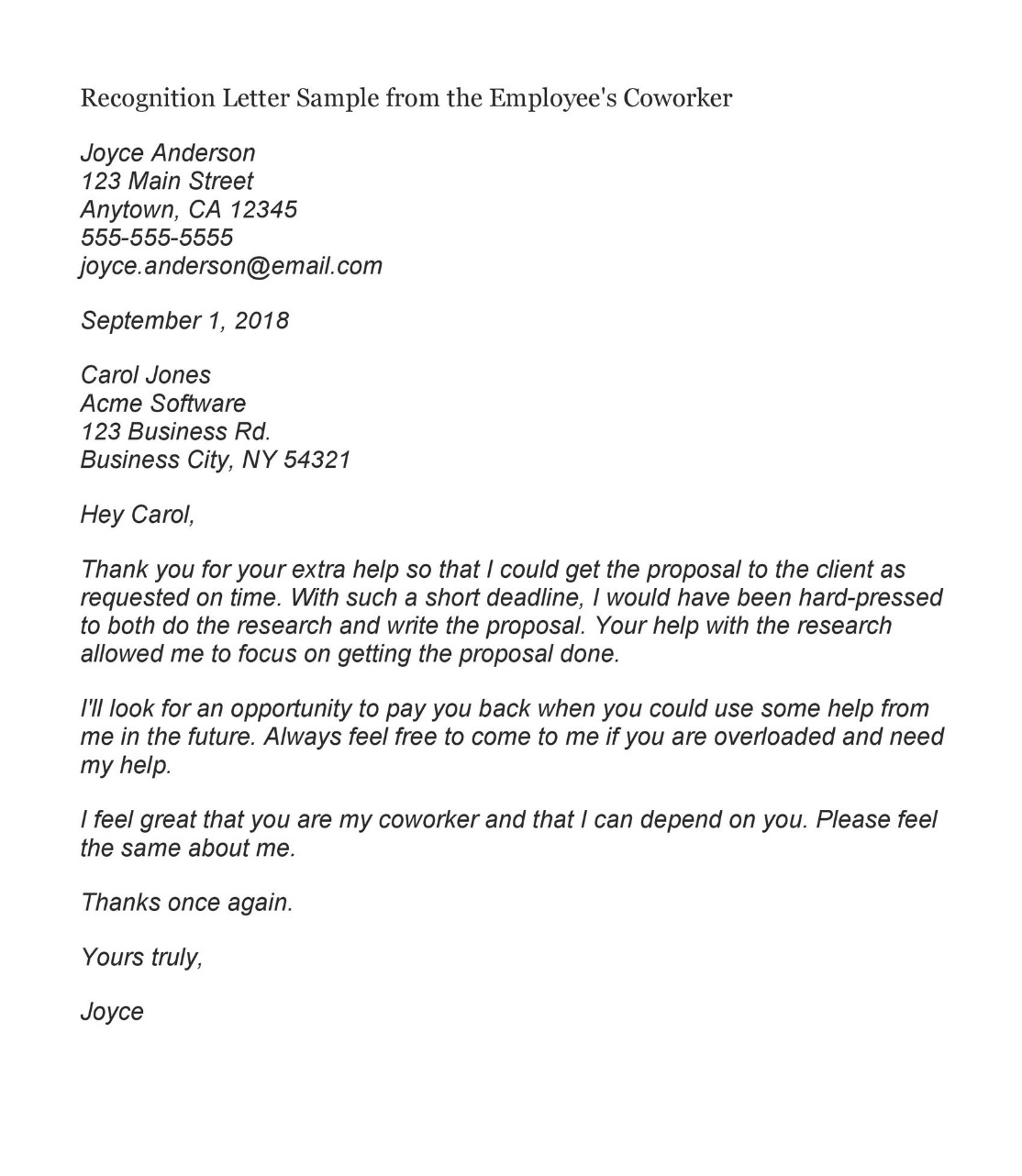 6. Formal Recognition Letter Sample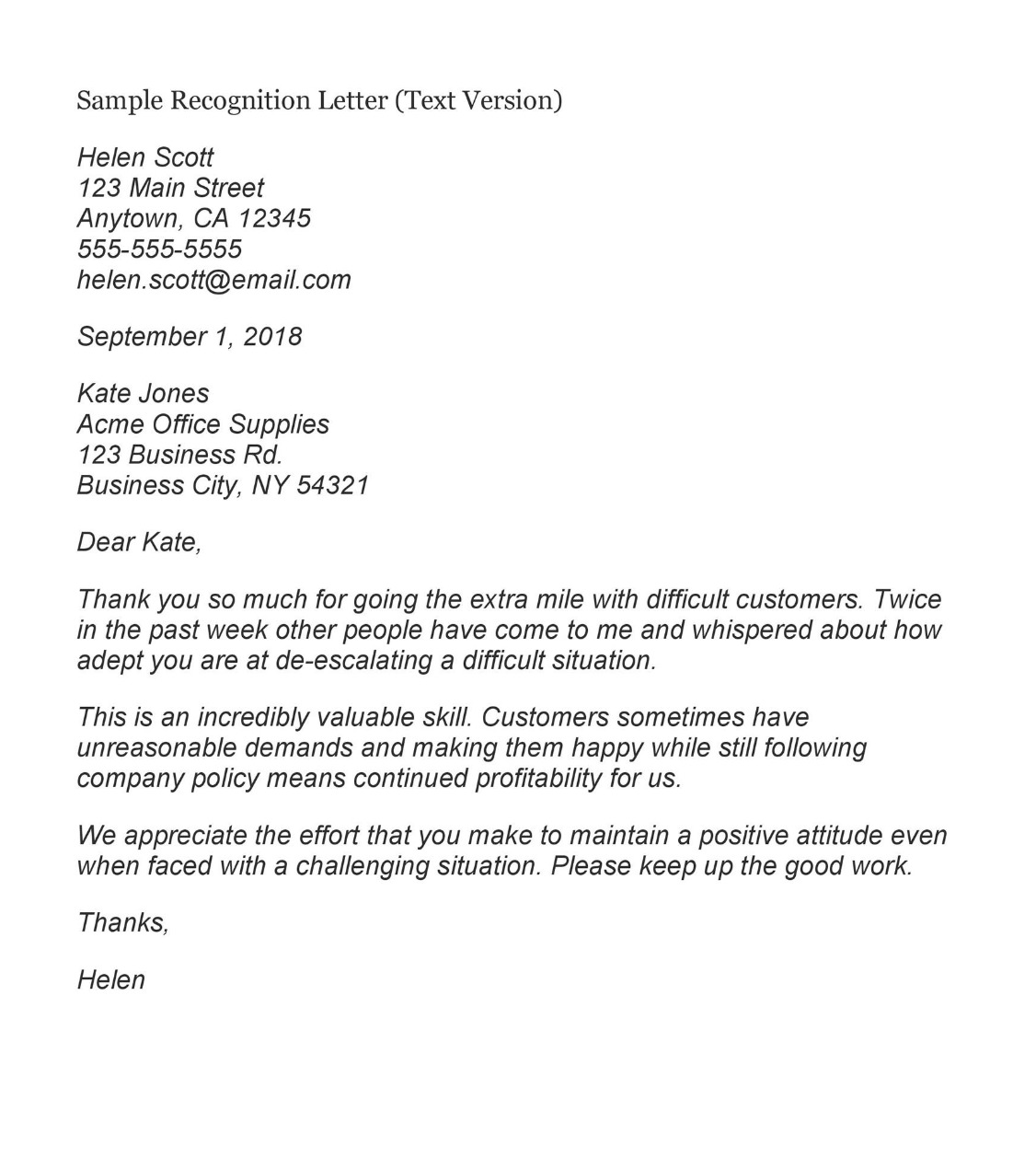 Types of recognition letters
Recognition letters are a fundamental aspect of employee engagement strategies, serving as formal acknowledgments of exceptional efforts and accomplishments within an organization. Different types of recognition letters cater to various achievements and are vital in building a positive workplace culture. Here are several types of recognition letters that are frequently used in professional settings:
Employee Appreciation Letters
An Employee Appreciation Letter is a thoughtful way to acknowledge the hard work and efforts of an individual within your organization. It can range from a simple thank you for a specific task to a more detailed account of the employee's contribution over time. These letters often highlight an individual's dedication, reliability, and positive attitude, showing that their day-to-day efforts do not go unnoticed.
Performance-Based Recognition Letters
Performance-based recognition letters are formal acknowledgments given to employees who have surpassed their job expectations. These letters typically describe the recognized individual's specific accomplishments, the skills they applied, and the impact of their work on the overall success of the project or the organization. It's an effective way to encourage a high-performing individual to continue their excellent work.
Sales Achievement Letters
Sales Achievement Letters are specifically tailored to recognize the employees or teams that meet or exceed sales targets. These letters not only commend the achievement but also emphasize the strategic thinking, persistence, and communication skills that contributed to the employee's sales success.
Service Milestone Letters
Service Milestone Letters celebrate the tenure of employees, whether it's a one-year anniversary or a multi-decade commitment to the company. This type of letter not only recognizes longevity but also the cumulative contribution of the employee throughout their years of service.
Peer Recognition Letters
Peer Recognition Letters allow colleagues to appreciate one another, fostering a sense of team spirit and collaboration. These letters can highlight small acts of kindness or assistance that contribute significantly to a positive work environment.
Leadership Recognition Letters
Leadership Recognition Letters acknowledge those in managerial or supervisory roles who demonstrate exceptional leadership. This letter might address the individual's ability to motivate and guide their team, their strategic vision, or their role in achieving key company goals.
Spot Recognition Letters
Spot Recognition Letters are given immediately following an action worthy of recognition. These letters can address a wide range of contributions, from going the extra mile on a project to helping a coworker meet a tight deadline.
Retirement Letters
Retirement Letters formally recognize the retiree's years of service and commitment to the organization. These letters often include highlights of the employee's career, acknowledging their contributions and wishing them well in their retirement.
Customer Service Recognition Letters
In roles that directly impact customers, employees who provide outstanding service may be recognized with a Customer Service Recognition Letter. These letters often recount positive feedback from customers and can serve to motivate others in customer-facing roles.
Employee Innovation and Improvement Letters
When an employee suggests an innovative idea that improves processes or contributes to the organization's success, an Employee Innovation and Improvement Letter can recognize this contribution. It not only applauds the initiative but also encourages a culture of continuous improvement.
Each type of recognition letter plays a significant role in employee motivation and can greatly enhance morale within the workplace. A well-written recognition letter is specific, personal, and sincerely expresses the organization's gratitude for the employee's hard work and achievements.
7. Sample Employee Recognition Program Letter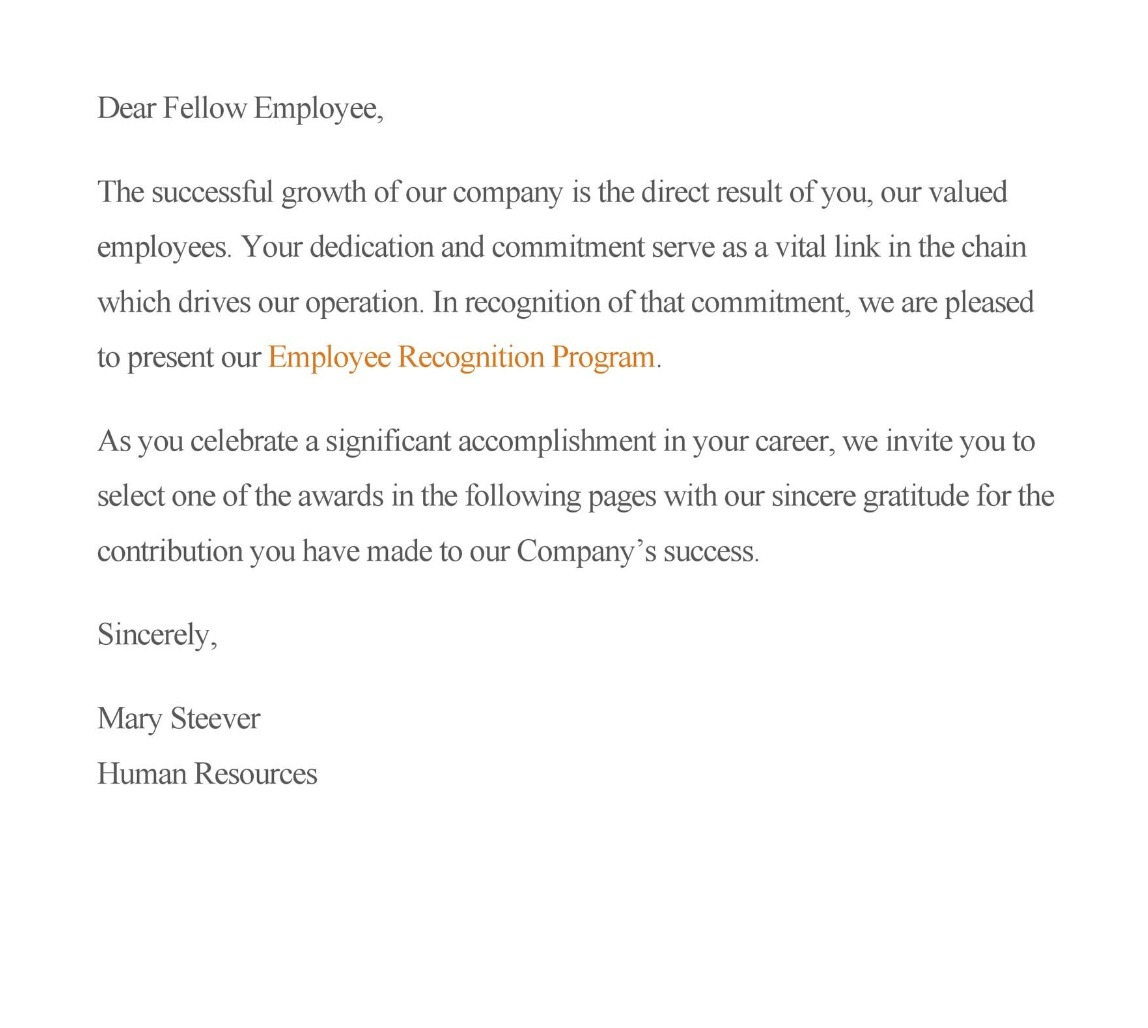 8. Sample Employee Recognition Award Letter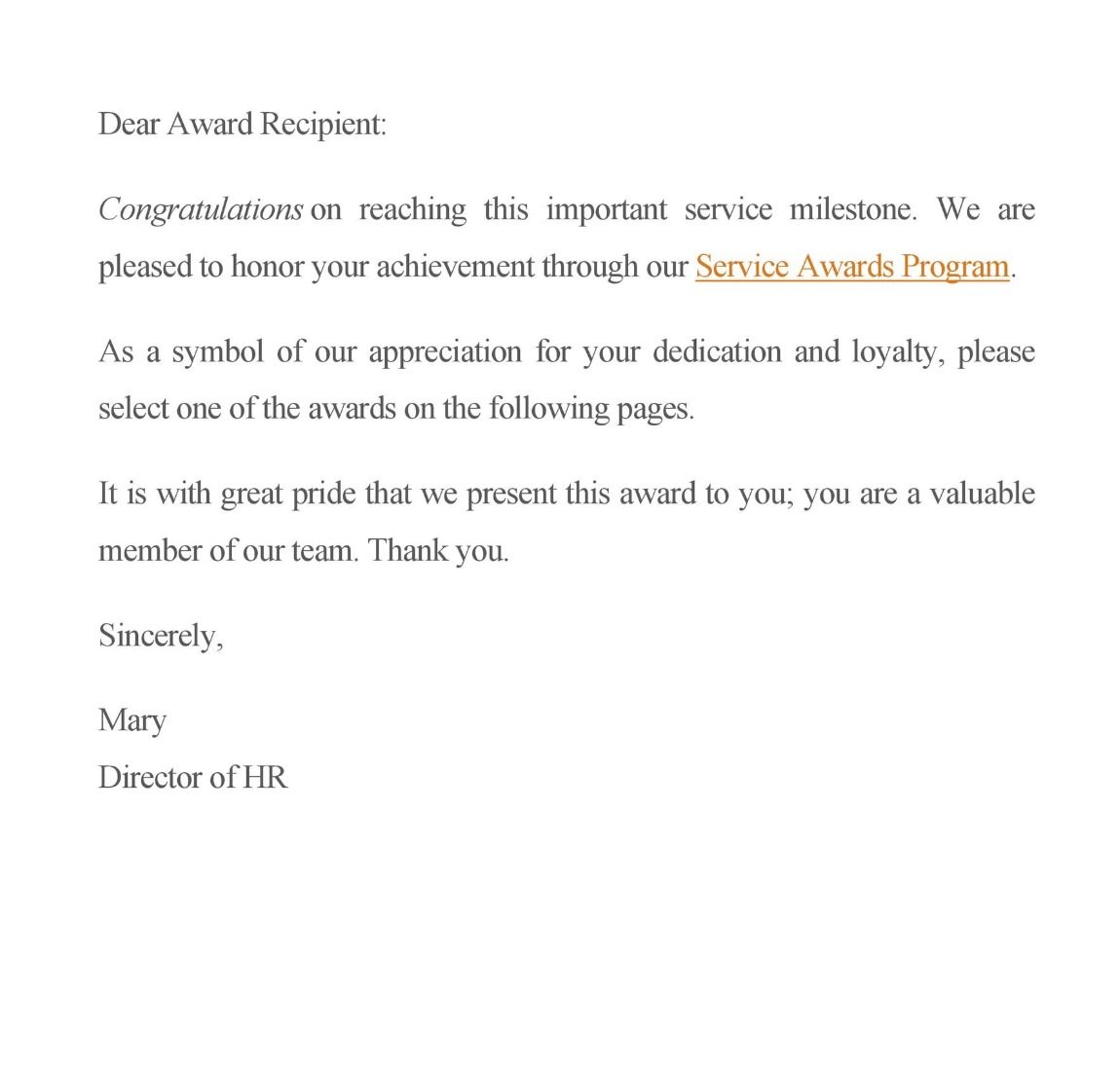 Crafting an Employee Recognition Letter
Writing an employee recognition letter involves a blend of professionalism and personal touch. It's a testament to the individual's hard work and a reflection of your organization's gratitude. Here's a detailed guide to writing an impactful employee recognition letter.
Personalize the Opening
Begin with a personal salutation. Directly addressing the employee by name fosters a personal connection and sets the stage for genuine appreciation.
Clearly State the Recognition
In the opening paragraph, clarify the letter's intent. Let the employee know they are being recognized for their contributions. This affirmation sets a positive tone and makes the recipient receptive to the appreciation that follows.
Detail the Accomplishment
Dive into the specifics of what the employee has done to deserve recognition. Whether it's completing a challenging project ahead of schedule, going above and beyond to help colleagues, or consistently meeting high-performance standards, provide concrete examples to illustrate their achievements.
Discuss the Impact
Explain how the employee's actions have contributed to the team or organization's success. Describe the positive outcomes resulting from their work, like improved productivity, enhanced team morale, or a surge in client satisfaction. Highlighting the broader impact of their efforts validates the importance of their work.
Personal Reflections
Add a paragraph where you offer personal insights or reflections on the employee's contributions. This might include observations about their growth, attitude, and the potential you see in them. It lends a personal and heartfelt touch to your message.
Express Gratitude
Convey sincere thanks on behalf of the organization. Recognition from a supervisor or the company can significantly boost an employee's morale and confirm that their efforts are valued on a larger scale.
Encourage Future Success
Conclude the letter by encouraging the employee to continue their exemplary work. This forward-looking statement supports their ongoing development and underscores your confidence in their abilities.
Close with Warmth
End the letter on a warm and personal note. A considerate sign-off can make the employee feel valued and respected.
In crafting your letter, ensure that the tone is appreciative and encouraging. Recognition letters should not only celebrate past and present achievements but should also inspire continued dedication and excellence. Remember, the effectiveness of an employee recognition letter is as much in its sentiment as it is in its content. A letter that feels authentic and personal can have a lasting impact on an employee's motivation and engagement.
9. Sample Recognition Letter form Manager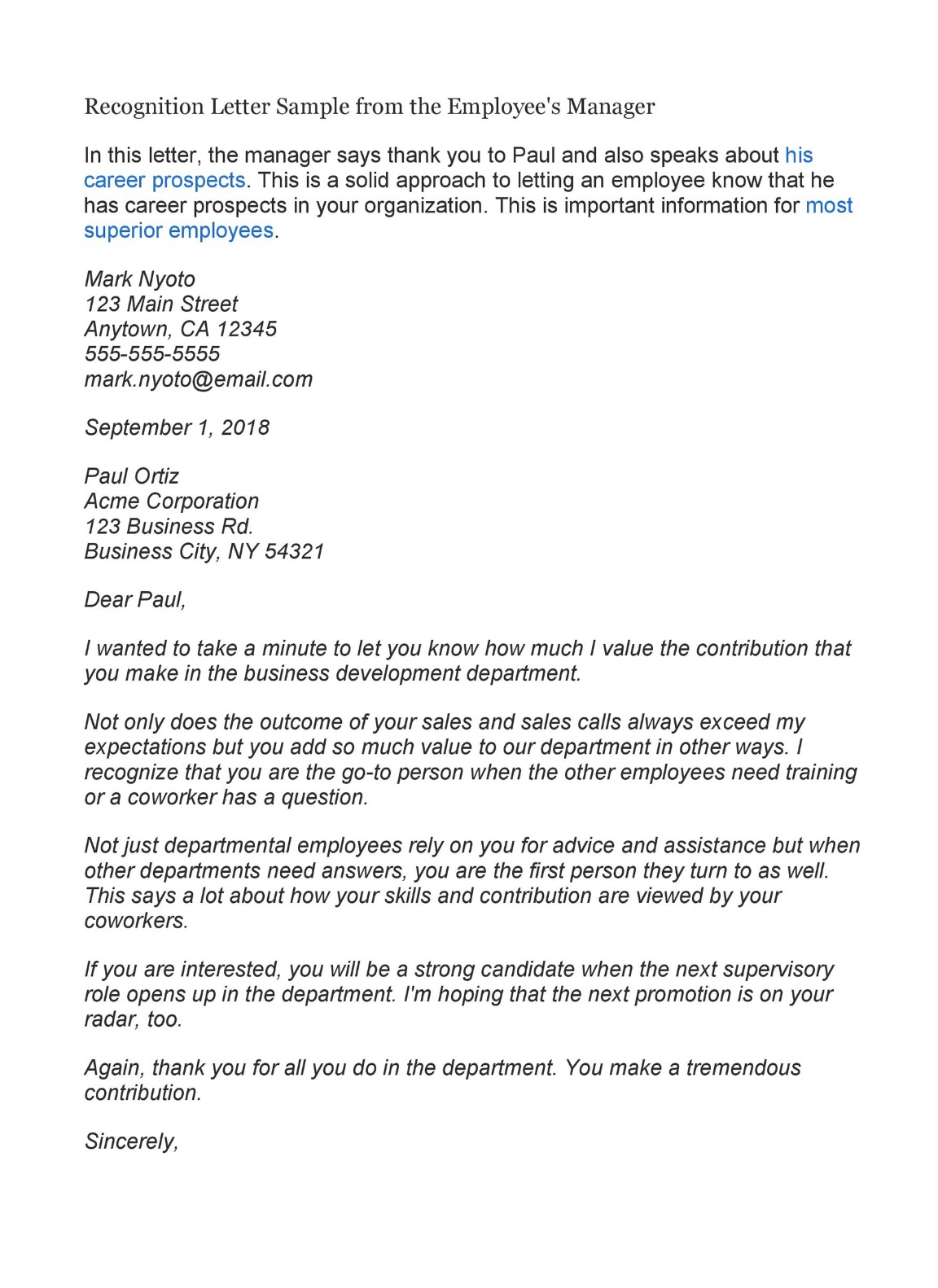 10. Sample Recognition Letter form Company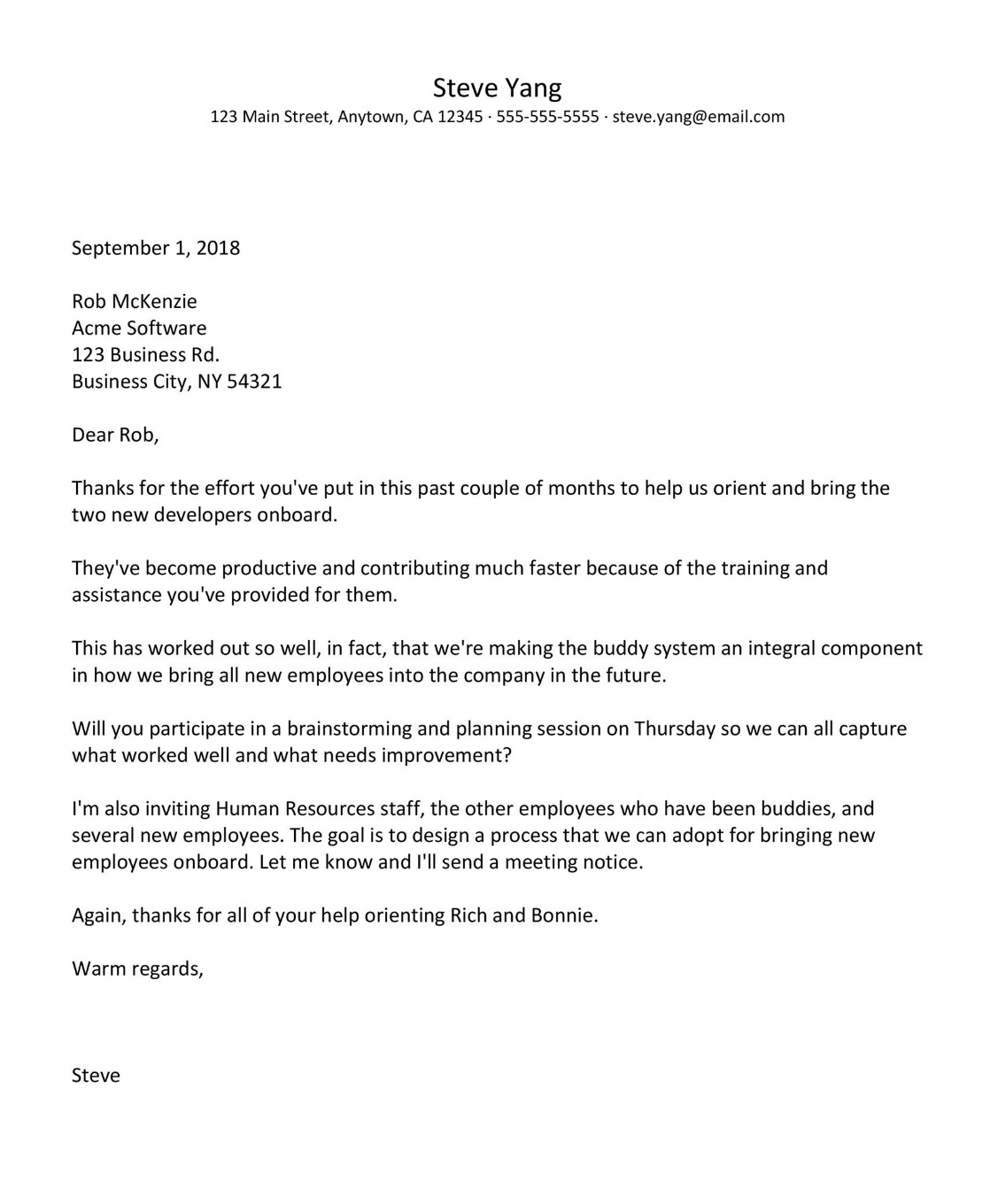 Best ways to recognize employees
Recognizing employees is a key component of effective management and can significantly enhance staff morale, productivity, and loyalty. Here are some of the best ways to acknowledge and appreciate your employees:
Public Recognition:
One of the most impactful ways to recognize employees is through public acknowledgment. This can be done in team meetings, on company-wide platforms, or through internal newsletters. Public recognition not only makes the employee feel valued but also sets a positive example for the entire organization.
Personal Thank You Notes:
Taking the time to write a personal thank you note can make a big difference to an employee. It shows that you notice and appreciate their efforts on a personal level. These notes become keepsakes that employees often cherish and remember.
Awards and Certificates:
Creating a system of awards and certificates for various accomplishments can provide tangible recognition for an employee's hard work. These could be for employee of the month, sales achievements, innovation, customer service excellence, and more.
Professional Development Opportunities:
Offering opportunities for professional growth is a powerful way to show employees that you value their contributions and are invested in their future. This could include sponsoring them for workshops, courses, or conferences that align with their interests and career goals.
Monetary Bonuses:
While not always possible for every business, monetary bonuses tied to performance can be a strong motivator and sign of recognition. Whether it's a year-end bonus or spot bonuses for exceptional work, they can significantly boost employee morale.
Extra Time Off:
Awarding extra time off is another excellent way to recognize hard work. Giving an employee an additional day off as a reward for a job well done can be greatly appreciated, showing respect for their work-life balance.
Feature Stories:
Featuring employees in company blogs, social media, or in industry publications is an innovative way to highlight their achievements. This not only recognizes the employee but also showcases your company's talent to the outside world.
Celebration of Milestones:
Acknowledging personal milestones like birthdays, work anniversaries, or significant personal achievements can make employees feel seen and valued not just as workers, but as individuals.
Peer Recognition Programs:
Implementing a peer-to-peer recognition program empowers employees to acknowledge each other's hard work and creates a culture of appreciation within the team.
Quality Time with Management:
Offering one-on-one lunches or meetings with upper management can be a unique way to recognize employees. It provides them with visibility and the opportunity to discuss their career path and ideas for the company.
Flexibility:
Providing flexibility in work schedules or locations, especially in recognition of an employee's efforts, can greatly increase job satisfaction and loyalty.
In conclusion, recognizing employees is an art that requires sincerity and thoughtfulness. Combining different methods of recognition can cater to the diverse preferences and motivations of your team members, helping to build a culture of appreciation that drives engagement and performance.
11. Letter for Recognition Good Attendance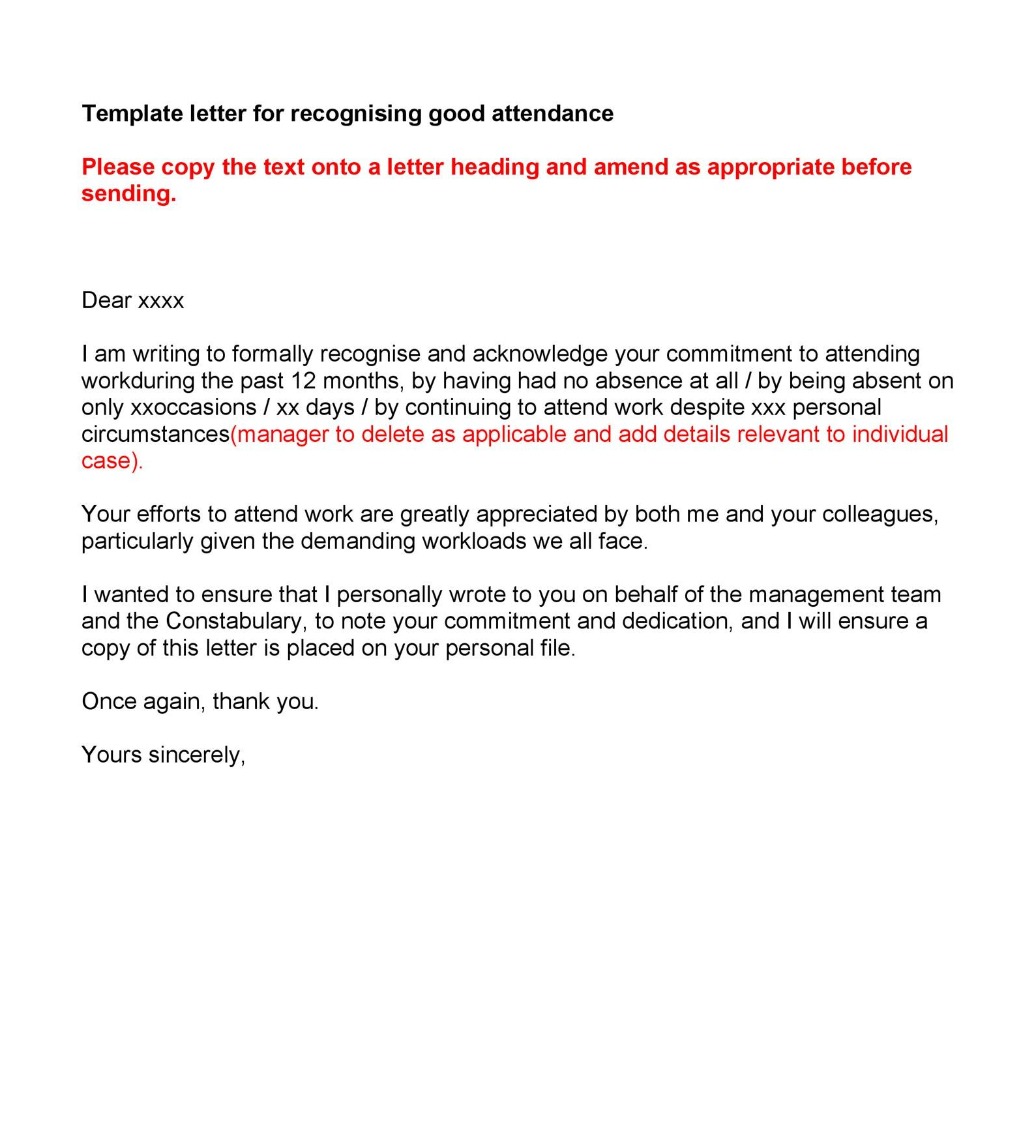 When should an employer give an employee recognition letter?
An employer can give an employee a recognition letter for various reasons, such as completing a significant project, exceeding performance goals, demonstrating exceptional teamwork, or achieving a work milestone. It's also appropriate for acknowledging an employee's actions that reflect positively on the company's values or mission.
What should be included in an employee recognition letter?
An employee recognition letter should include a personalized greeting, a statement of appreciation, details about the specific actions or achievements being recognized, the impact of these contributions, and encouragement for continued success. Closing with a personal sign-off is also recommended.
How can an employee use a recognition letter?
An employee can use a recognition letter as part of their professional portfolio, as proof of their achievements for future career opportunities, or as a motivational tool for personal and professional growth.
Can an employee recognition letter be emailed?
Yes, an employee recognition letter can be emailed, especially when immediate recognition is appropriate. However, a printed letter may have a more personal impact and can be kept as a keepsake.
Should an employee recognition letter be confidential?
The nature of the recognition often determines this. Some recognitions are meant to be public to inspire others, while certain acknowledgments may be more personal and kept private between the manager and the employee.