Crafting an acknowledgment letter is an art of expressing gratitude and recognition for support received. Whether it's for a significant contribution, receipt of a document, or a milestone achievement, acknowledging the gesture is crucial in maintaining positive relationships. Our Sample Acknowledgement Letter Template provides a versatile solution to create a personalized response that is both sincere and professional. From business dealings to academic settings, these templates are designed to fit a variety of contexts, ensuring your message is delivered with the right tone and formality. Explore our collection to find just the right wording to convey your thanks effectively and enhance your professional communication.
1. Acknowledgement Letter Sample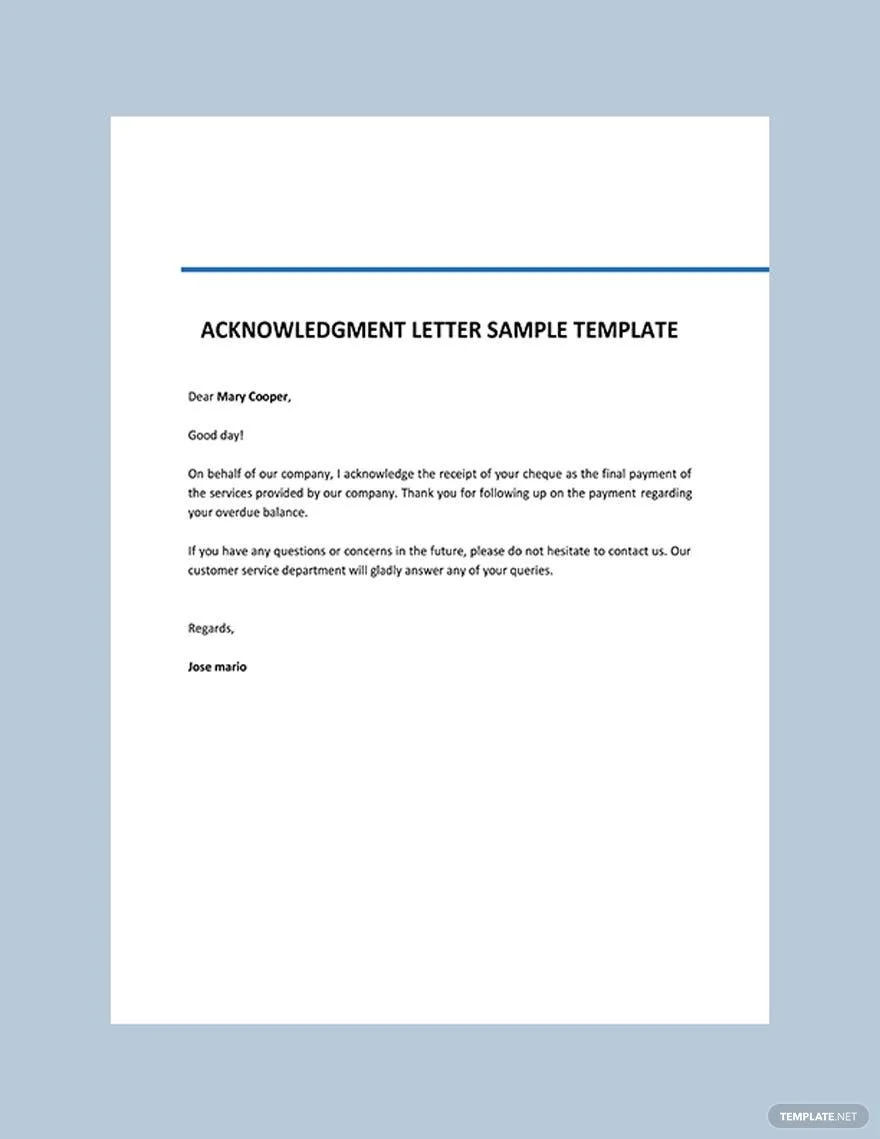 2. Sample Acknowledgement Letter Format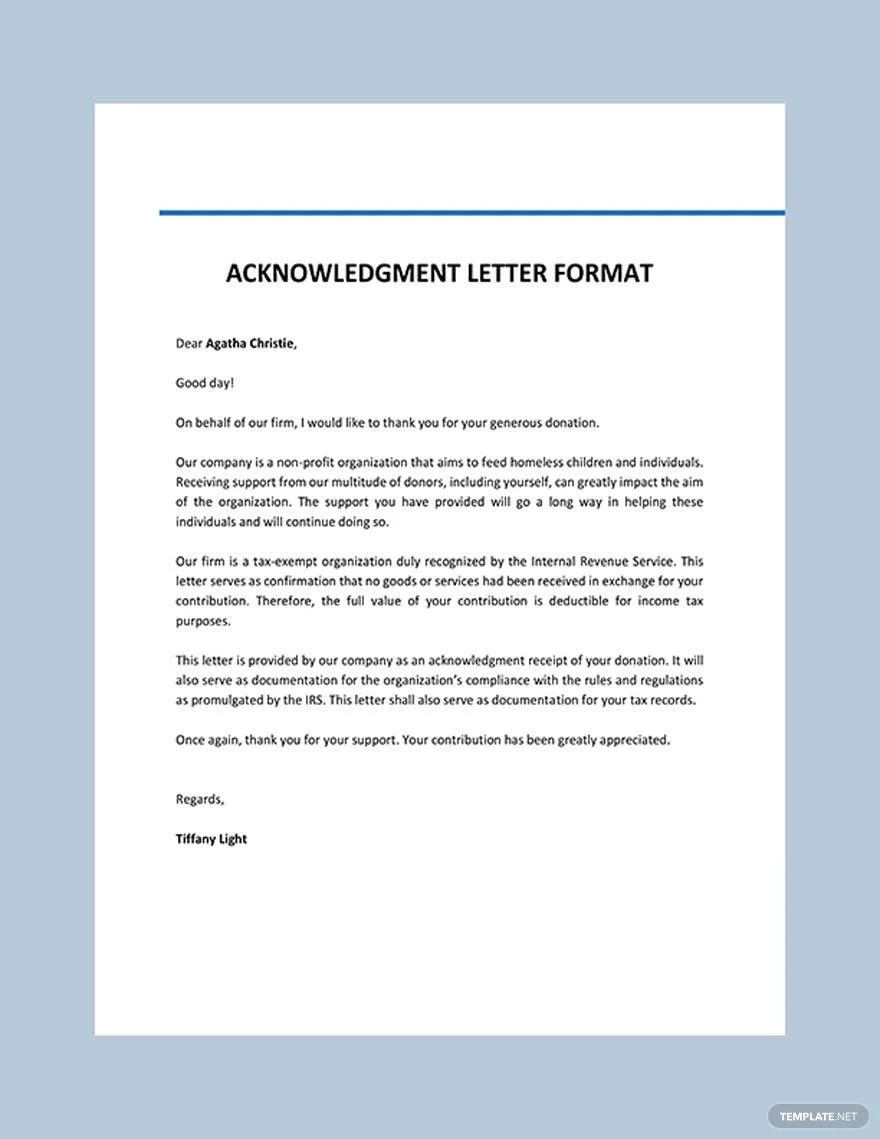 3. Sample Training Acknowledgement Letter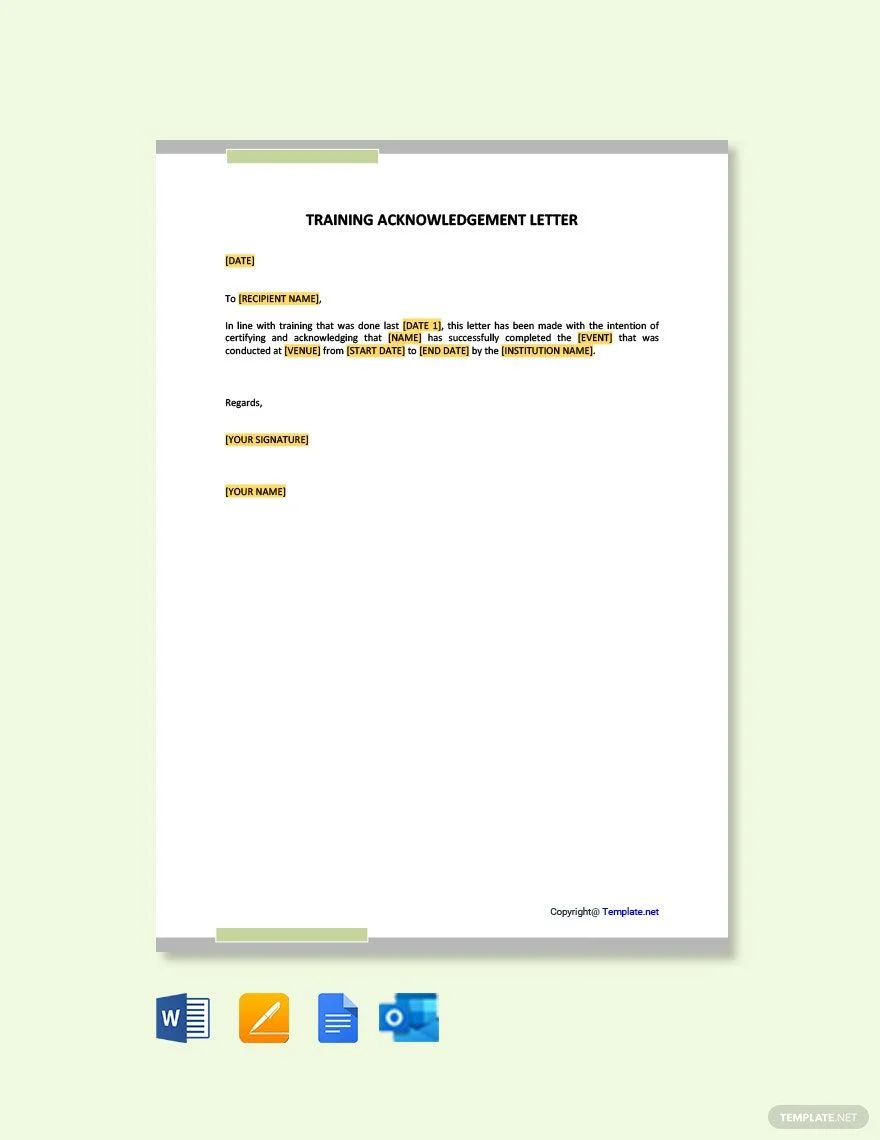 What is an Acknowledgment Letter?
An Acknowledgment Letter is a formal document used to recognize the receipt of something or to show gratitude for a service, favor, or product received. In essence, it serves as a professional courtesy extended by one party to another, documenting the acknowledgment and expressing thanks or confirmation.
When it comes to the business world, an Acknowledgment Letter can be used in several scenarios. For example, when a company receives a shipment of goods, an Acknowledgment Letter may be sent to the supplier to confirm the receipt of products. Similarly, upon receiving a job application, a company might send an acknowledgment to the applicant to confirm that their documents have been received and are under review. This form of communication is crucial as it helps to build trust and transparency between parties, laying the groundwork for ongoing professional relationships.
Acknowledgment Letters are not limited to business exchanges. They can also be a part of academic or personal interactions. A student might send one to a professor who has provided a recommendation letter, or an individual might send a letter to a friend or family member who has given a personal gift or support.
The structure of an Acknowledgment Letter is simple yet should be written with care. It typically starts with the date and the recipient's contact information, followed by a greeting. The body of the letter should clearly state what is being acknowledged and include any relevant details such as dates, specific items, or amounts. If the acknowledgment is for a received service or act of kindness, the letter should convey genuine gratitude and specify how the act was beneficial.
A well-composed Acknowledgment Letter not only confirms the receipt of items or expresses gratitude but also reinforces the professionalism and credibility of the sender. It acknowledges the effort and cooperation of the other party, fostering a sense of appreciation and potentially encouraging future interactions. Additionally, it provides a written record that can be referred back to if necessary, which is particularly important in legal and financial matters.
In conclusion, an Acknowledgment Letter is a versatile tool that plays a significant role in various forms of exchange. Whether it solidifies a transaction, validates the receipt of information, or simply serves to express thanks, its importance in smooth and effective communication cannot be understated. With the digital era making rapid exchanges more common, taking the time to craft such a letter can set a strong foundation for respect and professionalism in any relationship.
4. Sample Job Acknowledgement Letter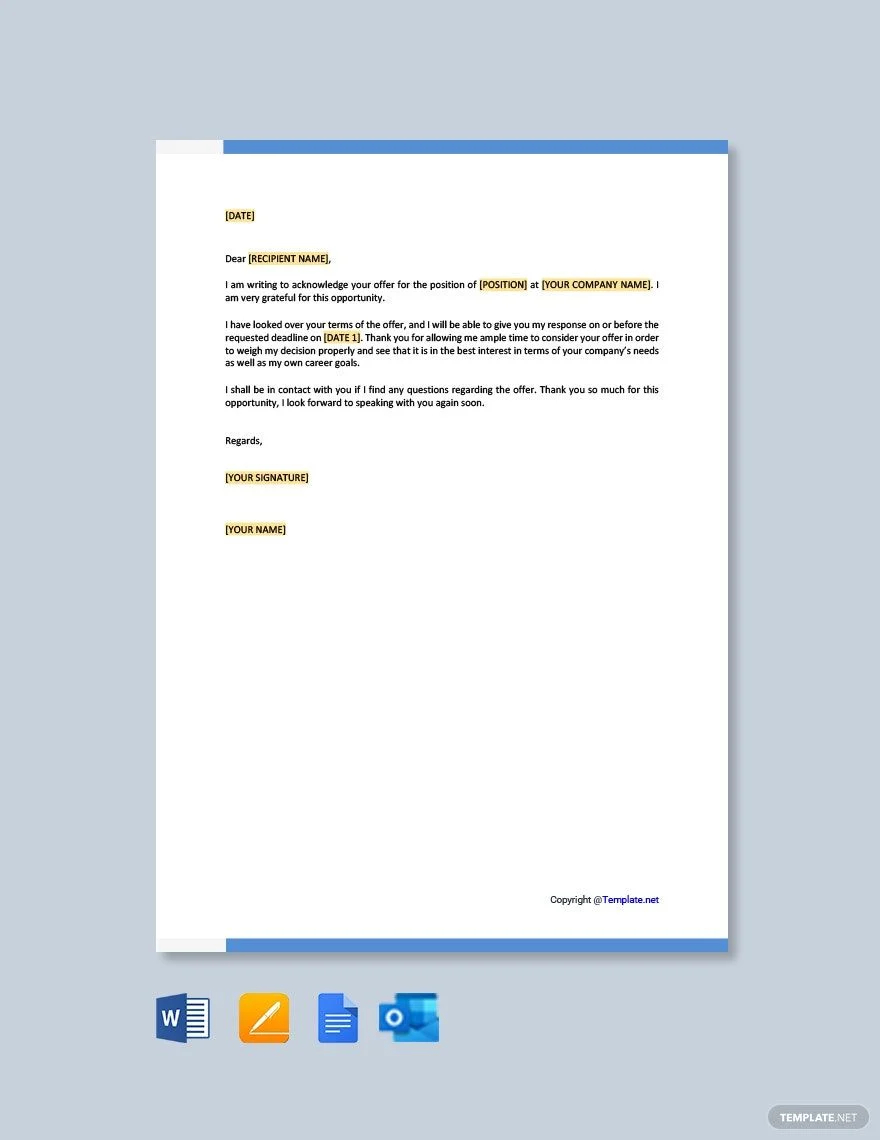 4. Sample Formal Acknowledgement Letter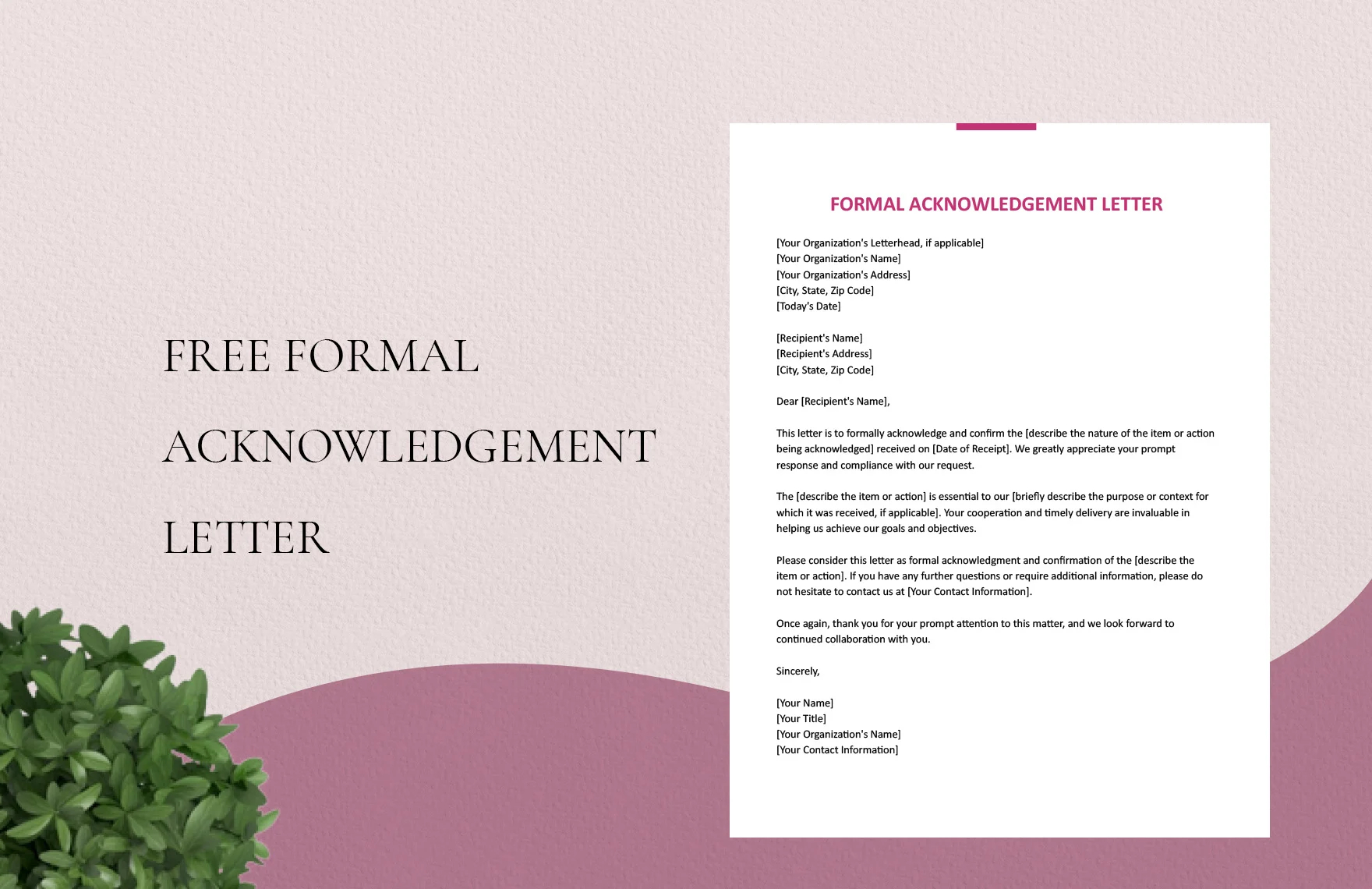 5. Employee Acknowledgement Letter Sample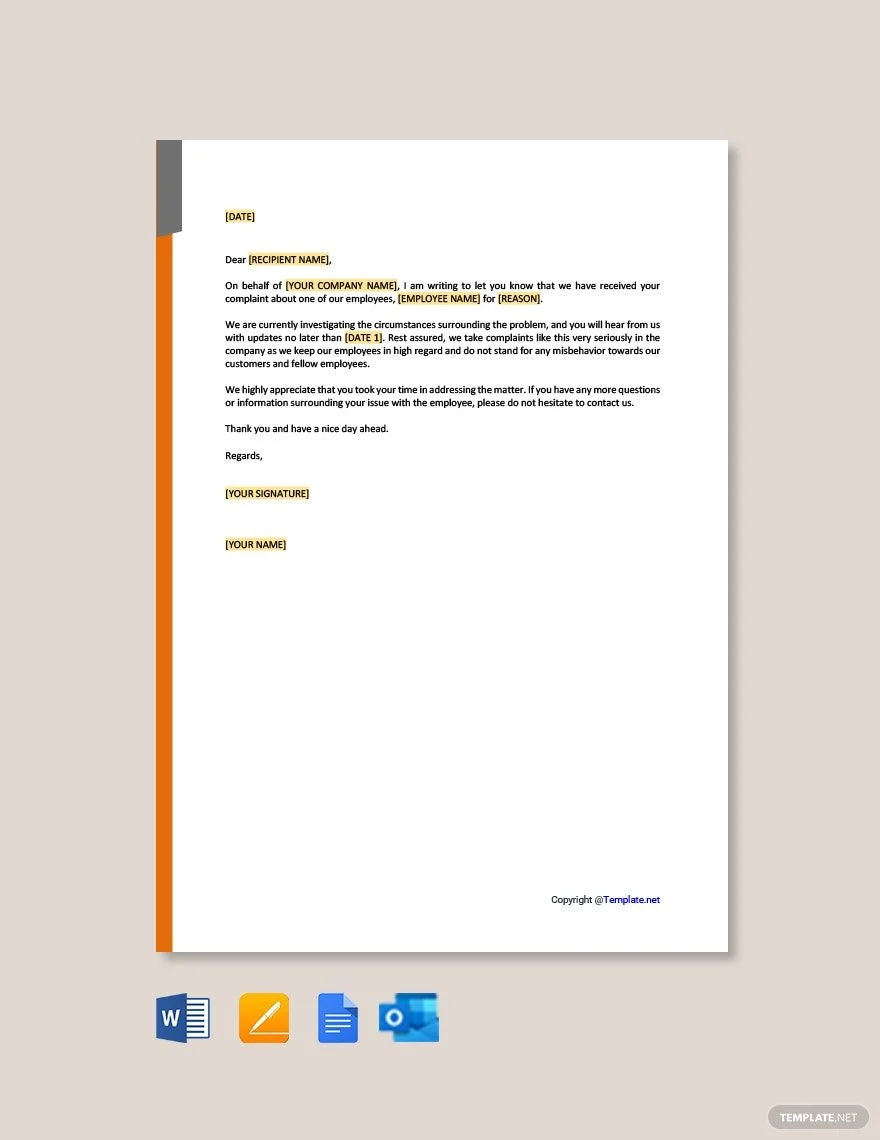 6. Receipt Acknowledgement Letter Sample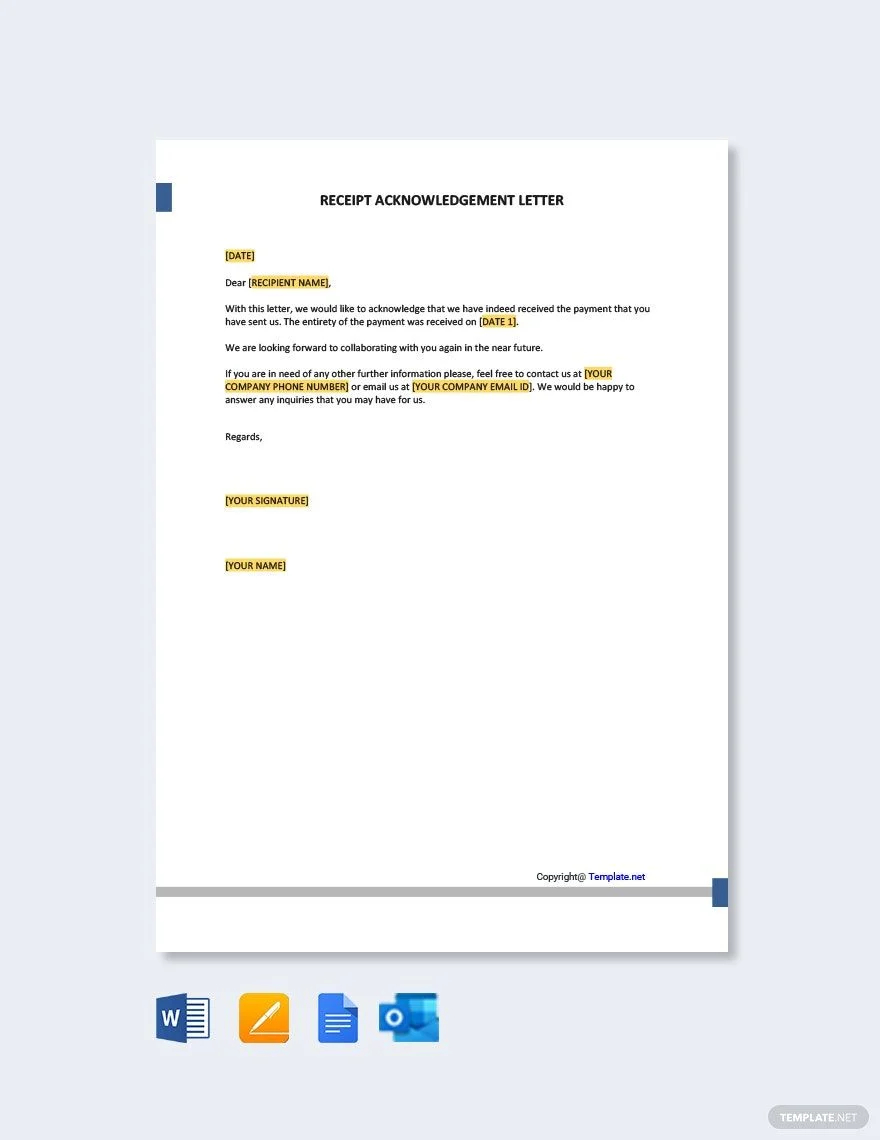 What Should Information Be Included in an Acknowledgment Letter?
An Acknowledgment Letter serves as a formal document to confirm receipt or show appreciation letter, and as such, it should be detailed, clear, and concise. The information included should leave no room for ambiguity regarding what is being acknowledged. Here's what should typically be included in an Acknowledgment Letter:
1. Header and Contact Information:
Sender's Information: Your name, address, and contact details should be at the top of the letter.
Date: The date the letter is written or sent.
Recipient's Information: The name, title, address, and contact details of the person or organization being addressed.
2. Salutation:
A formal greeting, usually addressed directly to the recipient, such as "Dear Mr./Ms. [Last Name],"
3. Acknowledgment Statement:
Clear Confirmation: A clear statement acknowledging receipt of items, documents, or the act that the letter is responding to.
Details of the Transaction or Interaction: Specify details like invoice numbers, project titles, job application details, or any pertinent reference numbers.
Date of Receipt or Interaction: Mention the date when the items were received or when the service or favor was rendered.
4. Expression of Appreciation:
If the acknowledgment is for a service or favor, express gratitude. This should be sincere and may reflect the impact or value of what was received.
5. Additional Details or Next Steps:
Specifications: If applicable, detail the condition of the items received or comment on the completeness of a document or application.
Future Actions: Outline any further actions that will be taken or what the recipient can expect next. For instance, indicate if another communication will follow or if there are additional steps required from their end.
6. Optional Elements:
Personal Touch: Especially when acknowledging a favor or service, a personalized comment about the relationship or the significance of the gesture can be included.
Attachments or Enclosures: If additional documents are being sent with the letter or were received, mention them here.
7. Closing Remarks:
A formal closing that fits the context of the relationship, such as "Sincerely," "Best regards," or "With appreciation," followed by your signature and typed name.
8. Postscript or Additional Notes:
In some cases, a postscript (P.S.) may be added to draw attention to an important detail or afterthought.
Ensuring Accuracy and Professional Tone:
An Acknowledgment Letter should be free of errors, and the tone must remain professional throughout. It is important that the language reflects respect and consideration for the recipient's time and efforts. Double-checking the letter for typos, grammatical errors, and ensuring that all the necessary details are included is essential for maintaining a professional image.
Record-Keeping:
The letter should be saved within company records or personal files for future reference, especially since it might serve as a legal or financial proof of a transaction or communication.
In crafting an Acknowledgment Letter, striking a balance between brevity and completeness is key. The goal is to convey all necessary information in a manner that is both efficient and considerate, recognizing the recipient's contribution while also paving the way for future interactions.
7. Sample Letter of Acknowledgement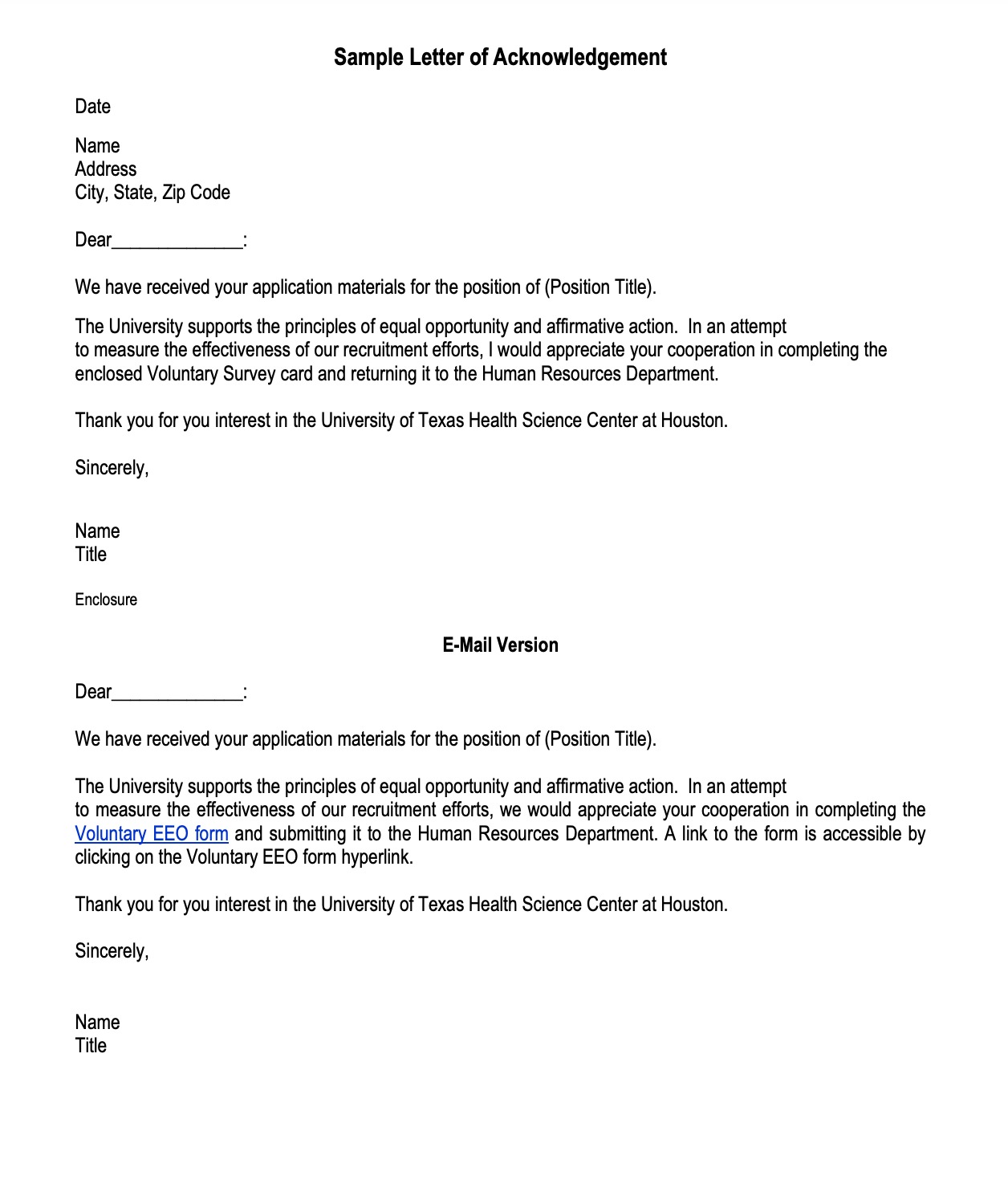 8. Claim Acknowledgement Letter Sample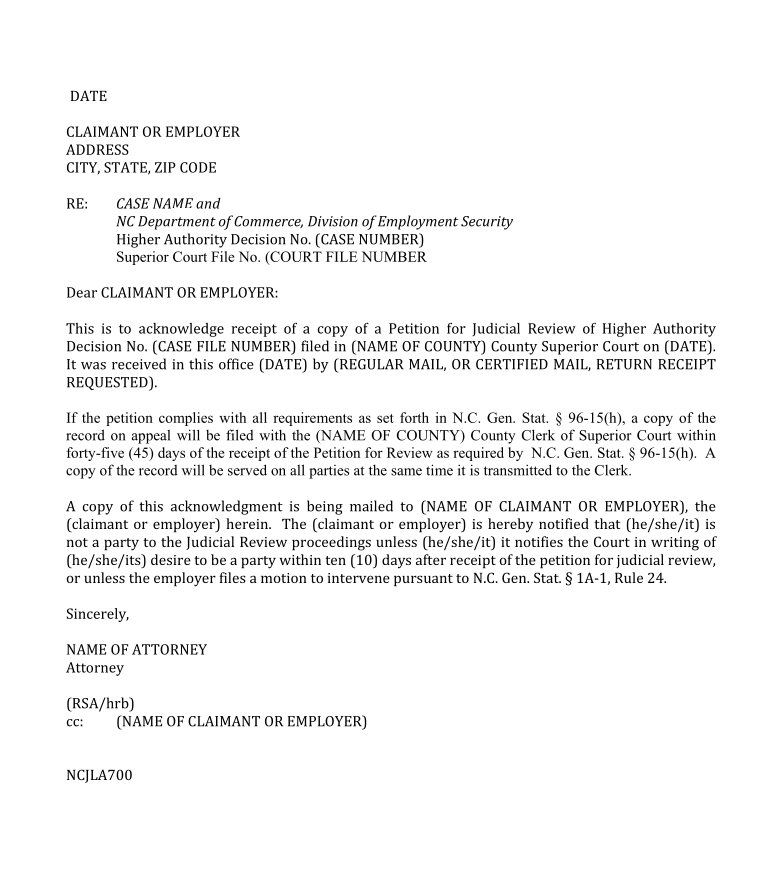 9. Business Acknowledgement Letter Sample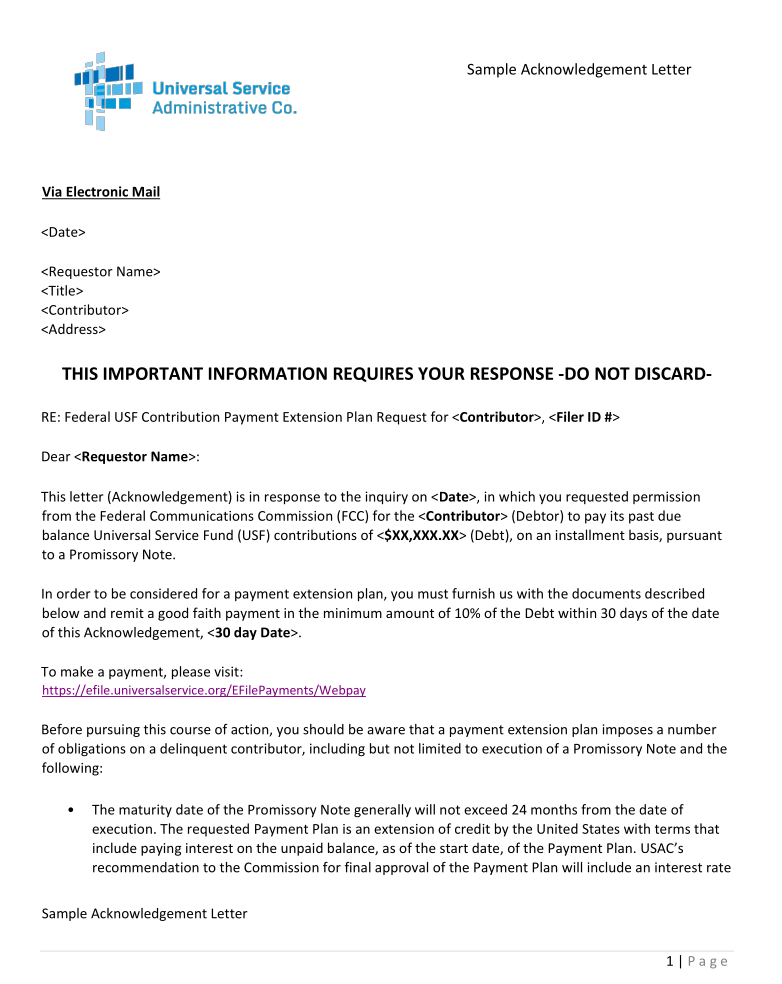 10. Agreement Acknowledgement Letter Template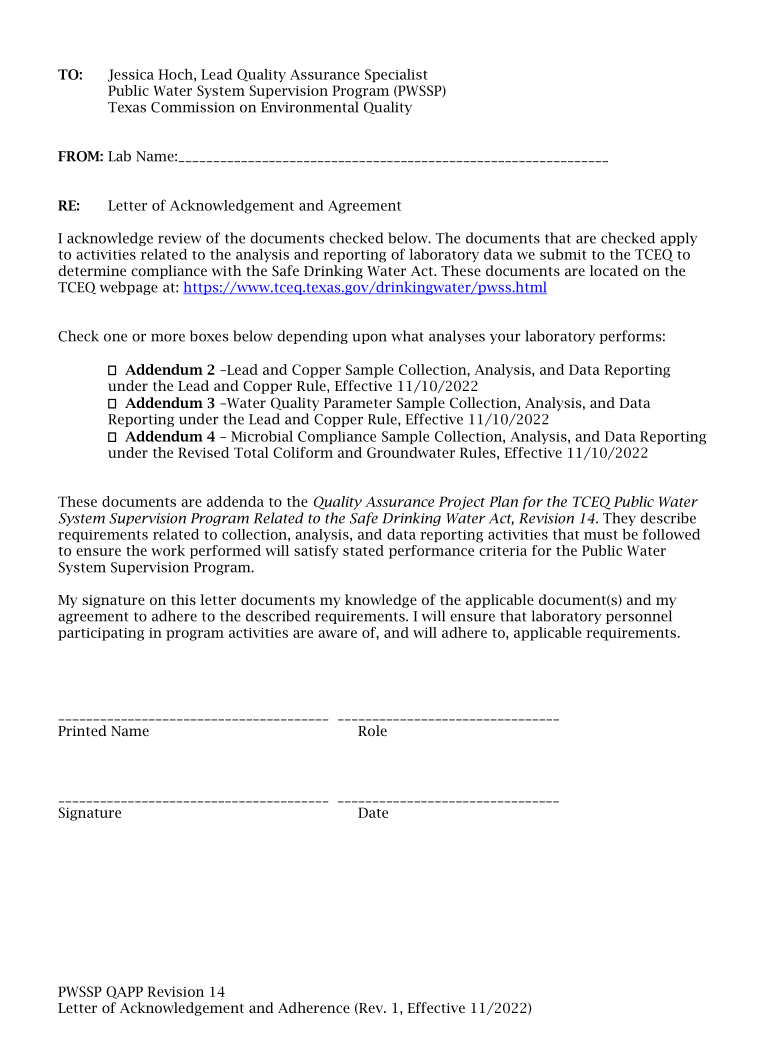 Starting Your Acknowledgement Letter
Initiate your letter by placing your personal or company information at the top left corner. This should include your name, position, the company you represent, and contact information. Beneath your details, write the date the letter is being sent. Following your information, add the recipient's details, consisting of their name, title, and address.
Addressing the Recipient
After your heading, greet the recipient with a formal salutation. "Dear [Recipient's Name]" is standard and respectful, setting a professional tone for your correspondence.
Crafting the Body of the Letter
Acknowledging Receipt or Service
Start the body of your letter by directly stating what you are acknowledging. For example, This letter is to formally acknowledge the receipt of the recent shipment detailed in invoice #12345. When acknowledging a service or act, specify the service and give thanks, such as I would like to express my gratitude for the prompt service provided by your team on [specific date].
Providing Relevant Details
For clarity and confirmation, it is crucial to include any pertinent details. These details can be reference numbers, specific dates, or any other relevant identifiers that would help the recipient understand exactly what you are acknowledging.
Expressing Appreciation
When applicable, include a sentence or two of thanks, showing appreciation for the service, document, or item you received. This section should be sincere and reflect the value of what was provided.
Mentioning Next Steps
If there are any follow-up actions to be taken after the acknowledgment, such as a review, additional correspondence, or further instructions, detail these steps clearly. This not only guides the recipient but also demonstrates your commitment to the process and the relationship.
Concluding Your Letter
Final Thoughts
Before closing, offer a brief concluding thought that reinforces the purpose of your letter. A simple reiteration of thanks or a comment on future collaboration would be fitting.
Closing Your Letter
Conclude with a professional closing, like Sincerely or With appreciation, followed by your handwritten signature (if it's a printed letter) and typed name beneath it.
Review Before Sending
Proofreading
Review your letter carefully to catch any typos, grammatical mistakes, or other errors. A letter free of mistakes conveys professionalism and attention to detail.
Enclosures
Should there be any additional documents accompanying your letter, list them after your signature with the word "Enclosures:" followed by a brief description of these documents.
An Acknowledgement Letter is a key part of professional etiquette. It serves not only as a confirmation of received goods, services, or documents but also as an opportunity to foster positive relations with your business partners, customers, or associates. The above steps will help ensure your letter is crafted with professionalism and care.
11. Resignation Acknowledgement Letter Sample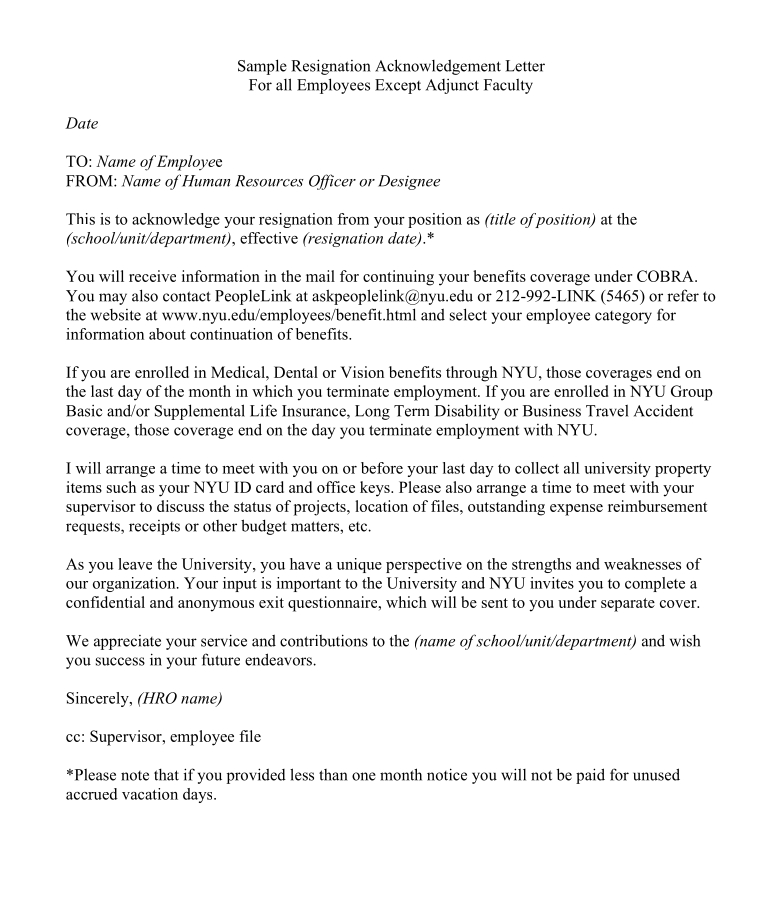 12. Sample Bank Acknowledgement Letter