Embark on the next chapter of life with our Sample Retirement Announcement Letter Template, designed to convey your heartfelt farewell and future aspirations to colleagues and friends alike. This template serves as an essential tool to express gratitude for years of collaboration and to share your excitement for upcoming adventures. Navigating this transition smoothly requires the right blend of nostalgia and forward-thinking, and our guide offers the perfect balance. It's an ideal way to ensure your retirement message resonates with warmth and sincerity. With our sample, creating a memorable and touching retirement announcement is effortless, paving the way for a joyous leap into your well-deserved retirement.
1. Sample Retirement Announcement Letter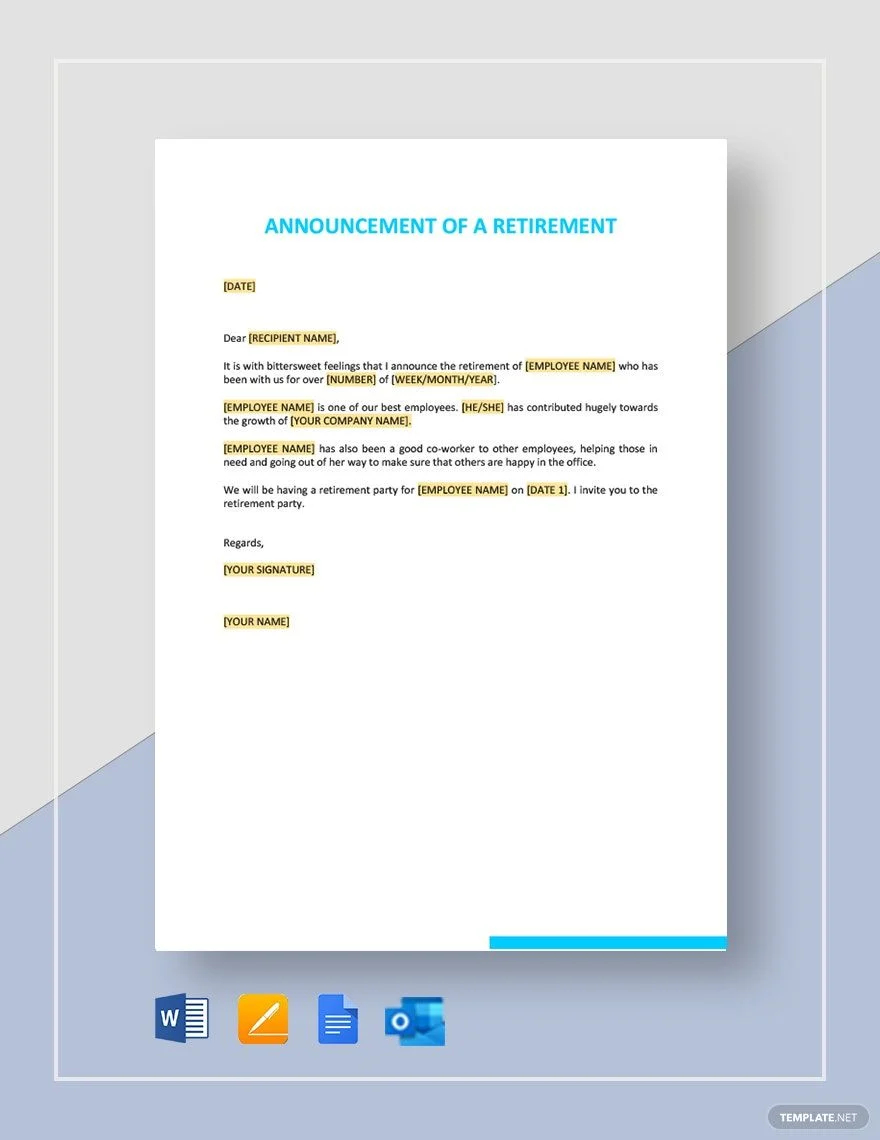 2. Retirement Announcement Letter to Staff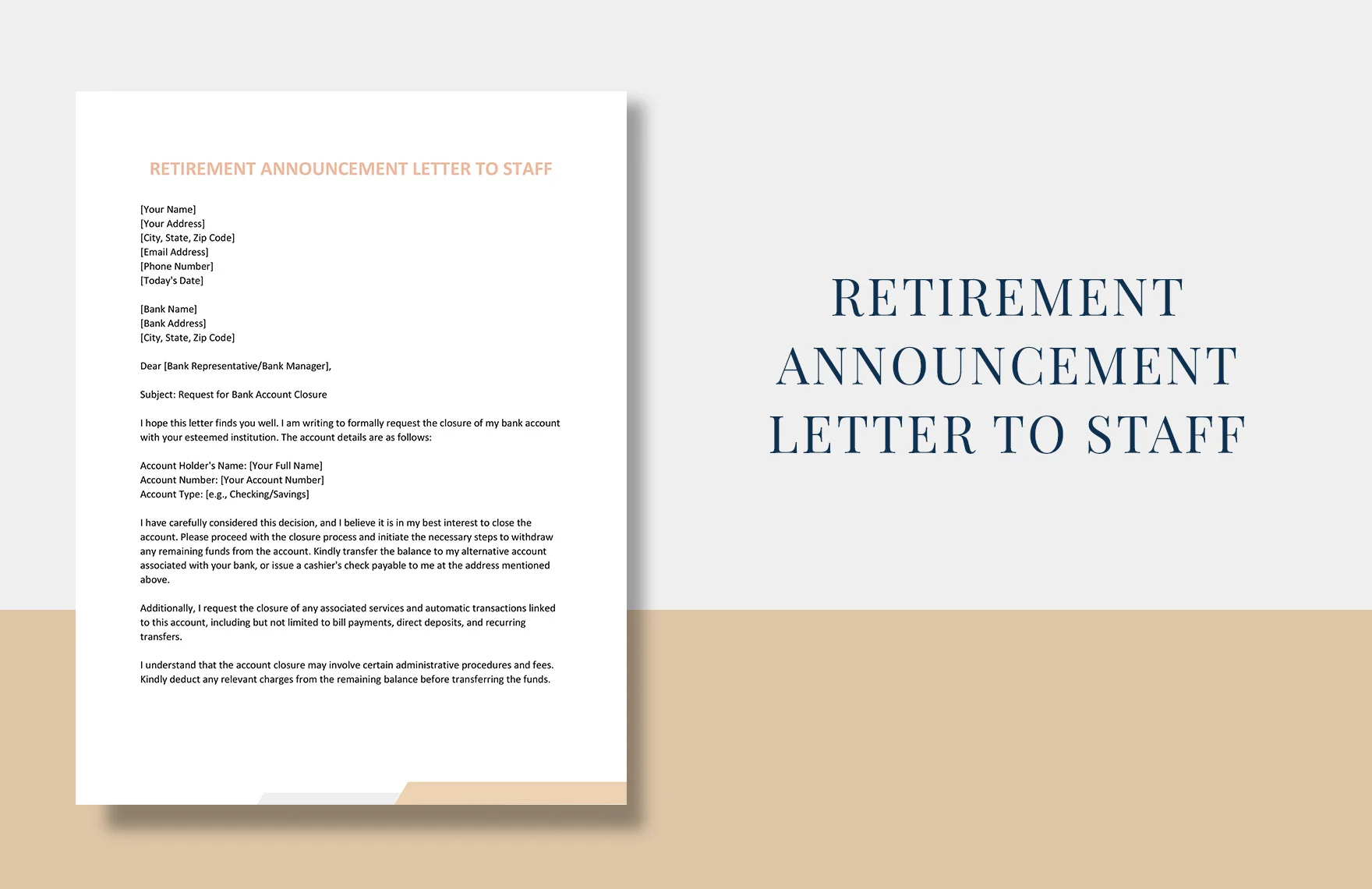 What is a retirement letter?
A retirement letter is a formal written communication that announces an employee's intention to leave their current position and transition into retirement. It serves as an official notification to the employer, providing them with a clear indication of the employee's departure timeline. This letter is an integral part of the retirement process, marking the conclusion of an individual's professional career within a company or organization.
Crafting a retirement letter requires thoughtfulness and consideration, as it not only signifies a significant change in the life of the employee but also impacts the employer and colleagues who have shared in the employee's professional journey. The letter typically includes the retirement date, an expression of gratitude for the opportunities provided by the employer, and sometimes a brief reflection on the experiences and achievements during the tenure of employment.
The tone of a retirement letter is often one of gratitude and respect, acknowledging the collaborative efforts of teammates and the support of the employer. It's a chance for the retiree to express appreciation for years of employment and to highlight memorable moments that have enriched their career. Additionally, it may outline the retiree's hopes or expectations for the transition period, including any offers to assist with the handover of responsibilities or to train a successor.
A retirement letter also serves as a document that initiates the official exit process from the company. It prompts the commencement of finalizing administrative tasks such as settling any outstanding benefits, transferring duties, and discussing retirement benefits. For the employer, it triggers the process of seeking a replacement or redistributing the retiree's tasks among existing staff.
In essence, a retirement letter is not just a courtesy but a pivotal step in ensuring a smooth transition for both the retiree and the employer. It is a testament to a career's worth of contributions and a bridge to the future, reflecting both the end of an era and the promise of what's to come. For many, writing this letter is a profound moment, encapsulating years of service and the mixed emotions that come with stepping into retirement life.
3. Teacher Retirement Announcement Letter Sample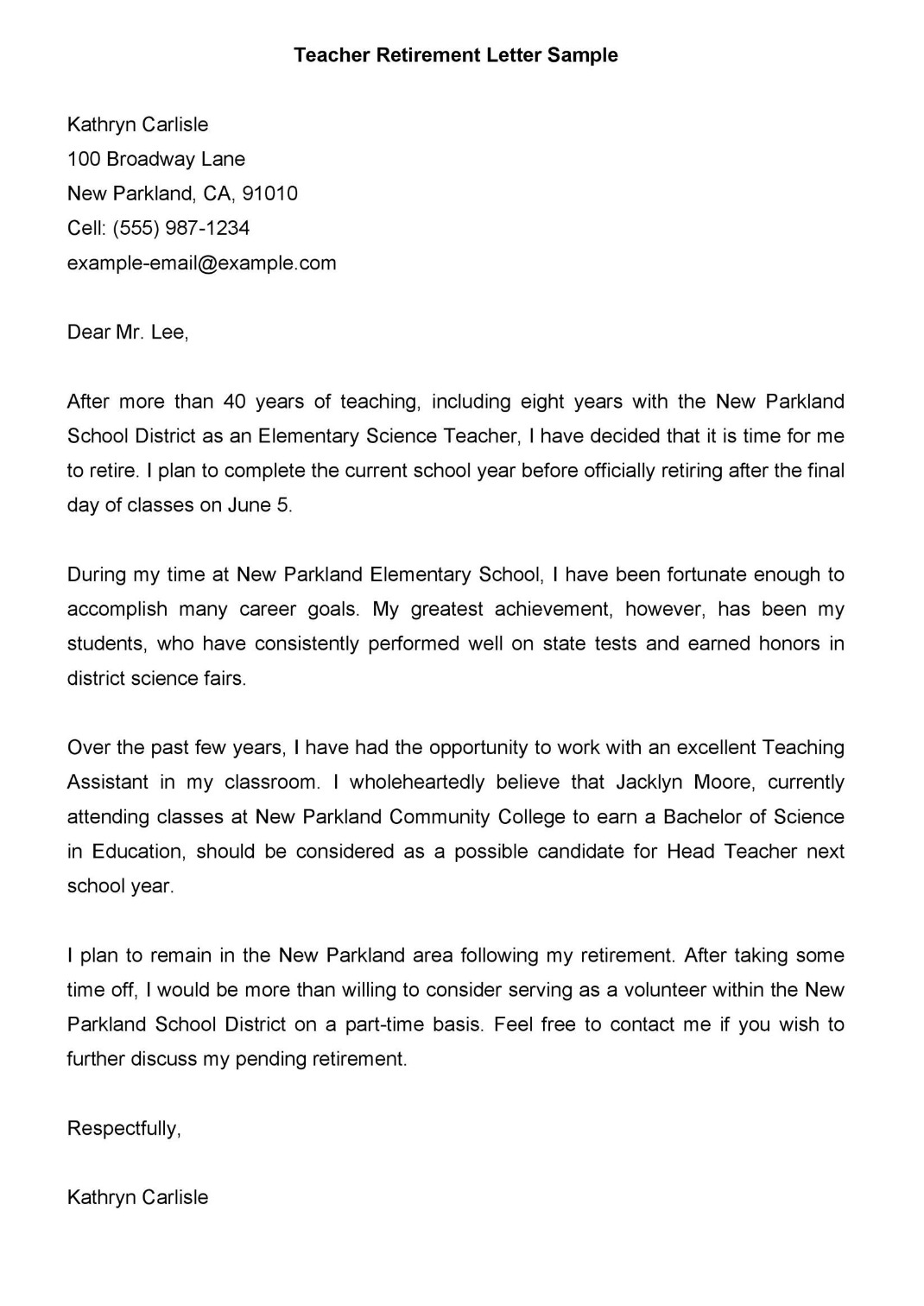 4. Sample Employee Retirement Announcement Letter Template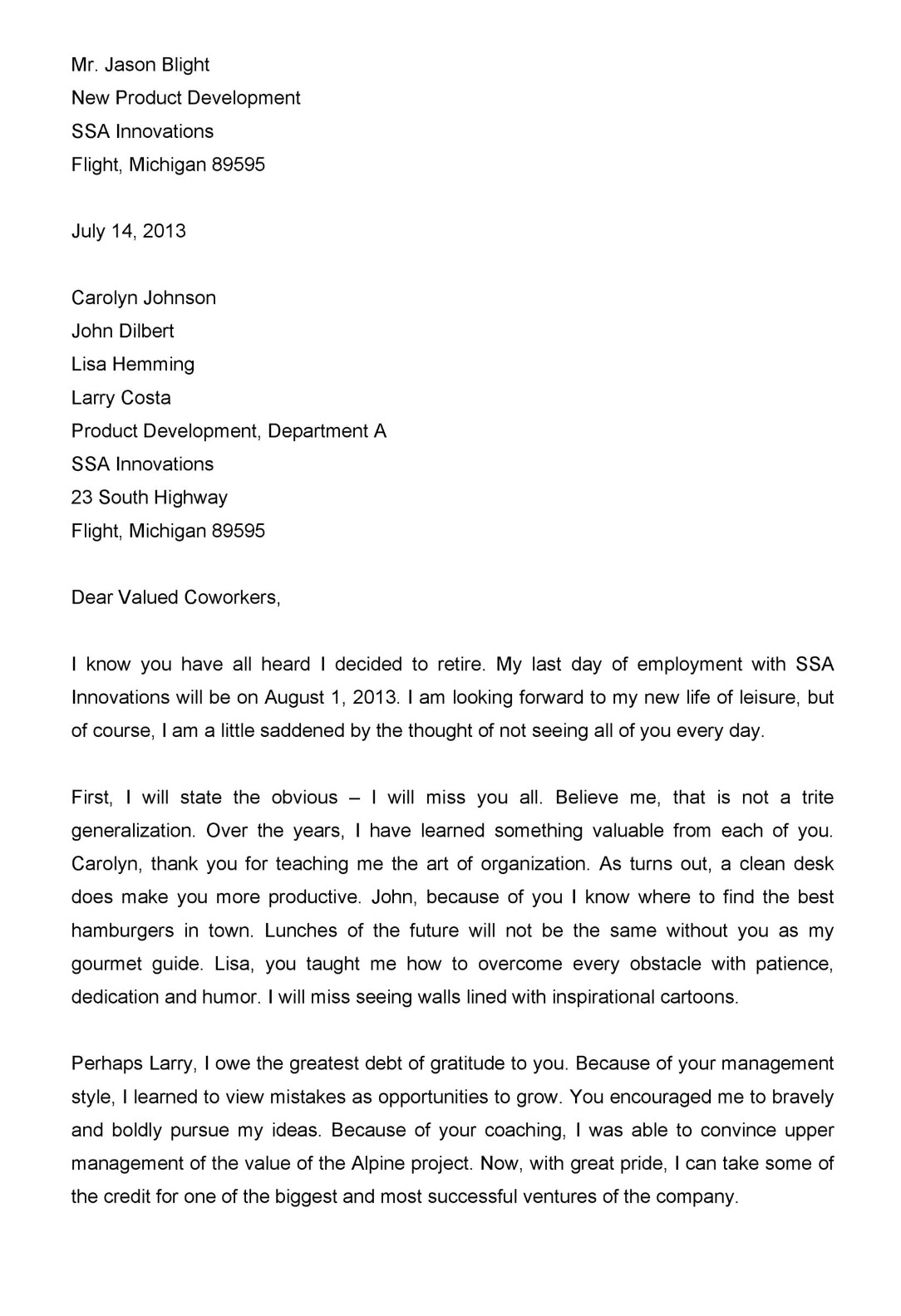 5. Nursing Retirement Announcement Letter Sample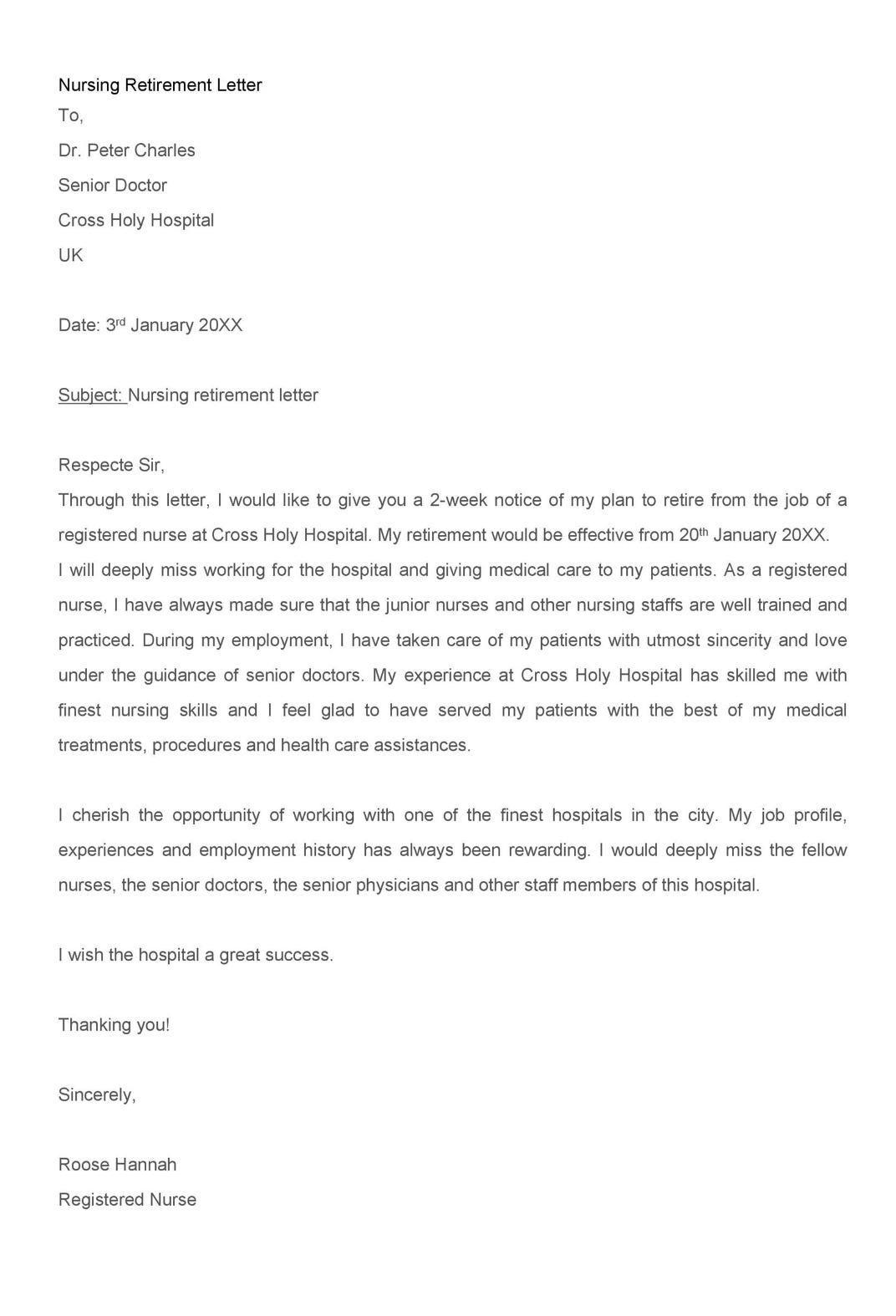 6. Sample Retirement Resignation Announcement Letter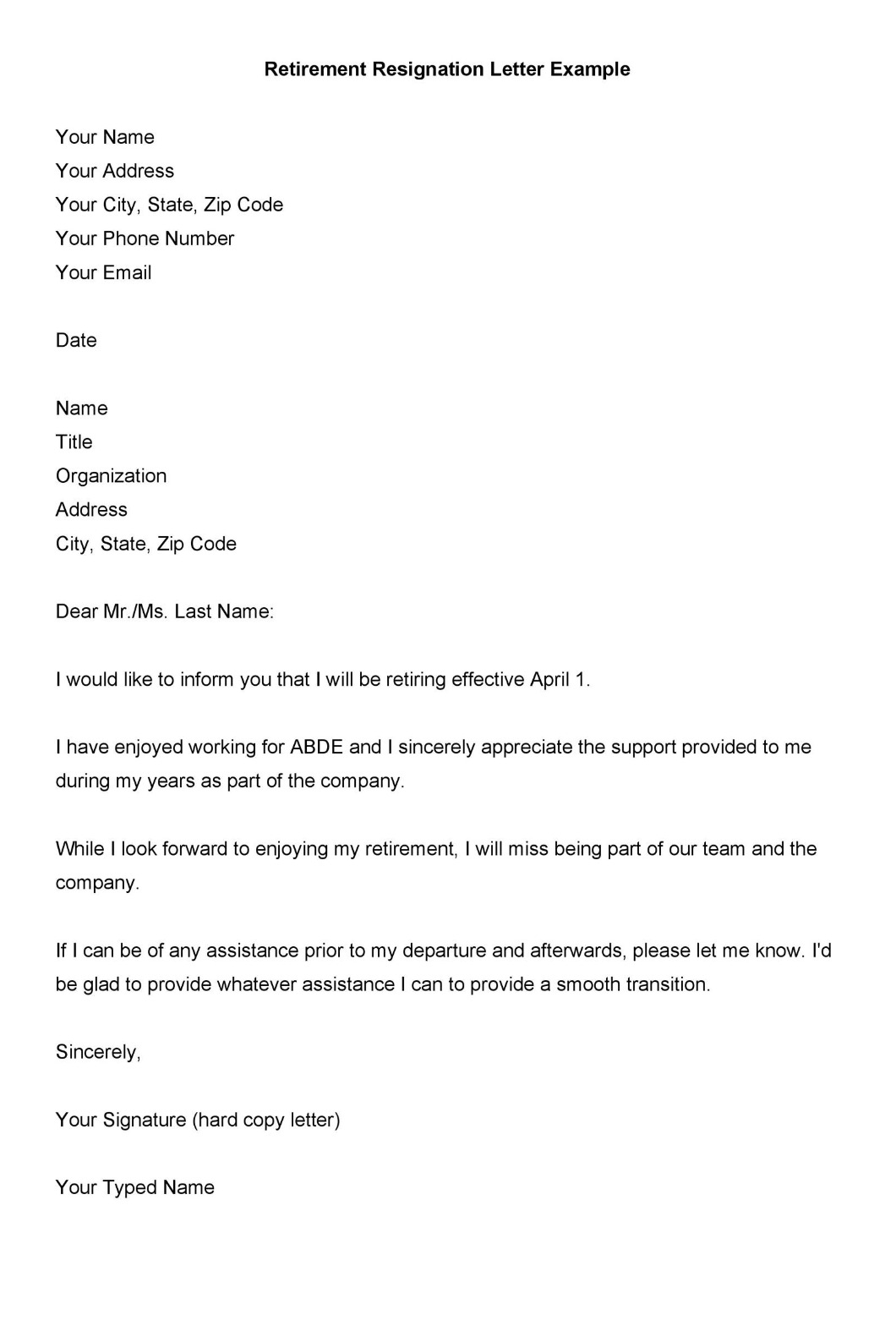 Understanding the Purpose of a Retirement Letter
A retirement letter marks the formal approach to announcing an individual's intention to leave their professional role and transition into retirement. It's a significant document that communicates not only the end of a career but also the beginning of a new chapter. The retirement letter's primary purpose is to inform the employer of the impending departure, providing a definite timeline and expressing a desire to facilitate a smooth transition.
Crafting the Opening of Your Retirement Letter
The beginning of your retirement letter should start with a formal address to your immediate supervisor or the HR department. Directly state your intention to retire and specify the date on which you plan to conclude your employment. This clarity is crucial for your employer to start making arrangements for your replacement or to redistribute your responsibilities.
Expressing Gratitude and Reflecting on Your Career
In the subsequent section of your letter, it's important to express your thanks for the opportunities you've been afforded during your tenure. Reflect on your journey, noting the growth and accomplishments you've achieved and the relationships you've built. This not only shows your appreciation but also emphasizes the value you've added to the company.
Offering Assistance During the Transition
Moving forward, it's both courteous and helpful to offer your assistance with the transition. Whether it's training your successor, finishing projects, or simply providing advice, your willingness to help will be well-received and can greatly ease the handover process.
Discussing Next Steps and Formalities
Discuss any formalities that need to be completed before your retirement. This could include finalizing paperwork, discussing retirement benefits, or outlining the remaining projects you will complete. These details ensure that both you and the employer are on the same page regarding the final stages of your employment.
Concluding Your Letter Positively
End your letter on a positive and forward-looking note. Wish the company and your colleagues well and express your hope for their continued success. This leaves the door open for future interaction and maintains good will.
Final Touches to Your Retirement Letter
Close your letter with a formal sign-off, such as Kind regards or With appreciation, followed by your handwritten signature and typed name. Before sending, proofread your letter carefully to correct any mistakes and ensure the tone is appropriate.
A well-composed retirement letter serves as the last formal impression you'll leave with your employer. It should be approached with the same professionalism and care that characterized your work, serving as a fitting end to your professional legacy.
7. Sample Retirement Announcement Letter to Friends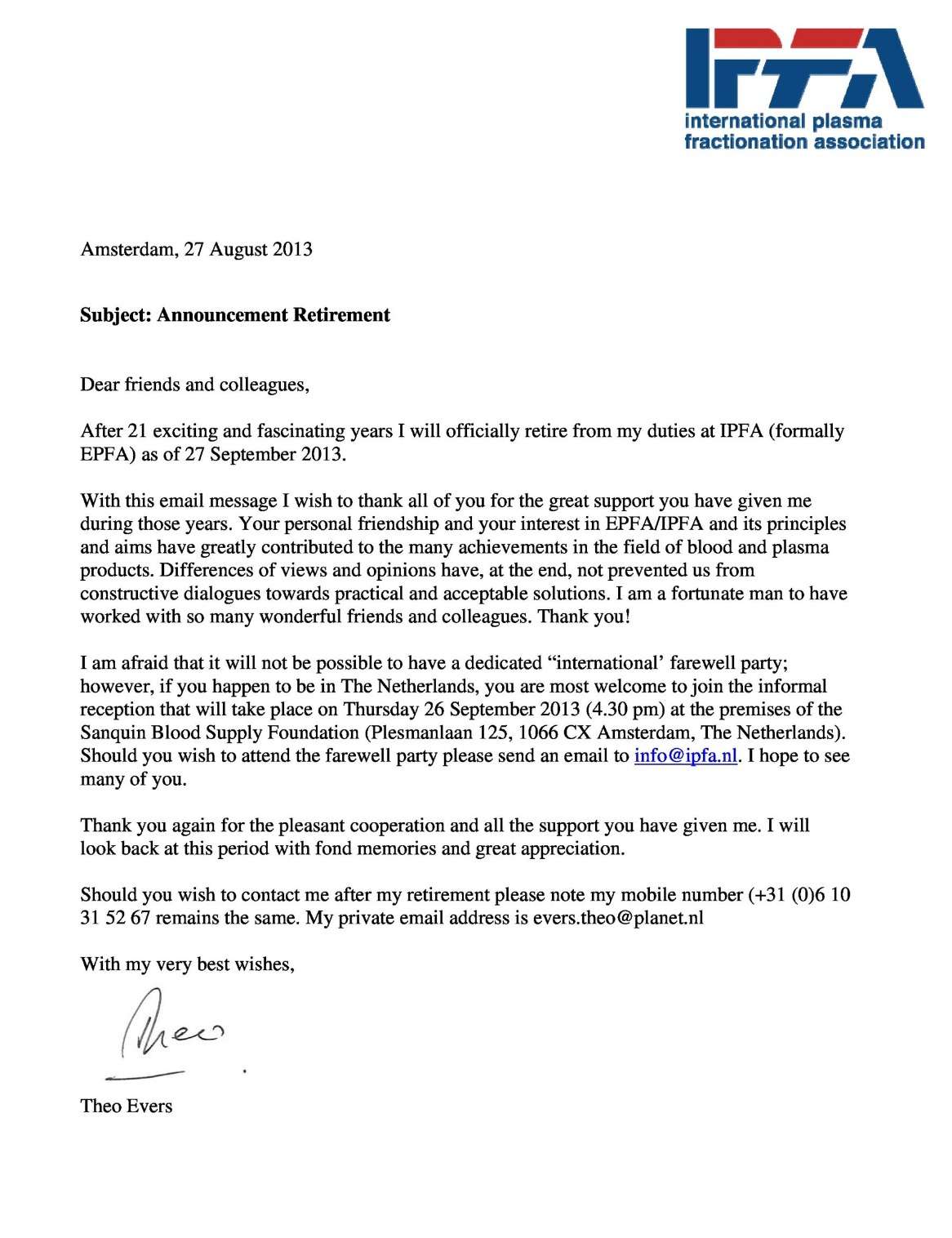 8. CEO Retirement Announcement Letter Template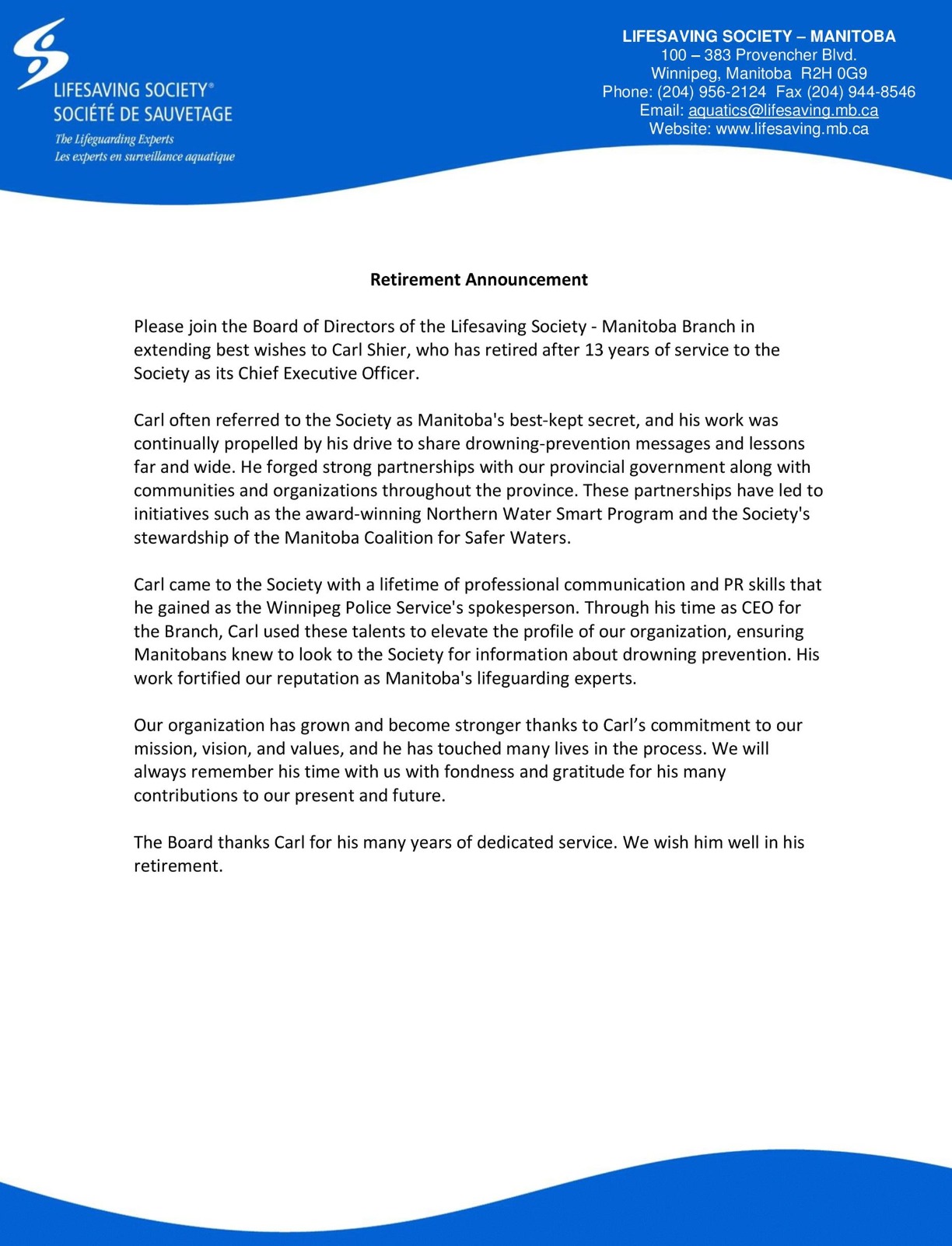 9. Doctor Retirement Announcement Letter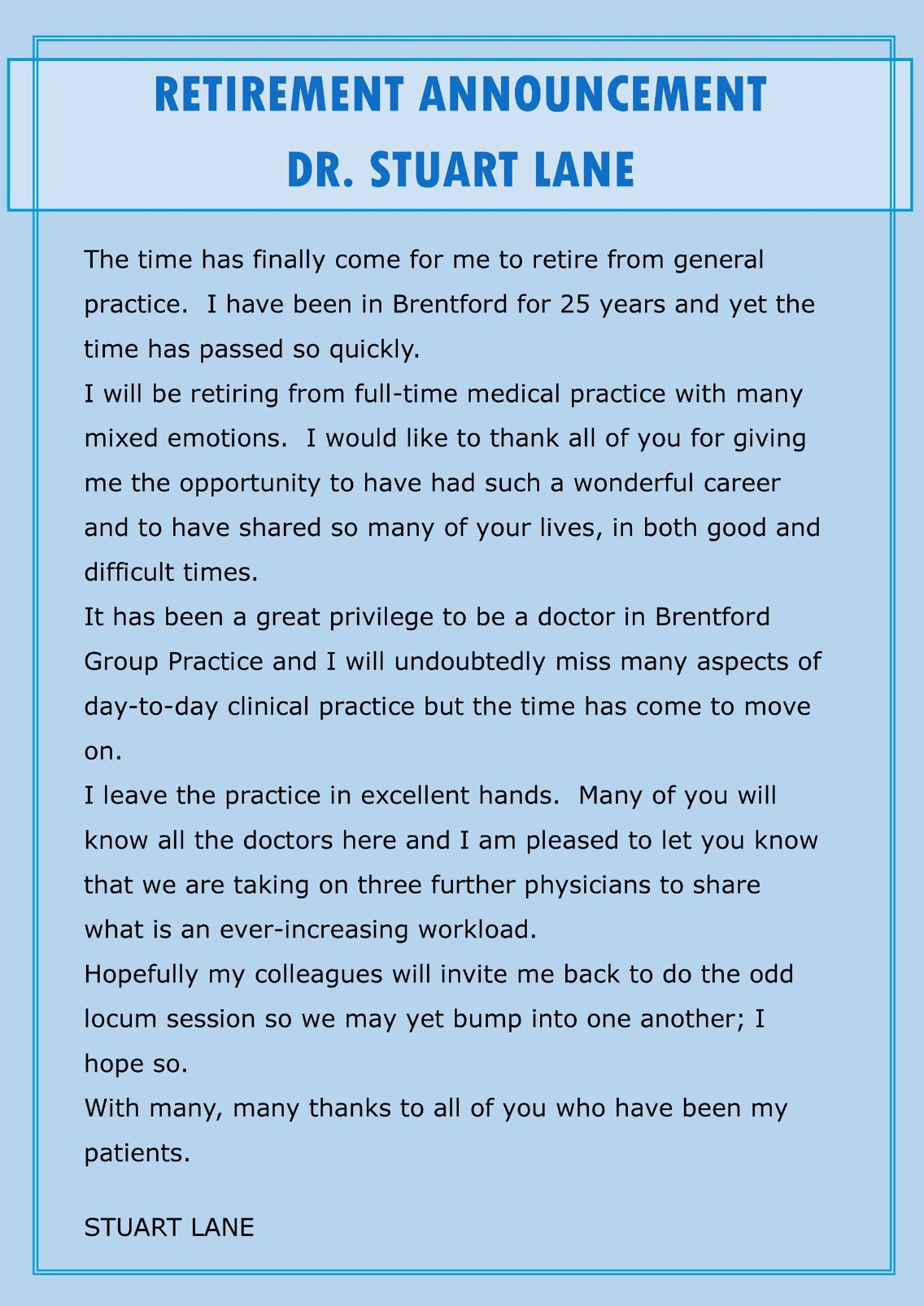 Steps to take when making a retirement announcement
Step 1: Planning Your Announcement
Begin by deciding when you would like to retire, considering any personal goals or financial planning implications. Once you have a date in mind, review your company's retirement policies to ensure you comply with any required notice periods or procedures. Planning well in advance allows you to approach this transition methodically and to communicate your decision at an appropriate time.
Step 2: Communicating with Key Individuals
Before making a broad announcement, speak privately with your immediate supervisor or the human resources department. This courtesy allows them to prepare for the operational and personnel adjustments that your departure will necessitate. During this conversation, you can also discuss how the news will be shared with the rest of the team and who will make the announcement.
Step 3: Crafting Your Retirement Letter
Write a formal retirement letter to your employer. This letter should state your retirement date, express gratitude for your employment experience, and offer support for the transition period. Refer to the guide on writing a retirement letter for details on structuring this important document.
Step 4: Announcing to Colleagues
After notifying management, coordinate with them on the best approach to inform your colleagues. Whether it's a staff meeting, a company-wide email, or a more personal approach, it should suit your workplace culture and the level of interaction you've had with your coworkers.
Step 5: Managing the Response
Be prepared for a variety of reactions from colleagues and management. Some may have questions about how your role will be filled or how work will be redistributed. Maintain openness and offer insight or reassurance about the transition and how you envision it happening.
Step 6: Assisting with the Transition
Engage in the transition process by providing thorough documentation of your current projects, training your successor if one has been chosen, and ensuring that your duties can be easily assumed by others. Your active participation in this phase can significantly ease the changeover for the team.
Step 7: Updating Your Professional Contacts
Inform any external professional contacts of your retirement, providing them with new contact details if you wish to stay in touch. This includes clients, counterparts at other companies, and anyone else in your professional network.
Step 8: Planning Your Farewell
Consider how you would like to celebrate your retirement. Some prefer a quiet exit, while others may appreciate a party or a formal send-off. Communicate your preferences to whoever is organizing your farewell.
Step 9: Reflecting on Your Career
Take time to reflect on your career accomplishments and how you have impacted your workplace. This is also an opportune moment to consider your goals and activities post-retirement.
Step 10: Embracing the New Chapter
Finally, as you make your announcement and go through the last days at work, embrace the transition with a positive outlook. Retirement is not just an end, but also the beginning of a new and exciting chapter in life.
Throughout these steps, ensure that your communication is clear, and your approach is thoughtful and organized. By taking these steps, you can make your retirement announcement a smooth and respectful process that honors your professional legacy.
10. Staff Retirement Announcement Letter Template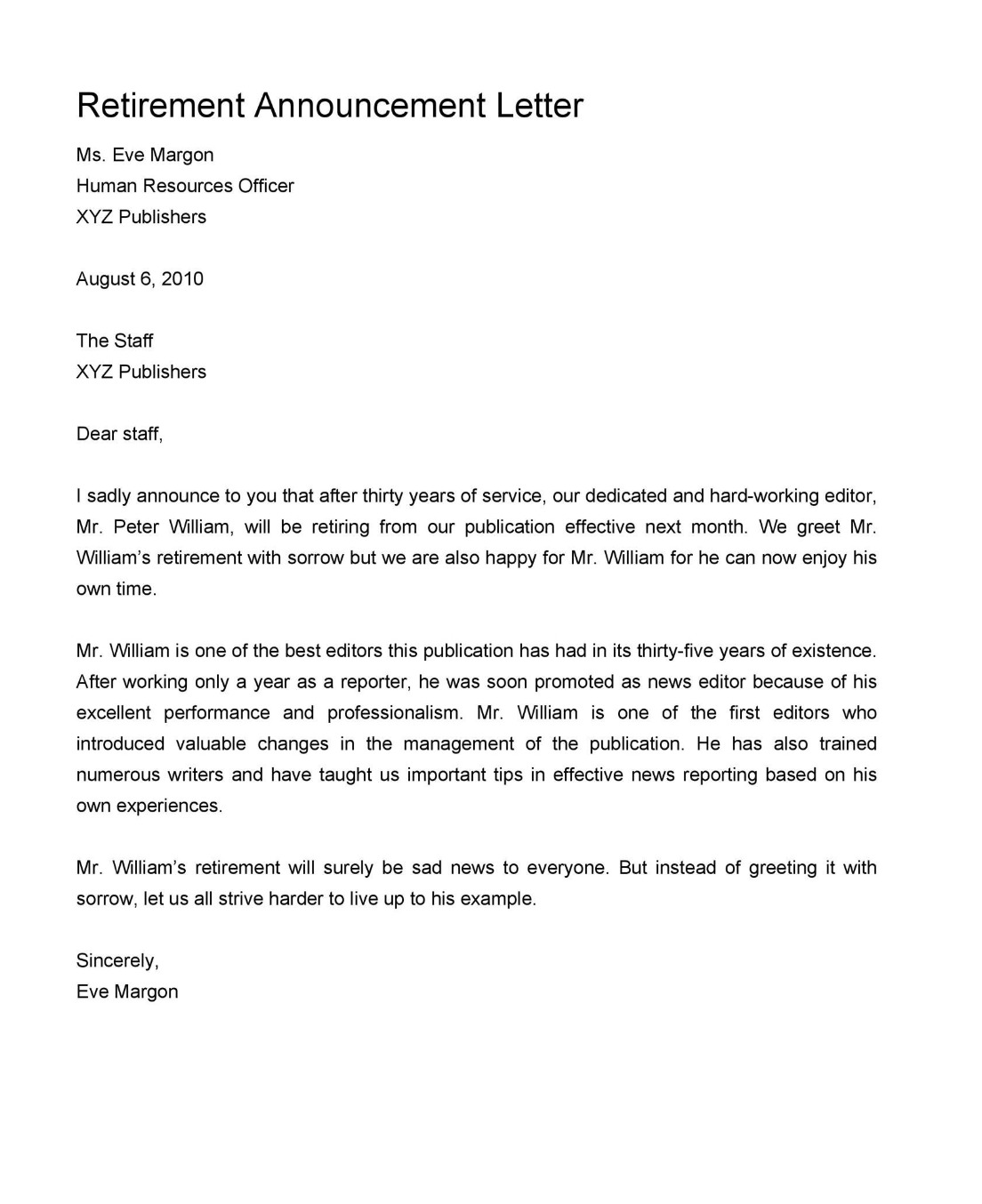 What is a retirement announcement letter?
A retirement announcement letter is a formal communication written by an employee to inform their employer and colleagues about their decision to retire. It includes details such as the planned retirement date and often expresses gratitude for the work experience.
Who should I address my retirement announcement letter to?
It's best to address your retirement announcement letter to your immediate supervisor or manager. They will guide you through the process and ensure the information is communicated appropriately within the organization.
When should I submit my retirement announcement letter?
The timing can vary depending on company policy, but generally, it is courteous to submit your letter at least one to three months in advance. This gives your employer ample time to plan for your replacement or the transition of your duties.
Can I send my retirement announcement via email?
Yes, an email can be an acceptable way to submit your retirement announcement, especially if your company usually communicates digitally. However, it's often recommended to follow up with a hard copy as well.
What should be included in a retirement announcement letter?
Your letter should include the announcement of your retirement, the effective date of your retirement, a thank-you to your employer and colleagues, any notable highlights of your career with the company, an offer to assist with the transition, and a formal sign-off.