There are things that doesn't really need to be reported on a daily basis and may need to be reported more than once a month. That report is what we call a weekly report. A weekly report contains details of the progress or status of a certain project. It helps in closely monitoring tasks, activities and items that must be tracked. It is even used to monitor the progress of individuals or employees on things that they are struggling with both at work and for personal matters. Here you will find different sample reports that you can use either as a reference or as a template to help you make your own report.
Weekly Report Samples
1. Weekly Status Report Template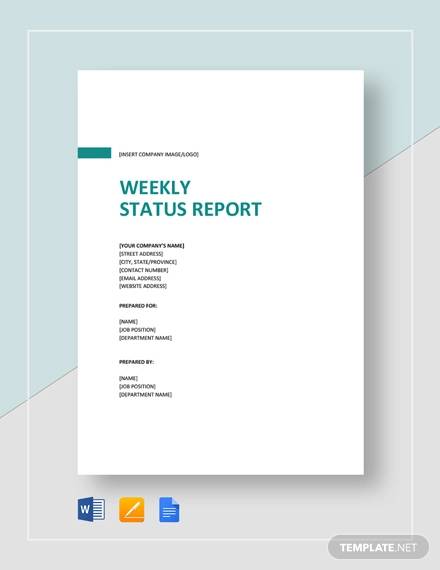 2. Weekly Sales Report Template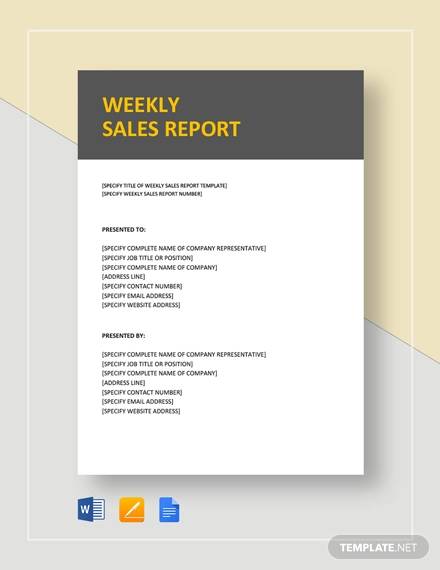 3. Weekly Activity Report Template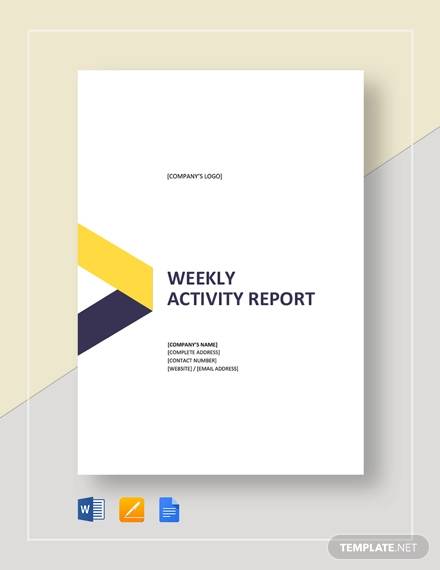 4. Weekly Sales Activity Report Template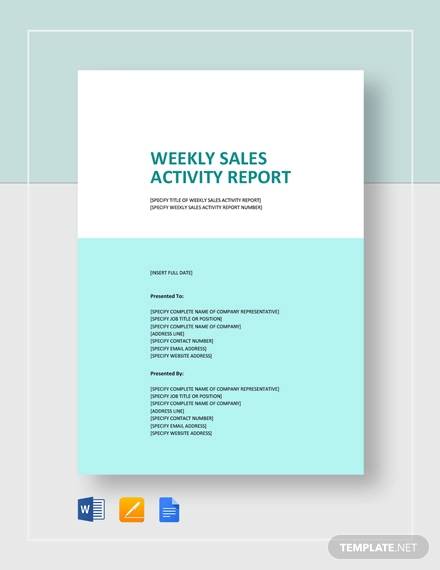 5. Weekly Operations Report Template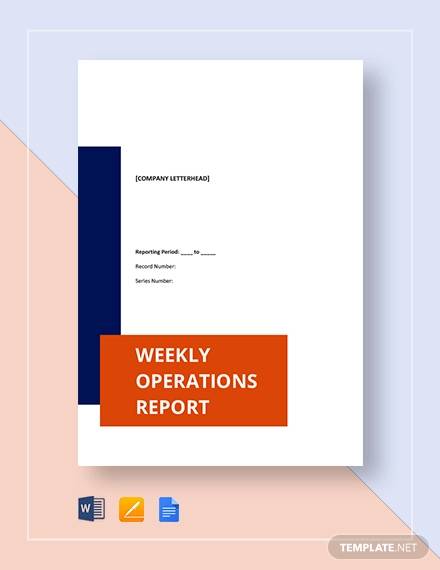 6. Free Weekly Project Status Report Template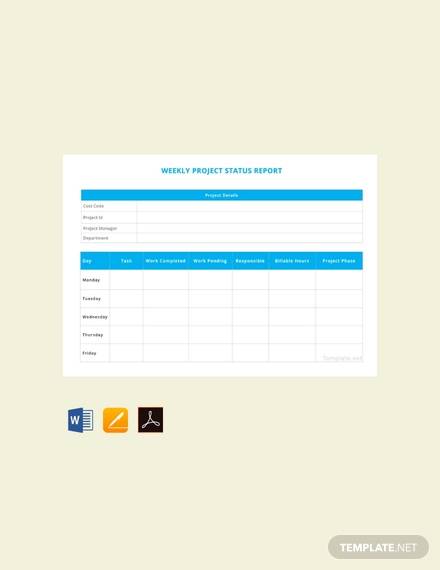 7. Free Blank Weekly Project Status Report Template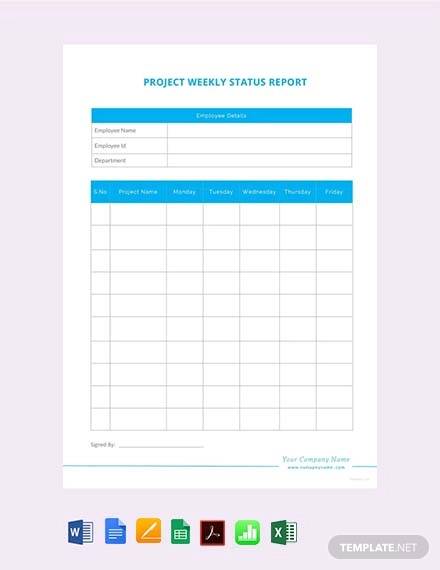 8. Free Weekly Progress Report Template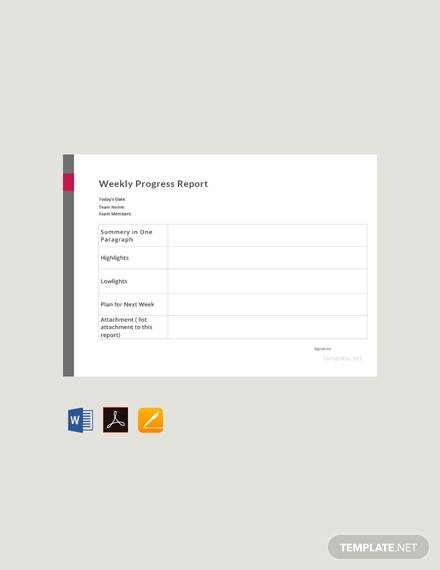 9. Weekly Project Progress Report Template
When tasks to keep track of the progress of a certain project, the best tool to use to help you accomplish the task easily and conveniently is a weekly project progress report template. Why this template? That is because this template has a list of everything that you need to do to make an informative weekly progress report. You'll just need to supply the information asked and once the template is complete, then you are ready to present the report that you worked hard on.
10. Sample Weekly Construction Progress Report
Provide complete and detailed construction reports all the time by just by using a weekly construction progress report. With this template, you will be able to come up with a professional-looking and updated construction report. It uses a really neat and simple layout where the different sections of the report are separated so that they won't mix up with all other details entered in the template. It's also a printable document so you can prepare as many copies as you need beforehand.
11. Sample Weekly Activity Reports
At some point, you will be required to make a report about a certain activity, whether it be a school activity or an activity that you have at work. For that, you will need a weekly activity report sample to serve as your guide when you start writing your piece. Several other report samples using different report writing format are provided in this document so you can choose which style best fits your needs and preferences.
12. Weekly Operations Report Template
Companies and businesses use operations reports as a source of information, especially when it comes to getting updates on how the companies operations are doing and what they have accomplished. A lot of company employees make use of the information contained in the report and it is even used as a basis for making decisions. One can conveniently make reliable operations report using this easily customizable weekly operations report template. It will surely be worth your time.
13. Sample Weekly Email Report
Not all reports are meant to be printed. Some reports may need to be sent through email, just like the sample above. There are some differences between printed reports and email reports and you will notice all that by checking out the sample. The weekly report sample is created by an intern and the subject of the email tells us that. As you can see, the report is written in letter format where you can see the greeting, the body of the letter and the name of the intern who wrote it. Use this sample as a reference for the report you are currently working on.
14. Weekly Purchase Report Template
What is a weekly purchase report? A weekly purchase report is a document where all the purchases done within one week is recorded for documentation purposes. The report helps businesses keep track of the things that they are buying for the company or their expenses and know where their money is going. There may be a lot of purchases done within a week, so it's a good thing to have a weekly purchase report template ready whenever you need one. It's the key to having a complete record of your purchases.
15. Team Member Weekly Status Report Template
When you need to keep a record of the tasks or activities that each of your team members have accomplished for the week, then you can rely on this team member weekly status report template. The template is available in Word so you now that it can be easily edited to that of your preferences and needs. The template is also made short and simple so that readers can get the information that they need from the report with just a glance. Save yourself some hassle and use this sample template for your convenience.
16. Weekly Sales Call Report Template
Record all of the sales calls that you have made for the entire week in this weekly sales call report template. You may print as many copies that you need. Using this template will make your task easy and convenient to do. You'll even have extra time for doing other things.
17. Bi-Weekly Progress Report Template
Need to make a progress report twice a week? Then use this bi-weekly progress report template. This sample template is customizable and print-ready so you will find it a really convenient tool to use for writing your report. View this sample template to learn more.