Security incident reports are made by most establishments to record details of serious incidents that happen within and around the vicinity of establishments. These include campus grounds, stores, malls, and company premises. Events that require security incident reports range from less serious offenses such as loitering and entering without permission to serious incidents like theft, physical assault, damage to property, and even murder or homicide.
Security Incident Report Template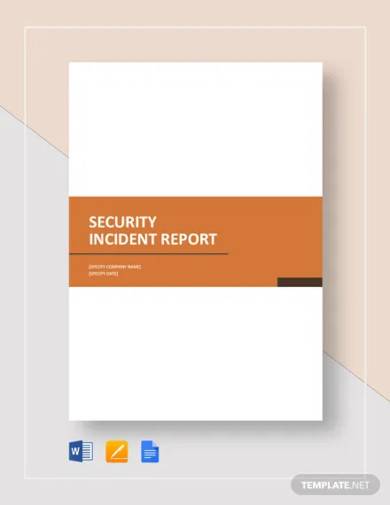 Security Assessment Report Template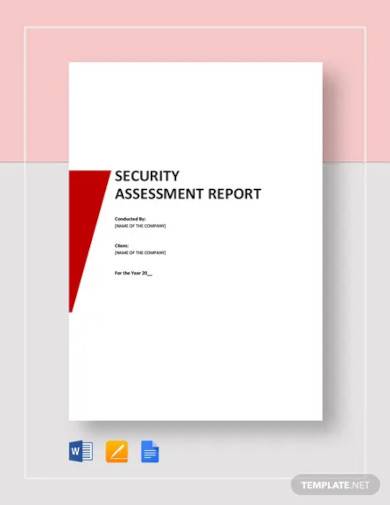 Security Guard Incident Report Template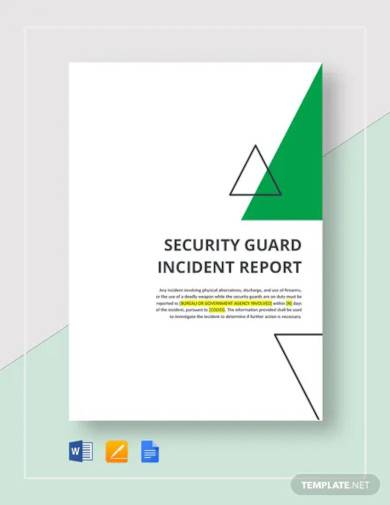 Construction Security Incident Report Template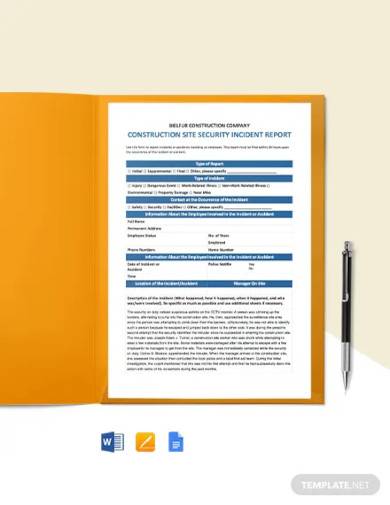 Software Security Report Template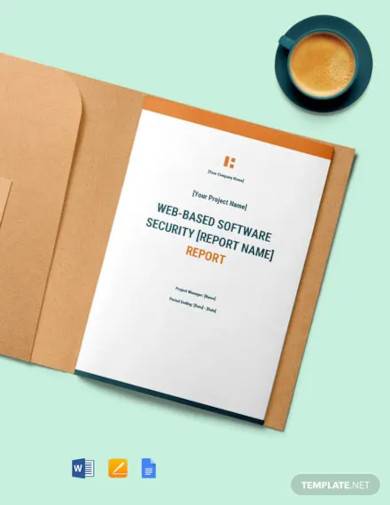 Free Security Incident Report Template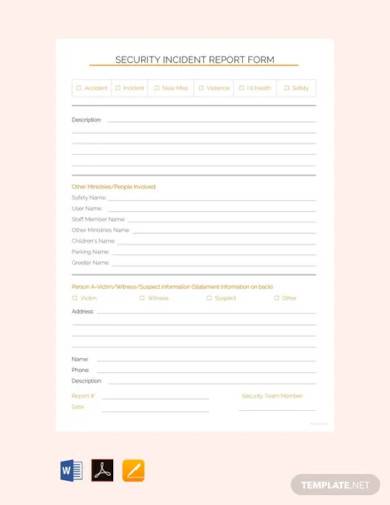 Our website offers several examples of security incident sample reports that can be used by most establishments who need to guide their security staff on procedures when filing reports. These can be downloaded and edited for specifications before printing or can be used immediately with minor modifications after printing
Security Incident Report Form
Security Incident Report Example
Cyber Security Incident Report in PDF
Using Security Incident Reports:
Security incident reports are very important summaries of any misconduct or criminal incidents that security staff must file not just in accordance to company rules but for police authorities who need a written account of the incident for the filing of an official incident report since incident reports are used for filing of cases and insurance purposes.
When a security incident happens to involve an employee in the workplace, it constitutes a breach of rules and regulations. Such cases may either range from theft, destruction of company property, or, worse, an assault on a co-employee. Such cases still constitute a security incident and a report of the details of such violations is often requested by the employer and human resource manager. This is to determine if the violation is serious enough to warrant the firing of the offending employee. You may also see crime reports.
Aviation Security Incident Report
Information Security Incident Report
Campus Security Incident Report
A Security Incident Report should follow the five basics of reporting:
1. Who – The person or persons involved in the incident
2. What – Details of the incident and summary of the report. This is the most important part of the report that needs to be detailed as much as possible. Check on the incident report forms that are on the internet for more.
3. Why – Outline the circumstances of why the incident possibly happened. In this case, there may be witnesses to the incident who need to be interviewed. With the help of the incident report samples that are available online, you can make the right incident report you need for your organization.
4. When – When the incident possibly happened. Since there's always no accurate time to verify the incident unless captured by a closed-circuit camera, the common procedure usually estimates the time closest to when the incident possibly happened based on the accounts of those involved and possible witnesses. Look at daily incident reports too.
5. How – How the incident happened based on accounts by those who saw the incident. This report may also take into account security camera footage of the security incident.
For more samples related to security filing reports, please check on our examples of sample police reports by clicking on the link which will direct you to a couple of police report examples. These are intended to be used as guides only and should not be used as official police reports after downloading.
Security Incident Report Format
Cyber Security Incident Report Format
Wrapping Up:
Security incidents not only constitute physical assaults but also cybersecurity. Our security incident report examples present a format for documenting cybersecurity incidents such as breach of systems related to sensitive information. Cybersecurity crimes have been increasing year by year and involve such incidents as lost or compromised programs and cyber espionage. The activity report samples that are on the internet can help you make the best activity reports you want to use of any kind.
Banks are particularly vulnerable to hacking incidents and need to beef up their security by upgrading their systems to prevent serious losses. You may also see management reports. We offer even more examples of Incident Report Samples that users may want to check out. These are all downloadable and printable as guides for drafting incident report samples.
General FAQs
1. What is a Security Incident Report?
A security incident report can be defined as a report that is used to keep track of the thefts/losses and any other types of security events that occur in an organization. Keeping an accurate record of security incidents is an important part of any good security management program.
2. Why are Security Incident Reports important?
Regardless of how minor the incident is, it is very important to report incidents to the company's security team so that they can investigate the possible risks of the incident. Such reports are responsible for establishing security policies and protocols for the organization.
3. How can one identify a Security Incident?
One can identify a security incident with the help of the following:
Unusual behavior from user accounts
Unauthorized insider trying to access services and data
Traffic sent to or from unidentified locations
Excessive consumption of data
Changes in the general configuration in the organization
Unexpected changes in the workplace.
4. What are a few examples of Security Incidents?
There are many kinds of security incidents that make a lot of difference in the organization. Computer system breach, unauthorized access for the use of systems, theft or loss of data, equipment, etc. are a few basic examples of a security incident. Reporting these problems provides a way to monitor potential problems.
5. How is a Security Incident Report written?
You can write a security incident report with the help of the following steps:
The date and time of the incident
The location of the incident
The type of incident and description of what happened
Name the victims and their injuries, if any
List any witnesses with their side of what has happened.