One of the world's leading enterprises is the restaurant industry. Being part of the larger food service industry, the restaurant industry includes both expensive restaurants and fast-food chains. Indeed, we see that the number of full-service restaurants is growing quickly. Perhaps as one of the business owners and entrepreneurs, you are not just simply looking forward to what the next day brings, but also the future in general. That's why gathering the specific data is a very significant step like having a restaurant report. Read this article and check on our selection of restaurant report templates, and learn from the informative guides we made.
1. Restaurant Marketing Report Template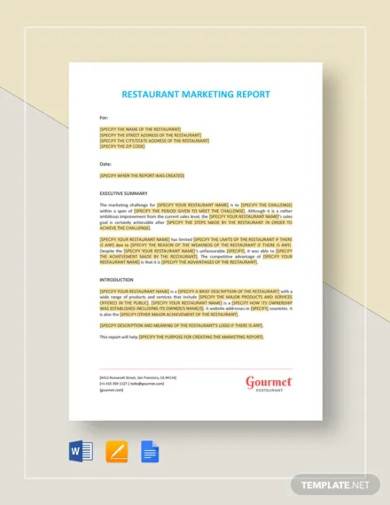 2. Restaurant Daily Sales Report Template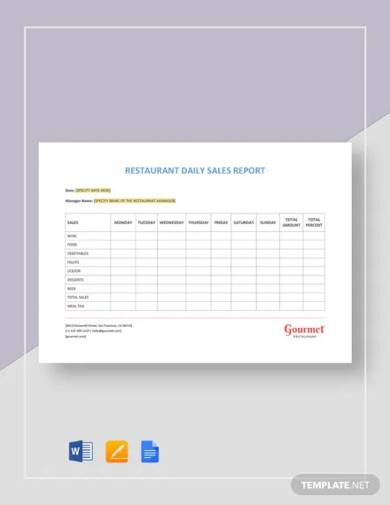 3. Restaurant Annual Expense Report Template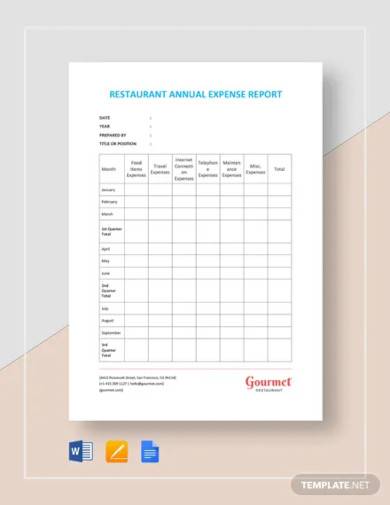 4. Restaurant Monthly Sales Report Template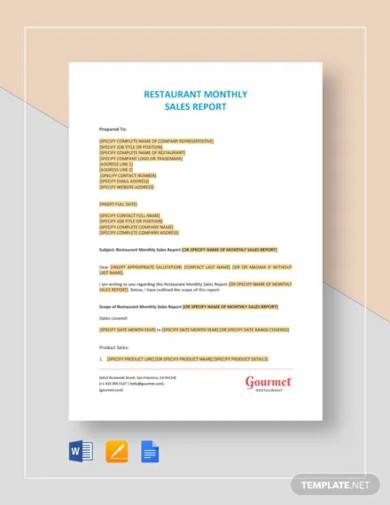 5. Restaurant Incident Report Template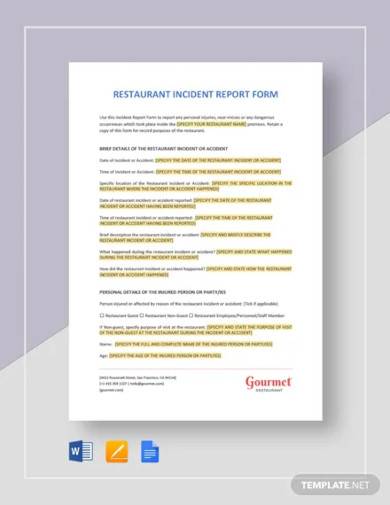 6. Restaurant Daily Expense Report Template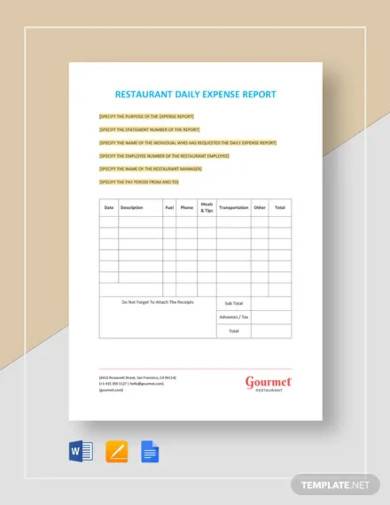 7. Restaurant Damage Report Template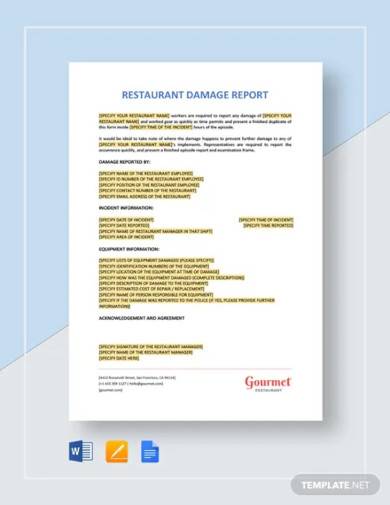 8. Restaurant Request for Status Report Template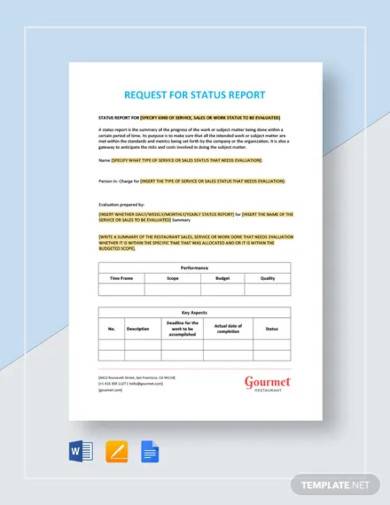 9. Free Food Safety Internal Audit Report Template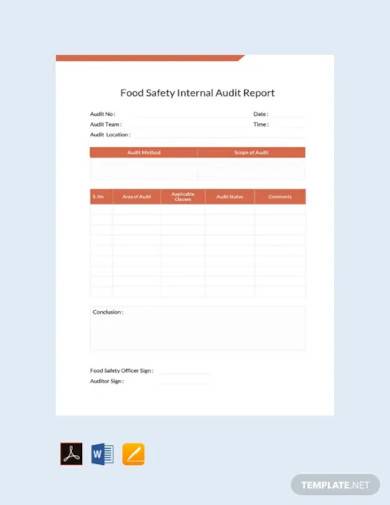 10. Sample Weekly Restaurant Report
11. Sample Cafe Restaurant Report
12. Restaurant Health Inspection Report
13. Weekly Restaurant Inspection Score Report
14. Restaurant Report Card
15. Restaurant Spending Report
16. Restaurant Audit Report Sample
What is a Restaurant Report?
A restaurant report is a formal document that focuses on providing overall data on specific restaurant businesses. This kind of report allows you to have some insight concerning the status of your organization which can help eradicate hazards, reduce risks, keep track of progress, and discover areas of opportunity with monumental growth potential. Apart from these, Azcentral further shows the significance of business reports in the workplace. These include providing opportunities for critical analysis, establishing a goal plan and standards, and aiding in the decision-making process.
How to Write a Restaurant Report
Restaurants, fast-food places, delis, diners, coffee shops, cafeterias, and bistros are scattered everywhere. If you're planning to establish a new restaurant, you need to have  the knowledge of current trends in the market to help your business attract the attention from potential customers, as well as from competitors. So, here are the useful tips and guides to assist you in writing a report:
1. Identify your goals and objectives
Make a draft of your restaurant marketing plan from your goals and objectives. These are the accomplishments that you want to reach in the future. It is essential because it will help you have a clearer perspective on the methods and techniques that you will do in order to start with your plans.
2. Collect the essential documents
After knowing the target you want to achieve, you need to collect the important data to finish the task. Gather necessary information about your report's goal if you want the result of your report to be accurate, comprehensive, and focused. Observing the conditions around your restaurant is not enough as you need to have reliable sources. 
For instance, in submitting a sales activity report of the market performance of your department, you may need to ask for access to your office sales figures. Conduct surveys through questionnaires if you need an outside opinion from your clients. Also, you should request copies of the budget plan, financial report, or the activity log. This will be helpful for you to create an accurate account of your task's details.
3. Concentrate the needs of your customers 
If the table is the spotlight of the restaurant drama, the customers still hold the acting roles.  When you cater the needs of your customers, it is more likely that you contribute great satisfaction to them. 
What are the best restaurant customer services that you can provide? Who are your target customers? For you to entice more customers, prioritize them first and address their respective wants and needs.
4. Create your restaurant marketing plan 
An article suggests that writing your marketing plan for your restaurant is a beneficial way to visualize your goals, define your limitations and capitalize off your best features. Have a productive brainstorming session, research other examples of restaurant marketing plans, formulate, implement, and evaluate your overall plan. 
FAQ
How do I start my own restaurant business?
Think of a fresh concept for your restaurant. Get investment to fund your restaurant business. Analyze all restaurant costs involved. Then, look for the best location for your restaurant.  Next,  prepare all licenses and requirements to establish a restaurant business. Get some staff employees for your restaurant business. The focal point of your business is to design a fantastic menu.
How do you invite new customers to your restaurant?
Invite customers to your restaurant through advertising and promotion. Offer convenience to your customers. Also, try working for an app with food services through delivery. Create some compelling social media pages for your restaurant to enhance customer attraction as well.
How to enhance marketing planning?
You must be familiar with your target market. Determining your target market will help you discern where they come from and what services that are appropriate for them. Conduct a market research so that you are informed about the development of new things from the current market trends. Forecast some ideas that you can apply in planning and making new successful strategies. Then, learn consciously about your customers. Know their preferences, taste, and cravings.  The best way to make better marketing plans is to focus more on your customers' needs.
What do restaurant customers want?
According to this article,  increase the friendliness of your staff. Reward your customers and surprise them with something new and one-of-a-kind. Make sure your staff is well-trained in handling customer disputes. Most importantly, establish a connection with diners as customers are happier when dining in a place where everyone knows their name. Also, it is recommended if you had an assessment so you can keep on giving attention to what your customers want.
Having an array of delectable and sumptuous menus is a primary communicator of the unique concept and personality of your restaurant. Your foods should reflect the preferences of your customers and emphasize the skills of your staff. But there is one thing that you should always consider in elevating your restaurant business: a well-detailed report about the status of your restaurant. In this way, you will track the progress of your restaurant and further boost its performance. Kindly check out our digital marketing strategy samples for tips in that area. We hope that your restaurant will be famous and have great success!