Termination letter is typically served to an employee by the company management or employer due to various reasons. If a business is going through crunchy economic situations, it is obvious for them to find a way of cutting down inflation. The best way of cutting down inflation is by embracing automation or outsourcing. As an aftermath of such decision, contracts of a section of the employees are subject to termination. Apart from this, termination can take place due to disciplinary issues. You can also see Employee Termination Letters.
Job Abandonment Termination Letter
HR managers or employers can use this employee termination letter sample for dismissing the employees who have been found to be guilty of harming the company's interest. Download the template to use it for your needs.
Job Contract Termination Letter
Job contract termination is an aftermath of poor performances or disciplinary issues from an employee or a group of employees. This is a sample letter for those, who want to craft a professional and ethical job contract termination letter.
Job Performance Termination Letter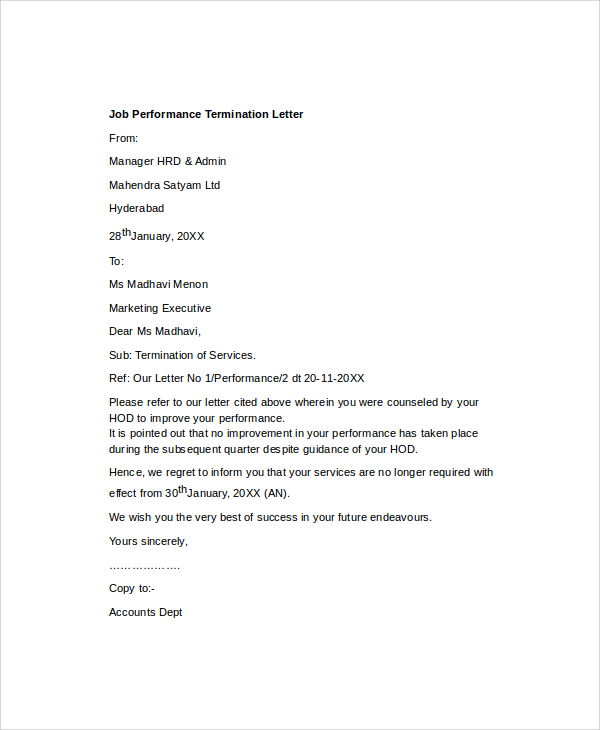 If employee contract needs to be terminated due to nonperformance issues, you can choose to opt for this job performance termination letter template. Available in PDF format, this template is easy to be downloaded.
Employee Job Termination Letter
For employee job termination, business owners or HR managers need to furnish the letter of termination or dismissal of contract letter to the particular employee. Use this simple letter sample for that purpose.
Job Termination Letter Without Cause
Job Termination Letter Due to Lack of Work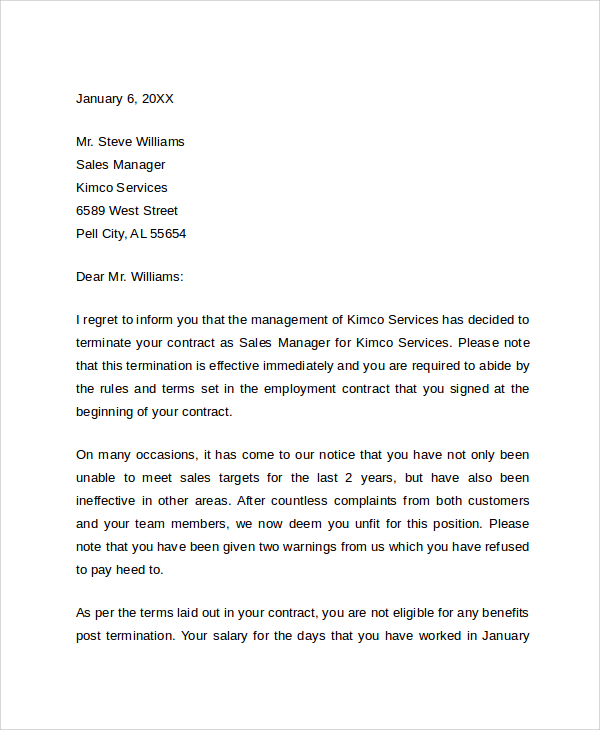 Job Termination Letter Sample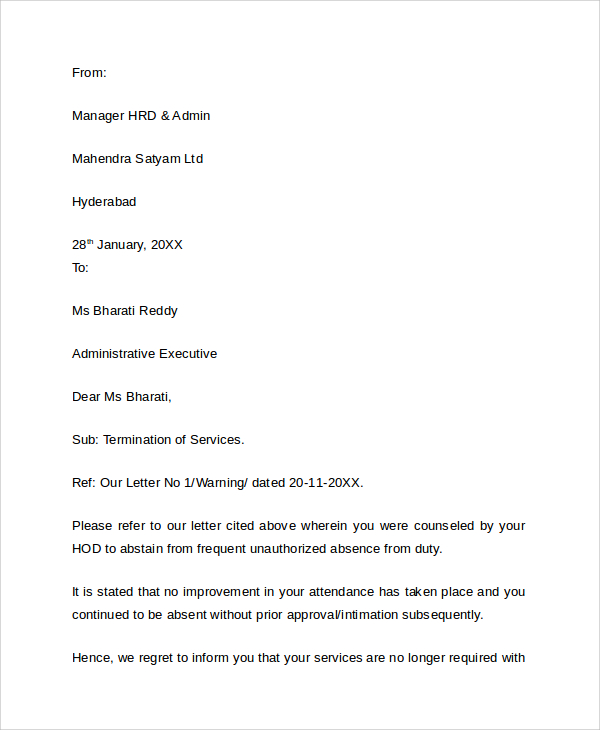 Uses and Purposes of Job Termination Letter
Job termination is an official letter that has been written by HR managers or the employer of an organization or company for an employee who has been found to be guilty of nonperformance. However, apart from nonperforming issues, several reasons could be there for job contract termination. Violation of business policies, basic disciplinary rules of office and many other possible reasons could be there. Without furnishing a job contract termination letter for contract termination it is considered as unethical or unlawful termination. To make the process of termination of job contract ethical as well as legitimate, you have to write a dismissal letter with precision.
Who needs Job Termination Letter Samples?
Job termination letter samples are required by those, who want to terminate contracts for employment with a specific employee. It could be a single employee or it could be a group of employees. Generally, single employee contract termination has been noted due to disciplinary issues or extreme nonperforming issues. When a group of employees are terminated from a job, it should be considered as a nonperforming or non productivity issue.
Typically, the job termination letter has been written by HR managers or employers. Senior executives often possess the authority to terminate employee job contracts. For writing such letters, the simplest way is downloading a few online samples or templates. You can also see Employment Termination Letters.
How to Create Job Termination Letter?
Creating job termination letter is not a difficult thing. Like other letters, it should have its unique structure or format. However, writing such letters can be difficult for those, who are writing the letter for the first time. The letter should have professional tone of writing. Most importantly, it should be well structured.
It must disclose the reasons properly for job contract termination. The employee can take legal actions against such termination, if the reasons that are given on termination letter are shallow, unrealistic or wrong. Thus, from legal perspective, such letters possess extreme importance. Use online templates to write such letters with perfection.
Writing job termination letters can become an easy and quick job, if you consider downloading some samples or templates online. Using templates saves time and at the same time it saves a lot of hassles. Moreover, writing improper or inaccurate Contract Termination Letters can cause legal disputes with employees. Thus, the letter has to be written with perfection.
If you have any DMCA issues on this post, please contact us!