An employee reference letter is a recommendation letter which highlights the skills and work experience of an employee. A company provides it's employee during voluntary resignation by the employee or when an employee requests for it to apply in educational institutes. These employee reference letter samples have professional tone and perfect stanzas which need only a little editing. An employee Reference Letter also testifies the person's character and conduct during his stay in the company.
Employee Reference Letter for Visa Template
Reference Letter for Employee Leaving Template
Sample Employee Reference Letter Template
This is a sample employee reference or recommendation letter sample issued by a company's authorized manager to acknowledge the qualities in an employee and ensuring the release of that employee from the company. It can be used in getting another job or applying in institutions for further study. The tone is polite, convincing and natural.
Professional Employee Reference Letter Template
This professional letter template can help an employee get a job instantly as new companies prefer professional employee reference letters over personal ones. It must contain the employee's designation, skills, qualification, achievements, personal qualities and the projects on which he worked and all other details that highlight his professional career.
Sample Terminated Employee Reference Letter Template
This is a perfect reference letter template that an employee gets during the termination of his employment. It has a professional tone and contains all the details necessary for a bright future and help in seeking new job analysis instantly. It states the professional achievement and character qualities. Furthermore, it must declare why such termination is taking place i.e voluntary or involuntary.
Employee Authorization Reference Letter Template
This is a formal employee reference letter with a form attached. It is an authorization cum sample recommendation letter issued by a company through which an employee can apply for a position with a letter of reference in another company. The body of the letter has a form with all the necessary personal details fields and a declaration at the end which ensures that the employee is available for hire.
Employee Reference Letter Template
Employee Termination Reference Letter Template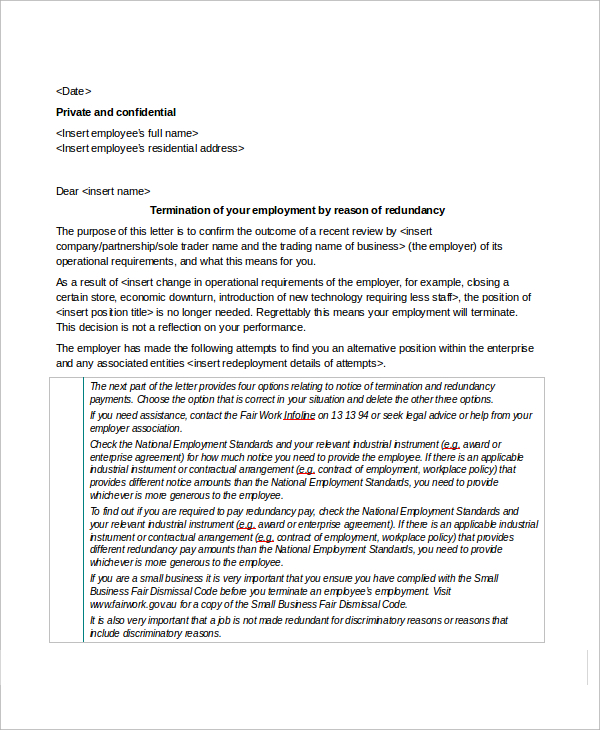 Usage
From a company's perspective, it helps to strength its value and reputation in the market by furnishing a proper reference letter to it's leaving employee. It helps in maintaining a good relationship with its ex-employees and showcases its professionalism. From an employee's perspective, it is of much greater importance as through an employee reference letter, they can find another job instantly and a good recommendation letter increases the chance of selection by multiple folds. You May also See Free Reference letters
Target Audience
Any company issues reference letters to its leaving employees or to the existing employees on demand. A company needs to have ready made samples for this purpose which can be edited in a short time and furnished. So the targeted audience, in this case, is it's employees and the employees use it to reach out to the managers of other companies to get hired. Thus, the managers of competitors are indirectly another group of targeted audience.You May also See Personal Reference Letters
The above Professional Reference Letter Samples are tailor made for both companies and employees to achieve their purposes with full satisfaction. Reference letter formats are traditional in design and professional in tone. This is a token of good wishes for future endeavors from a company to a leaving employee in the best possible way.
If you have any DMCA issues on this post, please contact us!