Navigating the cancellation of a service, subscription, or contract can be a delicate task. Our Sample Cancellation Letter Template is a vital tool designed to guide you through the process with ease and professionalism. Crafted with attention to detail, these templates provide a clear and concise framework to communicate your decision effectively. Whether you're ending a gym membership, a rental agreement, or a service contract, our templates are tailored to ensure your message is conveyed with the right balance of firmness and courtesy. With our user-friendly format, you can personalize your letter to suit any situation, making the cancellation process as smooth as possible. Access our templates today and take the first step towards a straightforward cancellation.
1. Sample Cancellation Letter Template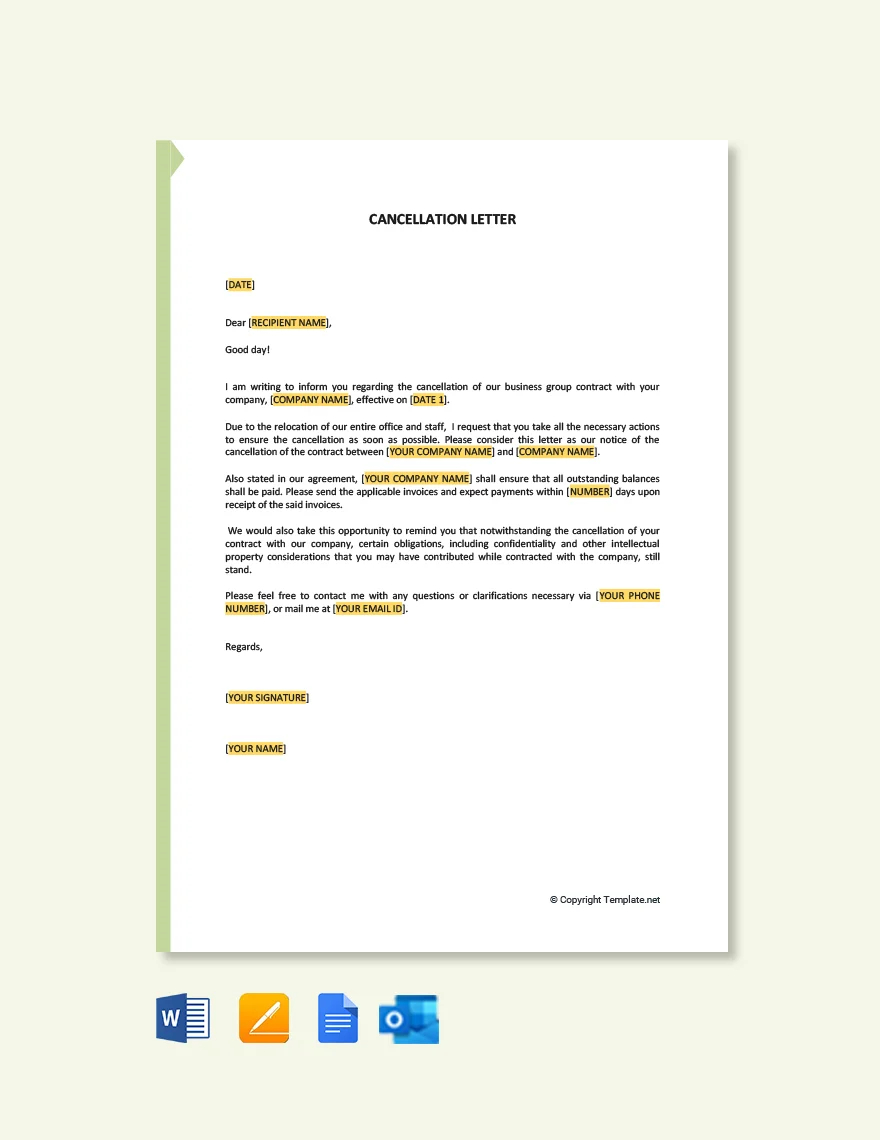 2. Job Cancellation Letter Template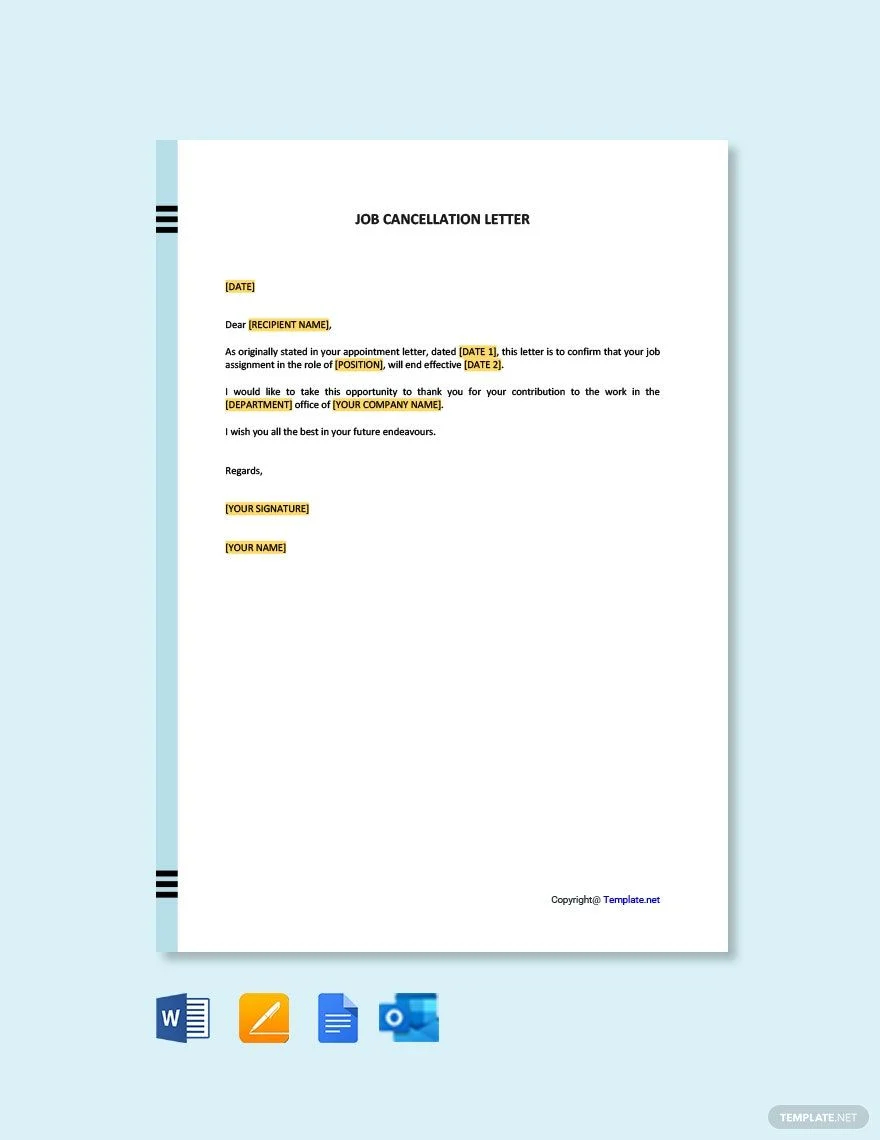 3. Event Cancellation Letter Template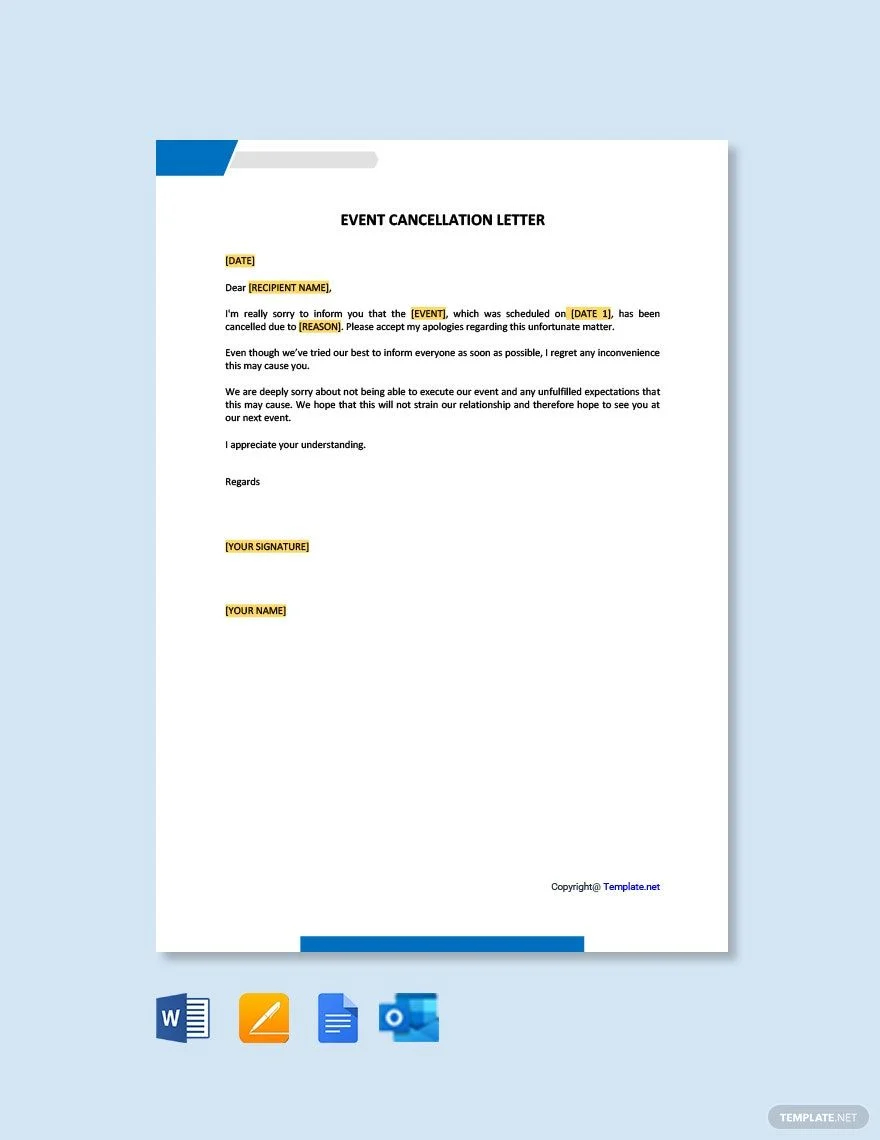 What is a cancellation letter?
A cancellation letter is a formal written communication to inform a service provider, company, or institution of the sender's decision to terminate the services or agreement currently in place. It serves as an official document that provides a clear and unambiguous record of the sender's intent to cancel specific services or contractual obligations.
The purpose of a cancellation letter is multifaceted. Primarily, it conveys the decision to discontinue services in a professional and courteous manner, ensuring that there is a mutual understanding between both parties. It also helps to avoid any misunderstandings or legal issues that could arise from an oral cancellation. The letter should clearly state the effective date of cancellation, providing the recipient with a timeline to process the request and take any necessary actions.
Cancellation letters are commonly used in various scenarios, such as terminating gym memberships, insurance policies, subscription services, rental agreements, and business contracts. They are an essential part of maintaining good business practices and personal financial management.
When drafting a cancellation letter, it is crucial to include specific details to make the process as smooth as possible. The letter should contain the sender's contact information, the date, the recipient's name and address, the account or membership number if applicable, and a clear statement of cancellation. It is also advisable to mention the reason for cancellation, although this is not always mandatory.
To ensure the cancellation is processed efficiently, the sender should request a confirmation of cancellation in writing from the recipient. This confirmation serves as proof that the request has been received and acknowledged. Additionally, it is important to review any contracts or agreements before sending a cancellation letter to understand the terms and conditions of cancellation, such as notice periods and any potential penalties.
In the digital age, while some cancellations can be made online or over the phone, a cancellation letter remains a reliable and professional approach to formally terminate an agreement or service. It provides a tangible, legal record that can be useful for future reference, should any disputes arise regarding the cancellation.
Overall, a cancellation letter is a straightforward, respectful way to end a business relationship. It reflects the sender's desire to conclude affairs amicably and responsibly, leaving room for potential future interactions that are positive and professional.
4. Partnership Cancellation Letter Template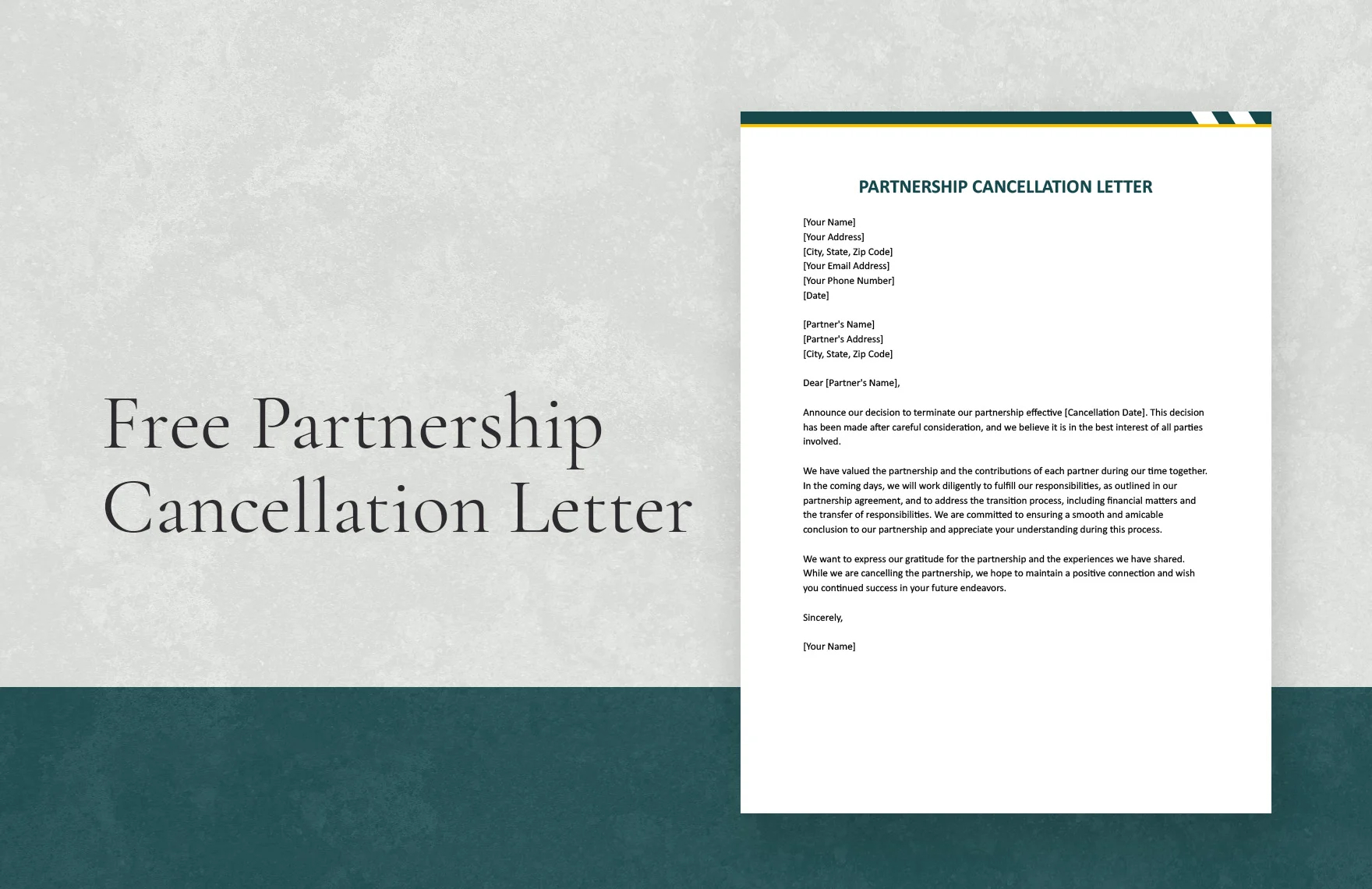 5. Membership Cancellation Letter Template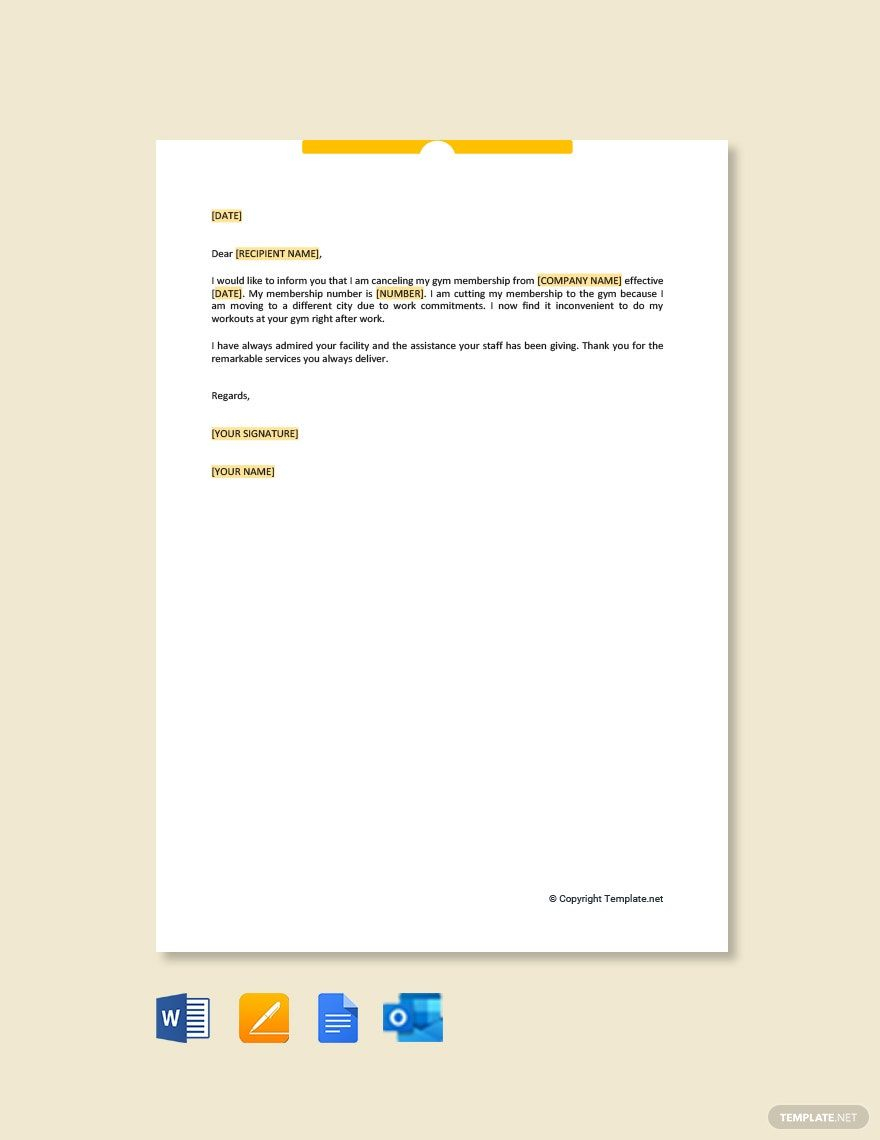 6. Purchase Order Cancellation Letter Template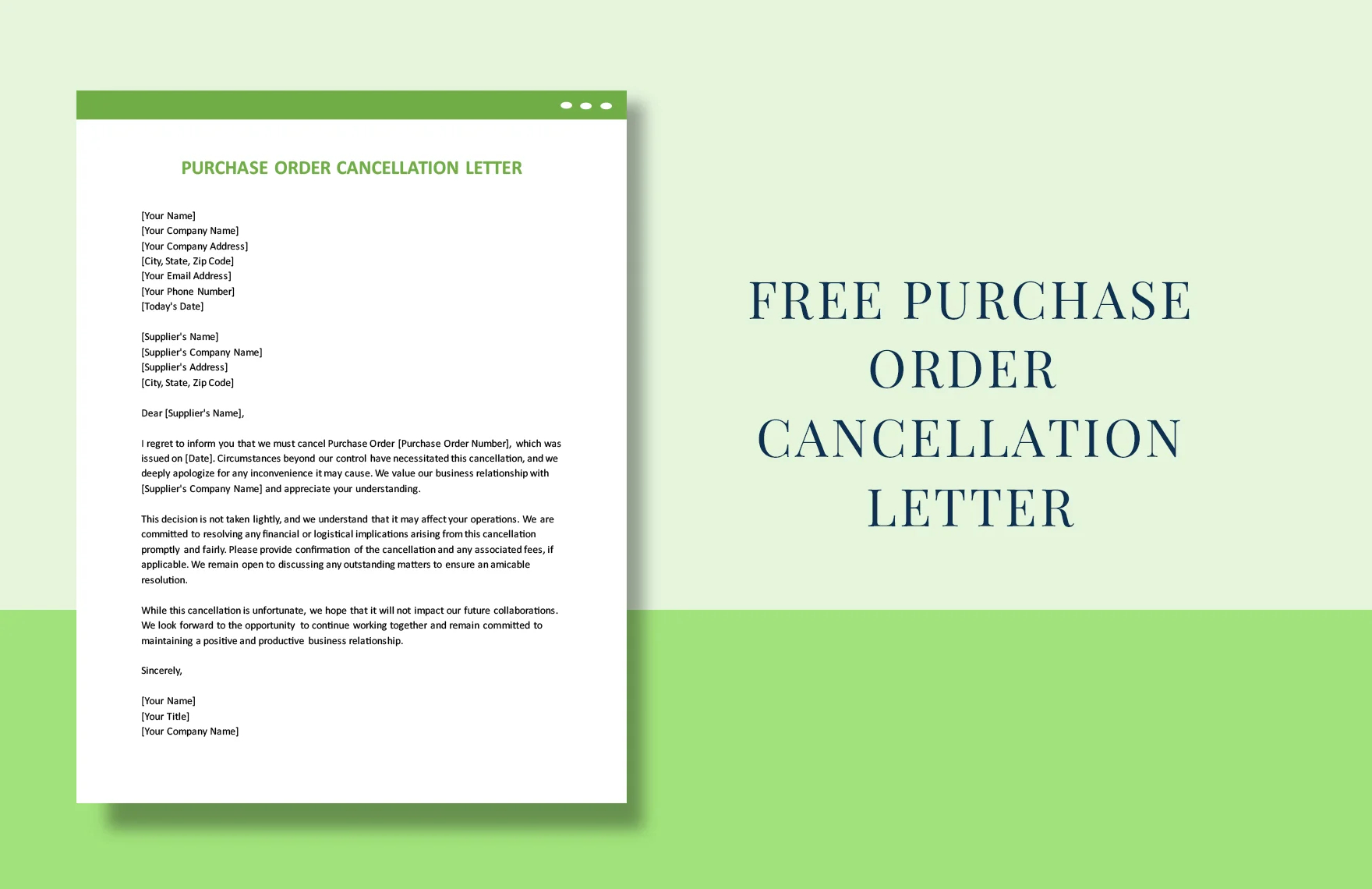 When should you write a cancellation letter?
A cancellation letter should be written whenever you wish to terminate a service, cancel a subscription, or void a standing agreement with a company or service provider. This type of correspondence is a formal way to communicate your intentions and ensure that there is a record of your request. It is particularly important in situations where verbal communication is not sufficient or when the cancellation involves a formal contract or agreement.
Request Letter for Service Cancellation
When you are subscribed to a service that you no longer use or need, it is prudent to send a request letter for cancellation. This could apply to a variety of services such as internet, cable, or a monthly subscription box. The letter should clearly state your intention to cancel, along with any details required by the service provider to identify your account.
Contract Letter for Ending Agreements
In the case of a more formal arrangement, such as a lease, insurance policy, or any agreement that was signed and agreed upon by both parties, a contract letter is necessary to formally document the termination of the agreement. This letter should reference the original contract, specify the terms under which you are canceling, and comply with any notice period or other conditions stipulated in the agreement.
Business Letter for Professional Relationships
If you are engaged in a business relationship that requires cancellation, such as discontinuing the services of a vendor or consultant, a business letter is the appropriate channel for communication. This letter maintains the professionalism of the interaction and ensures that there is a clear understanding of the cessation of business dealings. It should be concise, respectful, and direct, providing all the necessary information for the business to process your cancellation.
Application Letter for Canceling Enrollment or Subscription
An application letter for cancellation might be used in academic or service-related contexts where you have applied for something, such as a course, a program, or a subscription-based service, and you have decided not to continue with it. This letter should state your decision and provide any details necessary to identify your application.
When drafting any type of cancellation letter, it is essential to be clear and precise. The letter should be dated and provide all the necessary information to identify your account or agreement. It should also state the effective date of cancellation and request a confirmation of cancellation. If there are any fees or penalties associated with the cancellation, these should be acknowledged in the letter.
In all cases, the tone of the letter should remain professional and courteous. Even if the cancellation is due to dissatisfaction with the service, it is important to keep the communication respectful. A well-written cancellation letter not only serves as a formal request but also preserves the integrity of the professional relationship for any future interactions.
7. Sample Letter of Cancellation Template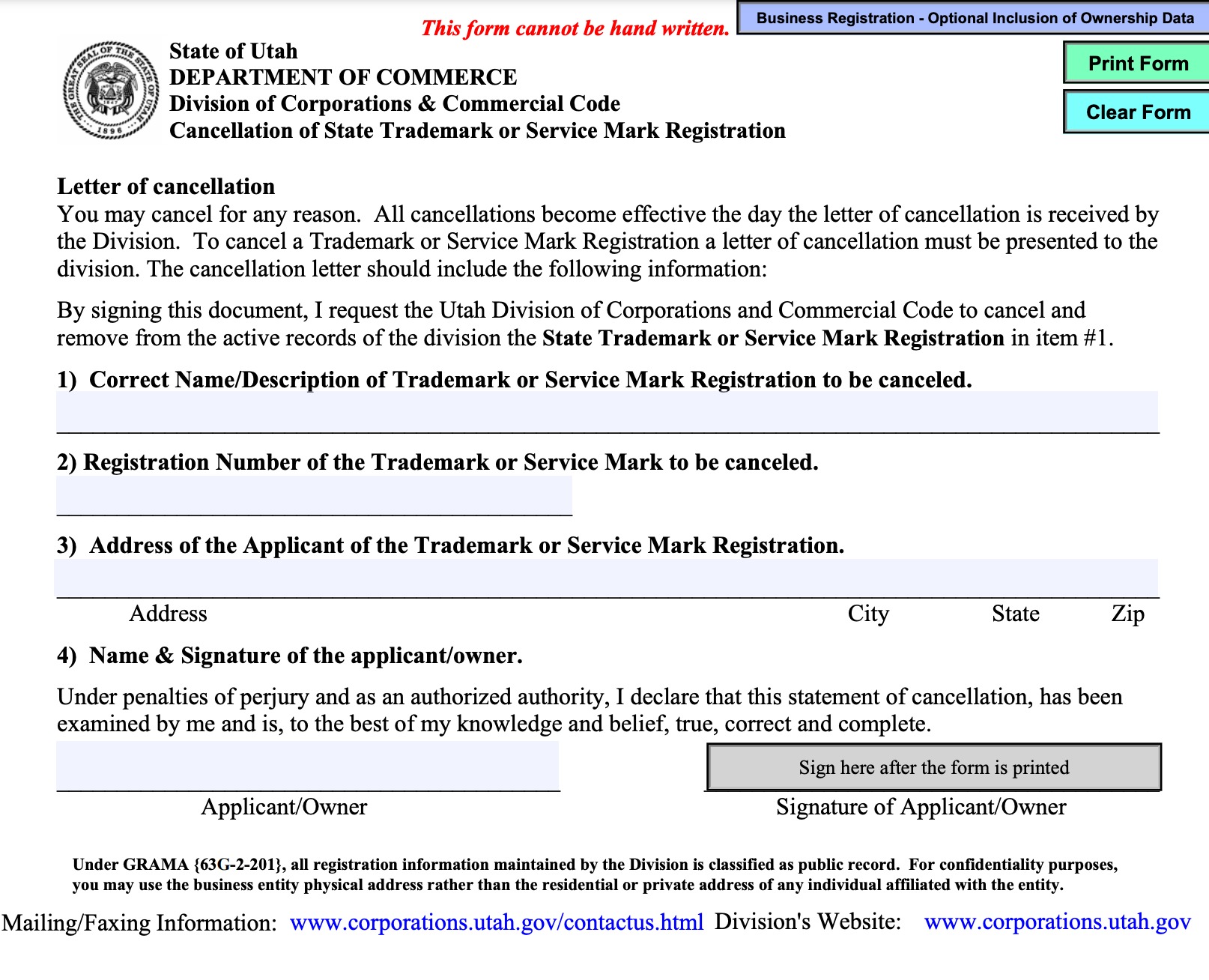 8. Application Cancellation Letter Template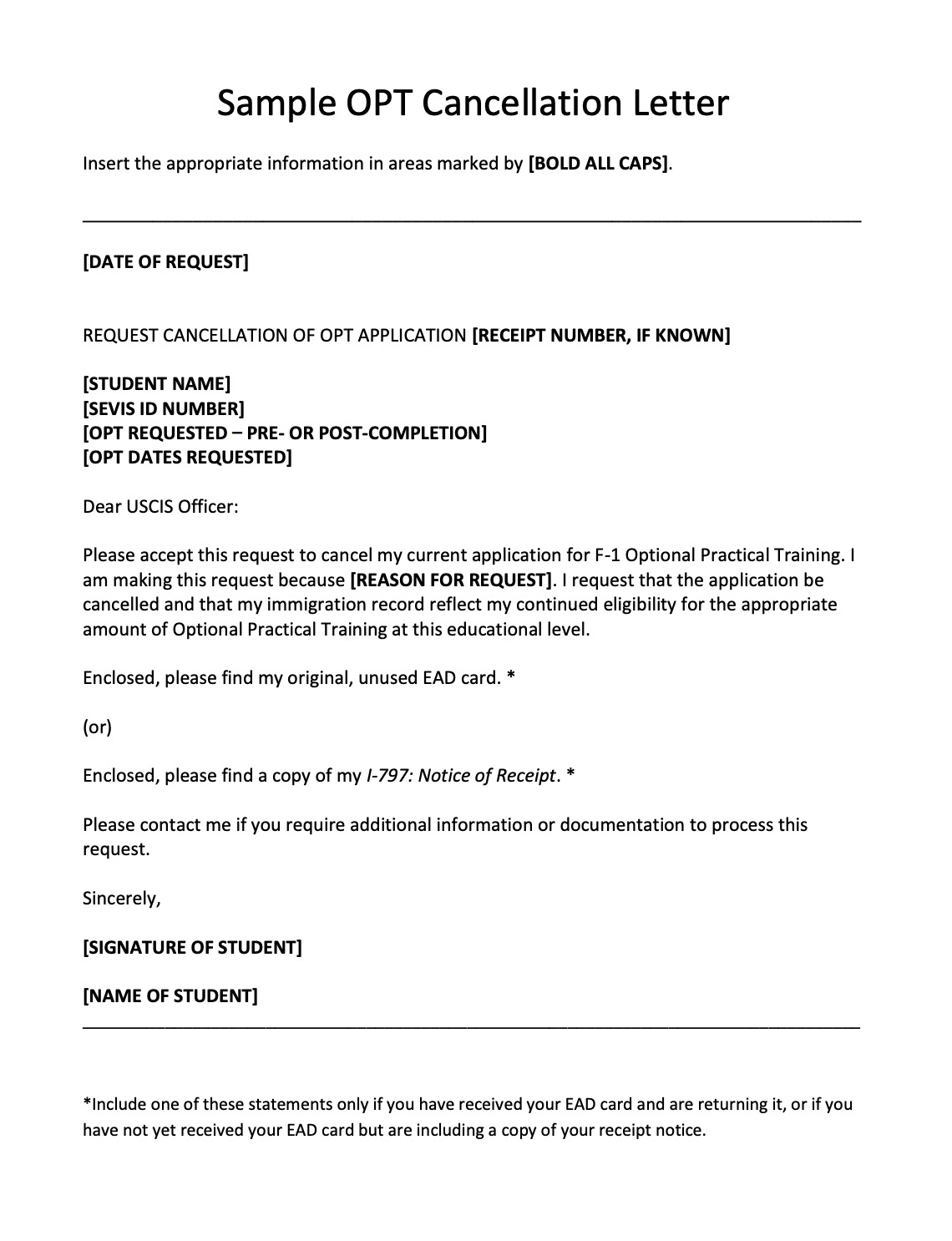 9. Account Cancellation Letter Template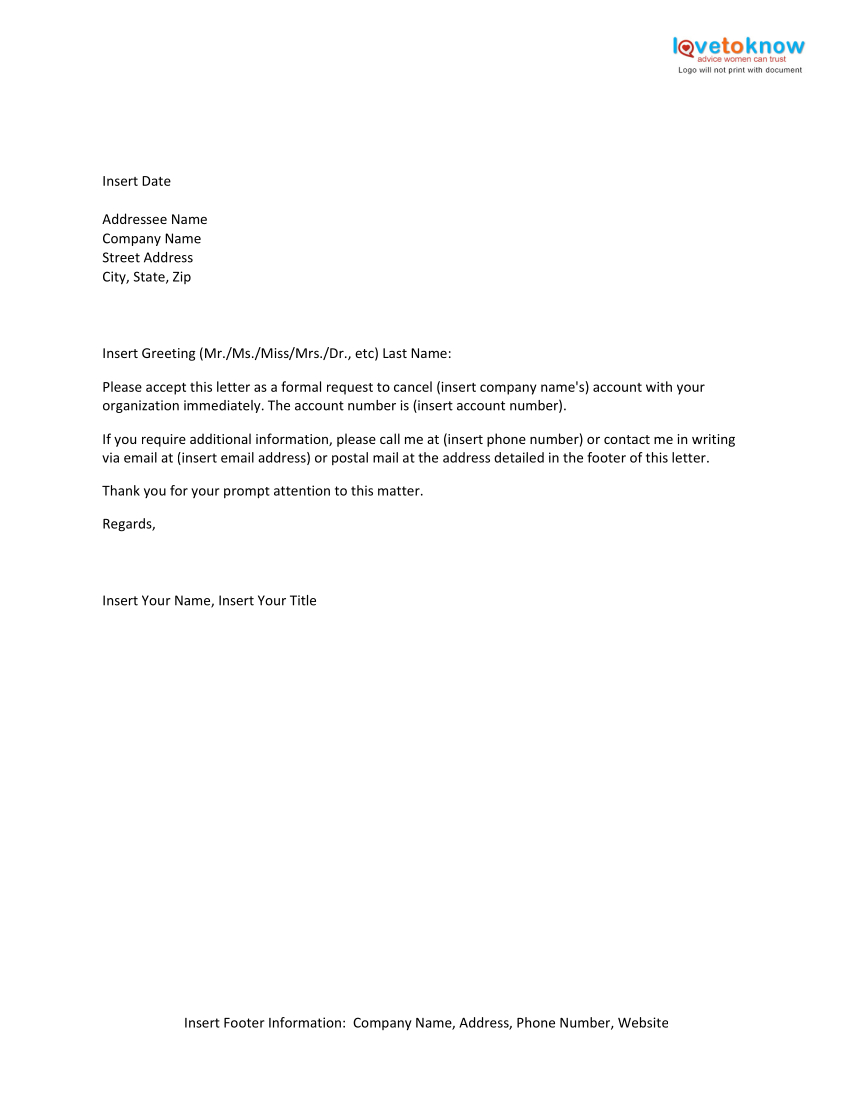 10. Official Letter of Cancellation Template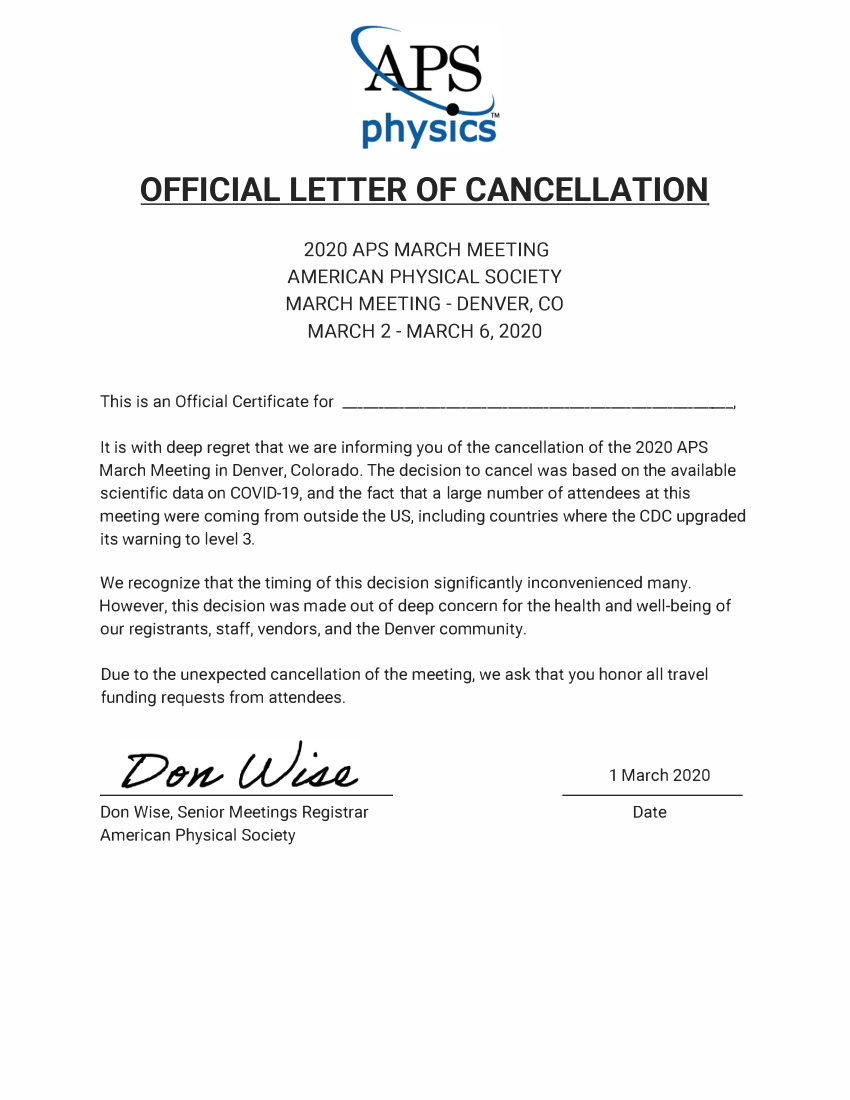 11. Bank Cancellation Letter Template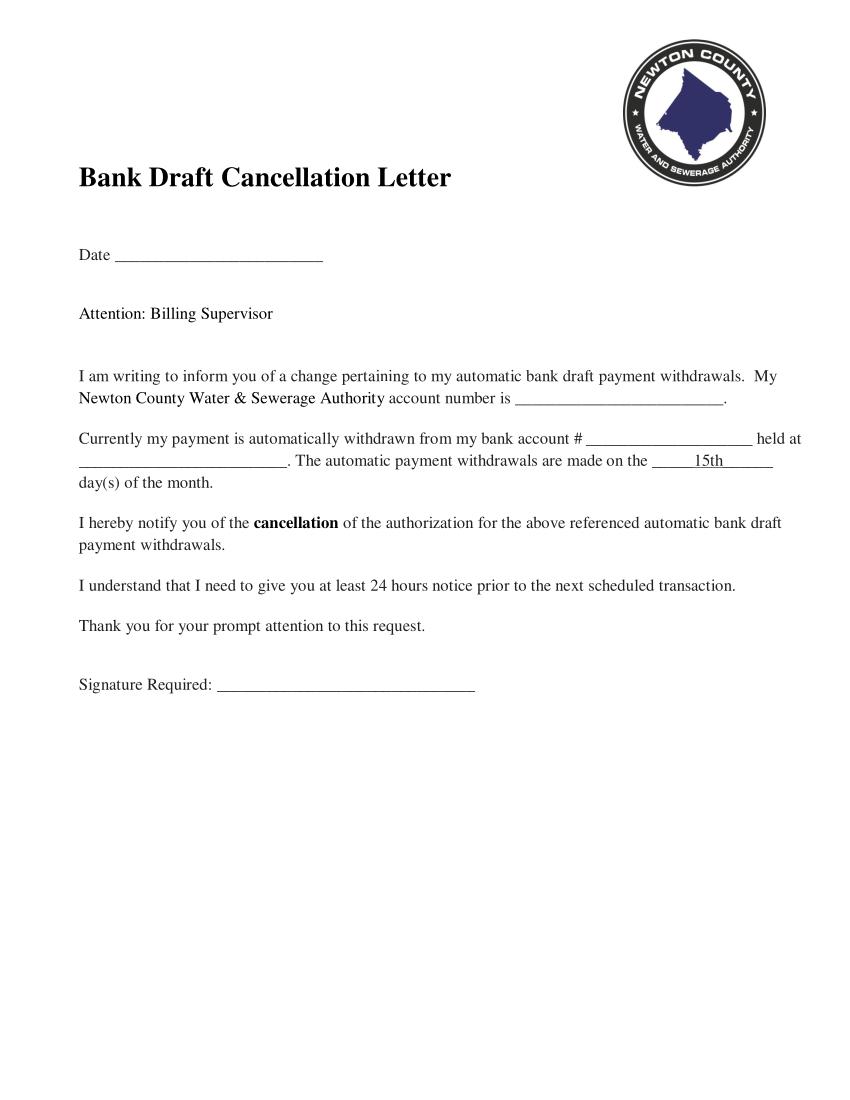 12. Contract Cancellation Letter Template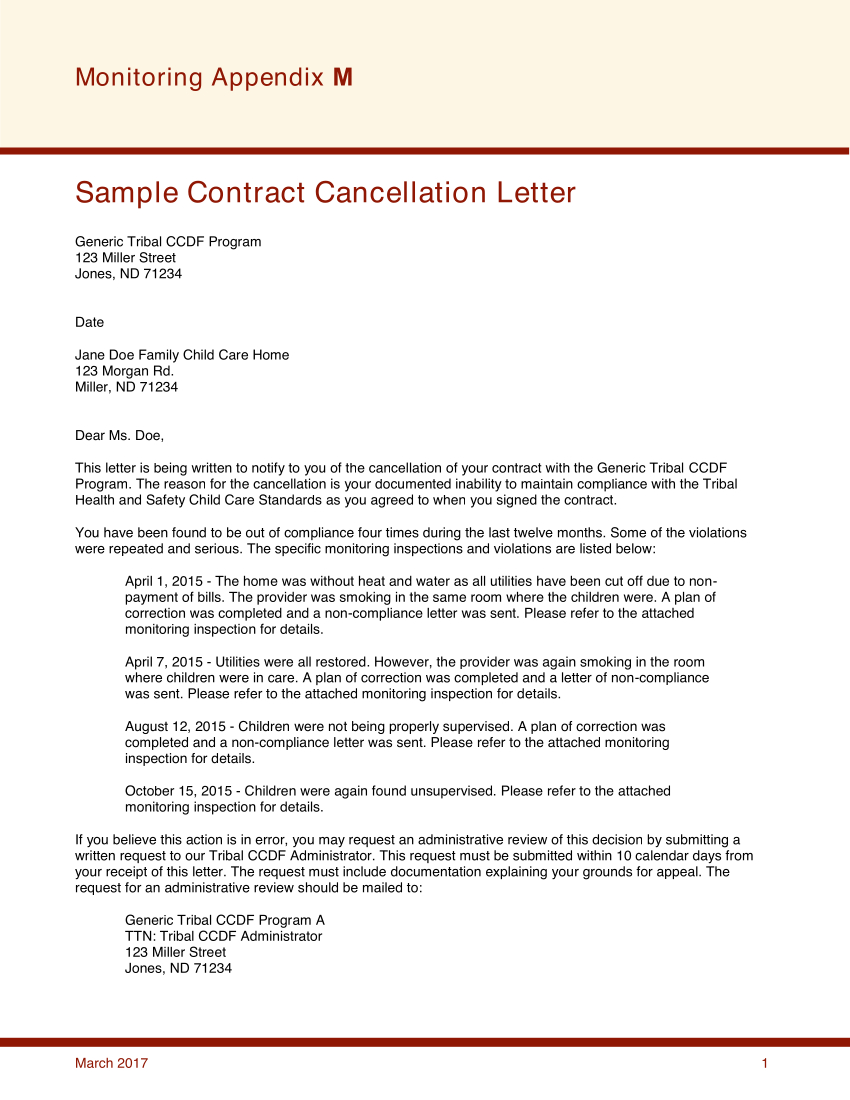 Writing a Cancellation Letter for Different Reasons
Crafting the Perfect Cancellation Letter
A cancellation letter is a formal document that is essential when you need to terminate an agreement, service, or order. It is a professional way of notifying the other party about your decision and ensuring that the termination of the contract is documented. This guide will walk you through the various types of cancellation letters and the key elements each should contain.
Understanding the Essentials of a Cancellation Letter
The cancellation letter should start with your personal information, followed by the date and the recipient's details. It should clearly state the intention to cancel and include any relevant identification numbers or account details. The letter should specify the effective date of the cancellation and conclude with a request for a written confirmation from the recipient.
The Art of Writing a Termination Letter
A termination letter is used to end a formal agreement or contract. It should reference the original agreement letter and detail the terms under which you are terminating the contract, including any notice period or final settlements. The letter should be clear about the reasons for termination and any obligations that may arise as a result of this action.
Navigating Subscription Cancellations with an Agreement Letter
When it comes to subscriptions, an agreement letter is your formal notice of cancellation. This letter should outline the details of the subscription and comply with the cancellation policy provided at the start of the subscription. It is important to include a request for confirmation of the cancellation to prevent any future misunderstandings.
Handling Order Cancellations with an Order Letter
An order letter is necessary when you need to cancel a purchase before it has been fulfilled. This letter should be sent promptly and include the order number, purchase date, and a concise reason for the cancellation. It should also request a confirmation of the cancellation and any refund that you are entitled to.
Issuing a Notice Letter for Service Discontinuation
A notice letter is required when you are obligated to provide advance notice before terminating a service. This letter should respect the notice period stipulated in the original service letter and clearly communicate the final date of service. It should also address the procedure for any final obligations or settlements.
Concluding Services with a Service Letter
A service letter is used when discontinuing utility services. It should contain your account and service address details, the termination date, and a request for a final bill. If the service involves equipment that needs to be returned, the letter should also include arrangements for the return.
Final Thoughts on Cancellation Letters
Regardless of the type of cancellation letter you are writing, it is important to maintain a professional tone and provide all necessary information to facilitate a smooth termination process. Always keep a copy of the letter for your records and consider using a delivery method that provides proof of receipt. This will be invaluable in the event of any disputes or if confirmation of the cancellation is delayed.