To keep track of their employees' progress in a given period of time, companies and organizations would usually require status reports, or just simply, reports from their employees. Its usually in a format of a short series of working days, most commonly a week, to provide the employers a summary of what has been achieved and overall progress of the team in a span of a workweek. This ensures that employees will have the opportunity to think about their work and how they have contributed to the overall progress of the task, and to the entire team. On the other hand, it is also beneficial for employers to keep track of their employee's performance and progress to properly and effectively delegate the tasks at hand.
Weekly reports are an overview of your whole week as an employee. Details like tasks you have completed, progress you have made, your plans for the next workweek. is usually presented in there. It is a formal report but it doesn't have to be really long, you just have to make sure that your report is free from grammatical and spelling errors and it is well presented. It can be too much work, especially if you haven't drafted one yourself, and you have not been able to prepare ahead of time. Lucky for you, we are here to help. These employee weekly report templates listed below will let you take your mind off the mind numbing process of laying out and designing your report, making it a ton easier to prepare.
10+ Employee Weekly Report Samples
1. Employee Weekly Report Template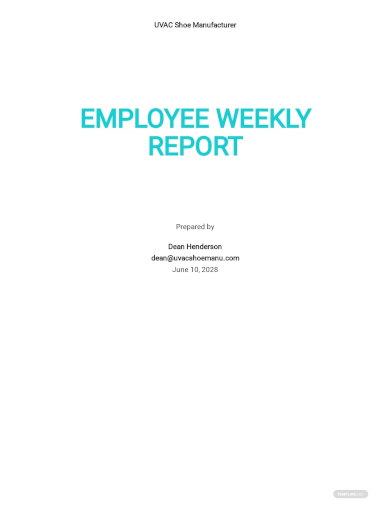 2. Employee Weekly Status Report Template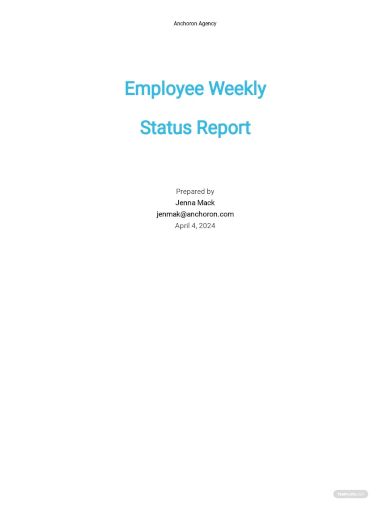 3. Employee Weekly Time Report
4. Employee Weekly Status Report
5. Employee Weekly Attendance Report
6. Employee Weekly Activity Report
7. Employee Schedule Weekly Report
8. Employee Assignment Weekly Data Report
9. Human Resources Employee Weekly Report
10. Sample Employee Weekly Status Report
11. Employee Weekly Evaluation Report
What Is an Employee Weekly Report?
Weekly reports cover a complete review of your week as an employee. It contains a quick recap of what you covered in the past week, the notable achievements and progress and the challenges encountered, and the plans for the coming week. For employers, weekly reports provide a quick snapshot of what the employee has been doing in during the whole week and then uses that information to delegate tasks and assign goals and next steps for the employees to work on. It also gives them an idea of how the employee got over the challenges posed to them in the workplace. Weekly reports provide the management information regarding the strengths and weaknesses of each employee, and what task or project they can work on best. Employees on the other hand, can get an idea of the overall quality of their work, and how they are contributing to the task at hand. It gives them a better sense of their pacing and can continuously improve upon it.
How to Write an Employee Weekly Report
Weekly reports are an important document that is mostly required by most employers out there. So you have to draft it properly that it is comprehensible and easy to understand, yet short, concise, and is also not too formal at the same time. It can be generally difficult to write especially for the first time but breaking it down to 5 simple steps makes it incredibly easy.
Establish the purpose
It is important to determine the objectives of the report before actually writing it. The purpose of your report dictates what goes in it. What does your supervisors want to see in your report? or What pieces of information do they exactly need? It should be commonly the same things after you have figured that out, unless your management says otherwise. Usually the structure of an employee report covers to inform the management, stakeholders, project owners, or whoever the target audience is, the progress of the task at hand and its current status, challenges encountered and how you overcame them, timeline, schedules, deliverables, and plans for next the week.
Know your role
Another thing to keep in mind is that you have to be perfectly clear about your role, and that you understand what the definition for success is for your project and that you understand the project that you are working on.
Layout
Writing a couple paragraphs stating your experiences do not count as a report. You have to establish a layout that makes your report short, concise, and visually appealing. There should be a sense of presentation to it, like you really tried. The templates listed above should be enough to get you started, but feel free to look for more layout samples or templates online to help you further.
Characteristics
Weekly reports should be short and concise, presented clearly in as few words as possible. Don't use too many work jargon, keep it casual and transparent. They may want to see results, so whatever result it may be, make sure to reflect it, employers don't usually like the thought of some chaos brewing behind their backs.
Key details to keep in mind

Summarize
Proper dates and dating format
Deliverables
Headline or Title
Tasks, progress report
Highlight your results and achievements
Challenges encountered and how you came over them
Plans for next week and the future in general
FAQs
What is weekly progress report?
A weekly progress report is a means of communication between project coordinators from different departments. The report is also used as an evaluation or their performance as it keeps the management informed on their achievements.
What is the monthly report?
A monthly report provides a summary of all the work related activities that have occurred and the tasks that are in progress during a given month. Like a weekly report, it informs the employer abou the progress of the project and productivity in general.
What is a formal report?
Formal reports are official reports that contain details such as research information, and data necessary to make informed business decisions.
Weekly reports are beneficial to both the organization and the employees as it keeps the both entities informed about what is actually going on in the workplace. It provides a comprehensive report of all contributions and productivity all through the week. It surely has a lot of weight into it and hopefully, both the templates and tips listed above are more than enough to help you write a near perfect employee weekly report.