It may usually take days or weeks into having project when your supervisor will ask you to make a progress report. Depending on your knowledge and experience with the writing process, you might be able to respond with either of the following: confusion, anxiety or readiness. However, if you do not allow yourself to use a progress report, you may be able to feel lack of focus and absolutely no drive. These happens to most of the companies from time to time. In worst cases, the productivity level will even fall below the critical level. For managers at work, progress reports has been one of the very simple form of two-way communication. It helps you have an information about your employee's contribution. Through the guidelines and format, everyone can write a good work progress report.
10+ Work Progress Report Samples
1. Weekly Work Progress Report Template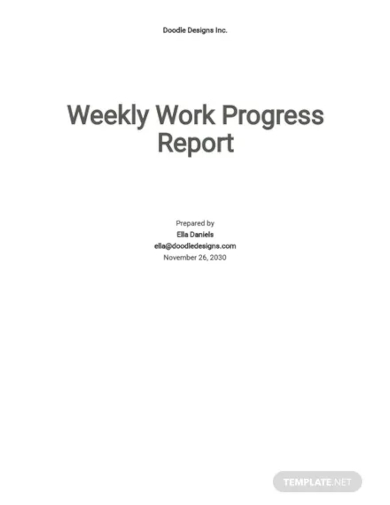 2. Work From Home Progress Report Template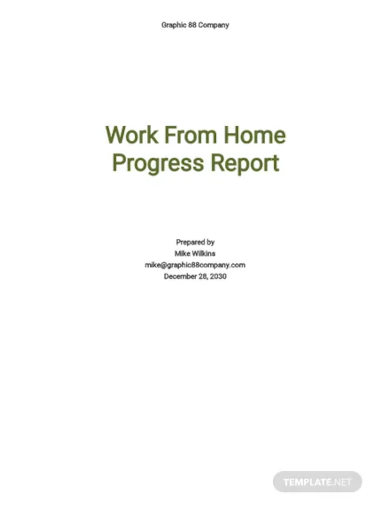 3. Return to Work Weekly Progress Report
4. Work Plan Progress Report
5. Work-In-Progress Report
6. Work Programme Progress Report
7. Academic Work Progress Report
8. Monthly Work Progress Report
9. Social Work Progress Report
10. Work Attendance Progress Report
11. Quarterly Work Progress Report
What is a Work Progress Report?
A work progress report is a type of document that allows you to see the progress that every employee is making towards achieving a particular goal. It allows you to provide an overview to the supervisor, the manager, or a client about the status of the project, milestones achieved, responsibilities of each of the employees, the problems or issues that arise, and other important factors that affects the project. This type of report is also considered as a project management mechanism in order to prevent issues before they are going to arise. This will help in ensuring that the project will be finished on time and to keep employees informed about the progress of that particular project.
The submission of your progress report will depend on the scope and complexity of your project. It can be submitted daily, weekly or even monthly. If you want to have a meaningful insight to your progress report, you must be able to set a reporting schedule and follow a specific template with standardized questions. One reason why writing a progress report following a specific format is that it helps you in keeping the stakeholders and investors in the loop on how that specific project progresses. The report itself will show you if you are still on track and this actually helps by making every employee feel more confident.
Writing a Work Progress Report?
1. Simply write the heading of your report. This contains the date of when the report was reported, name and position of recipient, writer's name and position, and the subject of the report.
2. Compose an introduction. Provide an overview of the project then inform your readers about the purpose of your project, its timescale, and other important details.
3. Turn into the "work completed" section. Carefully describe what has already been done. Order the completed tasks chronologically. You may put the dates and the tasks that you have worked on.
4. Include the problems encountered while you are working on the project. Provide short explanation of how you are able to solve them and on how you planned to solve it. You may also include the changes that was caused by the problem.
5. Provide your supervisors with the necessary information such as how you are going to move forward with the project. You can make an outline of the future tasks to be accomplished at a certain period.
6. Begin summarizing your progress report. You should only provide the most essential details with regards to the completed and to-do work. You may also include a brief description of the problems that you have been encountered and some recommendation for improvement.
FAQs
What is the importance of a progress report?
A progress report helps get everyone on the same page, facilitates collaboration, improves transparency and accountability, improves project evaluation, and provides insights for future planning.
What are the things that you should consider in making a progress report?
You have to consider your tone in writing. Use comprehensible sentences which ideally has 5-7 keywords per sentence.
Progress reports help you in getting the right information and in completing your project on time. However, it is preferable to follow the specific template and format so that it would be easier to write and appear more organized. If you to look for more samples, try to check for more work progress and report samples in the article.