A student can never be considered one without trying to wrestle with a lot of schoolwork. I know that you have more than one subject or course, what makes it worse is that you have exams, project work, and assignment in one and imagine multiplying that by five more. Things can get crazy!
But before you either start whining or yawning, let me appease you by saying that this article will surely help you in one activity and subject—writing a chemistry report. If, by any chance, that is really the subject that you're struggling in, feel free to check out our Sample Reports below.
Chemistry Lab Report Template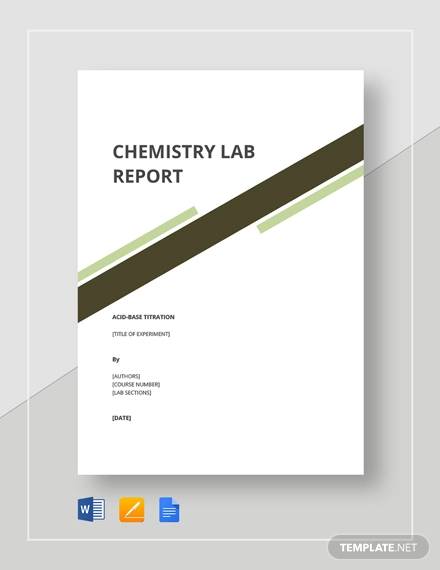 Sample Organic Chemistry Lab Report Template
Standard Chemistry Titration Lab Report Template
Basic Analytical Chemistry Lab Report Template
Chemistry Formal Lab Report Format in PDF
Chemistry Lab Report in Word
Chemistry is a branch of science that discusses matter and its structure and composition. They also explain how these matter undergo changes. One of the most common activities in chemistry is doing experiments in the laboratory. And of course, what comes with experiments are lab reports.
A lab report is a record of the activities, processes, and observation during and after an experiment. You may check out our Sample Lab Reports for more details. It includes some of the following parts:
Introduction – like any other write-up, it is necessary to write an introduction. This is where you express the purpose and objectives of your experiment. You also introduce the issue or the thing that you are to investigate.
Materials and Methods – this is the part where you enumerate all the materials necessary for conducting the experiment and the processes that come with them.
Results and Discussion – the former is for the data and observation obtained in the study schedule. The latter, on the other hand, is the explanation and expounding of the relevance of the results.
Conclusion – this is where the summary of everything that you did and the results are written. This is usually sample brief.
Aside from getting to know some of its parts, you also have to know its importance, so that you get motivated in writing one.
You can keep track of the changes of the specimen you are conducting your experiment on.
You can improve your scientific skills, such as inquiry, observation, making hypothesis, and the like.
You can appreciate the value of your experiment more.
You can make a contribution to science.
Reports can come in many forms, they are not just for laboratories after all. If you are working in a company and you are also required to make annual reports, you may check out our Annual Report
Chemistry Lab Report Template
Printable Physical Chemistry Lab Report Template
Formal Chemistry Lab Report Template
Conducting an experiment is paramount to progress tracker. It is necessary to test the validity of an idea. All of the products that we use are born from experiments—the food that we eat, the creams that we put on our faces, the makeup, even businesses take experiments before they open for the market. You should remember all of these things every time you conduct an experiment in class. You are making the world better.
We are in school in the hopes of becoming professionals and make our dreams come true. Our school work are there not to give us a hard time but to make us learn a valuable lesson. There is a Filipino proverb that goes, "There's no glory without sacrifice." And it is true. So do your lab book reports with a smile.
Speaking of which, we have free Weekly Activity Reports if you're interested.