Working at the front desk of a medical office requires you to be efficient, well organized, and personable. If you are interested to work in a health care setting, and if you think you have what it takes, consider taking on the post as a medical receptionist. Medical or health care is delivered in teams. Every working person from the clerical staff to the surgeons perform well so as to ensure the health and lives of people. Integral to this synergy is the work of a medical receptionist.
When you enter a clinic or hospital, the first object in clear sight is the front desk. This is manned by a sole or set of medical receptionist/s, whose primary responsibility is to harmoniously bring patients to the care of health care professionals and vice versa. See these Job description Samples and read on to learn more about what is expected from the job.
Receptionist Job Description Template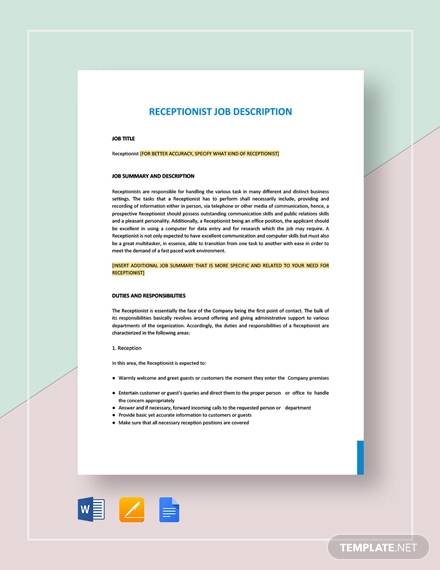 Sample Front Office Medical Receptionist Job Description
Senior Medical Receptionist Job Description in PDF
Medical Receptionist Job Description Duties Format
Lead Medical Receptionist Job Description Example
Where Medical Receptionists May Be Found
Front desk work is important to any clinical environment, be it for
hospitals,
clinics,
community centers,
laboratories,and
all other health care facilities.
What Medical Receptionists Do
Medical receptionists work at various clerical functions. For any health care environment, a medical receptionist has the responsibility of seeing to the maintenance of its efficiency. They ensure that patients are getting the medical care that they need, by way of these duties:
welcoming and greeting guests,
receiving admissions,
taking phone calls,
scheduling appointments,
responding to inquiries and concerns,
recording patient records,
safeguarding patient privacy, and
arranging medical office supplies.
In addition, medical receptionists may be responsible for clinical coding, billings and payments, and for corresponding with insurance firms in the absence of medical coders and billers.
Qualifications of Medical Receptionists
You will only need a high school diploma. Knowledge on medical terminology and procedures, as well as of medical databases and software, is preferred. But fret not, because upon employment, you will go though a period of on-the-job training to harness these functions. Vocational courses on the trade is also offered in some community and technical colleges, and increases your chances of getting hired. No certification nor license is also required.
What employers look for instead are the following competencies:
customer service,
communication and rapport,
time management,
organizational skills,
attention to detail, and
proficiency in relevant software applications.
For front desk jobs in industries outside of the medical field, see these Receptionist Job Description Samples.
Free Medical Billing Receptionist Job Description
Medical Receptionist Job Description Summary in PDF
Medical Receptionist Job Description in Word
Medical Secretary/Receptionist Job Description to Download
style="line-height: 1.5;">Standard Casual Medical Receptionist Job Description
Career Advancement for Medical Receptionists
A medical receptionist may be promoted to the higher, supervisory position of a medical office manager, or may later become medical assistants or even registered nurses with the necessary education and certifications.
To pursue advancement as a medical assistant, one will have to go through a two-year program that will yield to a certification for practice. To know more about the other requirements, qualifications, and information about the position, read through these Medical Assistant Job Description Samples.