When you think about mileage, it is easy to associate it with traveling, vacation, or a cruise. But, mileage's most important detail is measurement. For vehicle mileage, how many miles have you driven in a car? The answer can help you identify your budget for the liter of gas per mile. And what about the progress of your tax mileage? Regardless of where mileage applies to your situation, there are forms you can use for tracking and logging mileage-driven data—mileage log forms.
Vehicle Mileage Log Template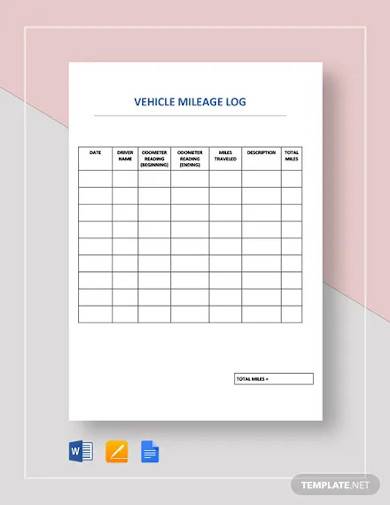 Restaurant Vehicle Mileage Log Template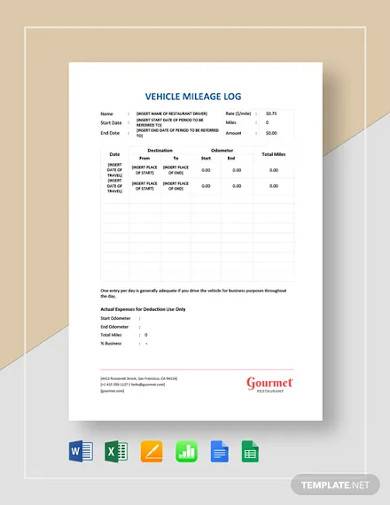 Free Mileage Log for Employee Template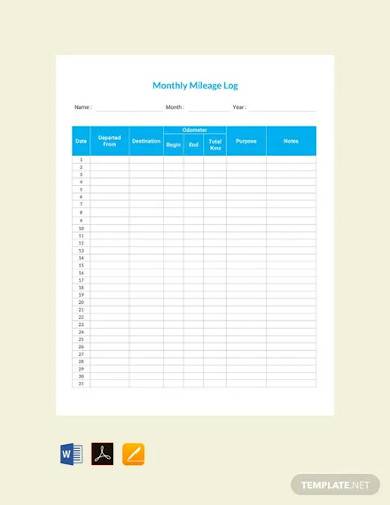 Free Mileage Log Template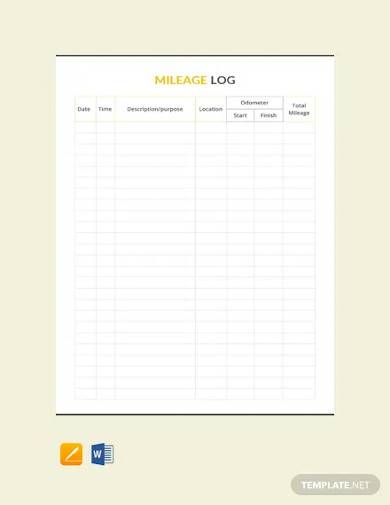 Free Simple Mileage Log Template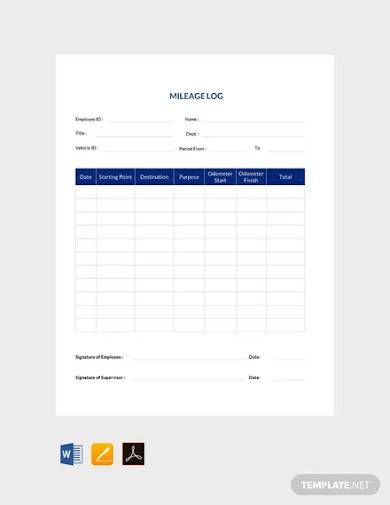 Sample Vehicle Mileage Log Form
Mileage Reimbursement Trip Log Form Example
Basic Business Mileage Log Form
Free Individual Mileage Log Form
Printable Blank Mileage Log Form
Medical Mileage Log Form to Download
Expenses Claim Form & Mileage Log in PDF
Teacher Mileage Log Form Example
What Is a Mileage Log Form?
A mileage log form refers to any official document that is used to register the number of miles a vehicle traveled hourly, daily, weekly, monthly, and more. In standard, businesses ask for such logs for mileage reimbursement. So, employees who used their expenses for work will be repaid. Also, car mileage can be related to tax mileage where taxpayers deduct car expenses from gas, maintenance, repairs, depreciation, insurance, etc.
Types of Mileage Log Forms
Mileage logs can be used for different applications. But what exactly are they? In fact, there are common factors found in such applications. In this section, we categorized the typical types of mileage log forms.
Basic Vehicle Mileage Log Form
The basic mileage log form will help you list down the total mileage or distance driven by you and your vehicle. It is important to take note of the mileage as a vehicle that has a high mileage will more likely break down. Keeping track of the mileage will help you maintain your vehicle.
Mileage Reimbursement Trip Log
This kind of form is used mostly when a business or a corporate trip happens where you must drive in the process. This form would be especially useful if the vehicle you are riding was given to you by the company. It will allow you to log the distance and be repaid or reimbursed for the expenses.
Medical Mileage Log Form
A medical mileage log form is used to keep track of the medical leaves of employees in terms of if they are required to travel to a hospital or medical center. It might happen due to injuries or illnesses sustained during their time working at the company.
Teacher Mileage Log Form
In this context, the form allows teachers to keep track of the number of distance trainees, or new drivers take during their driving practice sessions. Nevertheless, these four types are just a few examples of mileage logs.
How to Make Mileage Log Forms
Creating mileage log forms is not as difficult as you might assume. You do not need to start from scratch since sample templates are already available. And in just four steps, you can already make an excellent mileage log.
Step 1: Know Your Purpose
Why are you making a mileage log in the first place? What is it for? Answering these questions is the first concern before creating the log form. Is your purpose related to teacher mileage? Or perhaps, to track every expense for reimbursement purposes? Once you finalize this, working on the form no longer gets difficult.
Step 2: Choose and Download a Template
Next, explore the different sample mileage log templates available and compare each example. You will slowly pick the best template which you will use to make the form. Be sure you picked something relevant to your goal because it is wrong to select a medical mileage template when your concern is for tax mileage.
Step 3: Fill the Forms
Now that you have selected a template, good. Proceed to fill its details according to what is required. Expect to input the number of miles per hour, gas consumption, or perhaps, other expenses to reimburse. And never forget the most basic details too like including the name of whose mileage log the form belongs to.
Step 4: Organize the Details
After inputting all the elements of mileage logs, do not stop there. Be sure to arrange them accordingly. Maybe you just enumerated what is asked without minding the format, sequence, or design of the form. Organizing the document is simple anyway since the templates are customizable. Also, you may add charts, tables, and other visual organizers to simply the form. Go for whatever works easily for you.
FAQs
What are some examples of mileage log elements?
Mileage log elements differ according to your plan or purpose. Generally, these logs are composed of the date, travel purpose, address, covered distance, and odometer's records.
How do you calculate mileage?
Different calculations can be used. And the most typical example is to identify the covered miles recorded by an odometer. Or you can subtract one odometer's reading from another one. Next, divide the traveled miles by the amount of gallon it took for a tank refill.
Are odometer readings required?
Odometer readings are not required unless someone wants you to record. Even the IRS and tax laws did not state that odometer readings are mandatory. What is important is you have recorded the correct distance in driving.
These mileage log forms are one of many sample forms that could be used to simplify your paperwork and make it easier for you to focus. But, never forget to have a plan, starting with the first step to make a mileage log which is to know the purpose. That way, everything will slowly fall into place.