Recommendation letters are influential documents that actually affect the recruiter's decision of hiring a job candidate. At least once in your life, you will get asked to write one. You now find yourself scouring the Internet looking at guidelines for writing a good recommendation letter. You also find yourself referring to sample letters in the hopes that you will have a better grasp as to how these letters should look like.
Whether you are writing a recommendation letter for a friend, colleague, or student, you want to make sure that you are prepared with what you will write. After all, you do not want to be the reason why the person who requested for the letter will not be considered for the job he/she applied for.
Sample Letter of Recommendation Template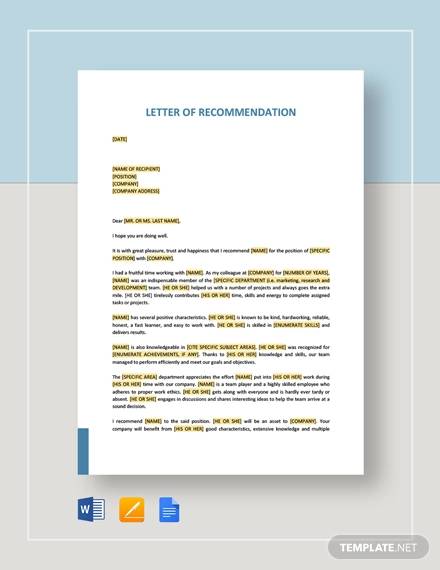 Sample Offer Letter of Recommendation Template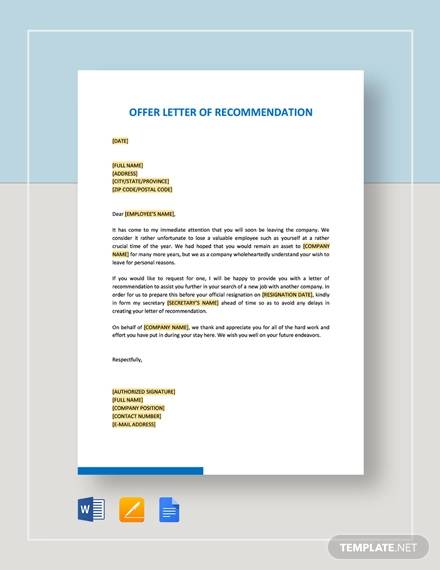 Since you are already on our website, we want to ease the anxiety you might be feeling about writing a recommendation letter. We will be giving you a few simple tips that you can follow in terms of writing recommendation letters, as well as sample recommendation letters that are worth referring to. Aside from that, we also have a few tips for those who are struggling to think about who they should ask recommendation letters from. Just read through this article and make sure to follow the tips.
Refusal of Request for Letter of Recommendation Template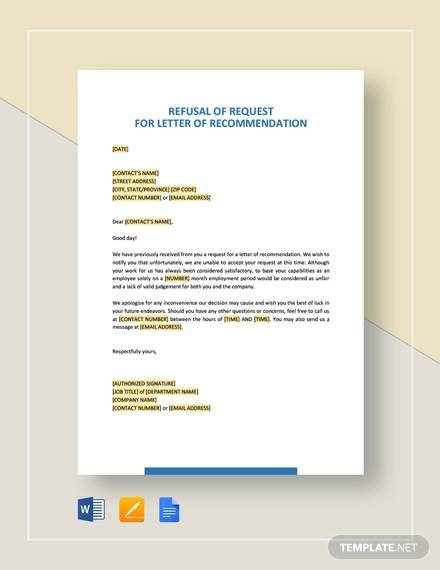 Verification of Employment and Letter of Recommendation Template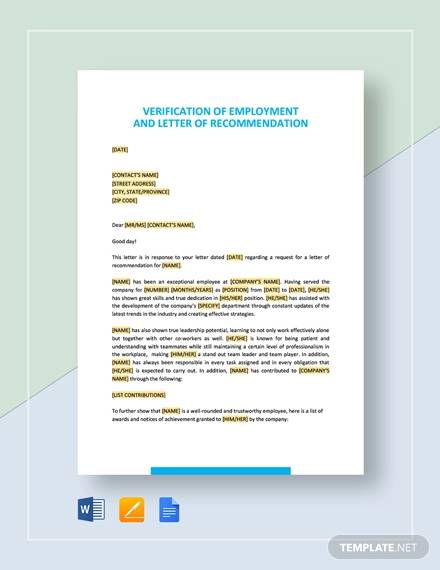 Confirmation of Employment and Letter of Recommendation Template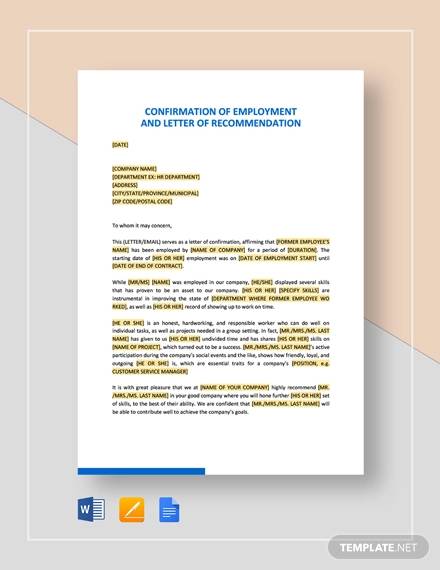 Restaurant Employee Personal Recommendation Letter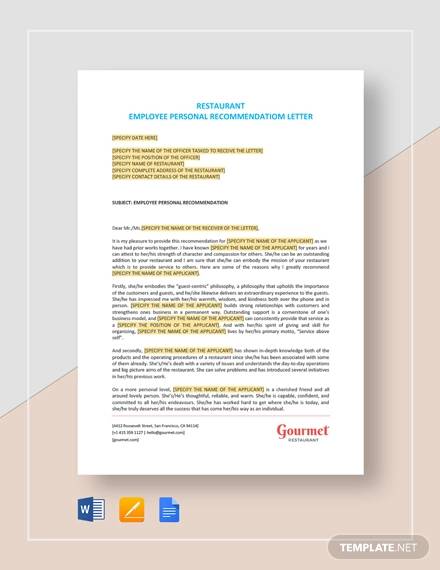 A Tactful Way to Decline to Write a Letter of Recommendation Template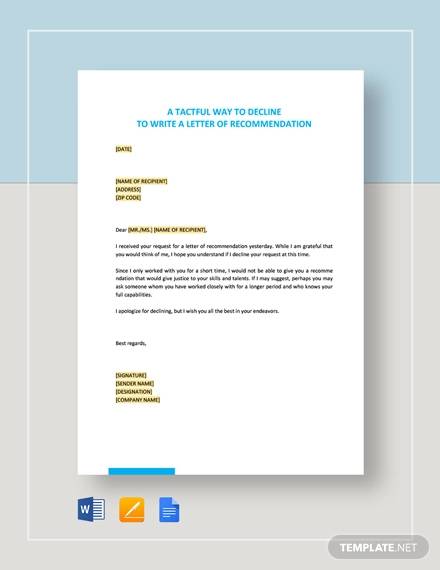 Sample Letter of Recommendation
Sample Student Recommendation Letter
Recommendation Letter Template Example in DOC
Assistant Professor Sample Recommendation Letter
Sample Recommendation Letter Template in PDF
Writing Letters of Recommendation
When it comes to writing a strong recommendation letter, you want to make sure that it is able to show off that the person you are writing the letter for is the best candidate for the available position. You might be having a hard time coming up with a good letter of recommendation and you might also be feeling a bit anxious about writing one. However, you should remember that the person who requested for the recommendation letter will not ask for your recommendation if they did not trust you enough to write a compelling one. Isn't that something to be flattered about?
Should you still feel that you are not deserving to write one, you need not worry. We will give you a few tips on how you can start writing that recommendation letter.
1. Make sure you know who you are addressing the letter to.
Do not start with the greeting, "To whom it may concern." It may not be wrong but it certainly is not a good start to a letter that wants to make a good impression. You have to put in mind that a certain someone is going to be reading that letter. Make sure you ask the requesting party for the details on who you are going to address the letter to. It will feel more personal.
2. Do not make a generic letter of recommendation.
When it comes to recommendation letters, especially letters of recommendation for employment, it is not a one-size-fits-all thing. Just like cover letters, it has to be tailor-fitted to the job that the requesting party is applying for. Take into consideration what are the challenges and how the requesting party overcame that challenge.
3. Do not be too broad in stating examples.
Always make sure to include samples when it comes to writing the recommendation letter. However, you should also remember to not be broad when it comes to stating these samples. Quantifying the samples also help to increase the credibility of the recommendation you are making. Specifics are best advised for this letter.
4. Request for the correct information.
You may be thrilled about writing a recommendation letter. However, you may not know where to start or how to start the letter. If you are struggling with this problem, you can ask for a few documents from the person who requested the recommendation letter. Such documents may include the link to the job description and his/her job resume.
It is vital that you know what the purpose of the recommendation letter is. This can help you focus on what you should and should not include in the letter.
5. Start with the basics and trickle down to the details.
By basics, we mean to start by introducing yourself to the reader. Let him/her know how you are related to the person you are recommending. You may also include details such as dates.
After you introduce yourself, go down to the important details. Highlight the skills and qualifications of the candidate. Let the reader know as to why you are recommending this person and what makes him/her the ideal candidate to fill in the position. Select attributes that are related to what the candidate is applying for. End the letter by reiterating that the candidate is what the company needs to solve problems that they may be facing.
Who to Ask for Letters of Recommendation
This is a common question that may be boggling the minds of the people who need recommendation letters. If you are one, then this part may be helpful for you.
When it comes to requesting for letters of recommendation, you have to think of the right people who will write it. Someone who will be able to make your job application one to look out for and one who can honestly attest to what you can do for the company.
Have a list of people who can give you a strong endorsement. Have at least three people in mind already. You should already have a good idea about what they would say about you. Make sure you are able to provide them with the correct information about the purpose of the recommendation as well as any document that will serve as a good guide about how they should start the recommendation letter.
Remember that anyone can write you a recommendation letter. Other than previous employers, you can also ask for recommendation letters from your professors, colleagues, project leaders, and even friends. Just make sure that they have a good background about your character and professional behavior.
Ask while it's still fresh. When leaving your job, it would be advisable to ask for a recommendation letter from your manager. Managers can be pretty busy and if you ask at a later time, they might start losing track of who you are. Days before your last day of work, send your manager a recommendation request letter through email or by handing him/her a printed copy.
It will also be a good idea to consider whether or not the person you are requesting the letter from is willing to write the letter. That way, he/she will be able to give a recommendation letter that is sincere instead of one that is mediocre and written in a half-hearted manner.
College Recommendation Letter Sample
Sample Scholarship Recommendation Letter
Employment Recommendation Letter Sample
Letter of Recommendation Sample in DOC
Letter of Recommendation Sample Template in Word
What to Do If You Have Nothing Good to Say
There may be a time when you might be asked to write a recommendation letter, yet you feel like you will not be able to write an honest and sincere one. The perfect response to this kind of situation? Decline the request. It may not be easy but it is probably the right thing to do.
No matter how much you probably hate the person who requested for the recommendation letter, you should not be harsh with your decline offer letter. Instead, you can say that you feel like you do not know their work enough to be writing a recommendation letter. This way, you can diminish the possibility of misunderstandings and you can maintain a professional relationship with the person who requested for the recommendation letter. You can help him/her out by giving a few suggestions of who can give him/her good endorsement letters, if you know any.
Quick Reminders About Recommendation Letters
Make sure you break down the letter into, at most, 3 paragraphs: introduction, main body, and the conclusion.
Make use of lists and bullets when enumerating some items.
Always target your recommendation letters depending on its purpose.
Study the position the requesting party has applied for. The more familiar you are with what he/she has applied for, the easier it will be to target the letter.
Have a quick chat with the person you are going to recommend. Talk to him/her about his/her career goals and why they are interested in the job they applied for. Firsthand information is always best.
Proofread your letter and get feedback from reliable people. You do not want to be sending a letter that is full of misspellings and grammar issues.
That's it about recommendation letters that are effective! We hope you get to apply the tips we have given. As for the samples, you should definitely not hesitate to download them. They are free for download, so download away!